It doesn't take much work to find free icon sets online. While they're useful, they aren't always the best option for finding specific icons. That's where free icon resource sites can help.
These websites curate icons based on license (Creative Commons or premium/commercial). Below I've curated a nice list for anyone who wants to quickly find specific CC icons on the web.
Iconfinder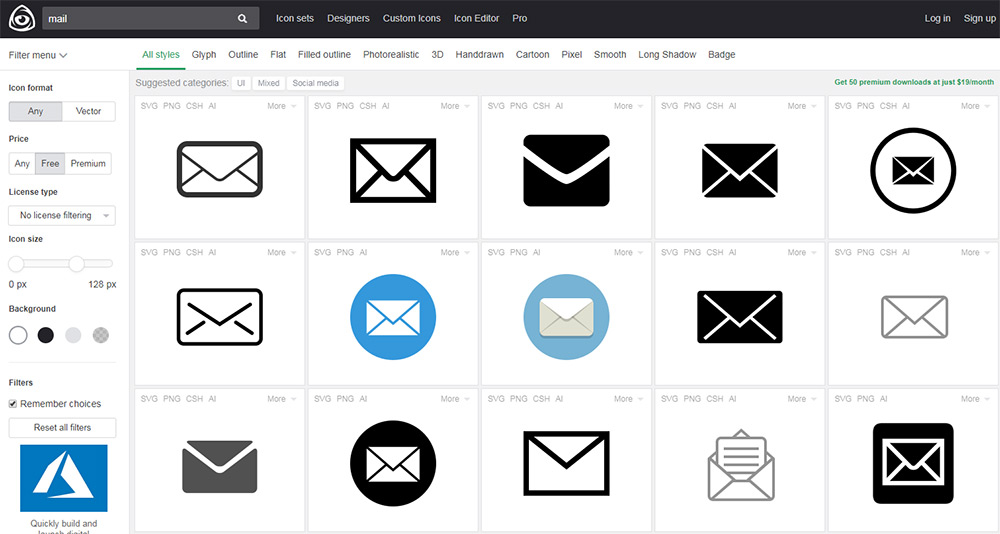 If you spend any time searching for icons, then you're bound to stumble upon Iconfinder. This is the premier destination for any icon you could ever need.
It operates like a search engine, where you type in an icon style or glyph (like "magnifying glass" for a search icon). You'll then see results with a mix of commercial and free options.
But if you look deeper into the search settings, you can filter the results to view just free or just paid options. You can also set the icon sizes and a few other search criteria.
No doubt that Iconfinder is the best place to start if you're looking for free icons. If the icon is out there online, Iconfinder has it indexed.
All the Icons, Fonts, Web Templates & Design Assets You Could Ask For
Noun Project
On the Noun Project website you'll find a curated list of over one million icons and counting.
This site also works like a search engine, where you can filter icons based on keywords, styles and glyph shapes. For example, you can search for a mail icon and find some pretty clean results.
But The Noun Project isn't completely free. They do have an optional pro plan which gives you access to far more icons.
Thankfully, their free icon library is still large enough to be worth a bookmark.
FindIcons

FindIcons is an icon-only search engine and it features one sweet interface.
As you start typing you'll notice auto-populated search results based on existing tags. This can help you find exactly what you're looking for very quickly.
There's also a filter menu on the side that lets you select how many icons to display per page, icon colors, styles and license.
This one is definitely worth saving if you need a high-quality search engine exclusively for finding icons.
Flaticon

There's a lot to say about the flat design trend sweeping the industry. One sure thing is that if you're creating flat websites, you'll have no problem finding resources.
The Flaticon website is one such example.
This is a free icon search engine dedicated to flat icon styles. You'll only find flat icons here and they're all pulled from open source icon packs submitted by the community.
One cool feature is that they offer icons in many different formats – including base64. You can use base64 code within CSS to embed icons into your page without ever saving an image file.
Flaticon is certainly the best place to look for icons if you work with flat design on a regular basis.
Google Images (CC search)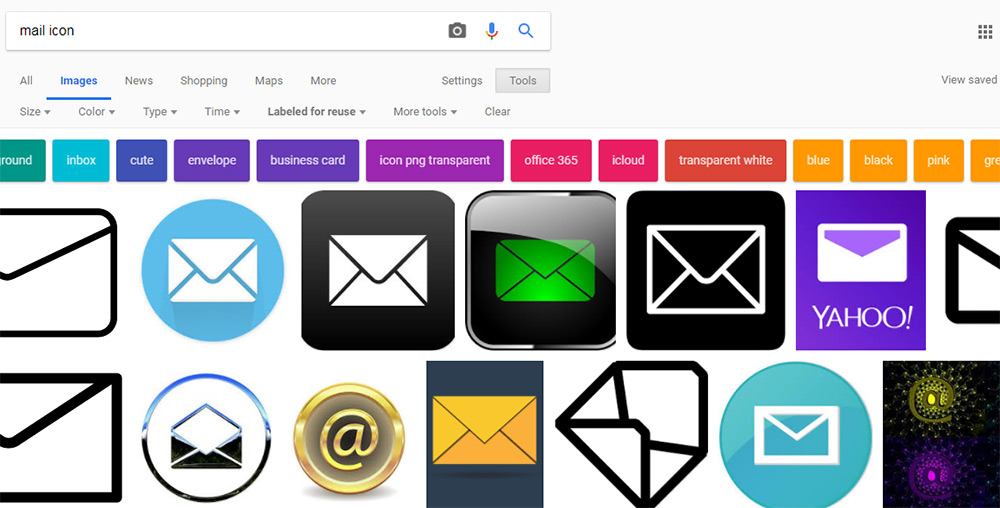 A lot of people skip Google Images on their quest for design assets. Typically, that's because the results in Google Images come from other websites and you never really know what kind of license they're using.
But there's a nifty feature in Google Images that few people know about.
If you click "Tools" and then click "Usage Rights" you can select from one of many Creative Commons licenses to search through.
This automatically limits your image searches to return only images with the correct usage rights. Pretty cool!
Alternatively, there is a CC search page which can return similar results. But there's no way CC's internal search can ever match the power of Google.
Fontello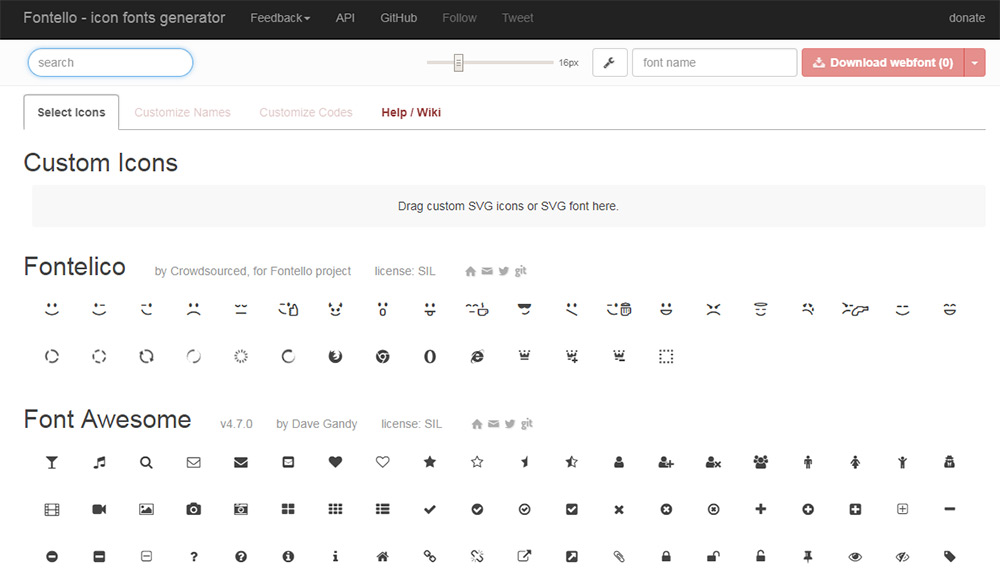 I can't say that Fontello is really a search engine just for icons. But it is one amazing website to help you find free Creative Commons assets – with plenty of icons to go around.
It's described as an "icon fonts generator" and can be used to create custom icon font files to embed via CSS.
Note that you can also download these icons as vectors and rework them to suit your needs.
While it's not the largest icon library in existence, it certainly features a variety of quality icons for designers.
Iconmonstr
Iconmonstr is relatively new compared to the other sites I've mentioned. However, this is a fantastic icon repository full of 100% free open source icons.
As of this writing it features over 4,000 icons – all organized into different collections. They'll help you search for icons based on topics like sports, business or healthcare.
There's also a standard search field if you know exactly what you're looking for.
Just note that Iconmonstr primarily organizes single line icons with a similar minimalist style. So it's great for finding icons with that particular style, but won't help for much else.
GitHub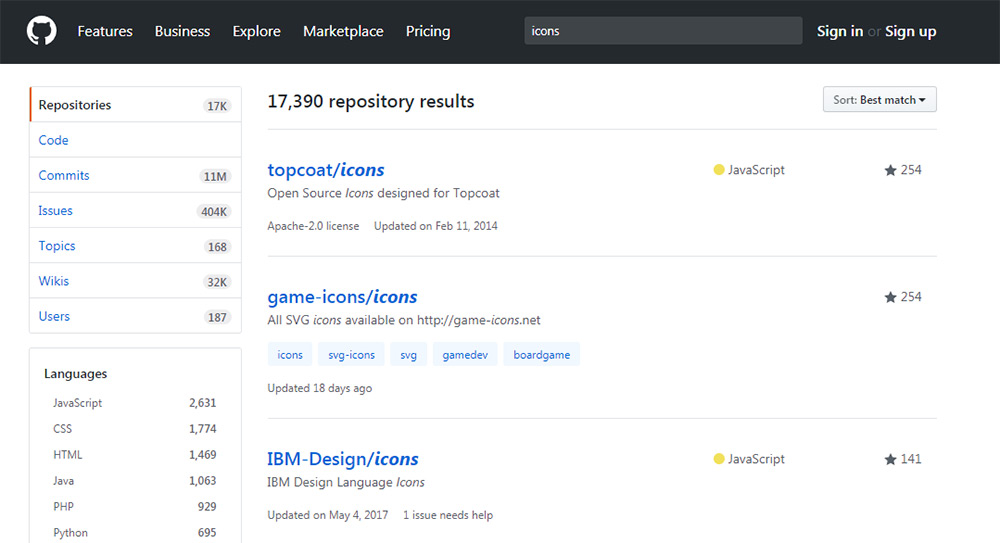 It may seem weird to recommend a code repository as a resource for graphics. But GitHub really does have a lot of repos with free icons available as SVGs and PNGs – among other formats.
Just do a search for icons and you'll see what I mean.
Granted, there will be plenty of scripts and templates built around icons that show up in the search results. But you'll also find repos for open source icon libraries that designers chose to host and release through GitHub's free platform.
Consider this a last resort for finding obscure and niche icons. Don't expect miracles, but the few gems you find can really have an impact on your design projects.
This post may contain affiliate links. See our disclosure about affiliate links here.