Showcasing your design or work with WordPress is easy enough. But to do it well, you need to present your projects in a clear and attractive manner. While some designers go for all-out glitz, the best portfolios are often a bit more subtle.
Still, the ideal portfolio really is a matter of personal preference. It's a good idea to think about what you want people to learn from your projects. Is an image enough, or do you want an in-depth profile of each project? Maybe you'd prefer a hybrid approach, with specific projects being highlighted with extras while others are just a simple listing. It's all up to you.
There is a number of exciting WordPress themes out there to help you create your perfect portfolio – no matter which style you opt for. Here are 10 of our favorites for displaying your projects in style. While the main focus will be on their portfolio capabilities, we'll also mention some other goodies where appropriate.
All the WordPress Themes You Could Ask For

2M+ items from the worlds largest marketplace for WordPress Themes, Web Templates & Design Assets. All of it can be found here at Envato Market.
Büro
Büro features 15 different home page designs with a variety of portfolio layouts to choose from. Standouts include the boxed goodness of the Portfolio Gallery and the tall, thin look of the Carousel.
You'll also want to check out their Wide, Masonry and Animated Showcase options. The theme also sports lots of customization possibilities, along with copies of Visual Composer and Revolution Slider. This is a great choice for designers looking for a unique portfolio offering.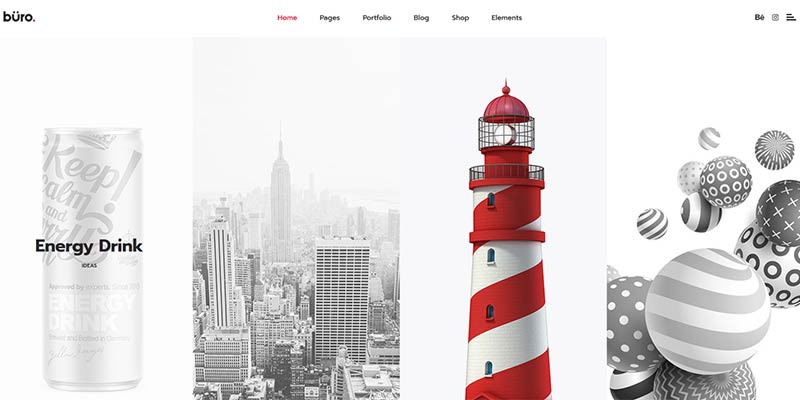 Visual Arts
Visual Arts is an image-driven theme that you can use as a vehicle for displaying your work. Choose from several portfolio listing and single item layouts. Listing styles range from long-scrolling pages with full-width images to neat and clean cards.
Single items can consist of image galleries, long text, carousels or a combination approach. There are a number of outstanding hover effects to add that extra bit of flair. Also take advantage of 15 customizable header styles included with the theme.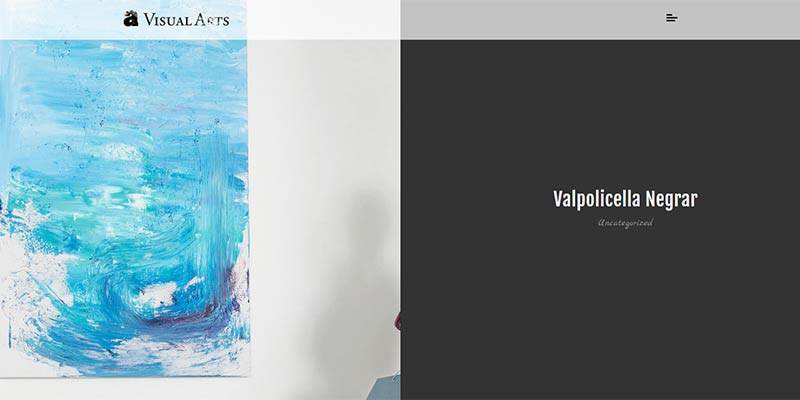 Futrus
Futrus makes great use of color, along with a filterable portfolio to ensure that your projects stand out. There are four home page layouts to choose from, including a mesmerizing full screen layered portfolio with custom background images.
The result is a site that enhances your work all the more. The theme is based on Bootstrap and includes a page builder.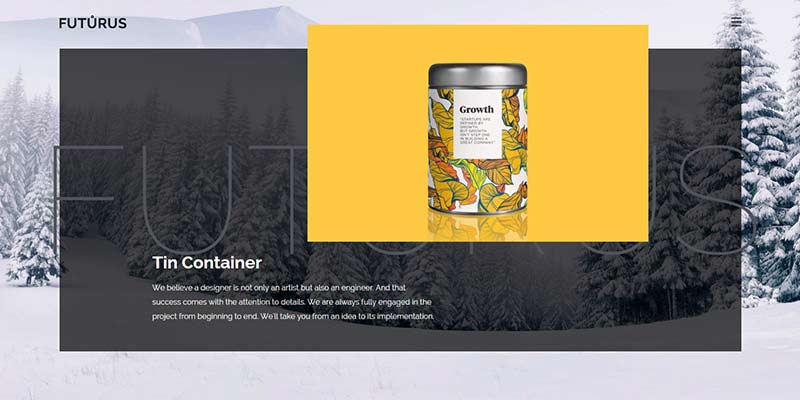 Eagle
Eagle is a great fit for those who want their portfolio reflect minimal styling.
What you get is an animated, filterable masonry portfolio that includes more information upon hovering. From there, it's on to a project description page featuring a large image and the opportunity to add text. It's very basic and allows your outstanding work to do all of the talking. Overall, it's an understated and professional look.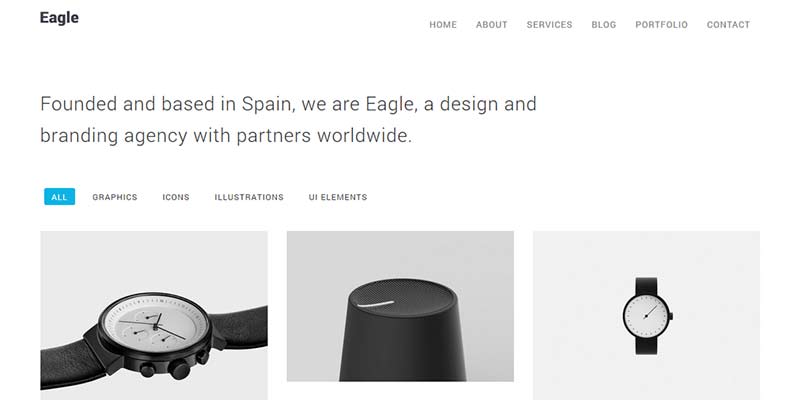 Minikini
Minikini offers a minimal look, but with a more robust set of options. There are five home page layouts to choose from, along with lots of different portfolio looks. You can choose from Card Box, Card Full Wide, Masonry Box and Masonry Full Wide styles.
But you can also customize the amount of columns per row to get things just as you want them. Also included are header/footer variants and compatibility with the free LayersWP page builder.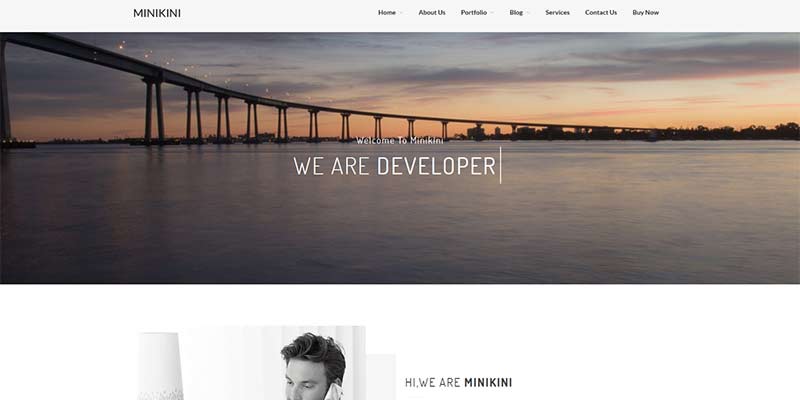 Maestro
Maestro gives you five beautiful portfolio layout styles including Brick Wall, Half Squares, White Canvas, Vertical Slides and Classic Grid. Brick Wall is unique in that it alternates image widths in a two column layout.
The result is a gallery that looks just like its name. You'll also find lots of customization options, beautiful page transitions and a copy of Visual Composer.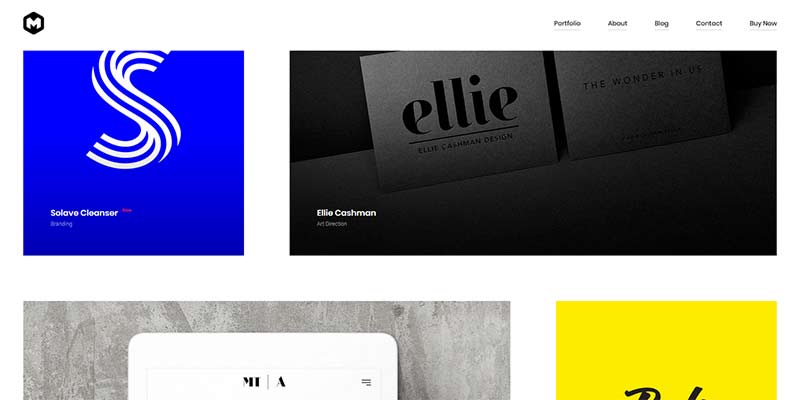 Jora
Jora brings a retro artistic flair to your portfolio site. It adds off-kilter frame borders and hover animation to portfolio listing images to create an attention-grabbing effect.
Individual portfolio posts feature bold use of shadows and borders to make photography stand out. This is one of the more unique approaches to a portfolio site you'll find. Jora is easy to customize, with multiple color schemes available to match your taste.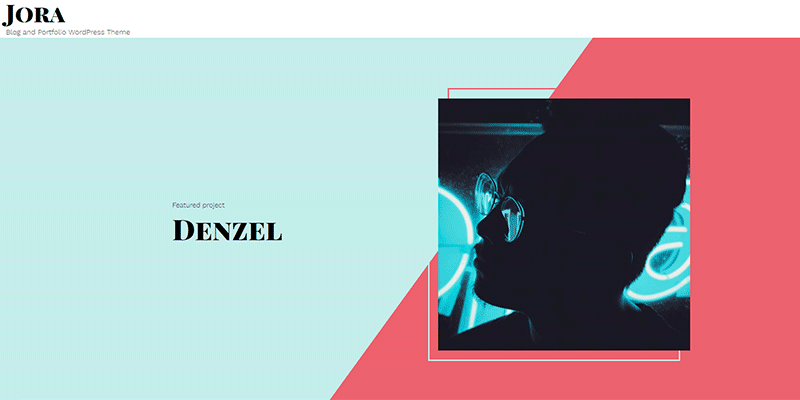 Union
Union makes great use of screen real estate, with left-side navigation and plenty of room for images. Several portfolio grid styles are available, along with a full-width slider. Customizable hover effects can bring a splash of color to listings.
Also included are a whopping 12 individual portfolio post styles to choose from. There is quite a bit of flexibility here that will serve designers well. The package includes copies of Visual Composer and Revolution Slider.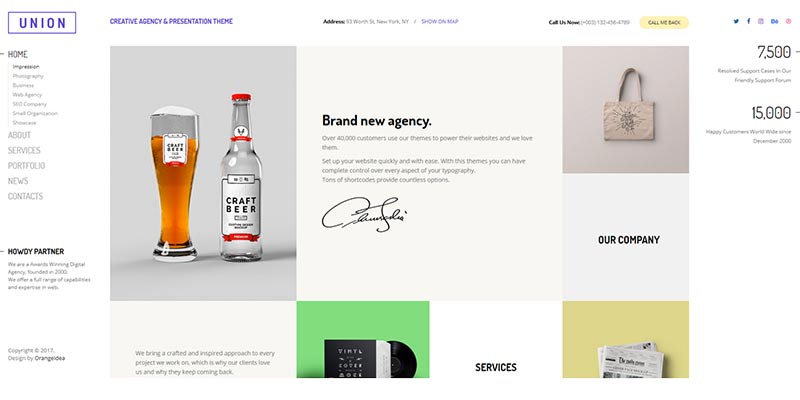 Diux
Diux harnesses the power of black and white imagery to add a high end look to your portfolio.
Your images can be automatically displayed in black and white, with a color version appearing upon hover. Special effects and animation add a classy touch and make the site appear lightning-quick. This Bootstrap-based theme also features video backgrounds and isotope filtering.
Eris
Eris is a portfolio theme that works best when used for a variety of project types.
It also offers some unique layout possibilities. You can use a standard grid portfolio or opt for a "Shuffle" layout that presents images in a more random fashion. Individual portfolio posts can feature one of three layout options. Other features include a "hidden" sidebar and two home page designs.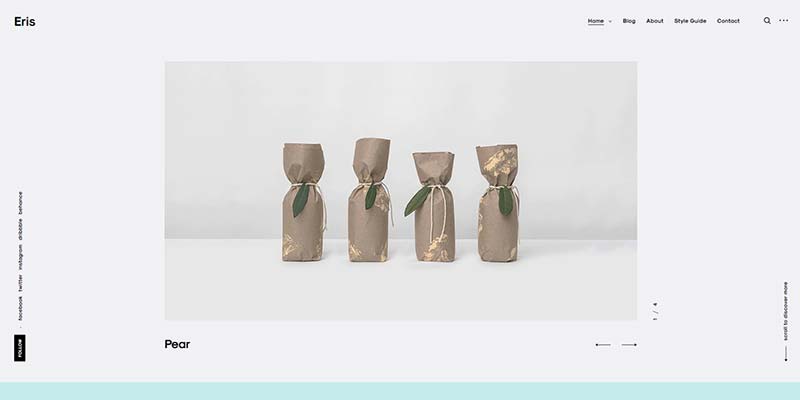 It's Your Showcase
Proudly displaying your best work in an online portfolio is a great way to tell your story in more a visual way. While the themes above provide you with lots of choices, the most important aspect of a portfolio is that it reflects who you are and the quality of your work.
The good news is that, with so many great styles and layouts to choose from, you're sure to find the perfect fit.
This post may contain affiliate links. See our disclosure about affiliate links here.