The concept of Google has changed little since its inception. Google is a user-friendly and very useful tool for online searches. We know what to expect of Google already: a search bar to enter the necessary keywords and then in a single click, relevant results are returned. The site is simple and minimal, so it can get ho-hum every once in a while, until Google doodles were born.
Google doodles, in a few words, are modified versions of the classic Google logo. They are often seen on special holidays and or for memorable events.
You might also like to read about the history of Adobe Photoshop, Apple, Web Forms, Google Doodles, Online Shopping, or Social Networking.
The first doodle was actually in 1998, to commemorate the Burning Man Festival. There is a stick figure behind the 'o' in Google. This is to indicate that the founders of Google took part and attended the festival. The design was a nod to the users that the founders were 'out of office'.

Google doodles became a huge hit, and appeared more and more on other holidays: Christmas, Valentines Day, Thanksgiving, Easter, just to name a few.
Soon doodles started to commemorate lesser known events such as: 'Pi' day, Hans Christensen's birthday, the anniversary of Sesame Street, and even the invention of the barcode.


Google is a company with a great sense of humor. Every April Fool's Day, Google makes hoaxes and pranks that are sometimes silly, sometimes absurd, and always hilarious.

One prank in 2007 was the introduction of the Google TiSP, which is a wireless router that runs through the toilets. Moreover, Google promised that the TiSP has 24 hour, on site technical support in case of backup problems, brownouts, & data wipes.

Another elaborate prank was on April Fool's of 2006. It was published with the introduction: Dating is a search problem. Solve it with Google Romance'. The search engine tool is used for 'Soulmate Search' so users can have a 'Contextual date'.
Interactive and Flashing Doodles
Recently, Google doodles have gone interactive, and thus, have become more fun. The first interactive doodle was a clickable slideshow of a Halloween candy.

Since then, there have been many unique doodles such as a game, a short film, and more, all on the Google page.
One example is the Google particle logo wherein the particles move away from the cursor every time it moves near.

The Pacman Google doodle is a fun game that celebrates the classic Pacman game. If you missed it when it was on the website, May 22, 2010, you can check and play the game here.

Google celebrated Jim Henson's 75th birthday on September 24, 2011 with a really funny Google doodle. It's a pretty nifty doodle, where you can create your own puppet show..

Probably my favorite of all Google Doodles is the Les Paul guitar one. The Les Paul doodle commemorates Les Paul's 96th birthday. The doodle is extremely fun, it's playable and you can create and record your own tunes with it.

Some of the Best Google Doodles
Here are the best Google doodles from 2001 to 2011.
A tribute to Dilbert, a famous comic strip celebrating every working man. The Google doodle ran for five days, from Monday to Friday, with a funny comic strip feature everyday.






March 13 celebrates the 124th birthday of one of the world's most lovable scientists, Albert Einstein.

Google in Braille for one day, in celebration of Louise Braille's birthday.

The Scream logo was featured on December 12, also Edvard Munch's birthday.

Celebrating the invention of the first laser

Creative Google Doodle with the 'l' still dangling on top. This was for the 25th Anniversary of Tetris.

March 14, or 3/14, is a big day for math nerds worldwide. It's Pi Day– the celebration of the 'perfect number', which is 3.14 (or let's be exact; 3.14159265).

Who can forget the Flintstones? On September 30, 2010, Google commemorated the 50th anniversary of this dearly loved classic cartoon.

Google celebrated Bruce Lee's birthday with this special tribute.

Celebration of the invention of the ice cream sundae, made on the same date exactly 119 years ago. Yum!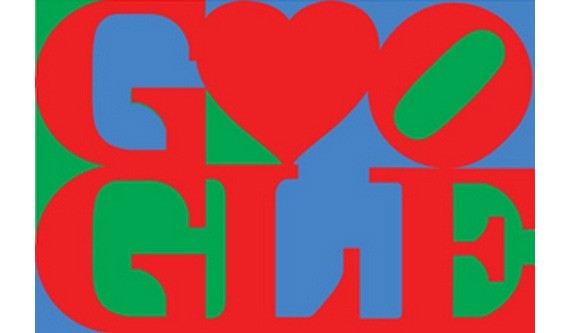 The Google doodle for Valentines day of 2011 is inspired by Robert Indiana's renowned LOVE sculpture. The original sculpture has been on exhibit at the Indianapolis Museum of Art since the 70s, but now the sculpture has been reproduced in all types of media and colors and is on display around the world.

In honor of the Chinese Valentines Day in 2011, Google featured the doodle in selected countries celebrating the holiday: in China, Hong Kong, Singapore, Brunei and Taiwan.

During the holidays, Google made another really great interactive doodle. The doodle is inspired by string lights, carols and popular Christmas icons. Ho, ho, ho!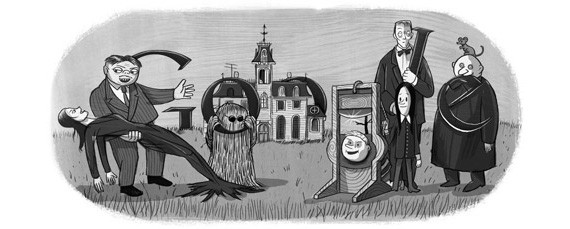 A Google doodle in honor of the famous and creepy Addams family, in honor of Charles Addams' 100th birthday.
Doodle Your Google Now!
That's it folks! Hope you enjoyed this collection and have  a logo inspiration boost for days to come!
This post may contain affiliate links. See our disclosure about affiliate links here.