A decade ago, WordPress content builders were small tools – usually created by WordPress theme authors. They created them for their users to have easier page editing options. But what once was a small industry has now expanded into a great WordPress niche.
Nowadays, there are dozens of WordPress site builders on the market. While they are similar in basic functionality, each owns unique features and an approach they use to operate.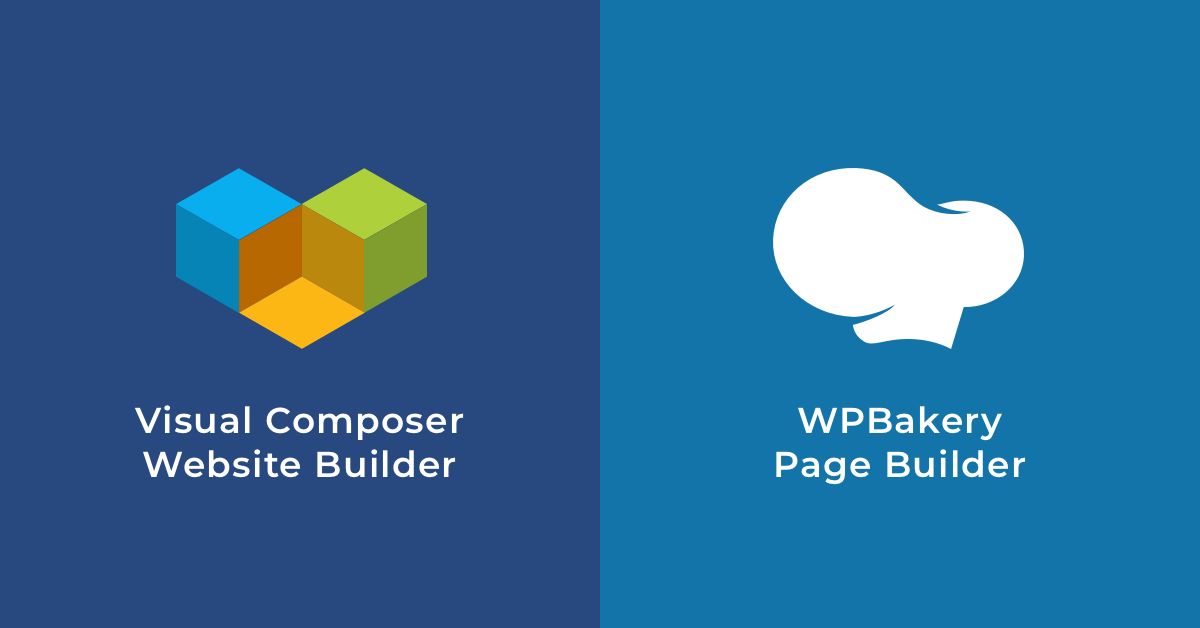 If a decade ago, WPBakery Page Builder was the one that pioneered in the WordPress page builder market, then today new tools like Visual Composer Website Builder keep the pace in the niche.
But before going in-depth and comparing these two WordPress plugins, let's deal with the surrounding confusion where users are mixing up these two totally independent builders.
Confusion between WPBakery Page Builder and Visual Composer Website Builder
Originally, WPBakery Page Builder used to be called Visual Composer. Not anymore. So, the re-branding seems to be the main issue causing confusion here. Long story short…
In late 2017, the owner of the WPBakery Page Builder created a new plugin from scratch – a complete WordPress website builder named Visual Composer Website Builder. And the initial page builder was named WPBakery Page Builder. To make it clear and less confusing, here are some facts about these two independent plugins:
WPBakery Page Builder
A shortcode-based builder that works only for your site's content. Available to purchase from CodeCanyon and their own website at wpbakery.com. WPBakery Page Builder is bundled in many WordPress themes and complemented with thousands of custom add-ons created by other WordPress developers.

Continuing the confusion … Many WordPress theme authors who have included WPBakery Page Builder are still continuing to refer to the product as Visual Composer. Can't blame them, they might not know. But now you know. If in doubt, right at the moment, the latest WPBakery Page Builder update is version 5.6.
Visual Composer Website Builder
A new technology-based website builder plugin that lets you create a complete website. Not just a part of a website, but a whole site including headers, footers, custom page layouts and more. You cannot buy Visual Composer Website Builder on any third-party plugin markets, only on their own website at visualcomposer.com. At the moment, the latest Visual Composer Website Builder update is version 11.0.

Visual Composer Website Builder and WPBakery Page Builder Overview
Both page builders are drag-and-drop, meaning you simply click on the desired element, then drag it into the position you want it to appear on your page and drop it. Although basically similar, these two builders are quite different. Let's look closer at their features: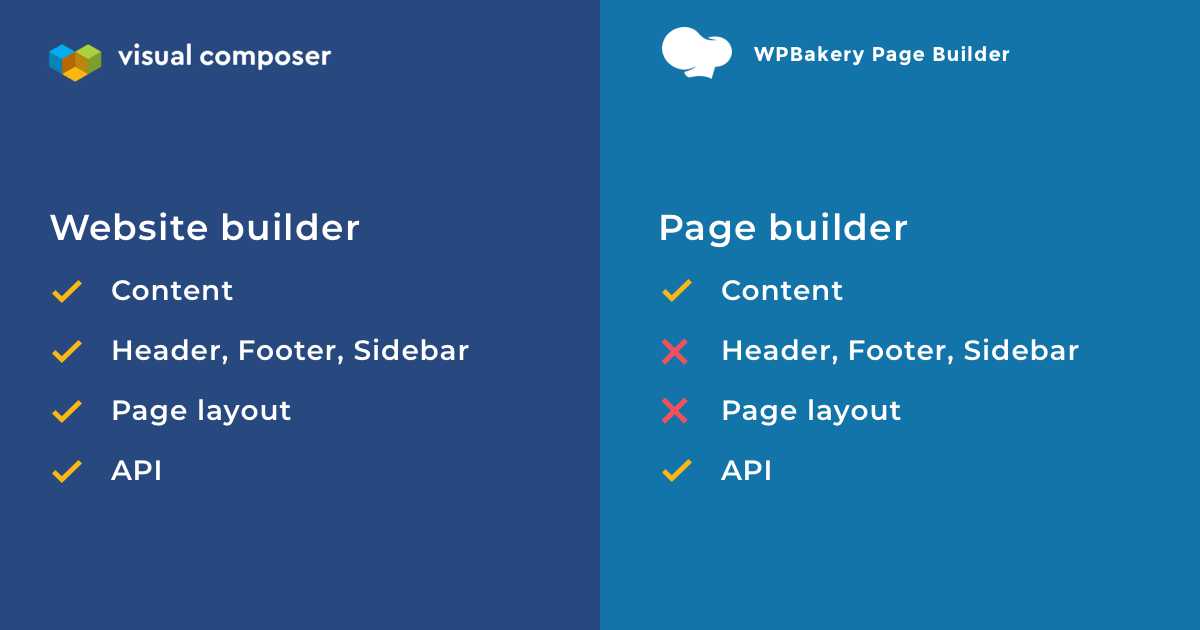 WPBakery Page Builder Overview
WPBakery Page Builder has been around for many years and because of that, it has a huge user base of fans. It's a widely-adopted plugin and comes bundled with most ThemeForest themes. However, there are a few issues that stop WPBakery Page Builder from competing with the modernized WordPress builders. One of the biggest issues is that it's shortcode based. This means that you can end up with lots of shortcodes if you disable the plugin.

Non-technical users may not care how it works behind the scenes, but they will care about the amount of work removing WPBakery Page Builder if that ever becomes necessary. Additionally, shortcodes are not the newest technology around with the use of clean HTML being on the rise.
WPBakery Page Builder Key Features
Inline Frontend Editor;
Backend Editor;
Template Library;
50+ Content Elements;
200+ Unique Add-ons;
Grid Builder.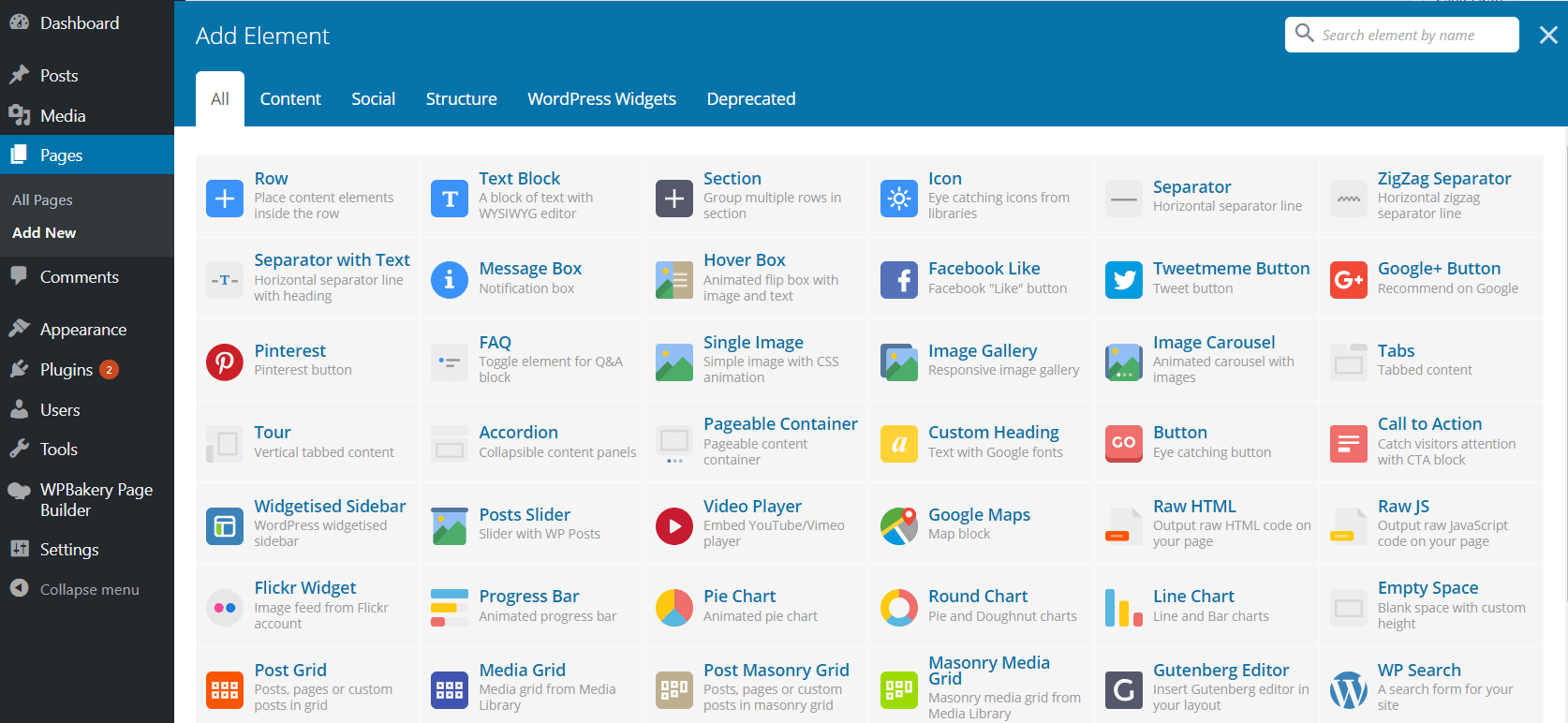 WPBakery Page Builder Content Elements library
Visual Composer Website Builder Overview
Visual Composer Website Builder is not just a simple page builder. It is more like a theme builder that lets you build an entire website right from the frontend editor. This means that you can use it not only for content editing but also overall site design. With its custom Page Layouts, along with Header, Footer and Sidebar editors, it lets you customize any WordPress theme you like and create your own unique page layouts.
One of the biggest additions to the Visual Composer Website Builder is its online marketplace, allowing for easy download of pre-made content elements, templates and add-ons. This online library is called Visual Composer Hub. It lets you receive constant updates and have instant access to download any new content that is on the way.
Visual Composer Website Builder is based on the latest technologies that ensure high performance and stability. It is a React-based product, which does not make sense for the end-user but will make developers smile.


Visual Composer Website Builder editor
Visual Composer Website Builder Key Features
Apart from the previously mentioned Visual Composer Hub of elements, templates and extensions, there are dozens of great features that are available straight from the editor:
Visual Composer Hub;
Header, Footer, Sidebar Editor;
Custom Page Layouts;
Global Templates;
Export/Import Templates;
Unique Design Options;
Compatibility with popular WordPress plugins.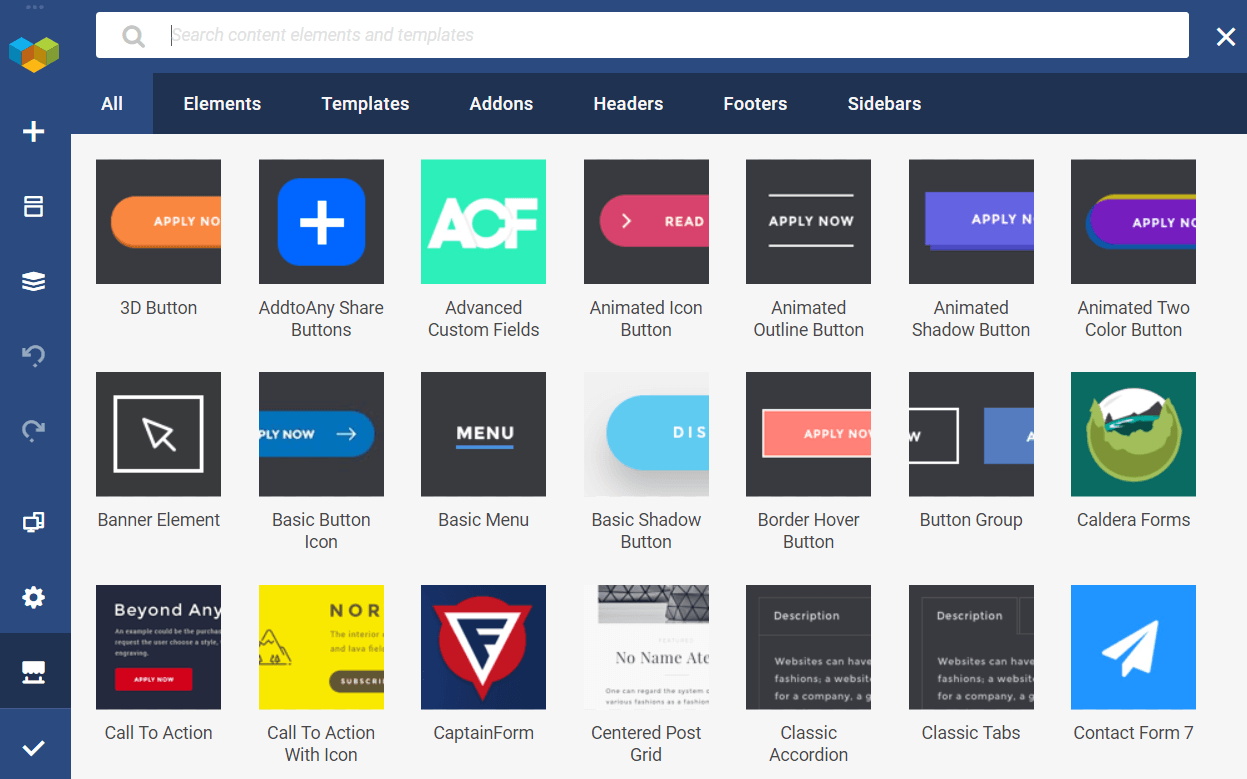 Visual Composer Website Builder Hub – a library of Elements, Templates, and Add-ons
Plans and Pricing
WPBakery Page Builder has only two license options: Single site license for $45 and an extended one for SaaS applications ($245).
Visual Composer Website Builder has three paid version licenses, as well as a free basic version (that seems to be pretty advanced) to get you started. However, to get unlimited access to all of its core features, along with constant updates and dedicated customer support, there is a Single Site Premium license for $59.
There is also a 3 Website license for $149 that will be good for small and medium-sized businesses, as well as a Developers license that provides an unlimited amount of usage.
Although Visual Composer Website Builder is a bit more expensive, it is the ultimate bargain. Add-ons are available in the Visual Composer Hub whenever you need them. In contrast, WPBakery Page Builder's many features (add-ons) are sold individually by third-party developers. So for each little feature, the cost could be around $20 – $50 per site.
In the end, Visual Composer Website Builder will cost you less and so far it seems to be much better. The license is valid for a year, but the price seems to be reasonable as the plugin delivers more and more new features, elements and templates.
In Summary
WPBakery Page Builder has many features – on one side it gives you lots of options but on the other side, if not used smartly it can get heavy. The page builder is bundled in many WordPress themes, so theme users get it by default. It is a fine builder for creating pages for your WordPress site, however, the shortcodes can slow it down a bit.
The need for better tools is always in high demand. Technology is developing, requirements are increasing. Visual Composer Website Builder seems to be following this pace, giving its end users a powerful plugin that is easy to use for both beginners and professionals.
With 100+ features, constant updates, heaps of support, online tutorials and a thriving community, Visual Composer Website Builder deserves a try. They offer a free version, which is enough to give you a great first impression and even build a simple site.
And it's not only for beginners and web developers. It recently has launched an API that gives new business opportunities for WordPress plugin and theme developers.
This post may contain affiliate links. See our disclosure about affiliate links here.