Working as a team member can be challenging. Whether you're collaborating with colleagues or clients, it can be difficult to keep everyone on the same page. Yet that high level of communication is what makes for a successful project.
That's why over 35,000 teams have turned to monday.com. It's an intuitive platform that aims to connect people to processes. And it has helped everyone from small startups to Fortune 500 companies boost productivity and collaboration.
What can it do for you? Let's take a deeper look:
Centralize All Workplace Processes
The first step to improving communication is having a centralized location in the cloud. From there, it's all about utilizing powerful tools that are also easy to use. monday.com is the complete solution that design teams can't survive without.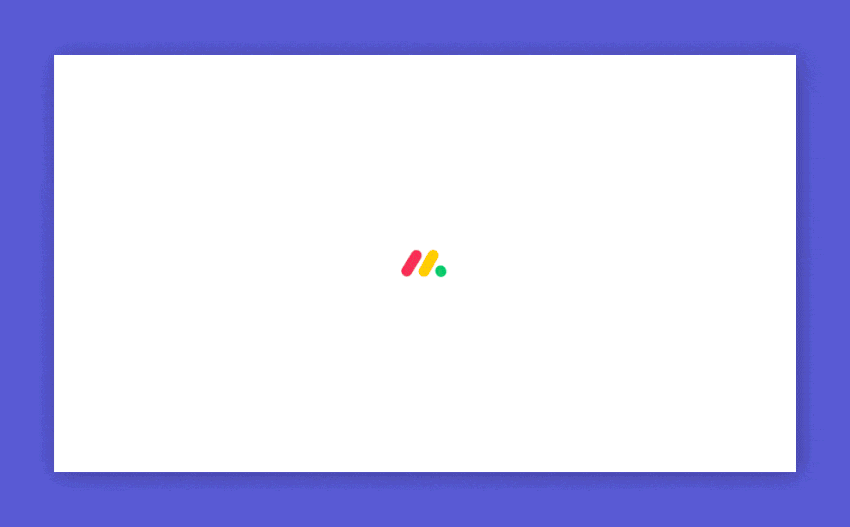 One Board Does It All
Your board is the place to keep tabs on everything your team is doing. You'll see exactly who is working on specific projects, their status and a timeline of progress. Plus, you can assign new items to team members – all from one powerful space.
Speed Up Communication with a Pulse
monday.com pulses allow you to easily communicate with your team. You can mention specific members or address everyone at once. Get instant notifications on desktop and mobile devices. Provide encouragement to colleagues or share files via drag-and-drop. This simple UI helps to keep your conversations in context.
Share with Clients
Clients love to keep track of progress. monday.com makes it possible with the ability to invite guests into your project. This will cut down on unnecessary meetings, phone calls and email chains. No one will complain about that.
Visually Manage Everything
With just a quick glance, your board will help you manage projects more efficiently. A colorful and beautiful timeline lets you instantly see who's busy and who's not. It's also a great way to keep track of approaching deadlines.
Powerful Search
monday.com gives you the power to search everything. Every project, every file, every assignment – it's all right there at your fingertips.
It Just Works
Team members will absolutely love how easy monday.com is to use. There's no training necessary and you don't have to be a tech wizard. The interface is incredibly intuitive and gives everyone the same exact view. It provides the perfect way to break down silos and encourage participation.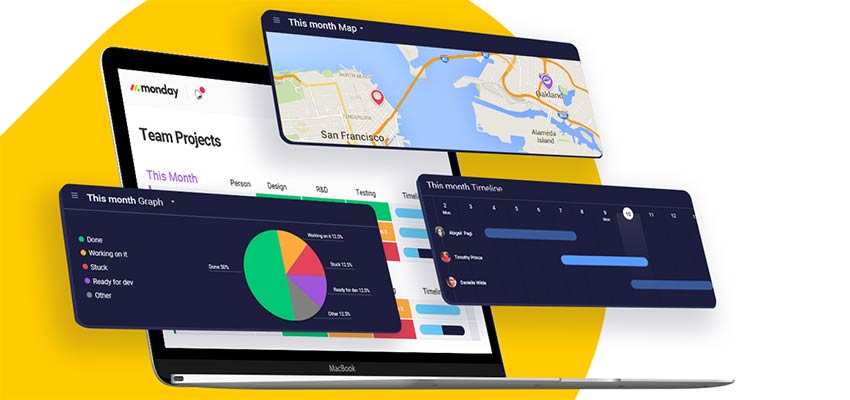 Always Improving
The quest for better communication never stops. That's why monday.com continues to develop and implement features like these to make your job easier:
The Column Center
A collection of 15 new functionalities that allow you to input virtually any type of data. Information like time tracking, creation logs and location views are now easy to setup.
Board Views
Increase engagement with this new way for teams to visualize, understand and extract data.
monday Stories
Looking for some guidance and inspiration? A community of monday.com users have shared use cases and best practices. You'll see how they're using the platform to facilitate better communication.
For ideas on how to use monday.com to track your web development projects, check out Ryan's story.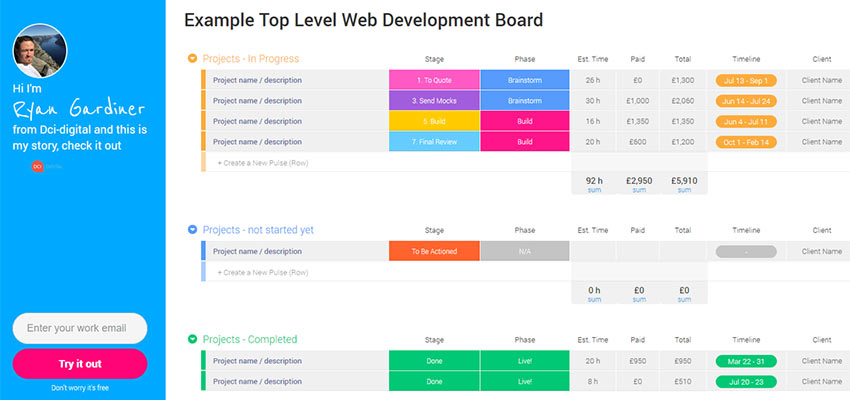 Better Teamwork Is Just a Click Away
It's time to trash those massive spreadsheets and repurpose your whiteboards. They've proven to be ineffective and cumbersome. Instead, start taking a new approach to collaboration.
monday.com has become the tool of choice for so many – and for good reason. It's infinitely scalable, easy to use and fits the way you work. No matter your industry or the size of your team, your workflow will improve dramatically.
What are you waiting for? Sign up for a free account with monday.com and start experiencing better teamwork.
This post may contain affiliate links. See our disclosure about affiliate links here.