LearnDash, to put it plainly, is a learning management system that makes it super easy to create courses, manage students, and more all from a single convenient dashboard.
It's a real game changer when it comes to managing online learning and classrooms. But some may be intimidated by the prospect of having to get familiar with yet another piece of software. The great thing here is that it's actually a plugin that can be directly integrated into WordPress. That means one dashboard for your entire website (and less passwords to remember, too).
Before to dive deeper into the subject, let's pause for a moment to take a look at what LearnDash is and what it can do.
UNLIMITED DOWNLOADS: 500,000+ WordPress & Design Assets
Sign up for Envato Elements and get unlimited downloads starting at only $16.50 per month!


As a learning management system, LearnDash streamlines the process of creating an online class. Within these courses, you can add separate lessons and topics, videos, quizzes, timers, assignments, and more. You can also create drip-fed content and set prerequisites and establish course forums so students can communicate with one another.
LearnDash also makes it possible to monetize your courses and has payment integration built-in that relies on PayPal. You can use other eCommerce platforms, payment processors, or even membership plugins in conjunction with LearnDash as well to add more features and to give your students more ways to pay.
Finally, the learning management features extend to the backend as well. So, once you've created a course, students sign up, and they're actively engaged in learning, you can keep track of assignments, view reports, create user groups, send email notifications, and more all from within WordPress.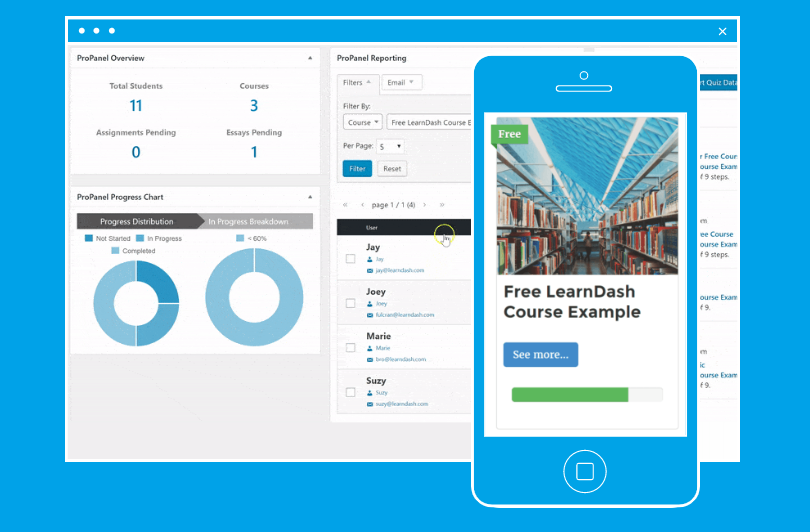 Now that you have a general idea of what LearnDash is, we can explore who might be interested in using such a plugin. To put it simply, this plugin is made for those who want to publish courses on the Internet. This can mean a number of different things to different people, of course. For some, this is just a matter of adding a couple of courses to an existing WordPress site. For others, the goal is to create a learning platform from scratch through which you manage countless students.
LearnDash could be used by:
Existing companies looking to provide hands-on training to employees.
Website owners who wish to sell online courses to the public.
Sites that want to provide a subscription-based educational service.
The great thing about LearnDash is that you can award certificates to those who complete a course to specifications you determine. These certifications can also be used as prerequisites for additional courses.
Features
Let's take some time to explore the various features of LearnDash. We can't cover them all here, but a general breakdown will give you an idea of whether or not you can make use of this learning management plugin.
Course Builder
Most important, LearnDash includes a course builder that you can use to create your own custom online courses right within WordPress. It has a drag-and-drop interface and uses a lot of the native WordPress dashboard features to keep things simple and straightforward from a UI perspective. You will basically be using a combination of WordPress tools and plugin-specific tools to create your courses.
Assignments and Quizzes
Another key feature is the ability to create assignments and quizzes. Of course, these are important aspects of any class a person may take, so it's especially helpful that those features are included here as well. You can configure assignments within LearnDash and their information can be automatically added to the Gradebook where you can manual score them.
The same goes for quizzes. You can select from a variety of question formats, including short answers and essays. You can even add a timed element.
Focus Mode
Another feature we want to point out is Focus Mode. When a student accesses the frontend of your course, it'll be a seamless experience for them. No clunky back-end style UIs or counterintuitive menus. The student's experience will be one of professionalism through and through. This saves you a lot of time too, as you won't have to design the outward look of your course at all.
Integrations & Addons
One final thing we'll say about LearnDash features is the abundance of integrations and addons available. You can easily add other eCommerce systems and payment gateways to LearnDash outside of PayPal including Stripe, WooCommerce, and Samcart.
You can also add membership plugins like Restrict Content Pro or MemberPress. Add more communication options using Slack and email marketing with MailChimp. Add on forums with BuddyPress or BBPress. And the list goes on. Though LearnDash is a fairly comprehensive plugin to start with, you can expand its features further thanks to these addons and create a richer experience for your students as a result.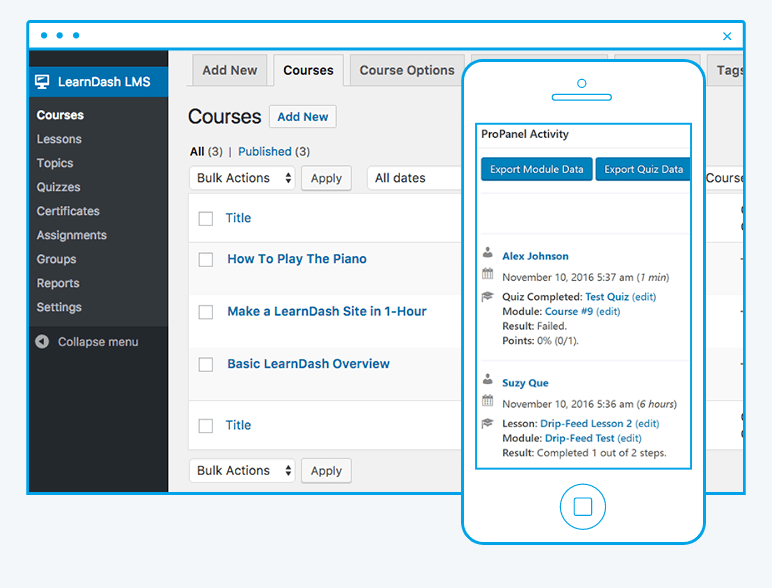 As you might've gathered by now, LearnDash possesses many helpful features that give it a real advantage for use as a learning management system. Here are a handful of reasons to use it:
Visual Course Builder: This makes it super easy to create your online courses using a drag-and-drop builder.
Prerequisites: Ensure people are following your courses in the proper order.
Drop-content: Let the content trickle out at a predetermined rate.
Embed self-hosted videos
Automated triggers that give you a head's up when someone enrolls in a course, completes quizzes, and so forth.
Plentiful add-ons and integrations
Localization and translation-ready
Disadvantages of Using LearnDash
LearnDash is a well-rounded plugin but it does have a few drawbacks:
Lack of Setup Help: There's no setup help or guidance when setting up the plugin for the first time. This can be a bit disorienting if you're brand new to learning management plugins in general or even dealing with more robust WordPress plugins.
Too Many Features: In some cases, LearnDash is a bit too robust. It has a ton of features you can pick and choose from but as with point #1, this can be a tad overwhelming if you're a newbie. In short, there's a learning curve here.
You Will Need Some Addons: It's great that this plugin has so many integrations and addons available but it is a bit of an issue that you will most definitely need a few of them if you're looking to use LearnDash in any meaningful way. The additional payment gateway integrations are often what people flock to first. But digital downloads and forums are also addons people tend to gravitate toward.
Cost: The pricing of LearnDash is highly competitive (see below) but there is still a price tag and this can be a turn off for those who don't have the budget for a premium solution.
Getting Started with LearnDash
Should you decide to add LearnDash to your WordPress site, you can sign up for and download it easily. The plugin comes as a part of three different packages. These break down as follows:
Basic: For a single site license, a year of support and updates, advanced quizzing, certificates, and drip-feed lessons, you can expect to pay $159.
Plus: This package includes licenses for 10 sites, ProPanel, and everything in the Basic plan. It costs $189.
Pro: The third and final package allows you to create up to 25 course sites, provides access to the ProPanel and everything included in the Basic plan. Expect to pay $329 for this one.
And there you have it. Everything you need to know about LearnDash to make an informed decision. Best of luck in your effort to create an online course!
This post may contain affiliate links. See our disclosure about affiliate links here.