Designing an ecommerce site is not like any other web project. You have to think about branding along with user experience and marketing based on the design. It can be quite difficult to say the least.
But there are lots of free resources you can use to make your job easier. Icon sets, for one, are a lot of work to design. You can save hours (even days) worth of time by using a free icon pack instead.
The sets below are all totally free and come in a variety of styles. If you're looking for ecommerce-related icons, you'll find plenty to dig through in this list.
All the Icons, Fonts, Web Templates & Design Assets You Could Ask For
54 Ecommerce Icon Pack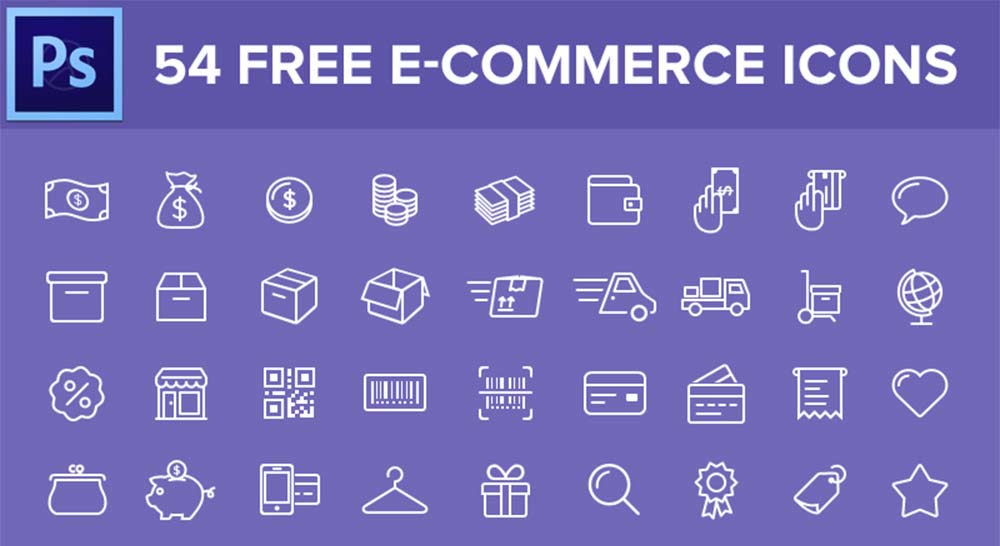 First up is a massive 54-set icon pack featuring simple line icons that will work well for typical ecommerce features.
This set was created by designer Virgil Pana and released for free on Dribbble. The entire pack comes as a PSD file and it really is one of the better ecommerce sets out there.
I like this particular style because I think it can easily blend in with any website.
The minimalist line style is very common and so it's worth trying – regardless of what project you're building.
Simple Green Icon Set
Here's one more freebie pack hosted on Dribbble with a focus on beautiful green icons. Although, technically the color scheme can be altered with a few clicks in Illustrator.
Designer Pavel Kozlov created this pack of 40 free ecommerce icons and released it to the world a few years ago. Yet, the icons are just as relevant today as ever before.
To download a copy you'll need to visit the Gumroad page. Typically items on Gumroad cost money, but this pack is actually 100% free.
If you want to give Pavel a tip for all his efforts, you certainly can. But it's not a requirement to gain access to these lush green icons.
Flat Vector Shopping Icons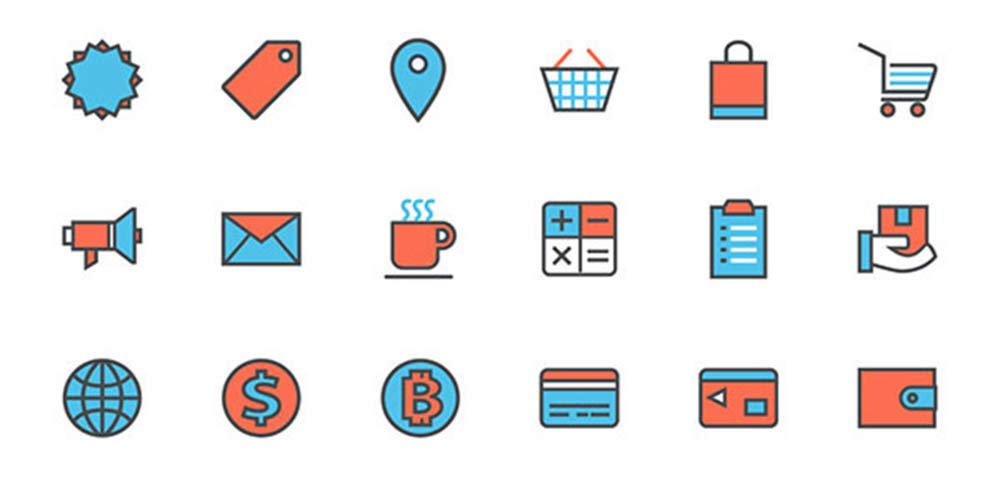 Another really popular trend is flat design. This has been applied to everything from mobile apps to websites and yes, even icons.
Take a look at this vector icon set featuring 80 different shopping icons. Some are colored, some are just plain line icons, but they're all super easy to use and customize.
You can nab the pack as static PNGs or as vectors in AI/EPS format. And they're free to use on commercial projects. Just note that the license requires a simple link back to the original website.
Shipping and Ecommerce Icons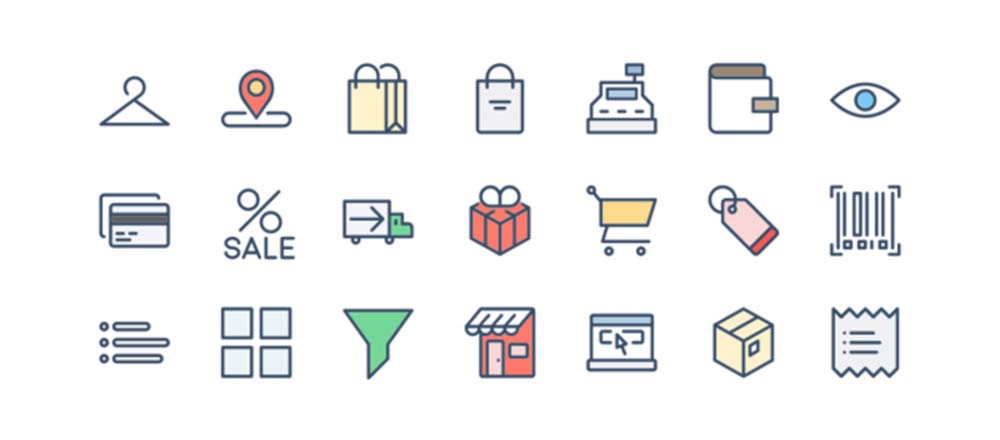 The online marketplace EpicPxls includes some really high-quality resources. It's a great place for designers to release premium and free assets to the world – all while building a following for their work.
Take a look at this icon set created by EpicCoders. It's been downloaded well over 2,000 times and it's really quite unique.
One glance at the style and you'll see what I mean. It feels vibrant, almost cartoony, yet not over-the-top.
This pack should work great for minimalist sites, along with any ecommerce shops that match the color scheme.
Hand-Drawn Icons Set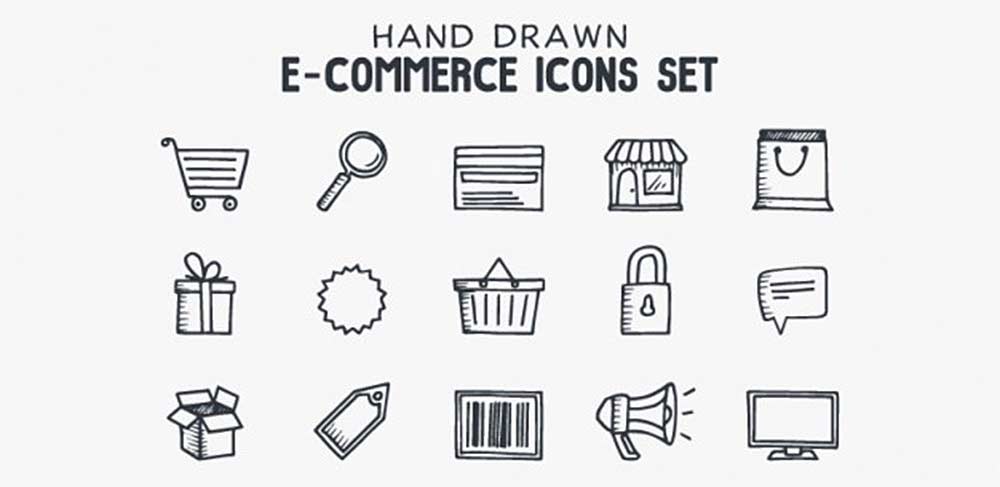 It can be tough designing a page with hand-drawn elements. But they do add a certain creativity into any website and that goes double for these free icons.
The entire ecommerce icon pack is focused on hand-drawn elements. From gift box icons to little shopping baskets and checkout features, all the graphics you'll need can be found in this set.
I would recommend using this set for a landing page design rather than a checkout UI. You may have difficulty getting these icons to blend naturally for a checkout interface, but they would grab attention on a web shop's homepage.
Credit Cards Pack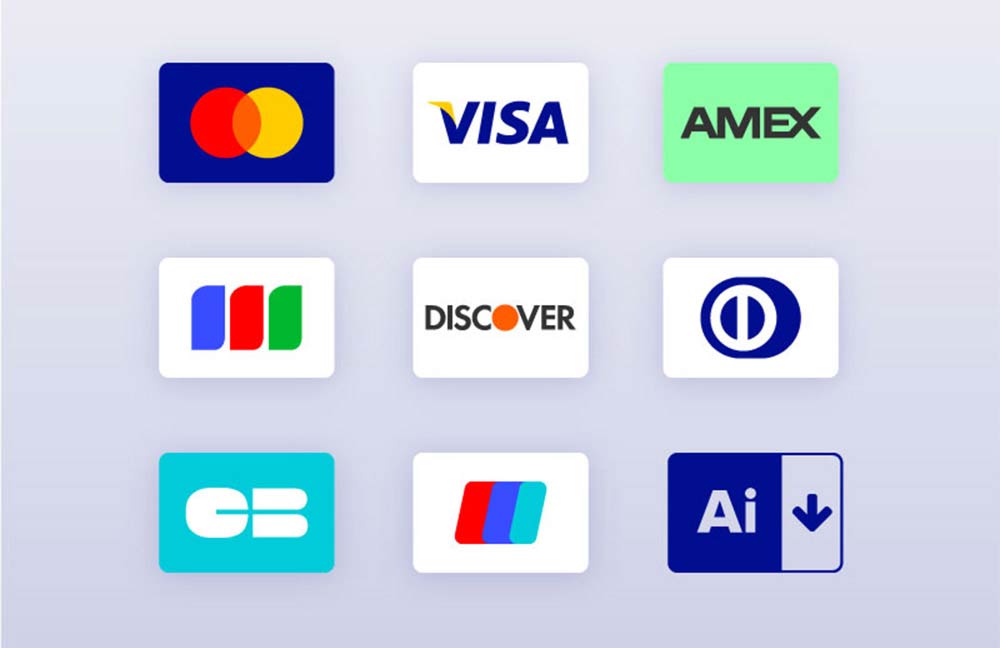 No ecommerce website is complete without credit card icons.
If you are designing a shop that accepts credit cards then have a look at these free CC icons released on Dribbble.
Designer Guy Levin created 9 different credit card icons – all in one Adobe Illustrator file.
They're super clean, easy to customize and will blend anywhere on your page.
Linear Ecommerce Icons
I do love my line icons, so they make plenty of appearances on this list.
The Pixlov website released their own pack of free linear ecommerce icons following this exact style. And the pack is just phenomenal.
You wouldn't think 33 icons would amount to a whole lot but this set has plenty of designs to pick from. I just wouldn't recommend them for a checkout screen, as it seems more suited for a landing page or a "features" page about the store.
These could also work well in your own newsletter to push your products even further.
Noun Project Ecommerce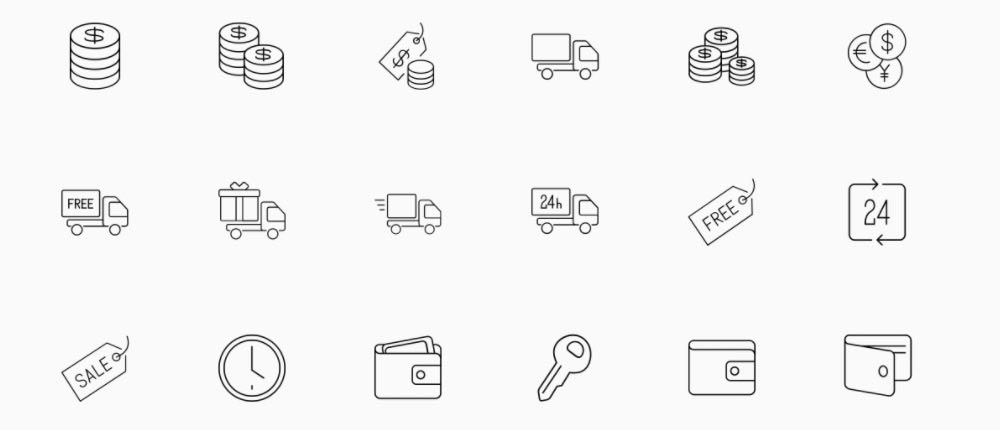 If you aren't familiar with The Noun Project, you should definitely check it out. The website curates a ton of free icon packs from around the web and from many designers worldwide. There's a lot to go through, but for this post I would like to suggest the ecommerce collection, made by Anton Scherbik.
They are the simplest of simple line icons. The pack includes several great choices, like checkout bags and cart icons in a variety in styles.
Checkout and Delivery Icons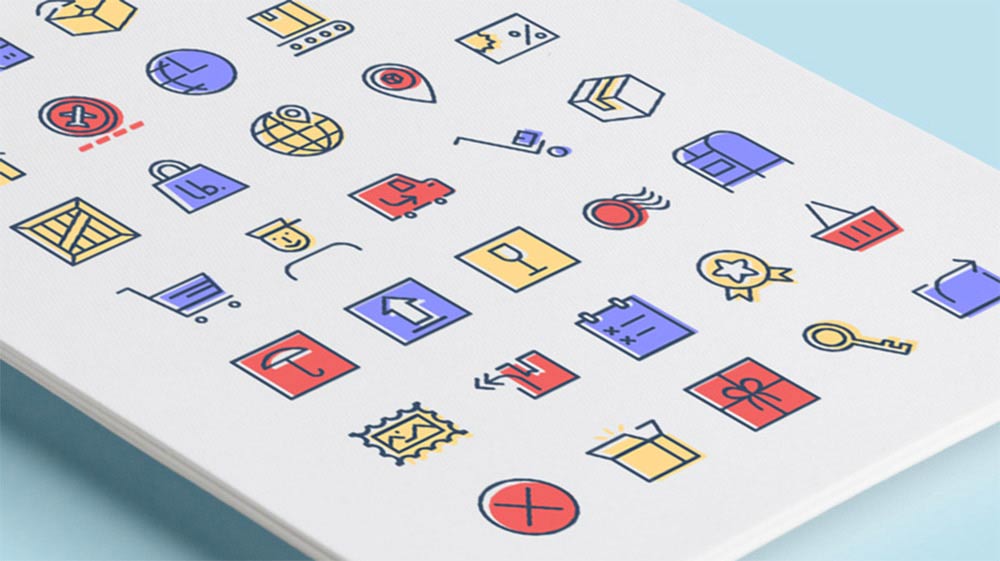 The Codrops blog is simply amazing. They regularly publish high-quality tutorials with freebies you can use for your own projects.
One example is this checkout icon set created by EpicPxls.
It comes with 35 unique icons that have a fill effect that you just won't find elsewhere. The fill colors ever-so-slightly hang outside of the line work, which is probably the first thing you'll notice.
This set definitely provides a unique twist.
Customized Icon Set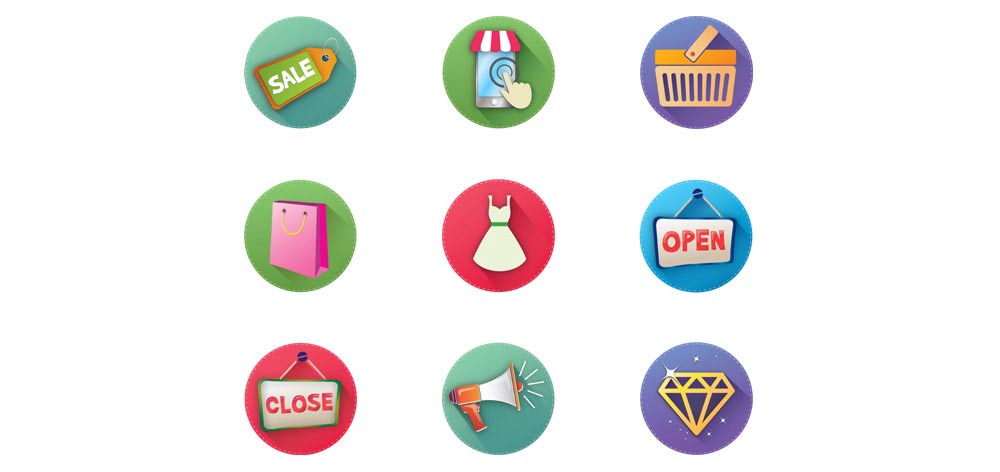 Last but certainly not least is this awesome icon set by Graphicboat.
These icons won't necessarily fit in everywhere. But they can draw attention fast and get people curious to learn more about your shop.
I'd say these icons would fit best in a header background, in a "features" page, or maybe somewhere near your CTA button.
That's the list! If you still haven't found what you're looking for, feel free to search Google for more. New freebies come out every month, so you never know what you'll find.
This post may contain affiliate links. See our disclosure about affiliate links here.