The latest trend in animated GIFs is the looping seamless image called a cinemagraph.
This idea first appeared in 2011 and has since grown massively with thousands of examples online.
1. /r/Cinemagraphs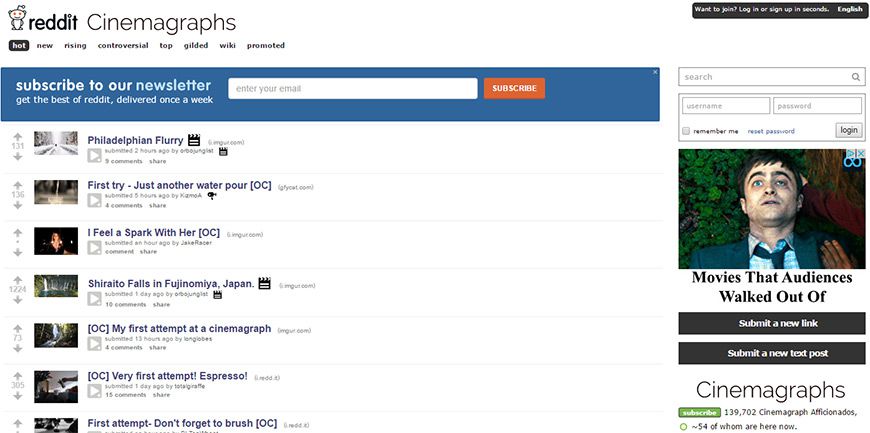 Reddit curates millions of new links every day and the /r/Cinemagraphs subreddit is one of the most populated communities on the site. Cinemagraph creators often submit their original work and the quality is superb.
As of writing this post, the /r/Cinemagraphs community has ~140k subscribers and it's growing every day. You can search through hundreds of thousands of older posts to find tons of amazing cinemagraphs across dozens of categories.
2. Cinemagraphs.com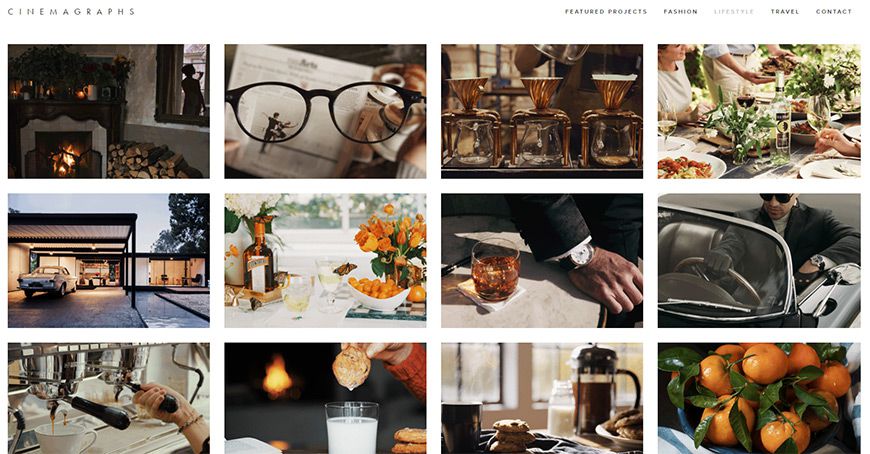 The creators of cinemagraphs launched their own website Cinemagraphs.com. It's the one-stop source for everything cinemagraph related with plenty of examples to sift through.
Kevin Burg and Jamie Beck first invented cinemagraphs in 2011 and now include this in their professional photography/videography services. To learn more visit the about page and skim through their site archives.
3. Instagram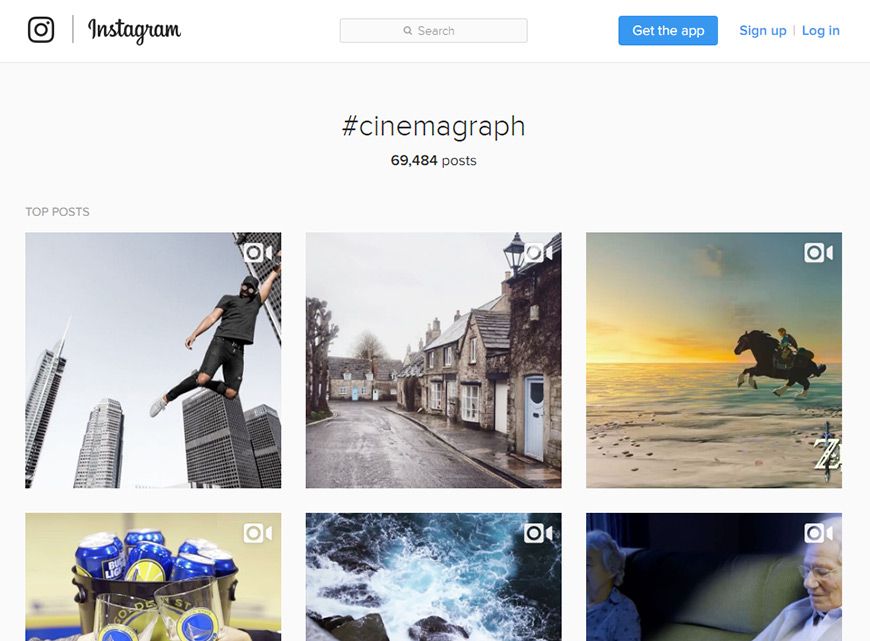 Instagram was popularized as a mobile app but it's not just for your phone. You can search the #cinemagraph hashtag to find thousands of photos shared by photographers and cinemagraph fans.
This term is still relatively new but it's gaining traction rapidly with about 62,000 photos and counting. So if you're ever looking for video cinemagraphs check this tag frequently for new material.
4. Flixel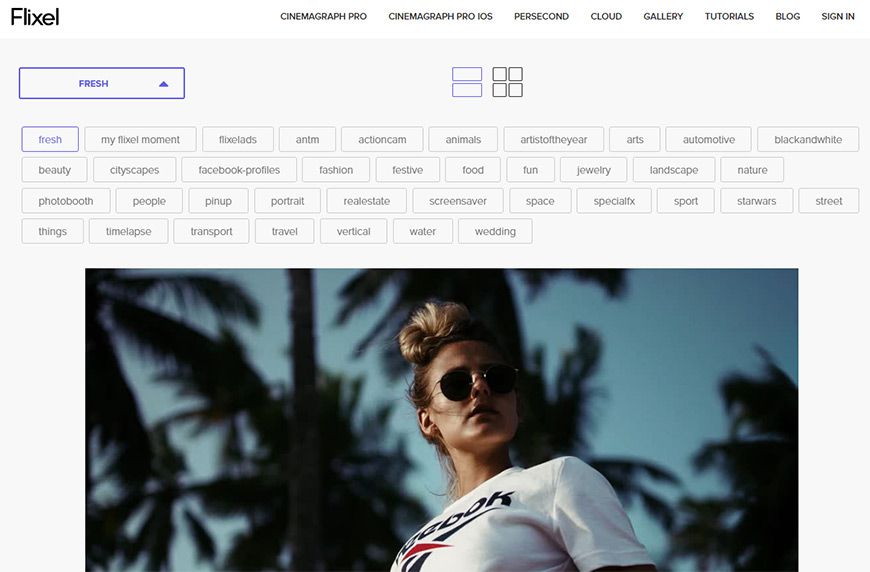 The Flixel program lets you create cinemagraphs with one easy editor for Mac. But their site also has a gallery of cinemagraphs submitted by creators and users.
You can search by category or by recency and this gallery is absolutely monstrous. I highly recommend browsing through their site to find quality examples from talented designers.
5. Giphy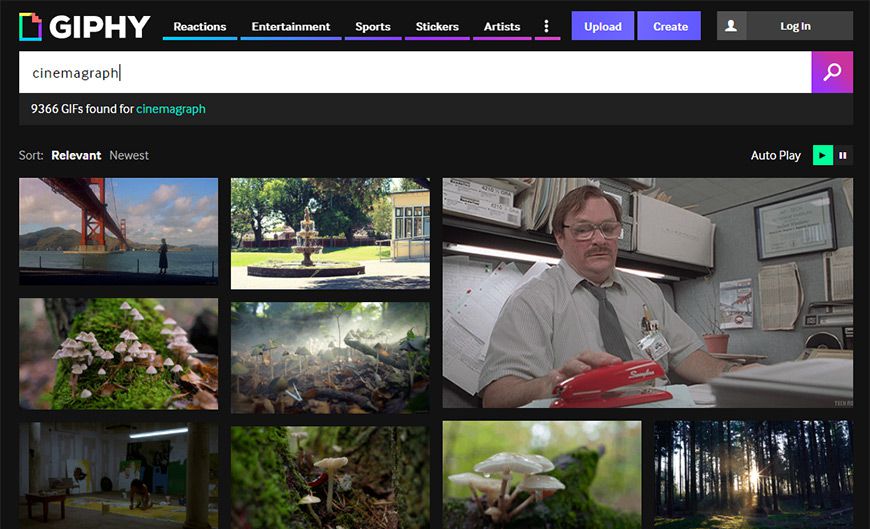 The GIF search engine Giphy seems like an obvious resource for great cinemagraphs. Doing a quick search reveals about 9,500+ results for cinemagraphs on their site.
Definitely smaller than other galleries but certainly worth a peek. And every cinemagraph on Giphy is guaranteed to use the GIF file format rather than a motion file like some websites.
6. Pinterest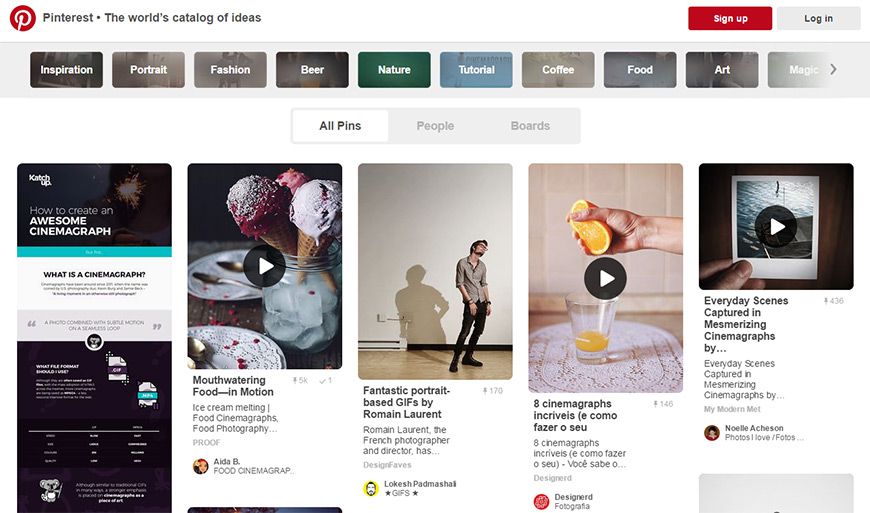 The visual network Pinterest offers a great experience for finding popular infographics. All posts are sorted by shares so it's a bit tougher finding new material.
But you can also sort through boards to find cinemagraph-specific posters and follow those updates. Pinterest can be confusing at first but once you learn the interface you'll see why it's such a beloved site with a growing audience of users.
7. Behance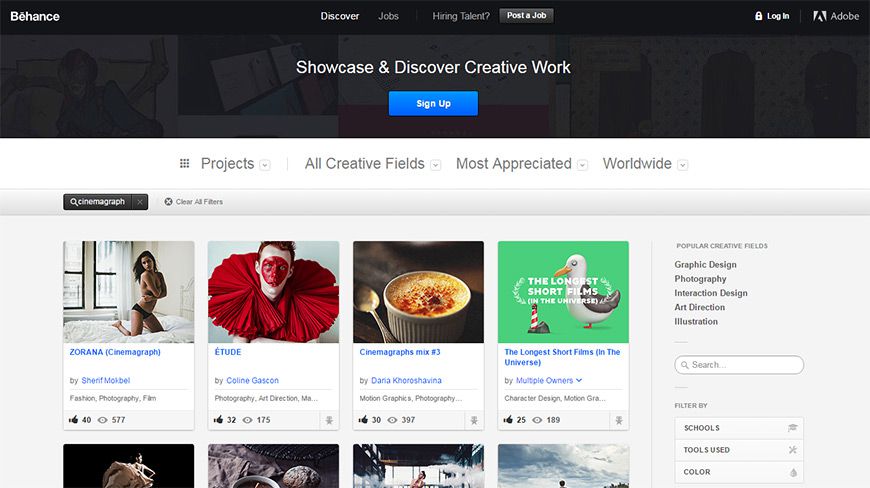 All designers should know about Behance since it's the best free portfolio site online. It's full of creative work and you can sort by keywords like "cinemagraph" to filter specific content.
I've found some incredible cinemagraphs on this site made by professional designers and design teams. There's a good mix of professional work along with amatuer cinemagraphs made for fun. But they all look incredible and Behance's gallery adds new posts every day.
8. Flickr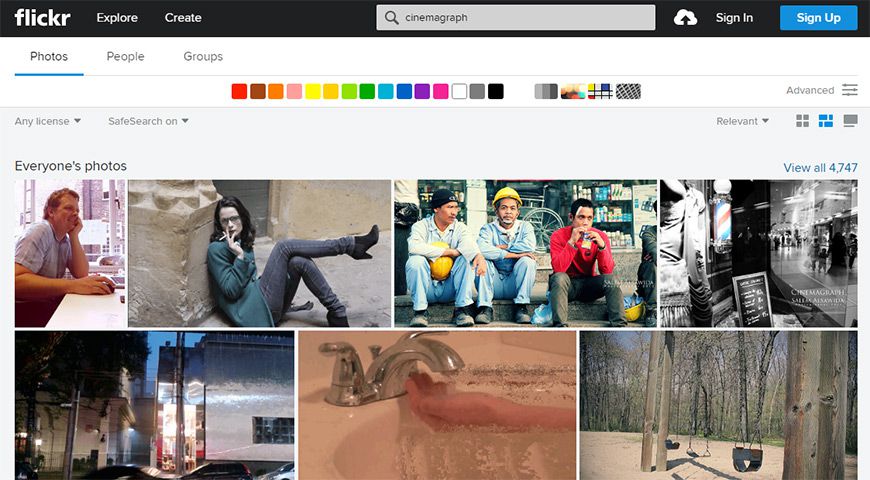 Flickr's updated search feature makes it much harder to find working cinemagraphs. But they are there, you just have to dig through results to find them.
Since Flickr auto-resizes all images you won't notice the animations right away. Instead you'll need to click the small arrow icon in the bottom-right corner of the photo page and click "view all sizes". The fullsize image should be the original GIF in all its looping cinemagraphic glory.
9. Facebook Groups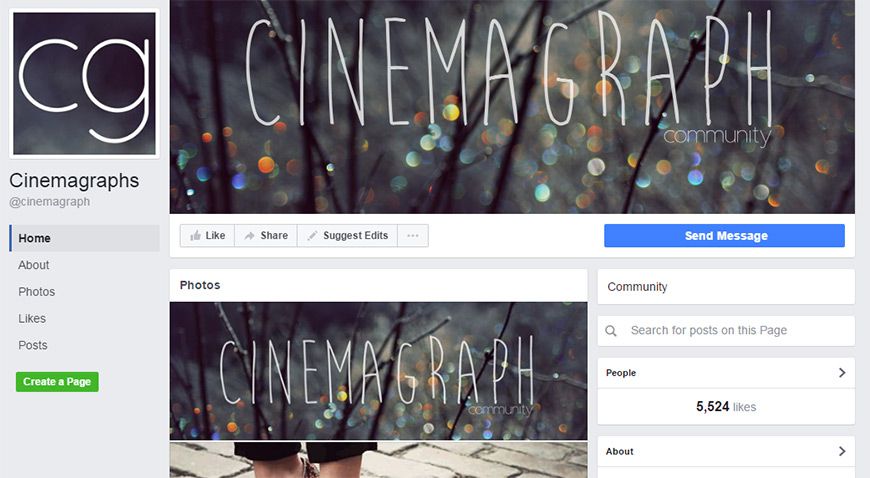 If you're a Facebook lover you can try searching for groups related to cinemagraphs. They don't seem to be as popular compared to Pinterest groups, although there are specific groups dedicated to cinemagraphs.
Most of the posts on Facebook seem to be repeats from other sources but you can find unique cinemagraphs made by professionals too.
10. Tumblr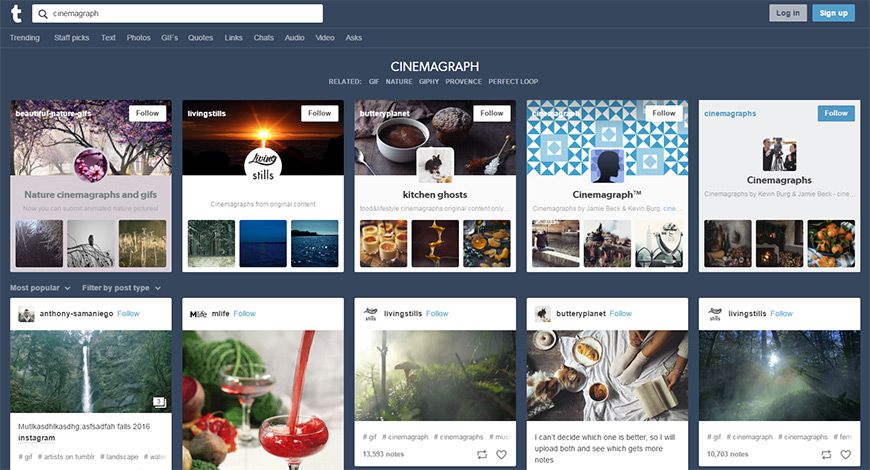 Tumblr is easily one of the most populated resources for finding cinemagraphs. You can search for generic cinemagraphs or filter by keywords and see everything live right on the page.
Since Tumblr is an image-heavy network it embeds all GIFs right into the search results. So you can sample cinemagraphs from a distance with a seemingly endless supply to pick through.
Wrapping Up
Cinemagraphs are here to stay and they've exploded worldwide into an extremely popular trend. Whether you're looking to create your own from scratch or just want to find some cool examples, I guarantee these resources can help you in your quest.
This post may contain affiliate links. See our disclosure about affiliate links here.