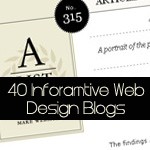 If you are a web designer and you are looking for resources, inspirations, designing tutorials or want to keep yourself updated with the current trends in this field then you don't need to worry because Internet is full of web design blogs related to web designing. You will find a huge number of blogs featuring tips, tricks and how-to's on daily basis. Today we have collected 40 awesomely informative blogs which will bring out the best designer from you. Make sure to follow all these for updates on latest trends in designing industry.
---
Table of Contents:
---
37 Web Design Blogs For Developers and Designers
Today we have collected 40 awesomely informative blogs which will bring out the best designer from you. Make sure to follow all these for updates on latest trends in designing industry.
---


3. Six Revisions
















21. AEXT.NET


23. Tutorial9


25. Design Instruct










35. Garcya.us

36. Site Sketch 101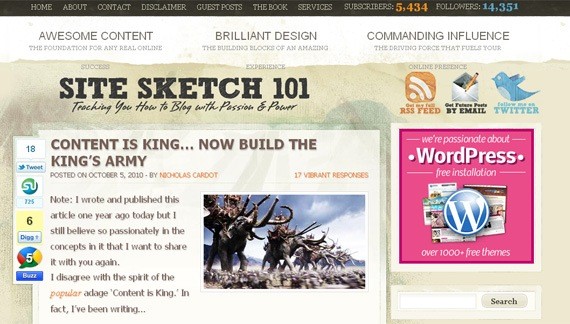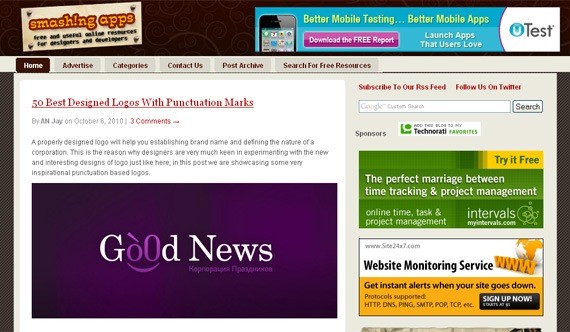 Now you have even more resources where to look for new knowledge. However here is more form us! These can also be pointed at your blog, if you have your own, or you want to start one.
---
5 Reasons Why People Aren't Coming Back To Your Website
Are you wondering why visitors don't seem to be coming back to your website on a regular basis? Does looking at your website statistics on Google Analytics make you cringe? This can be turned around with some updates to your website.
---
First we are going to go over the top 5 reasons why people aren't coming back to your website. Then we will provide you tips for overcoming those 5 obstacles. After reading this article and making some or all of the improvements we suggest, we know you'll be excited to log into Google Analytics to check your website traffic each day!
5 Reasons Why Visitors Are Not Returning to Your Website
Every website is different, but more often than not, those websites that are not seeing repeat web traffic share a number of similarities. Here are 5 of the top reasons why people aren't coming back to your website:
1. Your website is static
Do you ever take time to update or add to your website? Static website are filled with pages that never change, information that stays the same, and no updates for readers. Creating a static website is one of the biggest mistakes we see across the web. Readers want to come back to a website that adds new content on a regular basis.
2. Your website is hard to navigate
With websites that are not receiving return visitors we usually see one of two things when it comes to website navigation:
Your website has multiple links, which take readers to the same page. Does your site have a top navigation bar, side navigation bar, and links within your content which all take your readers to the same set of web pages? It's good to drive readers through your website, but having too many links all taking readers to the same web page confuses the reader.
Your website has broken links. Have you checked your links recently? Are any of those links broken? Take time to go through your website to see if any of your links need to be repaired.
Does your website look like this?
3. You're not encouraging engagement
Do you ask your readers to email you or leave comments on your blog/website? Readers want to engage with the owners of the websites that they frequent. They want to know that they have a voice. Be sure to give them that opportunity. See the image below, the blogger ends his article by asking readers to share their opinions.
4. Lack of social media involvement
Are you using social media to build relationships with your website visitors AND to encourage new visitors? Far too often managers of websites are not using social media to help build relationships with their readers.
5. You're not providing any real value to your readers
Is your website so focused on making sales that you don't provide any educational information to readers? Readers want to learn, that's why they are visiting your website. If your website is all images or too sales heavy and lacks educational content, readers aren't going to find much value in coming back to your website.
Websites that Do a Great Job Encouraging Return Visits
There are A LOT of great websites that do an amazing job encouraging return visits to their website. Here are 3 that I think are top-notch:
HubSpot provides marketing automation software to marketing agencies and businesses. In order to attract their target audience to their website they publish regular content on their blog. They produce top-notch content and give it away to their readers for free. Readers find that extremely valuable, thus they continue to visit the HubSpot site. Ultimately their blog helps to convert a certain percentage of blog readers into customers.
Amazon revolutionized e-Commerce. They did something remarkable and provide a valuable service to their website visitors. I'm not saying you have to create the next Amazon.com, but what I am saying is that within your industry, don't dream small, dream big! Do something remarkable. Get people talking and sharing your website with friends.
Wikipedia is a site for the people, by the people. Wikipedia invites their users to share information and knowledge. By inviting their readers to share their knowledge with others it appeals to those readers' ego. It also puts the power in the hands of the readers. You can do the same by encouraging comments on your blog or engaging your readers on social media.
5 Tips to Attract Readers to Return to Your Website
Now that we know the top 5 reasons why people aren't coming back to your website, let's review what you can do to encourage readers to make a return visit to your site.
1. Add a blog
Blogging can do wonders for website owners. Writing blog articles is your way to communicating with your audience. Adding blog content on a regular basis gives readers a reason to come back to your website over and over.
2. Redesign your website
If your website is tough to navigate, you should consider redesigning your website. You want to create a clean website with clear navigation elements and prominent calls-to-action if you want readers to keep coming back! With that said, be sure to build a website blueprint before you start building your website
3. Add calls-to-action to your website
If you want readers to engage with you, then ask them too! Ask readers to email you with questions or comments, encourage them to leave a comment on your new blog, and be sure to respond to any comments they do leave. Readers want to know you're listening.
4. Use Social Media
Get on Facebook/Twitter ASAP. Social Media is not a fad. It's a trend that has no end in sight. Being on Facebook and Twitter definitely takes time on your end, but the results are well worth it!
5. Rewrite your website
Adding educational content will show your readers that you want them to learn something. It also gives you an opportunity to add searchable keywords to your website, which will increase your search engine traffic.
Conclusion
Do yourself a favor, go back and review your website against the list of reasons why people aren't coming back to your website. Be honest with yourself and determine if your website falls into any of the traps listed above. If it does, come down to the list of things that you can do to encourage return website visitors and start implementing them one at a time. You'll be very happy with the results six months from now!
Imagine this, you have your own blog, and you have written a lot already, however you know it's time for a new post, but you have run out of ideas. Well read on, and find out how to find writing idea in no time.
---
How to Find Ideas to Write About in Under 10 Minutes
The most common problem that bloggers like me encounter is that point in time when no idea seems to be good enough to be written and published. You'd think that the biggest problem here is thinking of what to write about, but the underlying problem is really answering the question, "is it good enough?" or "will my readers like it?"
---
Thankfully there are a lot of tools and people who can help you verify if that idea of yours is good to be written about or not.
Whatever niche you are blogging about, this guide will be relevant.
Looking Into Trends
Know what the people want and the world is yours to rule. At least a portion of it. Apparently, people can't get enough of certain things and will do everything to get more. This is your chance to ride the Bandwagon, know what is trending and write, or create, them instantly. Soon people will flock to your website and will ask for more. This is actually easy to do, but the challenge here lies in your ability to be always on time, just when "they" are all awake. You need to be one of the first to hop on the trend to get noticed.
Trendsmap
Trendsmap is the perfect tool for bloggers who want to target a specific geographic audience. I never knew such a tool existed until I began researching about how to find trends.
Other noteworthy tools to look for trends:
Ice Rocket

eBay Pulse

The Wall Street Journal

Yahoo! Buzz Index
It's all about trends. Going with the flow will definitely bring traffic to your website and will give you a new topic to talk about. This is the easiest route, in my opinion, to gather ideas to write about. Since there are always new things online, why not use that to your advantage?
The tools linked above provide a summary of what's hot for the day, or what's being talked about in that hour, but if you want to have a more real-time view of what's being talked about around the globe then Twitter is your friend.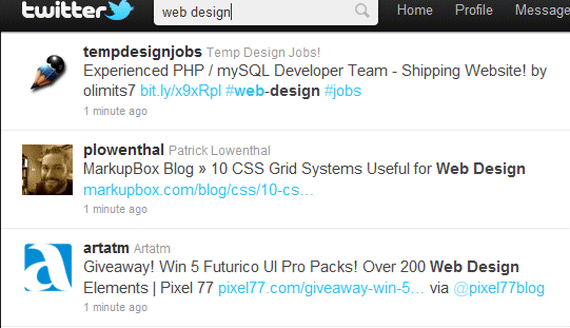 Everybody knows what Twitter is, but it seems that people underestimate its search function. Here you can key in any term you want and see what people are talking about, and don't forget to use hashtags too.
Google Alerts is also one of my favorites when it comes to being updated about current events on the web. You need to simply add a keyword you want to be notified of when it appears on the web, and Google Alerts will notify you once something comes up.
Through People
In order to succeed in what you do you need to have someone whom you can look up to. A living inspiration that you can always look to to find guidance, and possibly outrank someday. I've listed some resources below to help you get started. As the saying goes, if you want to be the master, think like the master, and walk like the master. These people are masters in their own ways, and it appears to simple people like us that they have an unlimited trove of ideas! In order to be like them, first you'll need to know what made them them.
Through Online Communities
Two heads are better than one, but a thousand heads is definitely better than two. In the past it's impossible to connect with thousands of people, or even a meager hundred, but today it is very possible. With the rise of social media and social news websites like Reddit and Digg it is now possible to contribute what you know and learn new things in return.
I spend a lot of time browsing reddit, answering questions and posing some, and throughout the day I have had several moments of, "why didn't I think of that?"
Websites you can productively waste your time on:
StumbleUpon –  this is probably one of the most innovative tool online, a first of its kind enabling people to randomly see web pages that are based on the users' interests. I stumble daily, although I rarely "thumbs up" a web page, still it provides me with enough ideas to write about be it for work or personal projects.
Reddit –  over the years there have been blogs that mined information on reddit, which is kind of frowned upon (see TIL-Blog.com). Anyway, reddit is a trove of useful information, especially when you know where to look. You know what's the good part? I wrote a guide on how to use reddit some months ago.
Digg –  a social news aggregator and forum where people discuss things. Same with reddit, it's a trove of useful information.
Pinterest –  a place where creative people gather and share their own creations. This is not just like any other web directories, it's like the Etsy of displaying what you made for the whole world to see.
Hacker News –  here you can find fresh ideas and hot topics being talked about by professional tech guys.
Benjamin Franklin once wrote, and in this rare instance we'll take it without context for it to work, "Either write things worth reading, or do things worth the writing." You can't flesh out ideas out of thin air, you need to do something!
Chances are the reason why you are here reading is because you're in search for inspiration to start or end your day with. You're on the right track, reading daily is one sure way to find inspiration. See, there are a lot of beginning bloggers that whine about not having enough ideas to write about, and they don't notice the problem because they have secluded themselves in their tiny universe. This is not the way to do it. If you are experiencing lack of inspiration to write, just randomly scan your reader for new blog posts or use StumbleUpon to randomly find entertaining posts online.
Through Blogs
…and don't forget to share your favorites too in the comments below!
There are many people who have found inspiration through 1stwebdesigner, but that doesn't mean you should stop at that. Above is an extensive list of blogs that you should find time to visit, each having important things to share.
Through Yourself and Your Competitors
Keep your friends close and your enemies closer, they say. This works well for websites competing in the same niche. What topics do they usually write about? What keywords? Frequency of publishing? Who writes for them? And more importantly, who are their readers?
SimilarSites –  use SimilarSites to find popular blogs like yours and see why they're doing well. You may also find new things that you can also do, but of course do not copy!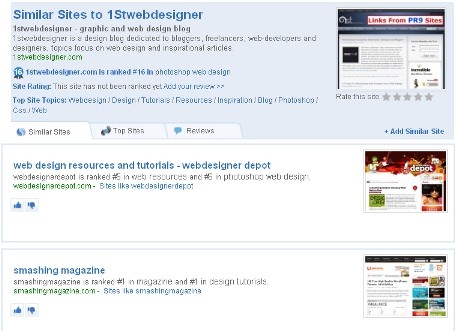 SEODigger –  with this tool you can analyze what makes your competitor really popular, what kind of keywords people are looking for on that certain blog, how often, and a lot more.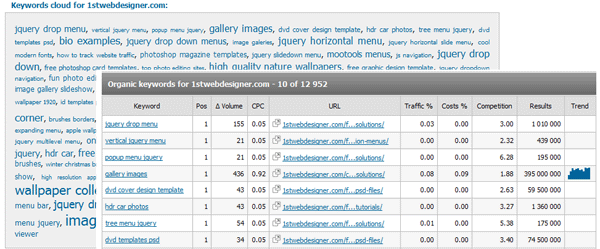 Using SEODigger I checked what keywords are common for 1stwebdesigner. It also shows a report on what keywords provide more traffic.
Through Existing Ideas
Let's face it, 99% of the things that you'll ever think about creating have already been created by hundreds and thousands of people. Through the use of the internet nothing remains unique for more than a day. But that doesn't mean you can't use an existing idea to give birth to a slightly angled idea.
Blogs are a great example of this. Every blog that you can think of has a lot of competition. Even huge eCommerce websites like eBay and Amazon, streaming music, streaming videos, fan fictions, and a lot more. But what differs them from one another is the content they provide, and that's what makes or break everything. You can start a blog today with the same niche as 1stwebdesigner, but in the end what will give your blog an identity is on how you present things differently, from a different angle or from a whole new perspective. It is literally a "lather, rinse, repeat," kind of process for everything, with slight changes in every turn.
This article you are reading has been written hundreds of times across hundreds of blogs, but what makes it unique is it's more updated and I'm trying to take a different angle, every angle possible.
A question begs to be answered, is it ethical to get ideas from existing ideas? I will be annoying and say, it depends. If your goal is to take an idea to simply have new content for your blog, that is a terrible way to make it. But if your goal is to improve on an existing idea, by all means please do. You are content creators, and part of the unwritten and unspoken rule every content creator has is to constantly improve things. You can't call yourself a content creator if you can't improve things.
Do yourself great favors and read as much as you can at the start of your day, allot a few minutes to think about the things you have read, morph them and merge, and come up with a new and improved idea. It's like polishing an armor or whetting your favorite knife.
Here are 7 Easy Ways To Turn Old Content Into New Content.
Sit Back and Relax
Literally. Sit comfortably in your office chair, or half lie on your couch, and hit it with a TED talk or run the Blu-ray player for a marathon. Humans are visual creatures, just like when you look at clouds and see images that aren't really there, simply watching things while relaxing can stir up your mind and make you catch, or generate, ideas.
Listen to your favorite music, or try a new genre
Watch a movie
Read a book
Read the newspaper
just stay away from work
Talk and Talk
As opposed to the tip I gave above, talking and talking for countless hours is also a great way to come up with several good ideas. But I should mention that the talking is done with another person. Yes, I'm talking about going outside and having a social life. I know many writers that mostly spend  entire months at home and they begin to wonder why they're into so much creative block. Well, sir and ma'am, I may have a solution for that. You need to talk to people, socialize and laugh and spend your Friday nights getting wasted. As they say, life is too short!
Further readings from experts:
50 Ways for Writers to Find Article Ideas | FreelanceSwitch
Preview Image Credits
Now lets look at how to write a great article.
---
How To Create Killer Articles To The Glory Of Success
It is not a secret that some articles speak better than others. But what makes them better? Writing is a skill you can try to master your whole life, it is an ongoing process. A good way to learn is to learn by example. In this article I'll try to explain the basics of a good article and share a few tips to you. You'll also see some great successful articles from last year and be able to see what a good and efficient design article should look like.
---
Don't underestimate the importance of headlines, sometimes just few lines of text can be more important than the whole article!
Content
There's a reason the saying goes 'Content is King.' You can promote your post using dozens of social networks and use the most advanced SEO tricks, but at the end of the day, the content will be the most important factor that will make people read your article and share it with their friends.
An Idea
Every article starts with an idea. Great ideas are already halfway to the success. Choose something relevant, something interesting, something you'd like to read yourself.
"A great idea is already halfway to the success."
The Web Is Dead. Long Live the Internet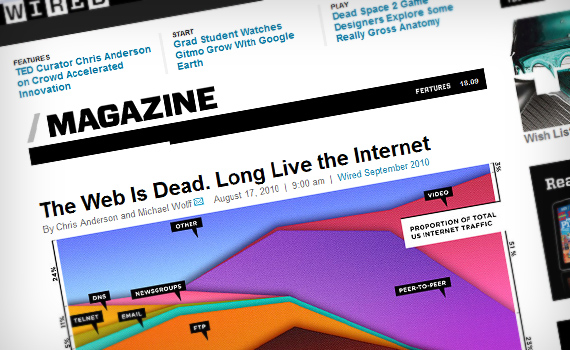 You can find many splendid ideas with great presentations on Wired.
Research
However a great idea won't be enough for a good article. You'll have to do a lot of research on your chosen topic. You can't write a proficient article about a subject you have no basic knowledge of. Look for similar articles, search information, acquire knowledge and develop your own opinion.
"Though a great idea won't be enough. You won't get by without hard work and deep research."
Negative Space in Webpage Layouts: A Guide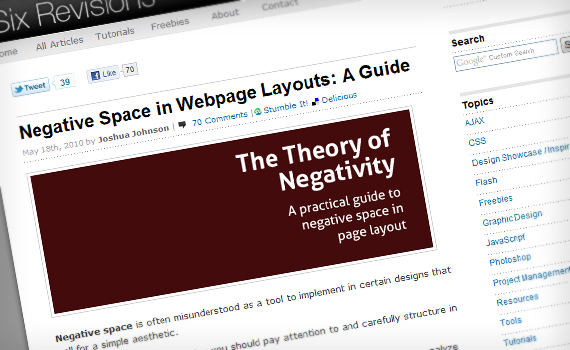 Six Revisions is writing about negative space in web design which is a topic not just anyone could write about. The author has done their research and included some case studies.
Calculating The Genuine Value of Your Design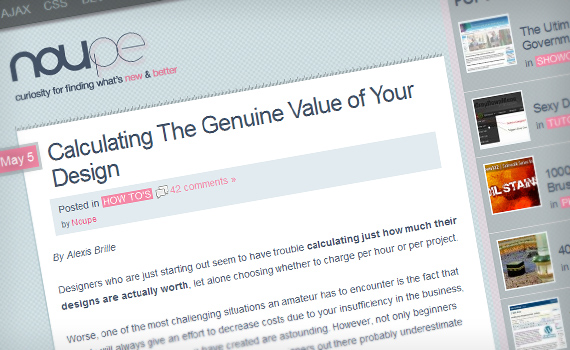 This article by Noupe is a nifty example of research done and then used effectively in the article.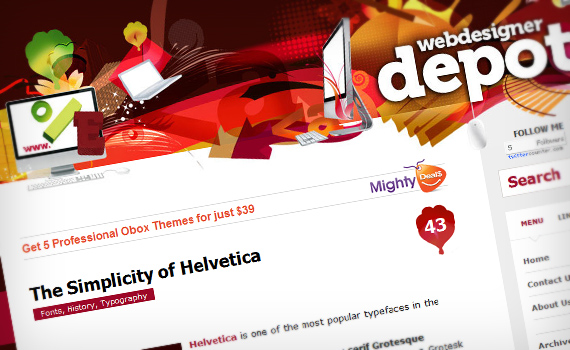 Web Designer Depot wrote about Helvetica and you can see all the research done. The article covers almost everything from the history to a comparison with Arial.
Be unique
Be distinct. Don't write about things other authors have already discussed (unless you have a new angle, or can write a better article). Find something no one has written about. Inspect your subject from all sides, play with it until you find what's right for you. Deliver unique and well-grounded content with facts and arguments.
"Find something unique to write about and play with the topic until you find the best way to approach it."
The Design Lesson: 1 of 1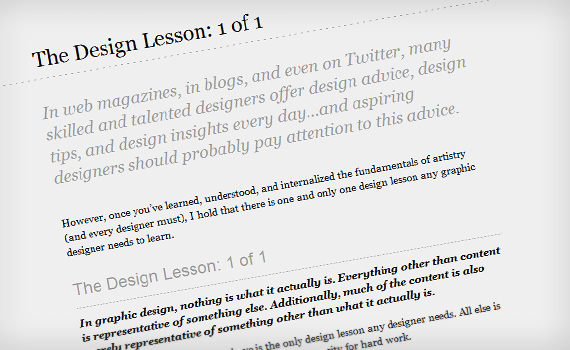 Andy Rutledge holds that there is only one design lesson any graphic designer needs to learn. He's fortified his opinion and I find this article original and really interesting to read.
Your point of view
It's not always bad to be subjective. Sometimes an authors' opinion will make an article livelier. Don't be afraid to express your thoughts. Choose a subject you've got your own opinion on; it will be much easier for you to write and more interesting for readers to read. A little subjective post will stir people for a little discussion in comments as each of them will have their own point of view.
"Don't be afraid to express your thoughts. The article won't be just a plain yes/no, good/bad."
Tips On Buying Design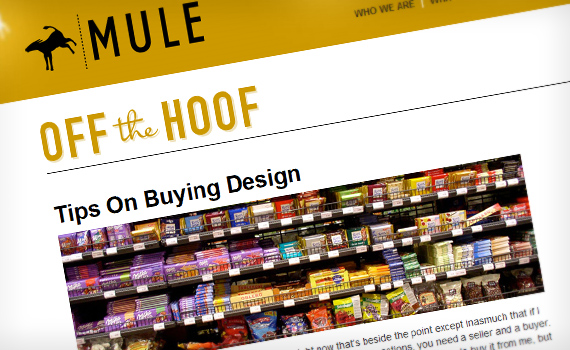 In this article on Mule Design Blog the author presents us with his position on the subject and shares some defended arguments with us.
Looking to hire a logo designer? You might want to read this.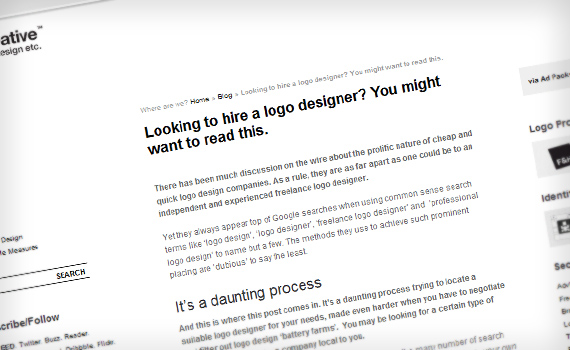 When it comes to logo design, Graham Smith is one of the best in the game. It's not only engaging to read an expert's opinion, as a matter of fact it's advisable to do that. I included this article as an example, because articles by true experts in the field mostly are immensely useful and well-written.
Illustrations
Lets face it, plain text is boring. People want to see pictures, a lot of them. They don't want numbers, they want graphs and illustrations. Photos and illustrations help in visualization. For people with visual memory, photos and illustrations help to memorize the idea expressed in text.
Photos and visual content attract readers. Especially those like me who tend to quickly scroll through the text looking for a big colorful picture which entertains my eyes. Supplement your articles with interesting photos and demonstrative graphs – your readers will be grateful.
"Readers are lazy readers. They want to see images, a lot of them. Give them something to feast their eyes with."
Applying Mathematics To Web Design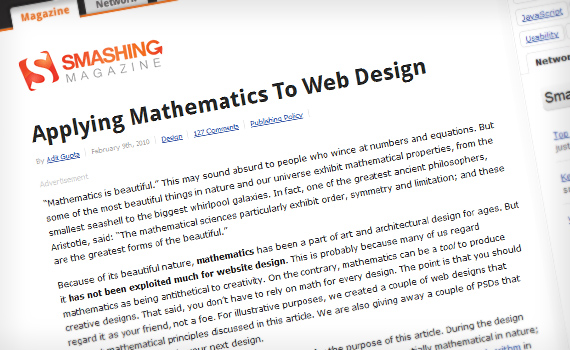 Smashing Magazine wrote about a complex subject so they've added conspicuous illustrations under each paragraph. They really help to fully understand the text.
Examples
Theory is important and necessary but we all love examples and demonstrations. Similar to photos, they also help us to understand points. One good example will let readers understand better what you are trying to explain in 5 paragraphs. A few examples are enough, don't make the whole post examples and just some transitional text.
"One outstanding example can replace 1000 lines of explanations."
Twitter Background Design – Great Tips and Gorgeous Examples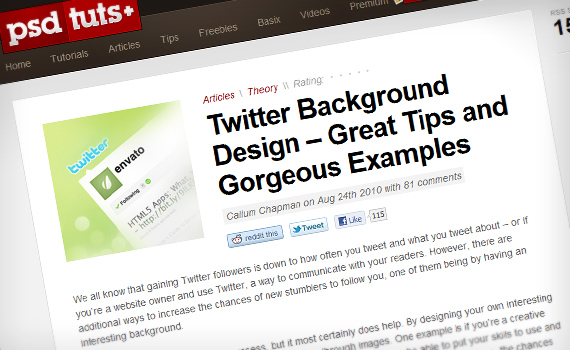 Psd.tutsplus published a guide about Twitter backgrounds and they've included some gorgeous examples with comments.
Styling
Make your sentences easy, perceivable, and short.  Readers are busy and are not willing to read 2-page long articles. Use paragraphs, don't get into long speeches, and be concise. Stress the fundamentals and make your idea flow easy to understand.
"People are not willing to read 2-page long articles. Be comprehensive, don't underestimate paragraphs and headings."
Are You Giving Visitors A Reason to Revisit Your Blog?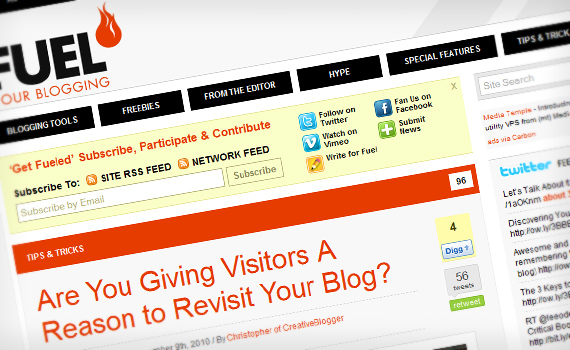 In this article by Fuel Your Blogging you can see distinguishable headlines and short, precise text. It's well styled and easy to understand.
7 Elements of a Successful Freelancer's Website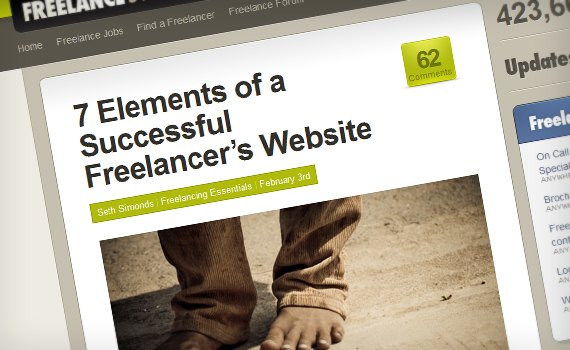 Freelance Switch articles have very noticeable headings and the texts are finely divided.
Conclusion
There's much more to add, but I hope you've acquired some basic knowledge of how to write a good design article. To sum things up:
Everything starts with an idea. Think about something significant because a great idea is halfway to the success.
Do your research. You won't be able to write a proficient article about a subject you have no basic knowledge of.
Be unique. Try to examine the topic the way nobody has done before.
Include your opinion. It will be much easier for you to write and for readers to be more interesting to read.
Use photos and illustrations. They will attract readers and help them understand the content.
Theory is important and necessary but we all love examples. Find great examples for your article.
Make your content easy, understandable, and short.
Use these points as guidelines. And the main thing – the article is efficient if you like it yourself. Below you'll find some excellent articles from 2010 as well as some articles for further reading.
"What Font Should I Use?": Five Principles for Choosing and Using Typefaces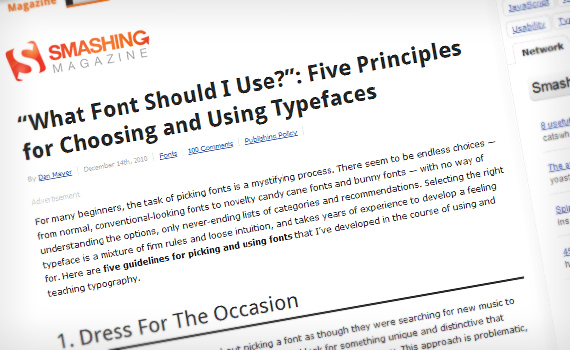 Smashing Magazine has done it all perfectly. Plan points, paragraphs, photos, screenshots, short conclusion and related resources. This is how a good efficient design article should look like.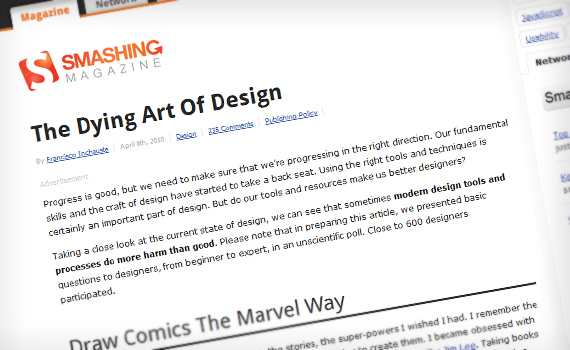 Another outstanding article from Smashing Magazine. A clever idea, proficient content and suitable styling. What's more they've interviewed close to 600 designers to make the article better.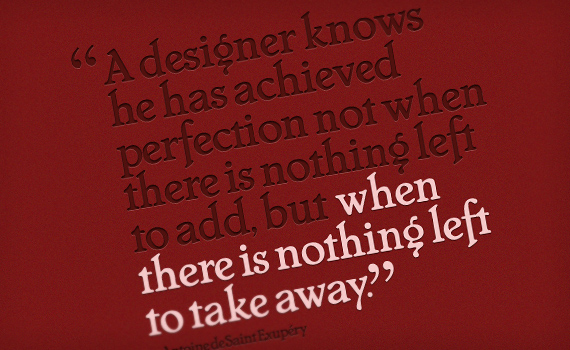 This article by I Am Paddy is a good example of blog post styling. This post has a custom design and the use of typography makes it so pleasant to read.
A Beginner's Guide: Stepping Into Web Design Industry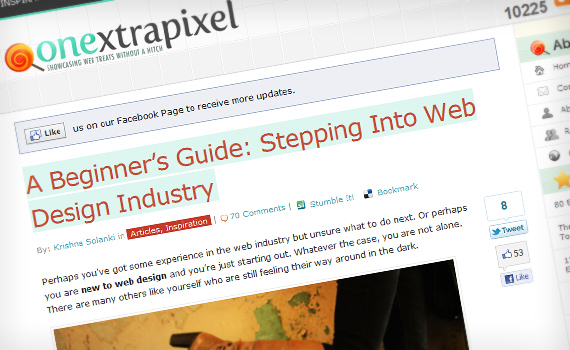 Writing a helpful guide is not an easy task. Onextrapixel has done pretty well. Various paragraphs with short comprehensive guides and illustrations. Besides they've added related resources to each paragraph which is really handy.
Name One Thing About Web Development You Never Saw Coming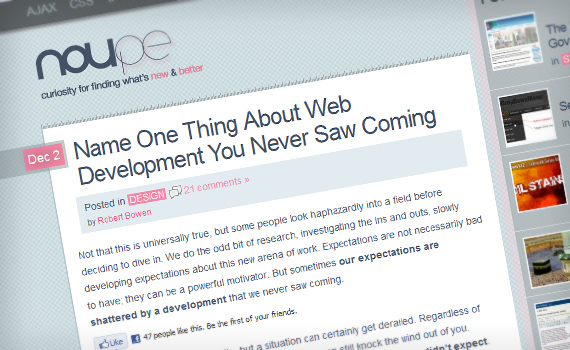 Noupe has done very well on researching about people's expectations in the design field. What's more is that they have included designer/developers' opinion in the article.
Understanding the Z-Layout in Web Design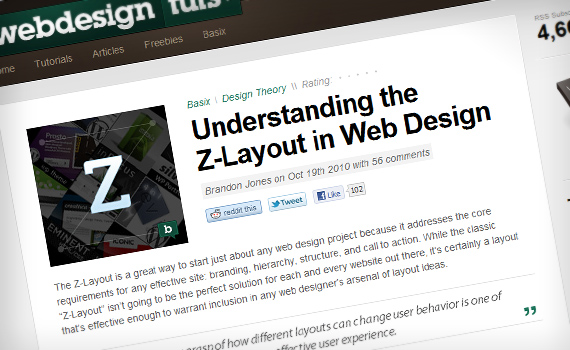 Webdesign.tutsplus has an article about Z-layout in web design which is another spectacular example of how a great article should look like. Perfect styling plus highlighted ideas. Demonstrative mockup and appropriate examples complement the article efficiently.
Below are other neat articles from 2010 worth reading and checking out.
Elements of an Awesome Artist Portfolio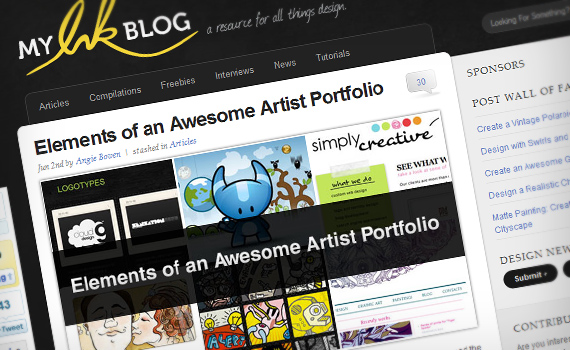 Organize and Manage Your Design Business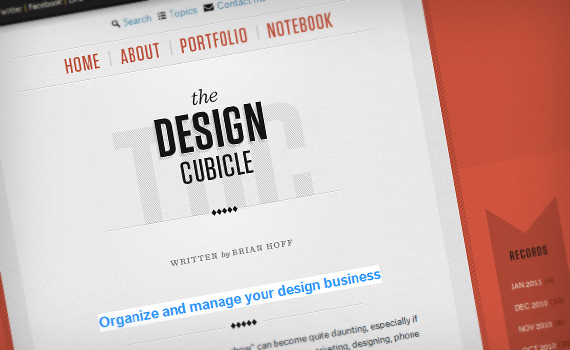 Personality in Web Design: Atmosphere, Character And Brand Feel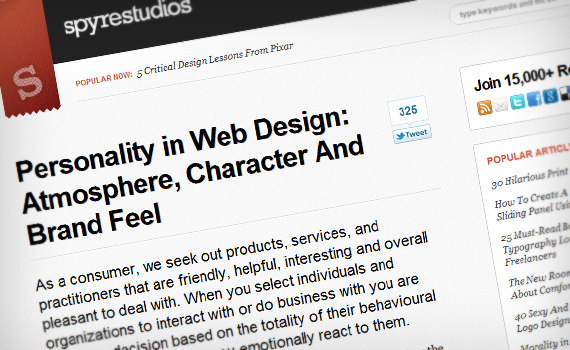 When Designers and Developers Work with Each other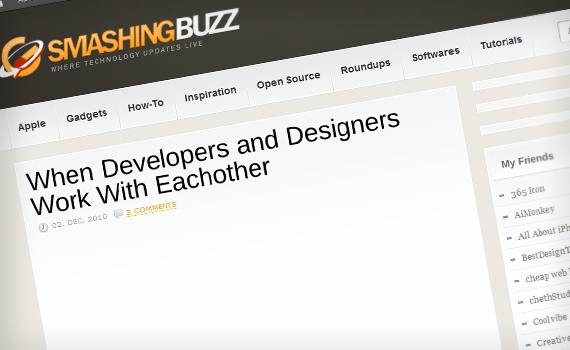 How to Host the Perfect Design Conference
An Analysis of Typography on the Web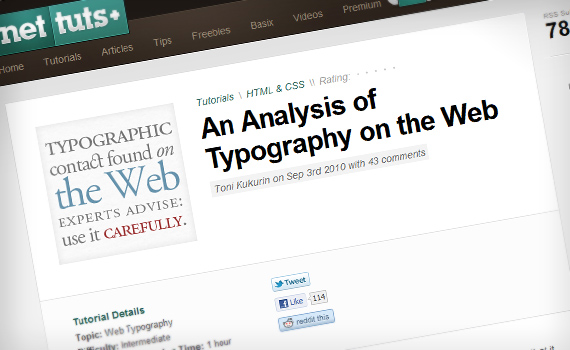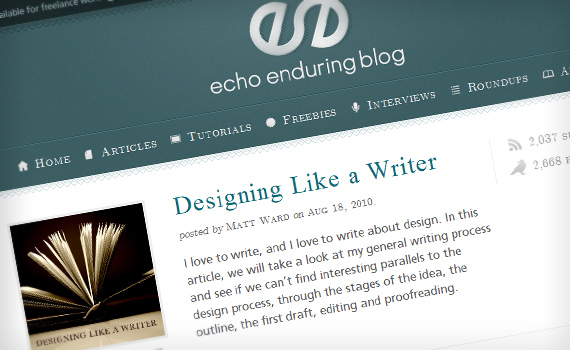 If You Were Not A Designer, What Would You Be?
Further reading
Should You Write Short or Long Blog Posts?
How to Write an Amazing Article
As we are talking about blogs either to get information or your own blog, we have a few tips if you are selling your blog.
---
Selling Your Blog: How To Transfer It to The New Owner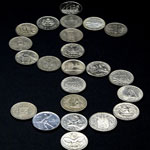 I've just finished the process of selling one of my sites. It was the first time I ever sold a website and, in the process of doing that, I've learned some very important lessons.
One of the hardest parts when you already found a buyer is transferring the website to the buyer with very small downtime. So far I haven't encountered any article describing how to do this so I've decided to write one and share what I know.
---
1. Know the buyer
I know, I know, this phrase has become a cliche. However, the more you apply it, the more you realize how potent it is. Same with selling websites.
Ask the buyer 2 main things when you transfer the website to him:
His domain name register. In my example, the buyer wanted to use NameCheap (which was the same I used)! This information saved me money (it costs around $8 to transfer a domain name.) How? I just contacted NameCheap and asked them whether it's possible to transfer a new domain to another Namecheap user and they told me a free way to do it.
His hosting. Common sense thinking here. If your hosting is different from his hosting, you want to know the name of the hosting company so in case you encounter a problem during the transferring process you can contact their live support (many hosting companies have 24/7 online live support.) In my case, both of us used Hostgator
2. Transferring the website: Data first, DNS records last
The last step of the overall process should be changing the DNS records. In Namecheap, they look like this: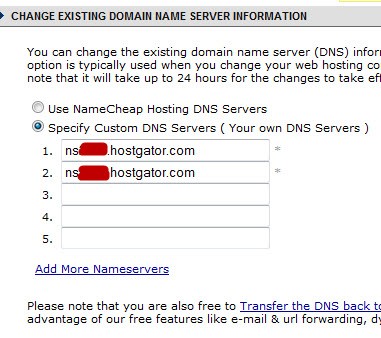 The first step should be transferring the data of the website, so when you're ready to transfer the DNS, the exactly same data is there just on a different server.
Here's how you do that with WordPress:
First, create an add-on domain using cPanel. I don't recommend for the buyer to set up the domain I'm about to sell as the primary one for the sake of clarity. Again, I don't recommend to set up the site as a primary domain. I made this mistake when trying to transfer my

public records

site from my other host. I couldn't access the site at the beginning and had many problems afterward. Just don't do the same please if you want to have 0 downtime.

Backup the database. Use WP-DB plugin for WordPress, I've tested it and it produces the smallest database size.
Install WordPress on the new web host as a clean installation (or you can copy all files, see this guide for more information.) I prefer to do a clean install (things can go wrong if you copy all the files and then you'll have to find the root cause of the problem which is the hard part, with a clean install if a problem appears you usually know the root cause immediately.)
After you install and configure WordPress, copy the wp-content folder from the old host to the new host. Then restore the database with phpMyAdmin (see instructions). Now you're done with transferring the overall content and settings.

Now, you should be able to access the domain at domainame.primarydomain.com. So if you're trying to transfer 1stwebdesigner.com and the primary domain on your hosting is example.com, then you can access 1stwebdesigner on 1stwebdesigner.example.com. After you get to the homepage, you might get a 404 error when trying to open the posts. You need to update the Permalink structure (just to go Settings > Permalinks and click on 'update'.) to fix this.
Go to wp_options using phpMyAdmin and change "siteurl" and "home". Using our previous example, if you want to transfer 1stwebdesigner.com and the primary domain for the hosting is example.com, you can access 1stwebdesigner on the new host using the URL: 1stwebdesigner.example.com. Now, after you made sure everything is okay and you're ready to do the DNS transfer, use wp_options and change "siteurl" and "home" from 1stwebdesigner.example.com to 1stwebdesigner.com
Go to your domain registar (Namecheap, Godaddy or some other one) and change the DNS Servers (see the first screenshot in this article.)
Now you need to wait several hours for the DNS to propagate. After that process is done, you should see your site on the new server. The process of transferring with 0 downtime is done.
To see whether the DNS servers are changed, a good trick I use is to place a simple html file on the old server. For example, I can place example.html on the old server with a simple text in it. I then try to open that file in my browser after few hours. If the file is located, that means the DNS transfer has not yet taken place. If the file is not located, that means the website is already on the new server (which doesn't have that file.) This is helpful because the you have 2 identical copies on the servers so you need to find a separator like this.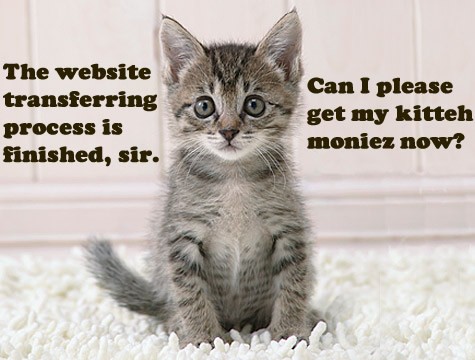 That's it! This process should be even simpler if you have a static website. If you try to transfer a website with Joomla or Drupal, the process should be a bit different. The basic concepts are the same, however. First transfer the data and then change the DNS servers.
Thanks for reading. How do you transfer websites between different hosts?
This post may contain affiliate links. See our disclosure about affiliate links here.