It turns out that it is really hard to find quality sources to trust. I was especially interested in the topics of web design, WordPress, UI, UX, HTML5, CSS3, jQuery, responsive web, and mobile design.
I came to the conclusion that while you can easily spot the top players, but if you are talking about sub-niches and finding blogs that aren't quite as established, sources can be quite challenging!
That is the reason why I decided to create this huge goal- find the  most influential blogs in the industry. I am separating them into different categories and I have included my two cent's why I think each site is included.
And I have also included influencer rankings: Google PageRank, Alexa Scores, Twitter, Facebook followers ( but I didn't include RSS since it seems to be outdated already, but have included some interesting facts I found by accident).
With each blog I've included:
Description of what's special about this site and what topics they cover the best;
What the site age is, influencer rankings, and traffic data. I also have interesting information about the person behind the site and community;
Three- four best articles I found in the site that have been published recently to give you an even better idea of what kind of content you can expect there; and,
Thumbnail to feed our visual satisfaction and memory!
Let's get started shall we? Be prepared for total awesomeness.
Note: All listed in no particular order.
Everybody knows and loves Smashing Magazine and for a good reason. They have provided only the highest quality content since 2009. It was founded by Sven Lennartz and Vitaly Friedman. As of date, their creative team consists of 20 people! Oh, did you know they are based in Freiburg, Germany?
This site is a great reading source for web design professionals, but it can be challenging for beginners…why? Most topics covered here are very advanced and detailed, and if you are just starting out, this site might seem discouraging, unless you like challenges.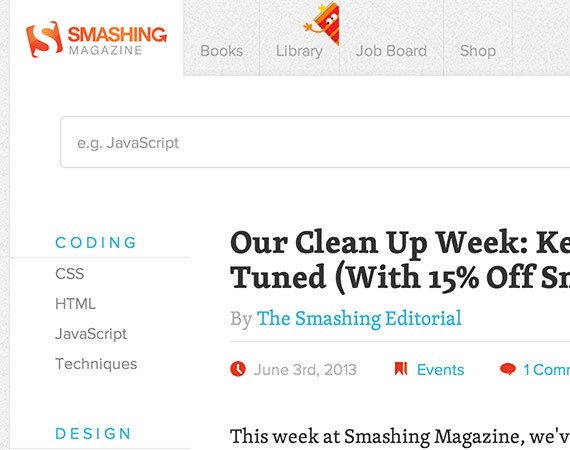 Highlights:
Monthly wallpaper contests and lots of beautiful free wallpapers for you
Here, you'll read some of the highest quality and most advanced articles about web design
The site has a huge e-book library, Smashing Mag is famous because of their printed Smashing Book Series.
A job board for designers, and lately, Smashing Mag started organizing conferences and meetups as well.
This blog focuses mainly on the following topics: Coding, Design, Mobile, Graphics, UX Design, WordPress
Smashing Magazine stats:
#1,417 Alexa ranking on the Internet
705,744 Twitter followers
133,906 Facebook fans
31,246 Google+ followers
155,906 Email subscribers
Popular articles last month:
Envato – Tutplus Network
Envato was started in a living room in 2006 ( that was 7 years ago!) and the company is based in Australia. PSDTuts was the first site in Envato's network, and it quickly expanded because of Collis Ta'eed's vision and passion, and their team consists of more than 100 people.
It is a designer's paradise for tutorials about everything – I would say you will benefit from these sites even more if you are a beginner because of the detailed tutorials they have.
You could consider their network like attending high school, but being able to pick all your classes yourself! Want to learn game design? No problem! Want to learn 3D and Animation together with Illustration? Easy!
Just remember to stay focused and decide quickly what your passion is.
To master anything, it takes 10,000 hours of practice. (Taken from the study of Dr. K. Anders Ericsson and popularized by author Malcolm Gladwell)
Highlights:
Designer tutorial paradise! Study tutorials about – Adobe Photoshop, Illustrator and Vector, Adobe After Effects, WordPress, Mac & OS X, computer graphics, photography, mobile development, web design, game development, craft & handmade, audio and production, and web development, (each of categories is an actual website)
Tuts+ Premium – if you are ready to spend a little money for your education, you should join their premium membership site with a never-ending stream of courses, tutorials, eBooks and guides. For $19/month, you can get over 750 tutorials, 68 eBooks and over 400 hours of video courses.
Envato Network Stats:
It gets a bit challenging to include stats of their biggest properties, but I have included an overview. Envato's two biggest tutorial sites are PsdTuts+ and Nettuts+ so I focused on them.
#919 Alexa ranking on the Internet
758,940 – combined Twitter and RSS count for all properties.
The most popular articles last month:
Hongkiat.com was the brainchild of Hongkiat Lim, site founder (pronounced hong-key-att) who, back in 2007, was stuck in an unhappy job environment. Hongkiat.com has its roots in Malaysia, and is still run there as well!
Hongkiat covers tutorials and topics like Photoshop, HTML/CSS, WordPress, design tools, photography, wallpapers, freebies as well as other miscellaneous topics including Facebook tips and fonts.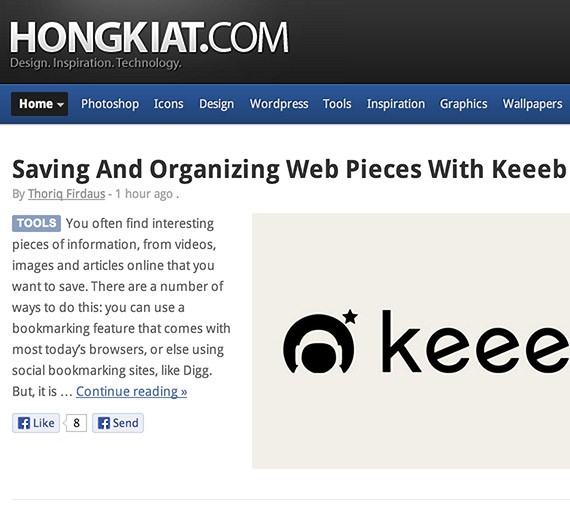 You might consider reading this blog if you are looking for a lighter reading – cool lists of tools, resources, quick tips and quick inspiration. Just by looking at their site for 5-10 minutes will give you loads of ideas about new things to learn or implement in your own daily design routine!
Highlights:
The site is very popular and it receives 6.5 million page views per month. Crazy numbers, but then again they published 66 articles last month alone
Light reading for inspiration, new tools and ideas
Hongkiat stats:
The most popular articles last month:
Named by Forbes as "Top Five Sites for Keeping up With Creativity and Design", DesignTAXI is a highly influential (more than six million page views each month) daily news source with content further shared by leading media outlets, including The New York Times, CNN, Wall Street Journal, Huffington Post and LinkedIn Today.
DesignTaxi was founded 10 years ago, in May 2003, by design lover Alex Goh. He and his team seems mainly to be located in Singapore, but there are some connections in New York as well.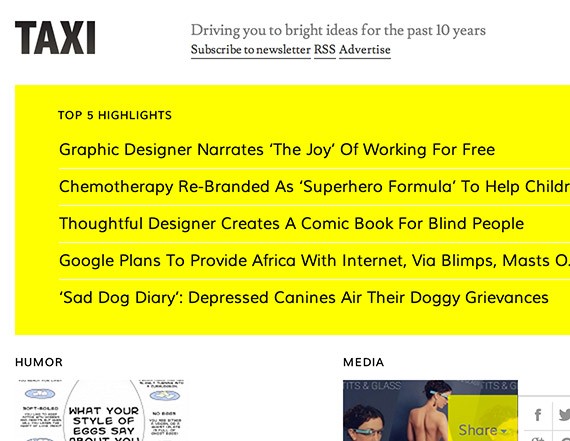 With this site, you can get the most variety for design inspiration daily – there are around 30 new posts each day. DesignTaxi will leave you supercharged regularly!
Highlights:
DesignTaxi prides itself in being at the unique forefront of design, creativity and innovation where it delivers cutting-edge news and information for the creative industry and forecasts global trends. That is a unique viewpoint.
You will supercharge your creative thinking in ways you don't expect. I would call DesignTaxi a Mashable for creatives. Why? – because of the huge amount of daily articles, and variety of inspiration.
Interesting fact – DesignTaxi is only part of the network of sites – there is TheCreativeFinder you can use to host, protect your portfolio and post and find jobs and The Bazaar – online marketplace to buy and sell creative objects. Impressive!
DesignTaxi stats:
#12,577 Alexa ranking on the Internet
304,383 Twitter followers
24,378 Facebook
803,029 Google+ followers
The most popular articles last month:
Abduzeedo is a collection of visual inspiration and useful tutorials, simply put – if you are graphic or web designer and you hit a creative block, you simply go here and fix it!
Abduzeedo has been around for eight years already (founded in December 2006). It got popular because of founder Brazilian designer Fabio Sasso, who was creating the MOST amazing and highest quality Photoshop manipulation tutorials available then.
Still not assured? The site is receives 4.5 million page views each month and publishes around 80 new inspirational articles. Get ready to be blown away!
The team is located in Brazil (though Fabio is located in San Francisco) and currently the site is being maintained by eleven passionate designers.
If you are hearing about this site for the first time I congratulate you because your designer's block is finally solved!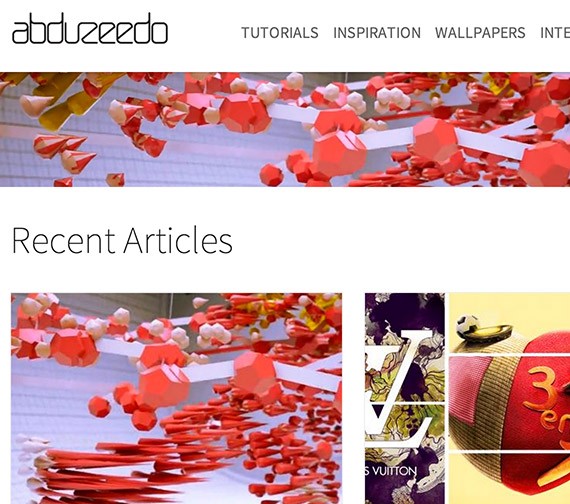 Highlights:
Domain with a story – the blog name Abduzeedo means "abducted" in Portuguese. Fabio changed its spelling from "abduzido" to "abduzeedo" so he could add the name of the company he founded in 2004, ZEE. You can read the site in both English and Portuguese.
Amazing graphic web design tutorials, never-ending inspiration, free wallpapers and inspiring designer interviews are the main things you will find here.
Fabio Sasso is a world-class designer currently working as a senior designer at Google! He is a huge inspiration for all aspiring new designers.
User-created news section – You can be in-charge and contribute to adding more news content with Unewz. Also if you are a blogger, you can promote your high quality content.
Abduzeedo stats:
The most popular articles last month:
Codrops could be called one of the newest and fastest growing web design and development tutorial sites in the industry. The site was founded almost four years ago, on August 26, 2009, and so far, it is attracting over 10 million page views and more than 880,000 unique visits each month!
Their stats show what kind of goldmine Codrops really is for web designers because, once people find this site, they are hooked and simply cannot leave – Codrops visitors spend an average of more than 4 minutes on the site and visit more than 6 pages per visit. Impressive!
I got confused when researching where Codrops is located because there are some ties to Germany, but now both co-owner Manoela Ilic and co-founder Pedro Botelho are located in Portugal. Portugal it is! It is impressive to see that it seems Codrops is run by only two passionate and hard working designers.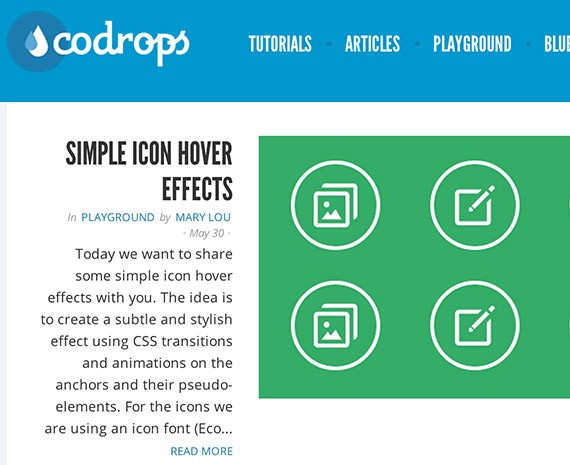 Highlights:
Best Web Design Tutorials – First and foremost Codrops offer the highest quality web design tutorials I have found on the Internet! There – I said it. Each tutorial is beautifully designed and Mary and Pedro are using all the latest technology tricks to make them look awesome. As a web designer or developer I highly recommend coming to this site to keep learning new hacks and trends.
Personal touch – Codrops is run by two designers, Mary and Pedro,  it is nice to always see familiar names and knowing that they always make sure each article is of the highest quality.
Codrops site has beautiful and responsive web design showing that the founders practice what they preach.
Codrops stats:
The most popular articles last month:
CSS-Tricks is the public space of Chris Coyier. The site mostly focuses on CSS-related topics. Over the last few years, CSS-Tricks has expanded:
Chris has created the amazing ShopTalk podcast that discusses about all things web design and development together with Dave Rupert.
Chris has released several books, a Lynda.com WP Theme course and he has created The Lodge course where you can learn how to build modern websites.
Lot's of cool side projects like CodePen, HTML-Ipsum, Quotes on Design – he is a huge inspiration!
CSS-Tricks was founded in July 2007 by Chris Coyier and currently the site receives more than 2.7 million page views each month! The CSS-Tricks headquarters are where Chris is – Milwaukee, Wyoming, USA.
Highlights:
A role model – huge personality throughout all projects, Chris Coyier is a role model for many aspiring designers. Learn from him, do what he does and follow his ventures.
Fun reading – even though I don't know Chris personally, it feels like we are buddies because of how open he is on his sites. It's quite an experience to just keep browsing through CSS-Tricks. For example, just check how CSS-Tricks design has evolved and changed over 6 years!
Learn web development the way you prefer – be it in screencast (watching), podcast (listening) or be it classic reading! You will learn about HTML, CSS, JavaScript, jQuery, PHP, WordPress and, of course, about trends in the web industry. A must-follow!
CSS-Tricks stats:
The most popular articles last month:
Speckyboy was launched in October 2007 as the personal freelance web design homepage of Paul Andrew, located in Scotland. Somewhere along the way, Speckyboy became one of the most influential design blogs on the Internet, receiving around 1.9 million page views each month.
The most amazing thing about this site is that there is no physical office or location; everybody on his team is enjoying the beautiful Internet lifestyle where the question about location is irrelevant!
Speckyboy offers insightful tutorials, time saving techniques, fresh and useful resources and inspirational art, covering web design and development, graphic design, advertising, mobile applications and even the occasional Lego post.
Highlights:
Speckyboy is the first web design blog (as far as I know) that has a dedicated iPhone and iPad app. If you have an Apple device, you definitely should try it out.
Browse through archives. Over the years, Speckyboy has published more than 1,800 articles!
Come here for light and enjoyable reading about web design trends, different cool tools and web design inspiration. Some great traditions include Weekly Design News, Deal of the week and Weekly Web & Mobile Creativity.
Speckyboy stats:
The most popular articles last month:
User Experience Trends for Admin Dashboards
What does the WDD team know about design? Quite a bit, actually. Founded by Vancouver, Canada-based web designer Walter Apai in 2010, WebdesignerDepot doesn't just have its finger on the pulse of the modern web design world. It's at the very heart of web design.
His team is all over the world. When reading this site you will get insights from many different designers offering many perspectives.
WDD also has several cool traditions like comics and favorite tweets of the week and regular polls.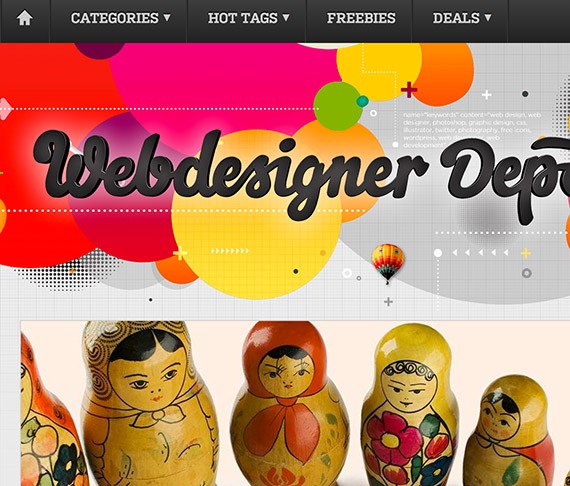 Highlights:
WDD has an impressive email newsletter reaching 275,094 subscribers every week! So far, they have released their 70th issue so join in! ..And while you are at it, play with their beautiful responsive web design.
WDD owns one of the biggest deal websites, Mightydeals, offering huge discounts on premium web design products daily.
WDD receives 1.5 million page views each month, it is a perfect showcase for web-savvy designers. You'll find in-depth articles on a variety of hot topics such as jQuery, HTML 5, CSS3, responsive design, typography, usability and more! You'll also learn bits about the business side of design, freelancing and the likes.
WebDesigner Depot stats:
The most popular articles last month:
Design You Trust
Design You Trust is an hourly-updated collective design blog and community, full of new design trends, news and events, great design portfolios, young design bloods, design articles, photography, fashion, creative advertisements, architectural inspirations, video design and hand-picked design stuff from all over the globe.
The site was founded in 2007 by Dmitry Utkin in Mongolia! Dmitry turned out to be a secretive person and I couldn't find much information about him, but he's the silent guardian angel of DYT, who is proudly called a collective publishing design blog for design enthusiasts.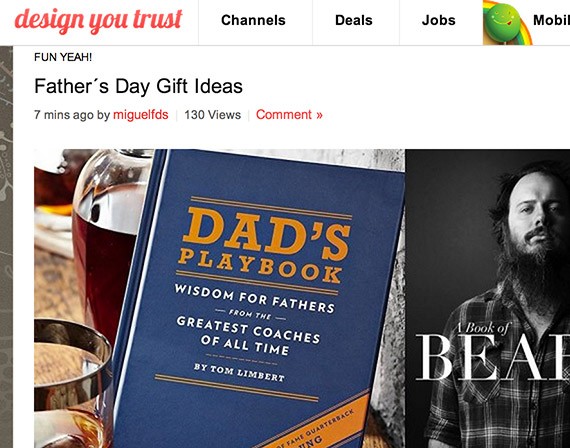 Here you'll get quick inspiration, ideas for your next project or just a quick laugh; another great site to visit when you are hitting designer's block.
The site is receiving more than 1 million unique visitors and over 3 million page views each month!
Highlights:
Highly edited, user generated content, new inspiration every hour! You can join in and become a contributor in no-time.
DYT has amazing iPad and iPhone applications for handy viewing.
Interested in daily design deals, freebies and giveaways? DYT has a great deal sub-domain with exclusive discounts.
Limitless pools of inspiration – in over 6 years, more than 100,000 posts have been published in this site.
Design You Trust stats:
The most popular articles last month:
Impressive Free Throw Distractions
Minimalist Print – "You are not a drop in the ocean. You are the entire ocean in a drop." – Rumi
Shelving Arrangement Tips For Your Home
"Quiet" Seating Booth by Studio Tilt
Design Modo
Design Modo was launched in August, 2010 by Adrian Valeanu and his team work from New York and the Republic of Moldova.
DesignModo is a fast growing blog featuring different design-oriented stuff where designers, coders, photographers and graphic artists usually hang out.
Keep reading this site to learn about hot trendy things in the web design industry as they come out. Content here is split up into several categories: web and graphic design, inspiration, tutorials, coding, WordPress, social media, business and photography.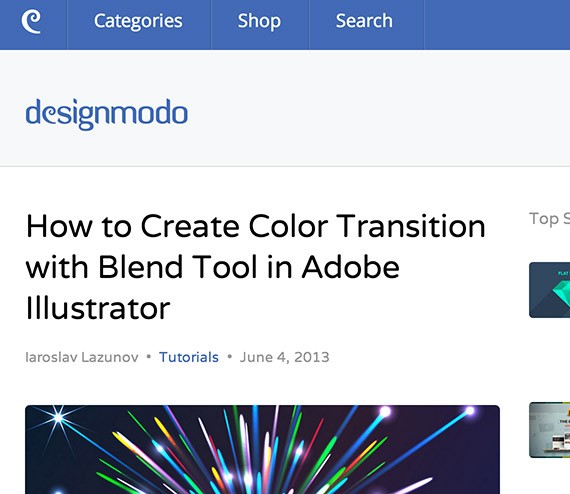 Highlights:
DesignModo is only 3 years old, but it is receiving more than one million page views. It has already more than 450,000 subscribers & followers!! Read how Adrian did it here.
Did you know that "modo" is the Italian and Spanish for "method", "manner" or "way" and the Latin for "now, just now, only"?
DesignModo is on agenda to make everything online flat and beautiful; they have an amazing Dribbble account and impressive shop for premium web UI kits, icons and graphics. Not everything is paid, there are lots of freebies for regular readers, too.
Highly followed email newsletter with 130,000 subscribers! If you sign up, you will receive updates, freebies and occasional articles regularly.
DesignModo stats:
The most popular articles last month:
Design Shack was founded in 2005 by David Appleyard from the United Kingdom, but since David is busy now working for Envato as the Tuts+ manager, Joel Bankhead (also from UK and working for Envato) is taking charge of newsletter, content editing and gallery submissions.
This 8-year-old website is receiving more than 800,000 page views each month, and it is quite influential in the design community with regular web design articles and impressive showcase design galleries for your inspiration.
Design Shack has lots of different contributing authors, making sure various design related opinions and ideas are shared regularly. High quality content!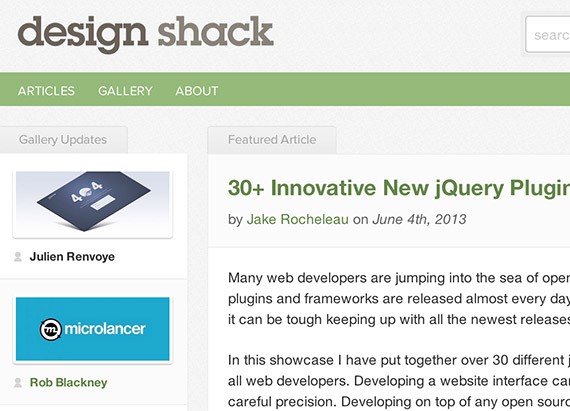 Highlights:
2 in 1 – inspirational gallery and web design blog at the same time!
Join the membership to be able to submit your own designs, rate & save designs, receive weekly newsletter and use keyboard navigation! Pretty cool; and yes, it is free.
Learn from other people mistakes, Design Shack is doing really unique Web Design Critiques (almost 100 critiques done!) analyzing website elements, discussing what is done right, what is done wrong. I would even say that is the best way of learning!
Design Shack stats:
The most popular articles last month:
Web Design Ledger was founded in November 2008 by Henry Jones, who is a college dropout living in the USA! I am curious what his classmates have to say about him now! Web Design Ledger receives over 2.2 million page views per month which makes it one of the largest blogs on the web.
If you are curious to learn a bit more about Henry Jones and his entrepreneurial personality, I found this interview from 2009. I guess the takeaway is to fail often, be everywhere, spot opportunities and don't be afraid to take chances! Henry has a personality that inspires, and that's the biggest reason you should read Web Design Ledger. You can trust the content will be unique and high quality.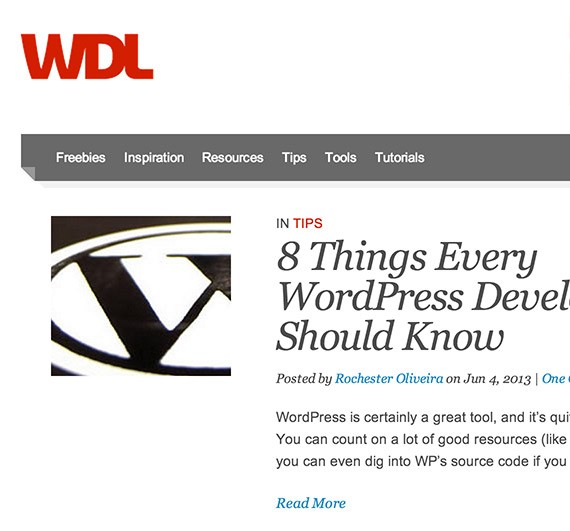 Highlights:
Did you know Henry Jones also owns the ThemeTrust theme shop and WDL is supporting his other ventures? The fact that he has other business ventures and actual field experience makes him a reliable source on the topics of web design, business and WordPress
Even while being busy with business, family, child and building two houses – Henry Jones still finds time to write himself. Check his latest articles on WDL!
Lots of different guest authors – lots of fresh viewpoints and opinions! And yes – you will be able to read around 15 quality articles and learn web design related knowledge, tips and tutorials!
Web Design Ledger stats:
The most popular articles last month:
Six Revisions
Six Revisions was launched in February 2008 by pro web developer/designer Jacob Gube. This site has been around for quite a while and while many articles are written by guest authors now, Jacob is still working on the site himself.
SixRevisions isn't about fancy effects; it is about design that works! It is about minimalism and fast loading speeds. If you visit Six Revisions for the first time, you might feel that the design is outdated, but it is intentionally left the way it looks.
On this site you will mostly find coding related articles, cool contests, freebies and opinions about new trends in industry. SixRevisions receives more than 1.5 million unique visitors each month!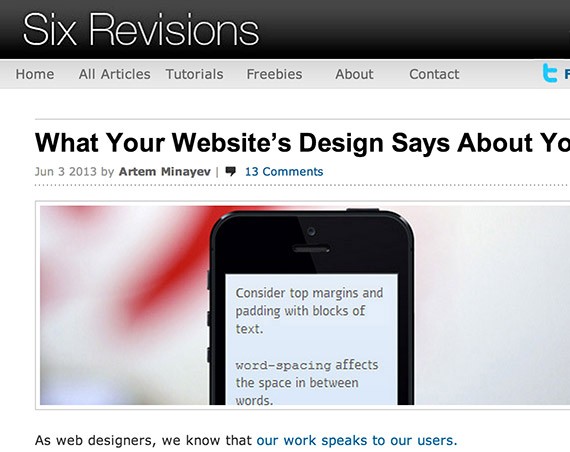 Highlights:
Over 5 years, more than 1,000 articles have been written and published on this site. If you are interested in web development, you will enjoy this site.
SixRevisions has a minimal, very fast design – while I think they should spice design a bit (maybe add some modern flat elements), Jacob Gube has written books about JavaScript and still keeps his existing design, so there must be a reason he does.
Six Revisions stats:
The most popular articles last month:
What Your Website's Design Says About You
Improving UX with Customer Journey Maps
A Look at Popular Open Source E-commerce Software
Naldz Graphics was founded in February 2008 by Ronald Bien (currently 24 years old) from the Philippines! In 5 years, Naldz Graphics has experienced ups and downs (like when the Naldzgraphics.com domain expired and Ronald lost lots of data), but it didn't stop Ronald from growing this site that receives around 1 million page views each month!
I recommend reading this site if you prefer quick scanning and light reading. You will get loads of inspirational list articles, covering illustrations, photography, logos and textures. You will also get lots of cool lists with different graphic design resources like patterns, textures, brushes, etc.
You will even find the occasional graphic design tutorial here.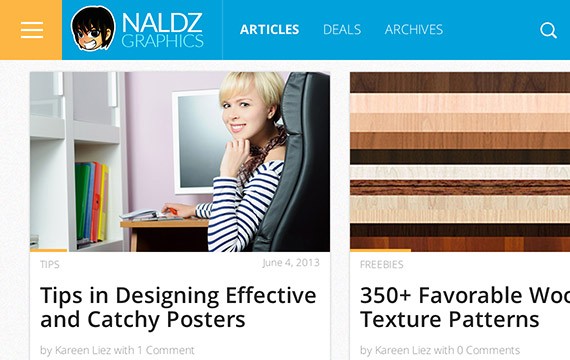 Naldz Graphics stats:
The most popular articles last month:
Noupe has gone through really colourful experiences throughout the years. It was founded in July, 2007 by Noura Yehia from Egypt; it was sold to Smashing Magazine in October, 2009 and now it's officially being run and owned by Michael Dobler, the Commindo-Media's CEO & Founder.
An interesting fact about Noura is that after selling Noupe, she used her connections and knowledge to create the BundleHunt and TickItWickIt deal websites. Truly an inspiration for how to launch businesses online!
Throughout the years Noupe has lost a bit of its unique personality, yet, it has become a place for inspiration, roundups and occasional opinion articles about news in the industry from guest authors. Lots of different voices there make sure you get many opinions.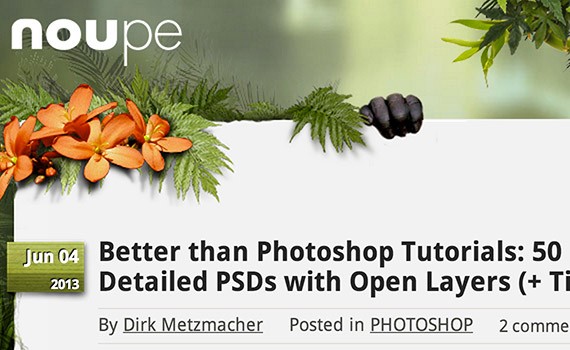 Noupe stats:
The most popular articles last month:
Vandelay was founded in 2007 by web designer Steven Snell from Pennsylvania, USA and the site has been receiving around 1 million page views each month! What's special about Steven is that he has launched, and sold, in the past, several other websites like Designm.ag (for $50,000 USD) and showcase galleries.
Surprisingly, Steven keeps his profile really low. You will not find his personality throughout Vandelay, but he is running the business behind the scenes by selling premier design/freelance resources in Vandelay Premier. The most popular resources are the Freelancer Starter kit and Contract templates.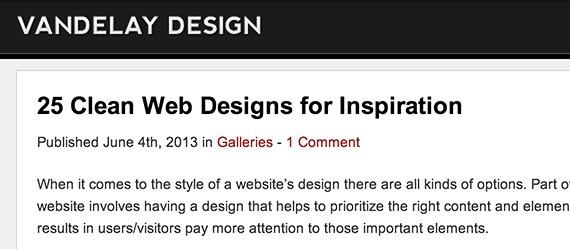 On the Vandelay blog, you will be able to read web design news including lots of resource list posts about WordPress, tools, freebies, as well as get inspiration.
Vandelay Design stats:
The most popular articles last month:
Blog.SpoonGraphics is the design blog and digital playground of Chris Spooner from the UK, who founded this site in April, 2007 as a personal blog, but throughout the years it has become a popular place for design tutorials covering various techniques and effects in Adobe Illustrator and Photoshop. The site is read by 855,000 people each month!
If you are interested in graphical and print design and illustrations – you should follow this blog. Some of the unique things about this blog is that it is very personal; there are lots of high quality tutorials by Chris and weekly articles about design news.
By the way, if you have design related questions, you can easily ask Chris here, and if you want to watch Chris Spooner answer your questions, check out his Youtube videos.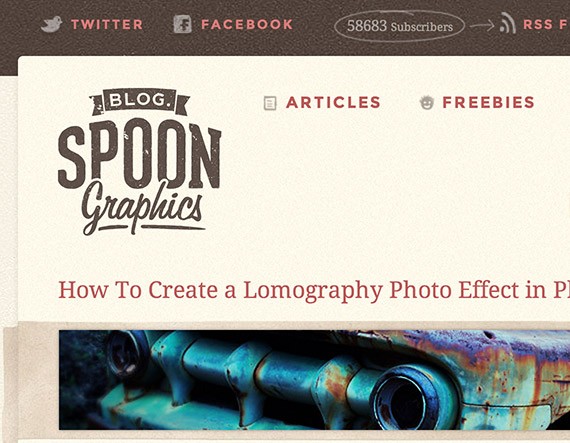 Spoon Graphics Blog stats:
The most popular articles last month:
InstantShift was founded in August 2008 and it quickly became very popular because of its in- depth list articles on various web design topics.
You will not find much personality here because I couldn't even find now who is behind iShift; it seems only guest authors are writing there. Nevertheless, this site is a high quality web design blog receiving more than 700,000 page views each month and publishing around 15 in-depth articles each month!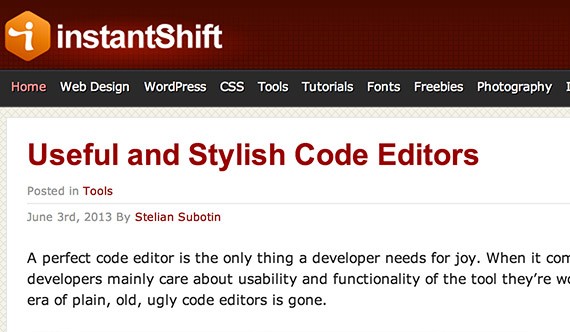 InstantShift stats:
The most popular articles last month:
TutorialZine was founded in 2009 by web developer Martin Angelov from Bulgaria. Most articles and tutorials are written by Martin, and he has even released his own book – jQuery Trickshots.
So far, 140 web development tutorials have been published, covering the latest trends in programming languages like CSS3, AJAX, PHP, WordPress, jQuery, and Twitter Bootstrap! This is a beautiful learning source for aspiring new programmers. The site has become very popular and it receives more than 600,000 page views each month making sure you will be in good and trusted company.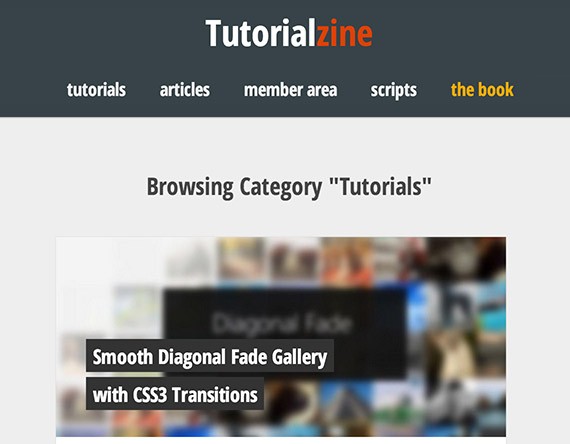 TutorialZine stats:
The most popular articles last month:
BoagWorld and Headscape were founded in 2002 by Marcus Lillington, Paul Boag and Chris Scott. They run a web agency and web design blog (mostly podcasts) from Lockerley, UK. Their team currently consists of 11 people. They practice what they preach; you can check their portfolio and clients they work with.
Boagworld is mostly known because of their web design shows, an audio podcast which has 54 episodes on iTunes and the original Boagworld podcast which has over 200 episodes! It was the first podcast on web design. Over the eight years it has been live, it has won many distinctive awards.
To understand more about what's so special about BoagWorld, you need to know more about Paul Boag! Paul is one of the most influential people in the industry and when he shares his thoughts I listen. You can check a few of his speaking videos here.
Topics on this site cover web accessibility, UX, content strategy, web design and development, digital strategy, marketing, mobile and more! I would really recommend you follow this blog, because it will expand your knowledge as a web designer and developer.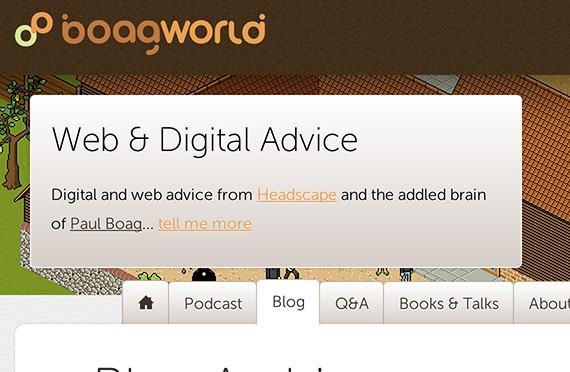 BoagWorld stats:
The most popular articles last month:
Onextrapixel was founded in 2009 by a team of Singapore web enthusiasts. Their team consists of three core members, Aidan Huang (Editor-in-Chief), Charlotte Lam (Creative Director) and Terrance Huang (Technical Editor). In just 4 years, the site has grown very fast and now receives around 600,000 page views each month!
On this site you will mostly see well-researched roundups for web designers. Common topics include inspiration, web design, web development, tutorials, freebies, CSS, WordPress, social media and resources! Onextrapixel publishes around 20 articles each week, making sure you get supercharged daily!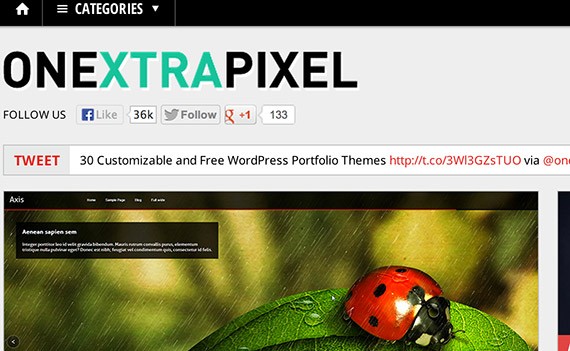 OnExtraPixel stats:
#10,394 Alexa ranking on the Internet
56,515 Twitter followers
36,425 Facebook fans
132 Google+ followers
The most popular articles last month:
David Walsh started his personal blog in Wisconsin in 2009. David is a bright personality and has achieved a lot already- he is working as a web developer for Mozilla and is a core developer on the MooTools production team. He really knows his craft.
This blog is targeted all levels of web designers and developers and receives around 600,000 page views each month. All web topics are discussed, including CSS, JavaScript (MooTools and jQuery), PHP, and more.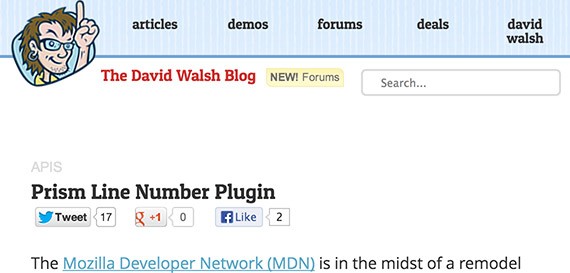 David Walsh Blog stats:
The most popular articles last month:
TreeHouse was originally founded by Ryan Carson. His mission is to bring affordable technology education to people everywhere. You can learn so many things with their online membership, but today I want to feature their blog, where you can learn for free!
The TreeHouse team is really huge and their office is located in Orlando, USA. They raised millions in funding, and have advisors like Neil Patel, Matt Mullenweg, Chris Coyier and Veerle Peters, to name a few.
On the TreeHouse blog, you will find lots of unique web design articles, opinions and discussions about the latest web design trends, quick tips and really good inspiration to become a web designer (or continue to be one)! It has more than 1,400 articles published since 2006, making sure you can stay busy learning new things!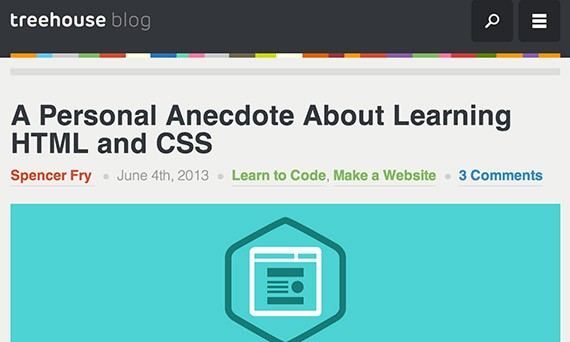 TeamTreehouse stats:
The most popular articles last month:
Web Designer Wall was founded in August 2007 by Toronto-based web designer and illustrator Nick La (31). It started as his personal blog where Nick talked about design ideas, trends and tutorials. It has been recognized and featured many magazines and galleries due to its quality content and beautiful design!
Now Nick is a really busy guy because he is also running a stock icon site and the WordPress theme shop Themify.me. However, whenever Nick writes anything, the article is really popular!
I personally love this site because of its illustrative design, web design trend reviews and amazing coding tutorials. It receives around 500,000 page views each month despite of its irregular tutorial articles. Feel free to browse through their archives with more than 150 articles, and let's hope this site becomes more active again soon!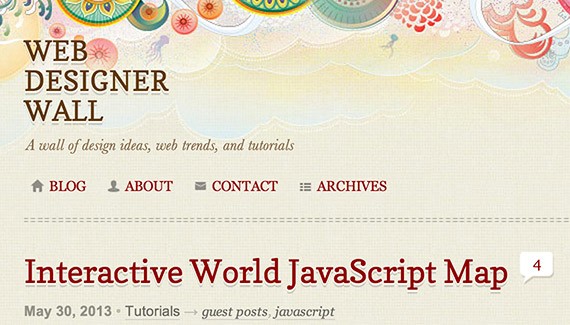 WebDesignerWall stats:
The most popular articles last month:
Dubbed "King of web standards" by Business Week, Jeffrey Zeldman is the founder and  chairman of Happy Cog™, a high-end design studio with offices in Philadelphia, Austin, and New York, and has published A List Apart Magazine "for people who make websites" since 1998.
Now we are digging deep because A List Apart is the number one trusted source for web standards since the web started! This site's content now is mainly created by contributing web professionals, but the ladder is quite high because this blog is all about setting new standards in industry.
AListApart publishes around two articles a week and also shares the biggest news from web industry. It is the highest quality news source I've seen so far.
Actually there are a network of sites:
A List Apart – explores the design, development, and meaning of web content, with a special focus on web standards and best practices.
A Book Apart – Jeffrey co-founded the publishing house A Book Apart with Mandy Brown and Jason Santa Maria
An Event Apart – Jeffrey co-founded the multi-city web design conference An Event Apart with Eric Meyer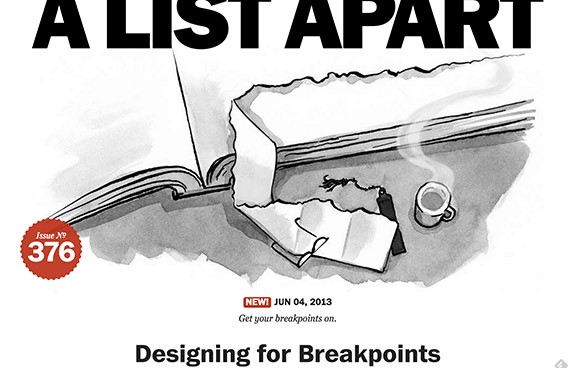 I am sharing all of this because you should recognize those names, Jeffrey Zeldman, Eric Meyer, Jason Santa Maria, Mandy Brown are the people who are web rockstars who  set the standards in the web industry! It goes without saying that you must follow and read Alistapart!
AListApart stats:
The most popular articles last month:
I bet you saw this coming! With AListApart featured, I cannot exclude the Cognition blog, an award-winning agency blog, where Happy Cog's pixel pugilists share the science, strategy, and emotion of their work in web design.
The Cognition blog was created in 2010 by Jeffrey Zeldman (fun interview to read about Jeff) and it was opened with this epic blog post – Is This Thing On?
In three years of going live, more than 100 articles have been published on popular topics like project management, strategy, front-end development, team building and user experience.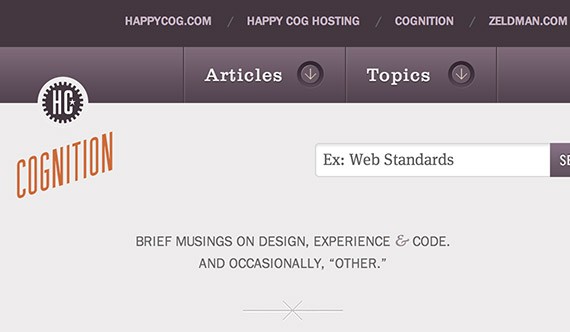 HappyCog Cognition blog stats:
The most popular articles last month:
.net Magazine
Now this site is a unique addition because it is an actual magazine and it was founded in 1994! While in their about section there are only three team members, .net magazine has lots of contributing writers and many people behind the scenes. .net is part of Future PLC, an international media group and leading digital publisher.
.net is the world's best-selling magazine for web designers and developers. Each issue boasts a wealth of expert tips and advice, including over 30 pages of advanced step-by-step tutorials on subjects as diverse as CSS, HTML, JavaScript, web graphics and Flash.
You'll also find in-depth features, not to mention interviews where major industry players impart their wisdom. There are lots of articles behind the paywall; however, their blog only publishes 2-3 articles each day about industry news.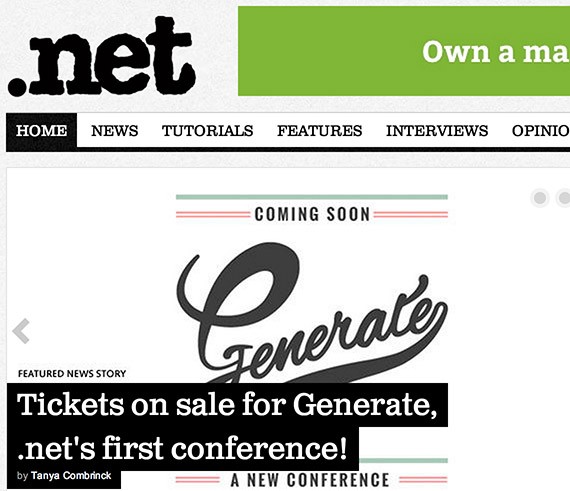 .net Magazine stats:
The most popular articles last month:
Why does a typical commerce site take seven seconds to load?
10 things you need to know about Firefox OS
The top 10 realtime web apps
Line25 was launched in March 2009 by Chris Spooner from the UK. While SpoonGraphics focuses more on general design topics, Line25 is specifically created to provide web design ideas and inspiration through articles, tutorials and examples of stunning site designs.
The site is obviously doing well because it receives around 400,000 page views each month! If you subscribe you will get around eight new articles each month and also get a web design inspiration boost each week.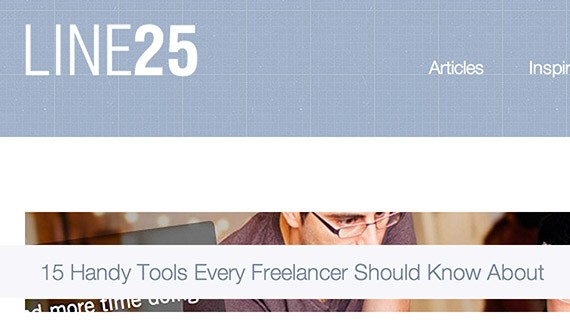 Line25 stats:
The most popular articles last month:
WebAppers is a blog dedicated to sharing top quality open source resources for web developer and web designer daily. The site was founded in 2007 by Ray Cheung from Hong Kong. Ray definitely knows what he is doing because he is also the founder of PhotoshopLady and TheDesignInspiration.
As a web designer, you'll find some of the best free icons, stock photos, brushes, fonts and design inspirations here. As a web developer, you'll also find some of the best JavaScript and Ajax components like modal windows, menus, galleries, tooltips, charts, calendars plugins and a lot more.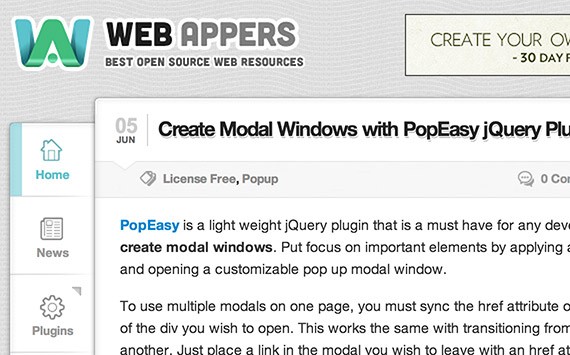 One thing, though – you will not find personality here, all of the articles seem to be written by anonymous authors, nevertheless, the articles are high quality!
WebAppers stats:
The most popular articles last month:
These were some great web design related blogs. In the next section they still, however the blogs listed are from the top designers and developers.
This post may contain affiliate links. See our disclosure about affiliate links here.