Nowadays, web design is almost 95% of typography. Typography includes the use of modern CSS techniques and web fonts, which makes it easy for you to obtain complex things carried out in no time.

A web designer that gets the best typography tools can increase the aesthetic appeal of a website. These tools could make things easy and simple for you the way you render fonts. Moreover, you will have additional control over high-quality fonts.


It enlarges the font size in order to fill the containers with its complete width. Furthermore, this plugin also works out of the box with right nutshells and algorithms. Also, this tool measures the width of the container and the length of the character. Eventually, appending the size of font appropriately.
This tool works exactly the same as Modernizr. Nevertheless, except for one thing that it just tracks your browser engine so as to render fonts. Also, it adds custom classes which are based on its findings. These could be utilized to apply various styling rules for TypeRendering.
It's a plugin which dynamically modifies the font size that's based on the width of a particular wrapper. Also, it helps with implementing ideal numbers of characters every line with screen associated with any width.
UnderlineJS is a JavaScript & it helps to make the underlined text much better than ever. You will be also able to check the demo & always try to move throughout the lines. Also, you can compare and contrast the demo with "TEXT-DECORATION" standard that's the present-day underline output CSS.
It is one more, yet awesome tool that helps you produce the basic styles of typography for your design. This tool comes with line size, margin & height along with a user interface that's typically a simple slider. It is also capable of generating styles SCSS, inLESS & Stylus.
It is a JavaScript & design your font to fit the precise width of its container. This tool would also figure out the font size along with the required spacing in the words. Font-To-Width is best to make awesome headlines for you.
It's a tool accessible online, that helps to figure out the font size accurately. Furthermore, it also offers you with a simple, yet user-friendly GUI to include the font size base, font scale & family that you're willing to utilize. These outcomes would also be visualized & you can work around with the scale & to get the precise value.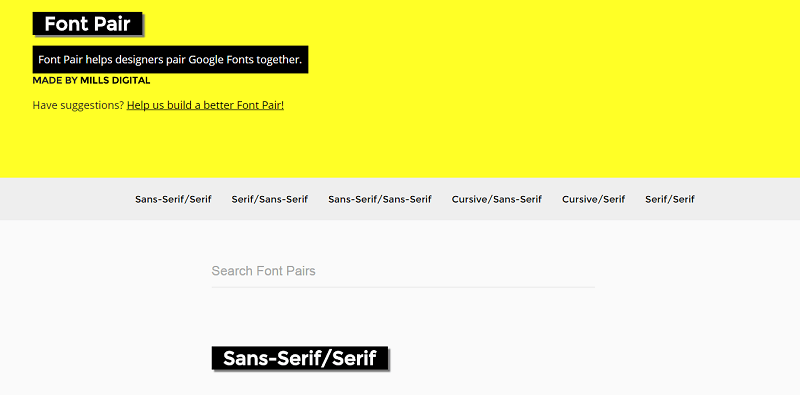 It is among the popular web font library which you would ever discover on the World Wide Web. This tool is utilized by hundreds & thousands of individuals and hosts over 500 font families. It's a collection of Google Font which is paired with different combinations between typefaces & font families quite easily.


Typeplate is one of the best & the ideal starter kit for a web designer to set up typography. It comes along with a lump of essentials styles of typography which addresses small capital, scaling, colors drop cap, indentation, hyphenation code bock, blockquote & much more.
It's a wonderful pack of CSS rules sets which define font scaling effectively, vertical rhythm & fair ratio of typography for you. This awesome tool is accessible in Sass & Stylus that enables you easily meet your project needs.
It is a curated outline design showcase that recognizes the textual styles used in web design. The main objective of this tool is to serve as a one-stop asset for web designers looking for typographic motivation for the modern design. Typewolf is one of the awesome assets accessible for everything identified with typography on the web. Typewolf will dependably remain an autonomous site that features typefaces from all sorts of foundries paying little attention to what organization owns the rights or where it can be bought or authorized.
It helps you to test the textual styles on any website. If you want to test, you just have to visit the official site of TypeWonder and you have to enter the site URL to test the font of any specific site. This tool is the best for those who want to create a site with a font, but not sure about font name and other details.
13. FFFFALLBACK

It offers an exciting new era for the web designers. This site makes it super easy for the web developers to find fallback fonts. If you want to use this tool you have to drag the bookmarklet to the browser toolbar.

After that, you just have to visit the site that you want to test and simply click bookmarked to enjoy the features of FFFFALLBACK.

You can also use magical unicorns as well as JavaScript rainbows to clone the pages! It also offers a smart tool that will allow you to test and analyze fonts.
14. Fontdeck
This site will allow you to preview fonts for free! You just have to pay for the text styles you need. This site also supports international character. If you are looking for reliable, fast and easy, this is the one you can choose. It works on almost all modern browsers like Opera 10, Internet Explorer 5, Safari 3, Firefox 3.5, Chrome, Blackberry devices and Android devices.
Font­Friend is an awesome bookmarklet for typographically fixated web designers. It empowers quick checking of text styles and text styles straightforwardly in the program without altering the code and invigorating pages, making it the perfect partner for making CSS textual style stacks. This one is very easy to use and works on almost all modern browsers.
The above-described typography tools, CSS frameworks, and libraries are really great for the web designer. If you want to build an awesome and great looking website, then try them.
This post may contain affiliate links. See our disclosure about affiliate links here.