Responsive web design has become one of the major web building trends. That's not surprising as over 70% of web searches are done on different mobile devices today. Users find this option more convenient and time-saving. Thus, if you have made up your mind to launch a website, be sure to make it mobile-optimized to increase traffic, drive new leads and boost your business popularity.
How can that be done effectively? With so many website builders available these days, finding the best one seems to be a challenge for the majority of users. The choice of the most suitable option depends upon your web building skills, expertise, available time, budget, etc.
Whatever option you explore, using a website builder will still remain the simplest and the most convenient solution. These services are specially created with users' convenience and ease of use in mind. If you are currently interested in this option, then take a look at the review of 5 services that are considered the most successful solution to build responsive websites nowadays.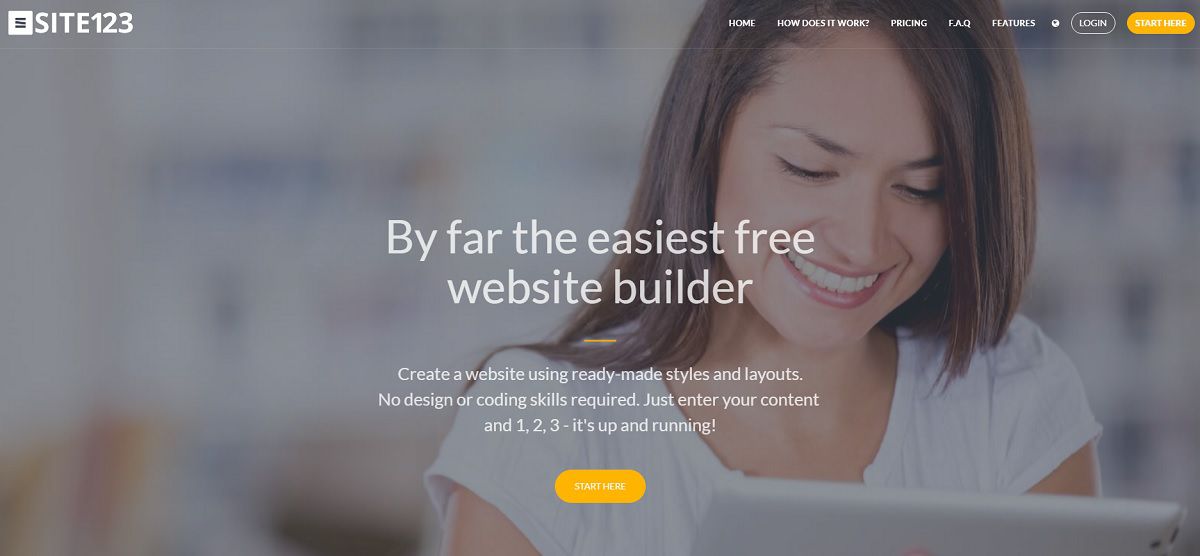 SITE123 is an easy-to-use and simple website builder, which is used for a variety of purposes. It's possible to build websites for personal and business use here. These include landing pages, blogs, promo websites and even online stores. The latter option will make it possible for you to control and manage your products and online store options, encouraging customers to come back to the website again and again.
SITE123 is also a nice choice to create promo websites and blogs here. Whatever website you are going to build with the system, it will come with responsive design that adds to its functionality.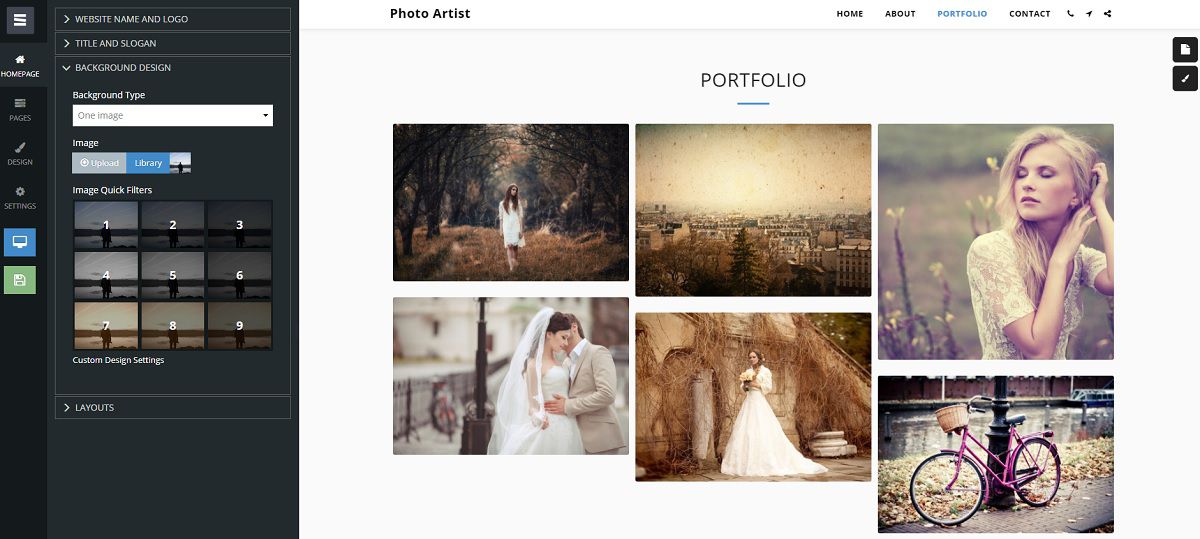 SITE123 is primarily oriented on business owners and other users, who need quality websites created within a short time interval. The system has the multilingual feature, which makes it possible to create different language versions of a website. This is a real benefit for business websites targeted at foreign markets. The availability of design customization settings, user-friendly interface, no coding need and ease of use make it possible to use the system even for newbies.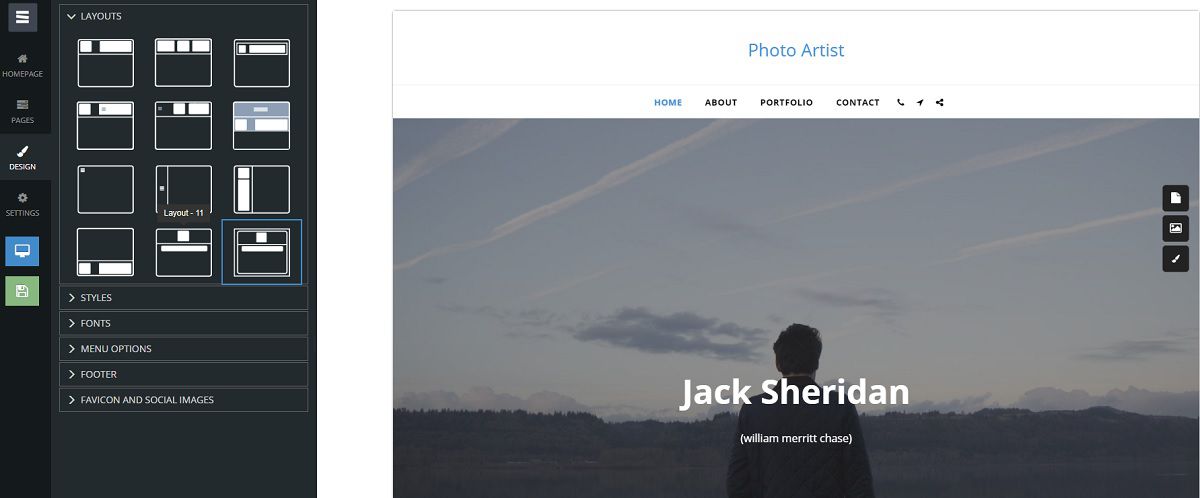 It's worth mentioning that the pricing policy of the service is not the same for all the regions. The costs of plans differ with regard to the location chosen, making the system a more affordable option than other services.
All in all, there are five plans here, including a free one. The latter, however, may be used to test the options of the system only. What you should know is that the service allows creating the unlimited number of websites on one account. Thus, the final cost will depend upon your objectives. The more websites you plan to build – the more expensive plan you'll have to go for. This is explained by the disk storage space volume and bandwidth limitations implied by them.
SITE123 is a pretty simple, affordable, but powerful cloud websites builder. It comes with a variety of features and options required to build different types of websites, such as landing pages, promo websites, blogs and small eCommerce websites.
The availability of the multilingual tool makes it possible to create different language versions of a website, boosting its popularity with foreign users. It's possible to build the unlimited number of websites on one account here, so, if you are going to build client websites, then SITE123 is a nice solution for you.
Create a Website with SITE123 →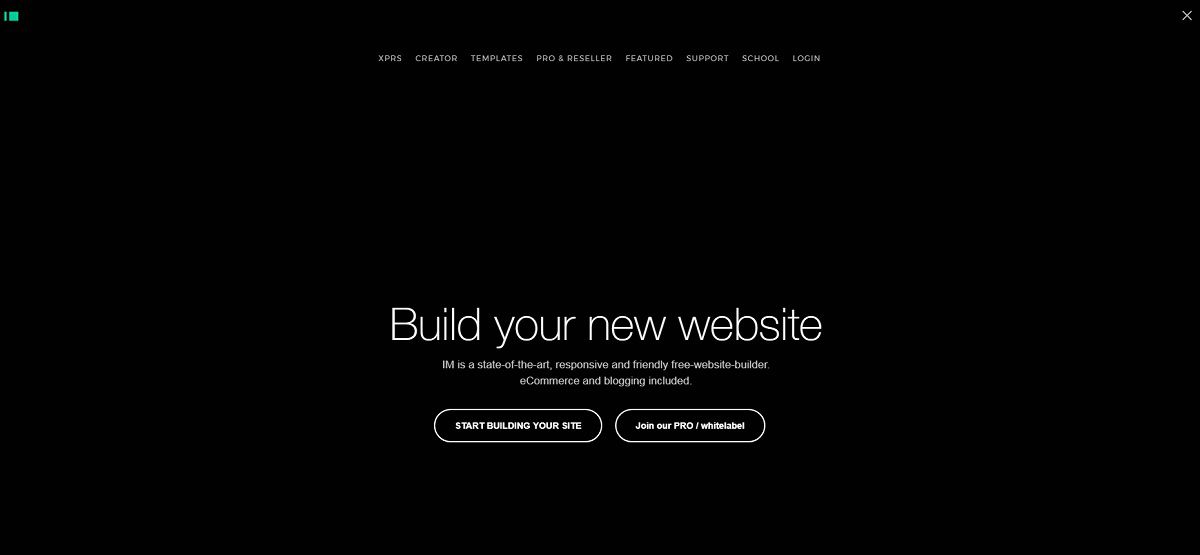 IM Creator (XPRS) is a drag and drop website builder, which comes with a variety of stylish, appealing templates and basic settings understandable even to a newbie. The service makes it possible to create promo websites, portfolios, landing pages and websites for personal use. It also offers a convenient eCommerce solution, using Shoprocket for this purpose.

IM Creator is an ideal solution for business owners as well as for creatives, who need professional looking and functional websites to showcase their works and services. It works great for fashion designers, photographers, artists, musicians, business owners, etc. The only thing is that having chosen the template, you won't be able to change it afterwards. So, pick wisely to avoid the need to reload the content.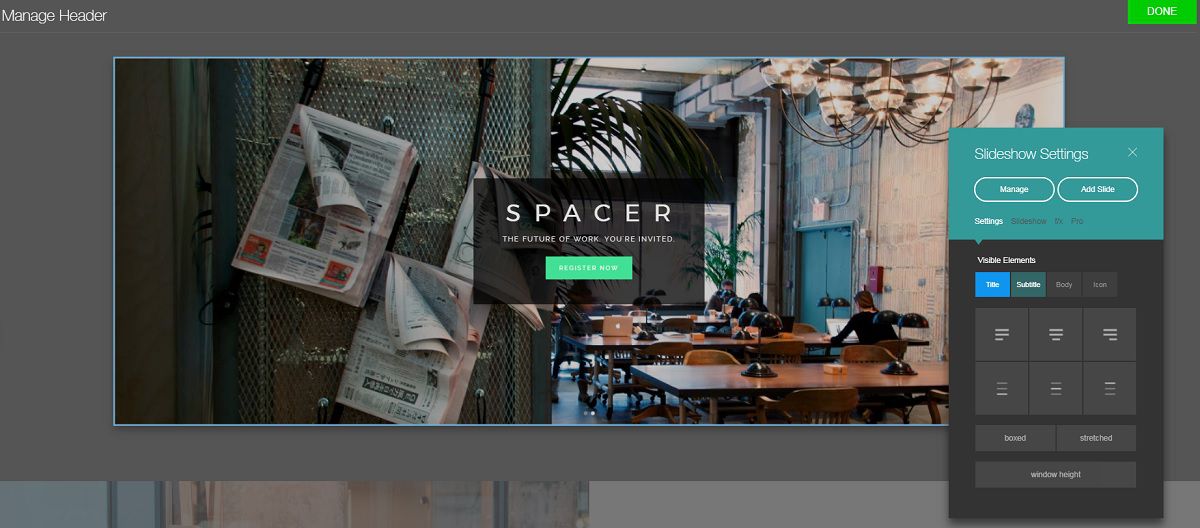 IM Creator has a great offer for creatives, who don't know much about website building but still need a quality website to publish their content. They make it possible to use the system for free with a few limitations only. The rest of the features are enough to let a newbie test the system and create a website for personal or business use.
Apart from that, the platform has one premium plan only, which comes with unlimited hosting and bandwidth, 24/7 tech support and other features you might need to get your website running. There is also an advanced "Pro and White Label Plan," which allows using the website builder under your own brand. All in all, IM Creator is a reasonable investment for creatives and professionals, who need quality and appealing websites for personal or business use.
IM Creator is one of the most stylish and simple website builders available out there. It is easy to use and affordable. It doesn't require any coding skills to be used by newbies. What's more, the service is one of the best white labeling solutions available in the market these days. It will be of great help to professional web designers and web studios that have a large client base.
Create a Website with IM Creator (XPRS) →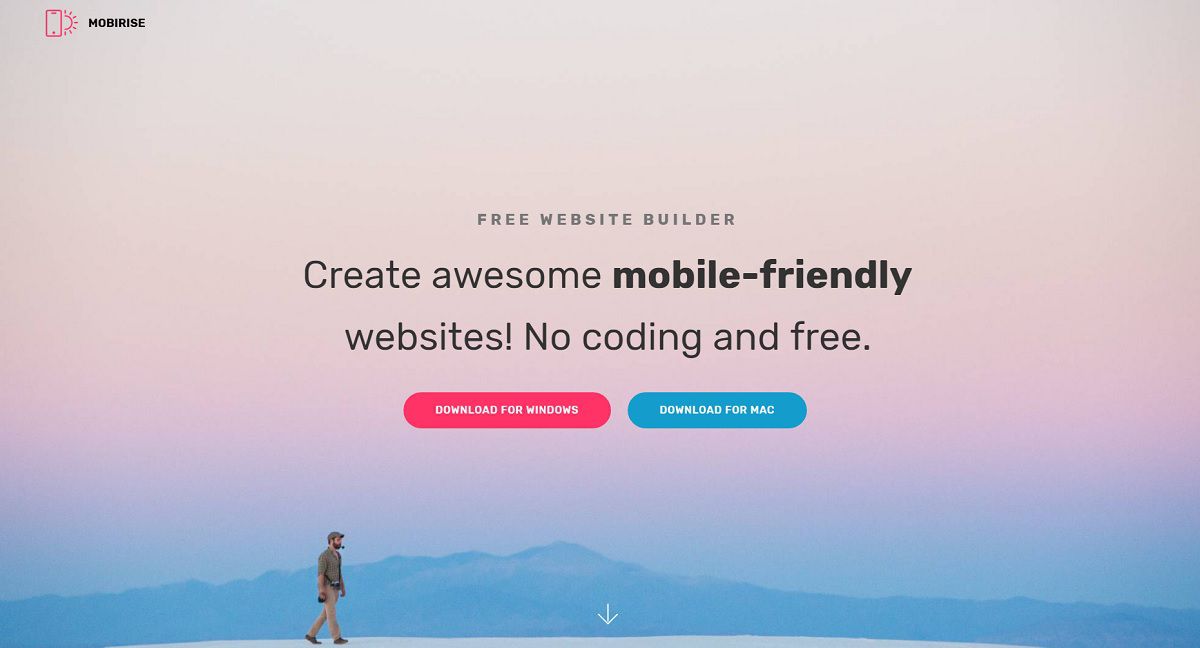 Mobirise is the only website builder in this review that notably differs from the rest of the services. The thing is that the system is not web-based. To use it, you'll need to download and install it first, but this is not actually a big problem if you need a quality well-structured website. The service is mainly used to build landing pages and promo websites, but you can also create websites for personal and business use here.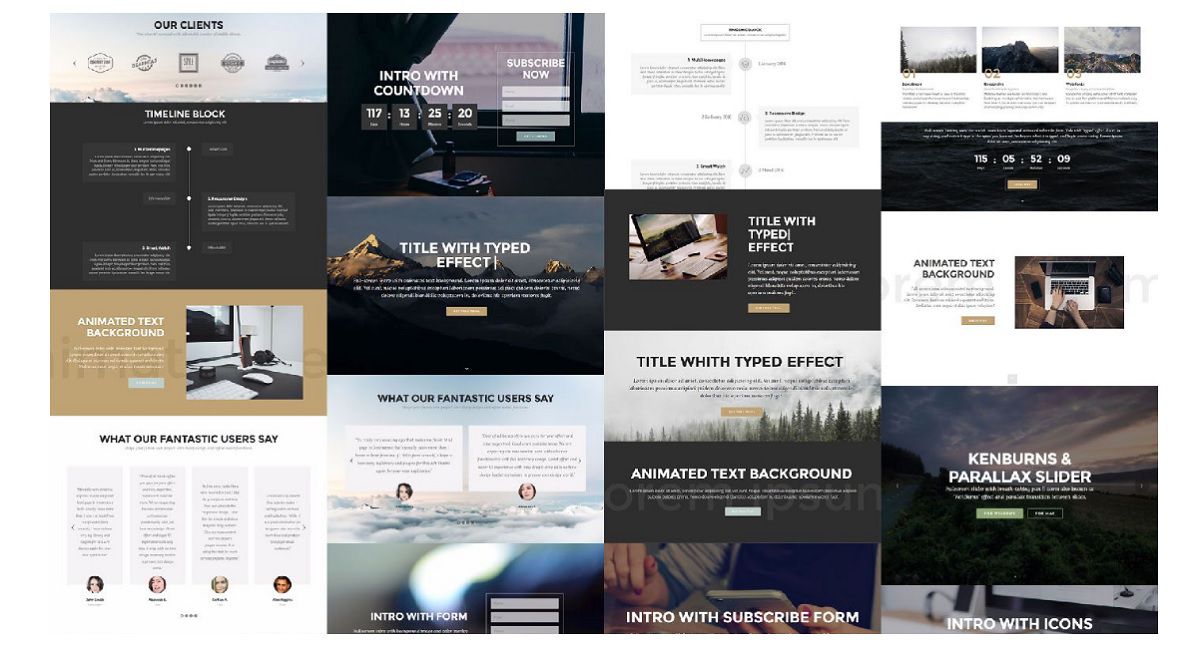 Mobirise is basically meant for newbies, since its use doesn't imply any coding skills, web design knowledge or experience. The system is so simple that anyone can master it in a few hours only. There are no templates here, which seems surprising and unusual at first sight. You are free to create your own website structure by using free and paid blocks available in the system.
Nothing limits your imagination and creative freedom, making it possible to build unique website structure from scratch.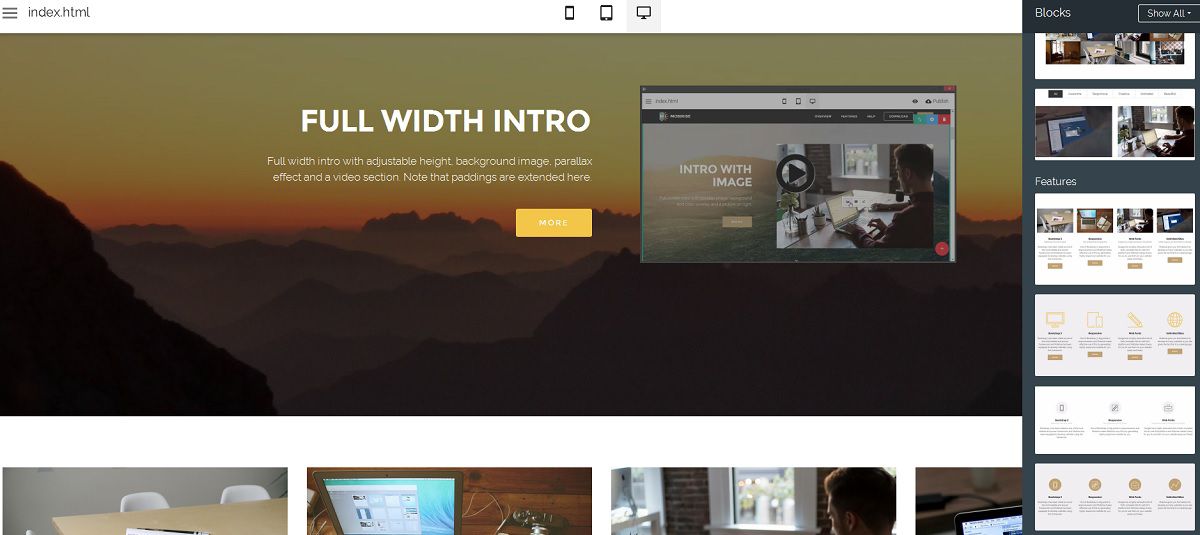 Speaking about the cost, Mobirise is absolutely free for personal and business use. You'll just need to pay for hosting and domain name. You may also buy several paid extensions to be further used during the web building process, but this is an optional offer. Even if you don't purchase them, you won't find any limitations in the system, so, feel free to experiment and enjoy the web building process to the advantage!
If you are looking for a decent website builder available at affordable cost and offering creative freedom, then Mobirise is that very solution you should go for. The only nuance is that this is the downloadable software, but that's not a problem for the majority of users, who consider quality a priority.
One of the major benefits of the system is absence of plans and fees. Users have to pay for hosting, domain name and extra extensions only, which is very convenient and appeals to many users.
Download Mobirise for Windows or for Mac.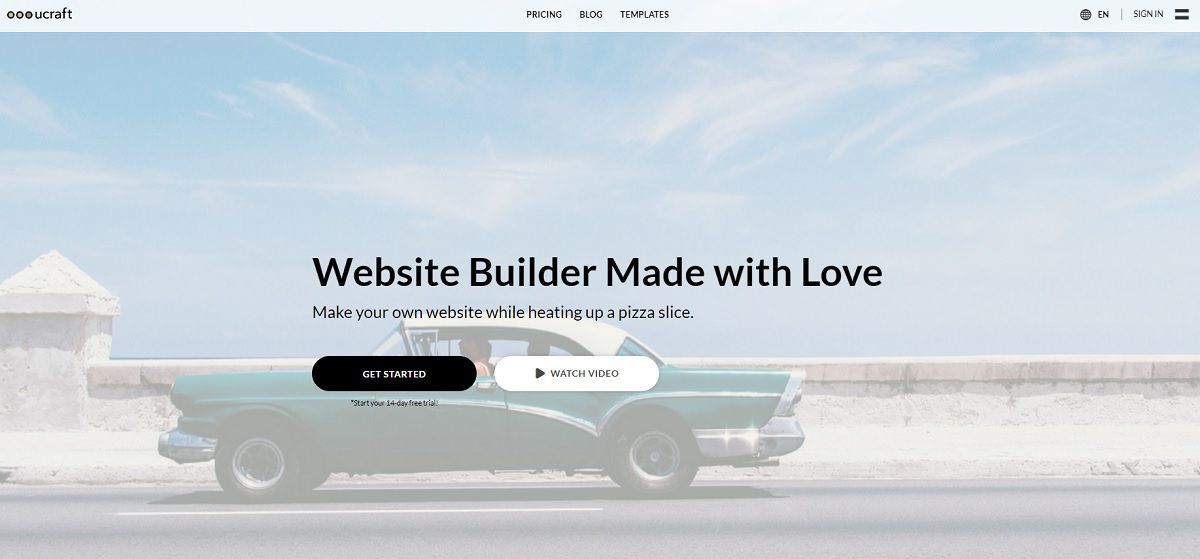 Ucraft is a cloud website builder, which is primarily used to launch landing pages and different types of business websites, irrespective of the niche specialization. The system is known for ease of use, convenience, excellent designs, affordability and nice customer support.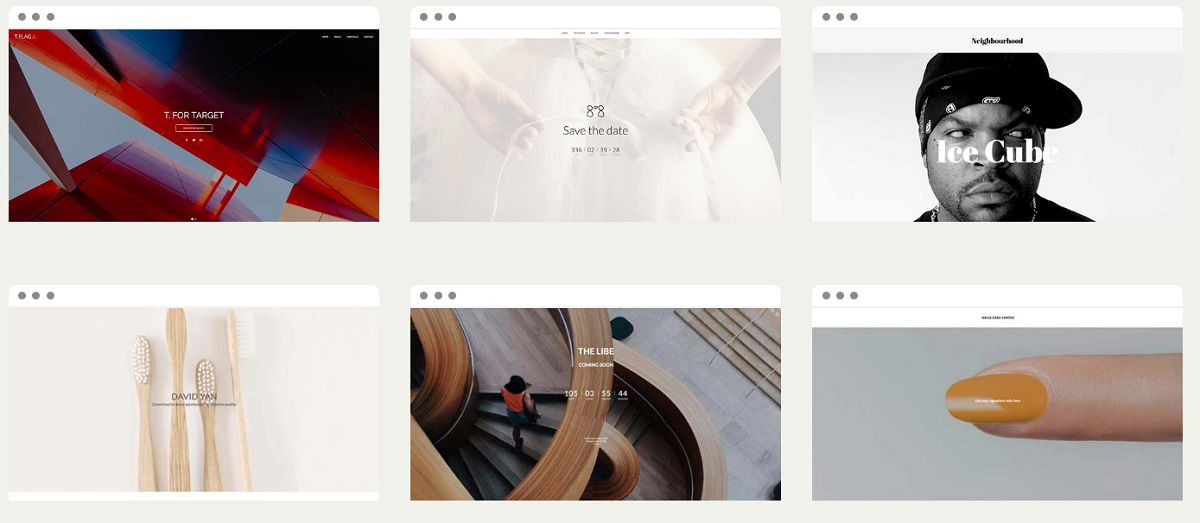 The website builder comes up to the needs of professional web developers, but it may also be mastered and used by newbies, who don't have any coding skills and web design experience at all. With Ucraft, you can create multilingual websites with ease, thus contributing to their popularity.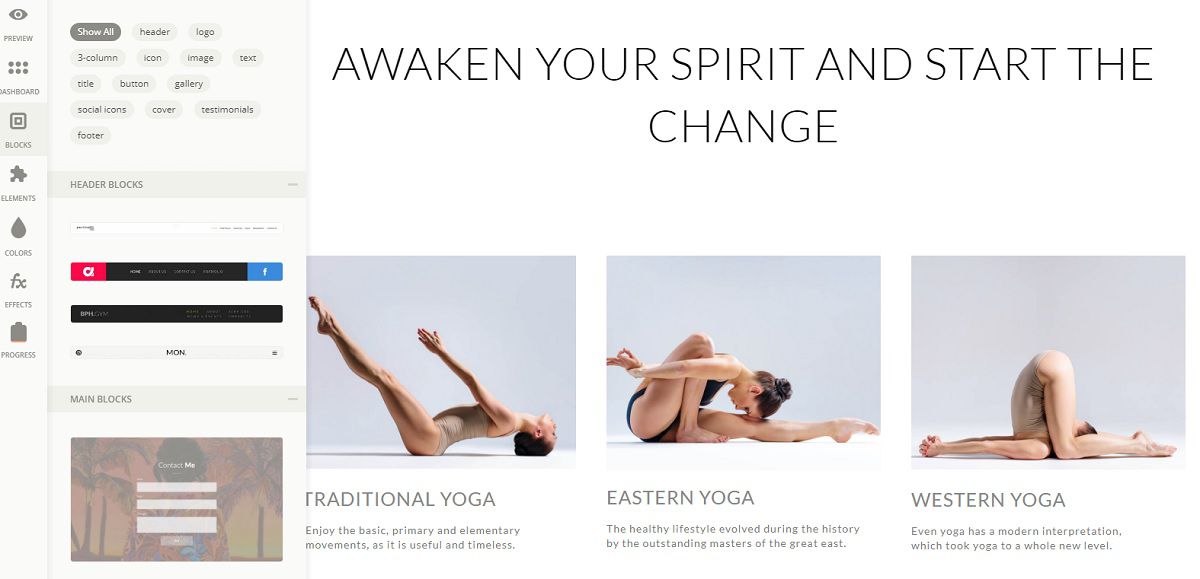 When it comes to the cost of using the system, Ucraft offers three plans. The first one is primarily meant for testing the service, while the second one aims at the needs of web design pros. The plan meant for testing is completely free, but it unveils lots of options needed to build a quality website.
The cost of the plan meant for beginners is not that high as well and constitutes $8 per month only. There is also the 20% discount for an annual subscription. The Lifetime plan offers the same terms as the previous plan. The only difference is that you won't have to bother with monthly/annual payments. Having paid for the plan once (the cost constitutes $149), you will be able to use it for as long as you need. This is a worthy investment.
Ucraft is a stylish, trendy, functional and easy-to-use website builder. It works great for newbies and web design pros, who aim at creating functional, appealing and professionally-looking websites meant for personal or business use, which are not that large. Availability of quality responsive templates, nice choice of widgets, a set of design customization settings and other features make it possible to create small websites of high quality.
Create a Website with Ucraft →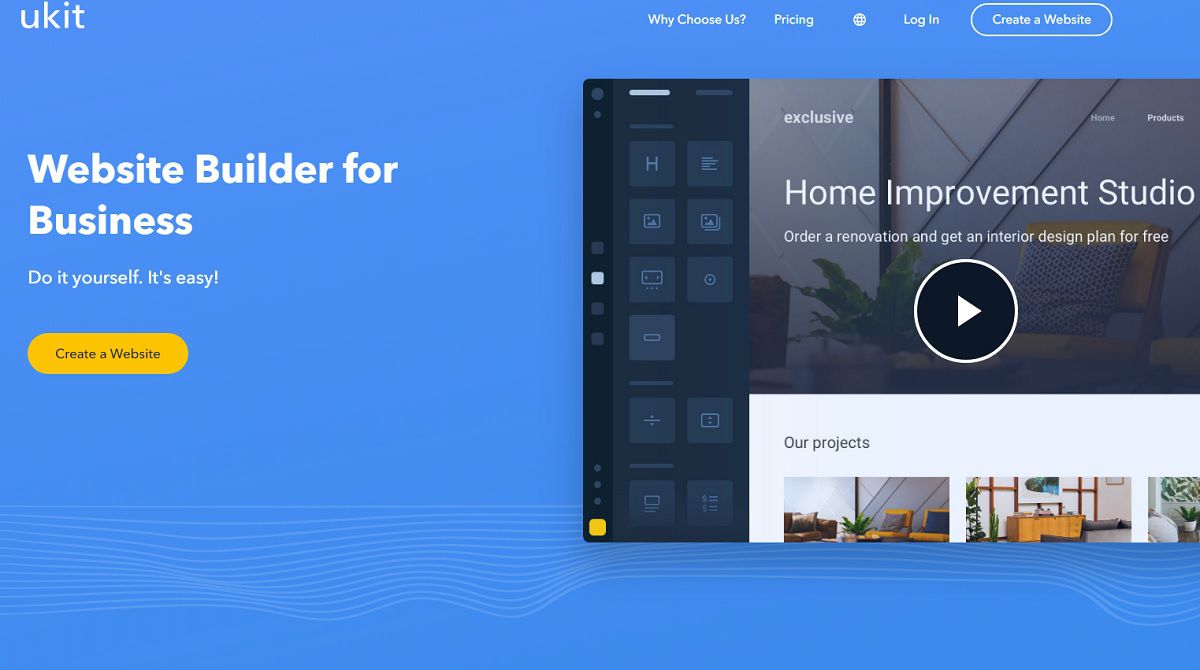 uKit is a small business website builder, and this is the fact that speaks for itself. The system is initially geared towards the needs of people looking for the most affordable and quality way to bring their business ideas online. By using this decent service, you will be able to create any small business website, irrespective of the niche you specialize in.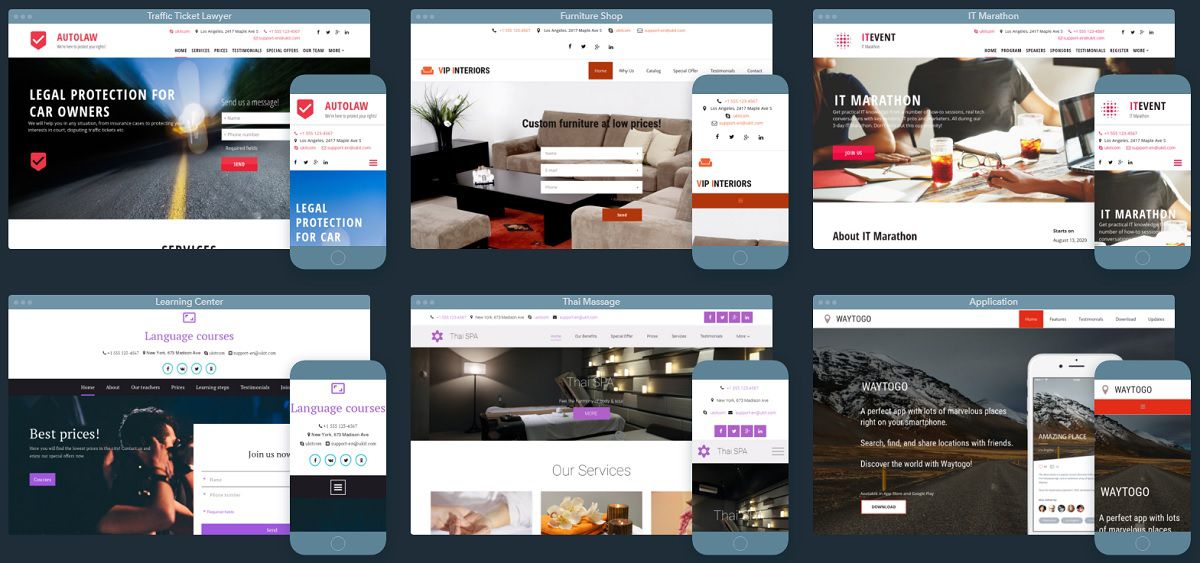 uKit is stylish and user-friendly. It's really convenient for all users, regardless of their web design experience. A rich collection of responsive templates subdivided into thematic categories, absence of code editing options, abundance of design elements and understandable design customization settings make the system a nice choice for small business owners as well as for people of creative professions willing to showcase their works.
Whether you are a newbie or a web design pro, you'll find something useful here for projects of any complexity levels.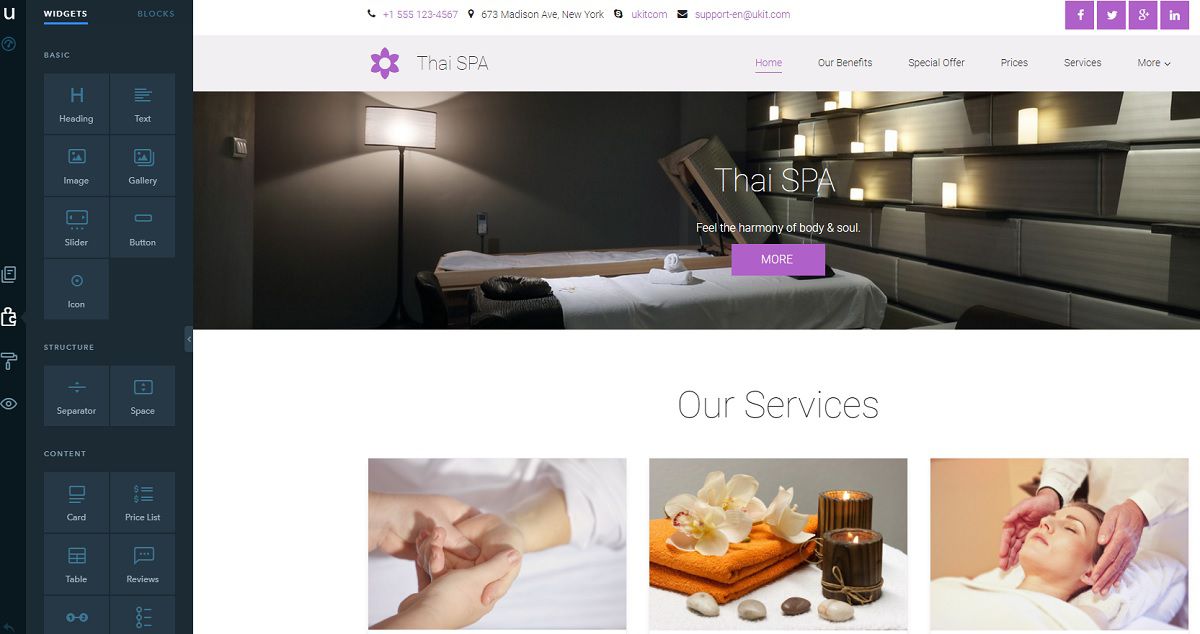 uKit comes with four pricing plans users may choose from. There is no free plan here, but you are allowed to test any plan for free prior to choosing it. The cost of the plans is more than affordable, considering that the website builder is basically oriented on small businesses. Thus, getting a Premium Plan for $4 per month only seems more than affordable for any business owner. The same is about other plans, because the result is definitely worth the investment.
To sum it up, uKit is a decent small business website builder that is worth the attention of those users, who are going to launch a website for effective business promotion, but haven't made the final choice yet. The system is easy to use and convenient for newbies and advanced users. It has a rich collection of responsive templates and powerful functionality available at reasonable cost.
Bottom Line
Making a website responsive is crucial for any user willing to reach personal or business goals. There are various website builders that make it possible to create functional, appealing and well-structured websites. The services reviewed above are the best of all the available variants.
Each of them comes with its features and aims at achieving different goals. They are oriented on users with versatile web design experience. They differ in cost, functionality, and usability. However, there is one thing that unites these platforms – the ability of each service to create stunning, visually appealing responsive websites, the functionality of which is out of the question.
This article has been sponsored by Syndicate Ads.
This post may contain affiliate links. See our disclosure about affiliate links here.