There is no doubt that WordPress is one of the most popular content management systems. It's used for blogs but also for small business websites, large corporate sites, personal portfolios, and so much more.
One of the reasons WordPress is so popular is because of the sheer number of themes that you can choose from. No matter what niche your website or blog is in, you are guaranteed to find a theme that will align with the topic of your blog. And the best part? You can find a great looking theme for free.
However, finding the right free theme is not an easy task. The number of results you get when you search for a free WordPress theme is quite overwhelming:

That's why we've done the hard work for you and gathered the best free theme collections in this post. You'll find themes suitable for bloggers, business owners, designers, and more.
All the WordPress Themes You Could Ask For

2M+ items from the worlds largest marketplace for WordPress Themes, Web Templates & Design Assets. All of it can be found here at Envato Market.
This roundup features the best free themes listed in the official WordPress theme repository. You'll find themes that are suitable for small business websites but also themes that can be used for personal blogs, online stores, and even portfolios.
The themes don't lack in features either: they can all be customized using the native WordPress Live Customizer, and some even feature plenty of widgets for the homepage so you can easily rearrange elements and add different content.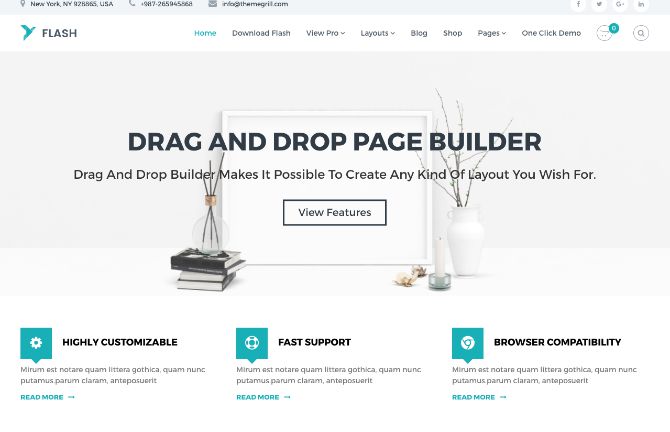 This collection is perfect if you're looking to start an online magazine or a news site. It features nothing but the best magazine themes that can be used no matter what category your magazine belongs to.
The themes range from having a traditional magazine layout with large images and bold typography, but you'll also find themes that make use of the grid layout. All of the themes also have plenty of ad space so you can monetize your magazine right from the start.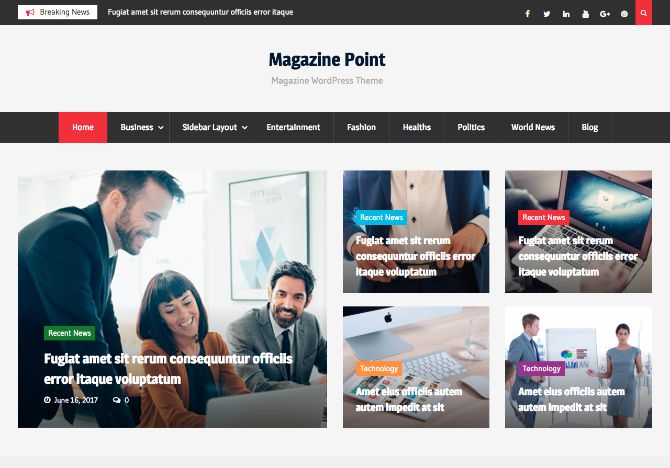 Video is the latest and hottest marketing method right now so if you want to take advantage of it, browse through this theme roundup. Although it doesn't boast a high number of themes, you can be sure that the themes have been hand-picked to ensure they have the right features.
You'll find themes that allow you to use videos as a creative background on your pages as well as themes that make it easy to embed or upload a video directly to your post.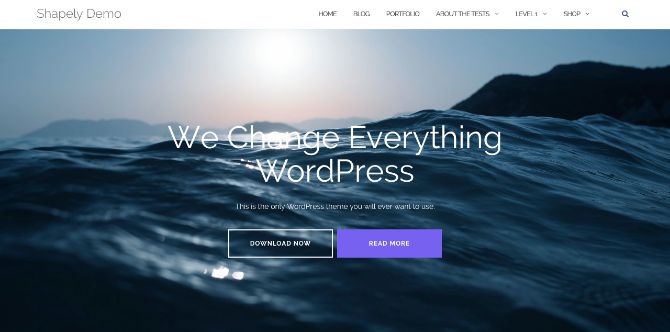 If you need a theme for your business site or if you're about to launch a business website, don't skip this theme roundup. The themes in this collection come with all the necessary features that allow you to share what your company does, present your services or share examples of your work as well as showcase your products.
The themes also come with the ability to insert multiple calls to action, newsletter integration and social media integration, as well as customization options.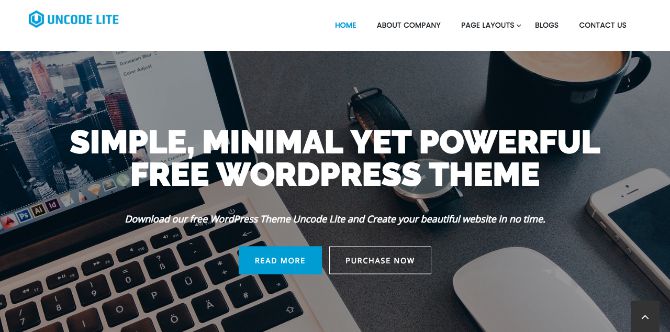 Starting your own personal blog is a great way to establish yourself as an authority, share your day to day life, keep your friends and family up to date with what's going on in your life and connect with like-minded people. But, it can also be an excellent way to share your skills and knowledge in the form of a personal resume.
Regardless of the reasons, there is a theme to suit your blogging needs. This collection features themes that can be used by lifestyle bloggers, fashion blogs, travel bloggers, writers, and more.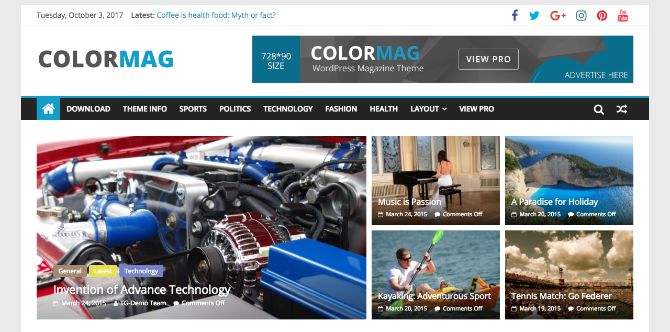 Showcasing your portfolio is the best way to impress potential clients and find more work as a freelancer. Whether you're a graphic designer, web designer, photographer or writer, the themes on this list will help you feature your work in style.
Clean design, beautiful featured images, elegant typography, and grid-based layouts are sure to make your past work stand out. Most of the themes on this list also integrate with some of the most popular WordPress plugins and are easy to customize through the built-in Live Customizer.
If you're a skilled photographer, this roundup is for you. Creating a website to feature your photography is a must, especially if you'd like to sell your prints, offer exclusive stock photos as downloads or simply promote your photography services.
The themes featured in this roundup will allow you to do just that. Features like large and beautiful sliders and galleries paired with minimal design and clean typography will make your photos come to life while still allowing your visitors to get a better preview with Lightbox.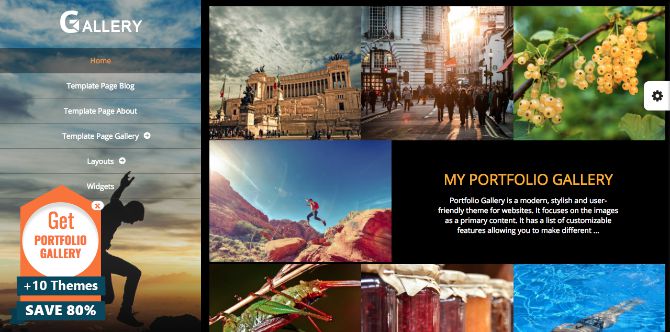 Launching your online store has never been easier thanks to WordPress and plugins like WooCommerce. With this collection, you'll be able to get your store up and running quickly without sacrificing the aesthetics or functionality.
The themes featured in this roundup put a high focus on showcasing products right on the homepage along with custom widgets, plenty of customization options, detailed setup instructions, and SEO-friendly code that will help your store rank even better in search engines.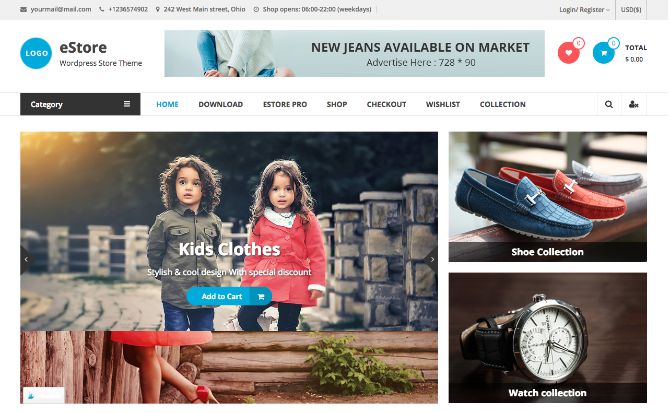 If you run a daycare or plan to launch an online course site, then WordPress themes geared for the education industry are the perfect choice. With the help of one of these themes, you'll be able to share what your school or program covers, introduce your instructors, and share the preview of different modules.
All of the themes are responsive, and they also come with the ability to accept student registrations, calendar and booking integrations, customization options, and more.
The last collection on our list features stunning parallax themes. The parallax trend has been dominating the design industry for a while now and there are plenty of free WordPress themes that make creative use of parallax backgrounds.
These themes can be used for almost any purpose; from business sites to creative portfolios as well as blogs and e-commerce stores. You can choose between one page and multipage themes, although do keep in mind that parallax works best with one-page sites for those of you who want to have a simple yet effective online presence.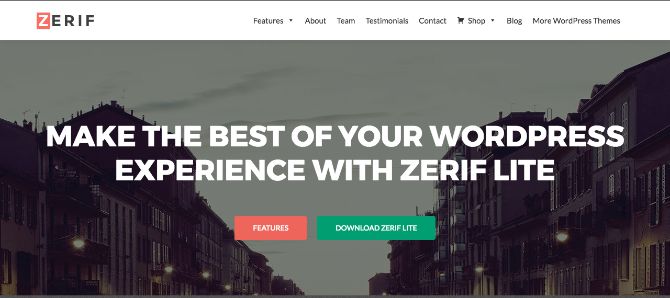 Final Thoughts
Back in the day, free WordPress themes had a bad reputation for lacking in features and having a design geared primarily for bloggers. But, as you can see from the theme roundups above, a lot has changed in the recent years.
Nowadays, free themes are almost on par with the premium themes, offering attractive design and plenty of features to help you get your site up and running quickly without hurting your bank account. Check out the theme collections featured in this post to find the perfect theme for your WordPress site.
This post may contain affiliate links. See our disclosure about affiliate links here.