In this article we have collected 20+ free CMS systems, that can prove to be very useful. Every one that wishes to start a website or a blog needs a way to manage content. Content Management System (CMS) is found and created to fulfil this task for you. Content Management Systems is designed to simplify the publication of web content to websites and blogs, allowing content creators to submit content without requiring technical knowledge of HTML or the uploading of files. Several content management systems exist both in the Open Source and commercial domains.
---
Table of Contents:
---
Free CMS Systems To Make Your Content Creation Process Easier
---
By joining Envato Elements you gain access to plenty of CMS Templates, as well as many other useful design elements. All of this is available for a single monthly subscription to Envato Elements. Join today, and gain access to a massive and growing library of 24,500+ creative assets with unlimited downloads.
WordPress started as just a blogging system, but has evolved to be used as full content management system and so much more through the thousands of plugins, widgets, and themes available to suit your needs. WordPress is also free and open source CMS and it is considered one of the most used content management systems out there and I might dare to say it is ruling out there. It uses PHP as a server side language and MySQL as a database.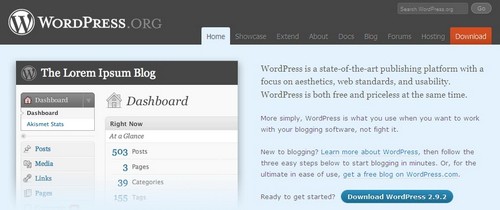 mojoPortal is a free and open source content management system built using the Microsoft ASP.NET and supports various databases like MySQL, MS SQL and PostgreSQL. It comes with a lot of built in features such as: Image Gallery, Event Calendar, Polls, Blogs, Forums and many more.
Drupal is a free and open source content management system that allows an individual, a community of users, or an enterprise to easily publish, manage and organize a wide variety of content on a website.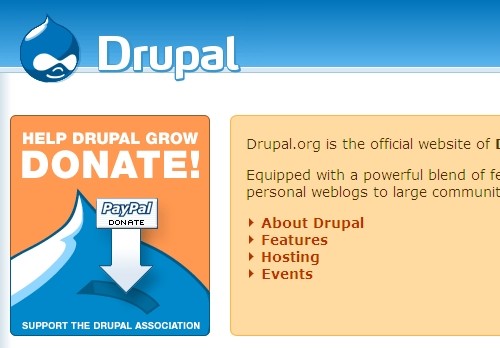 Joomla is a free content management system, which enables you to build web sites and online applications. Many aspects, including its ease-of-use and extensibility, have made Joomla one of the most popular content management systems available. Best of all, Joomla is an open source solution that is freely available to everyone. It has many built in features but if that's not enough you can take a look at the 4000+ extensions from the community.

Pligg is a free and open source content management system. Pligg CMS provides social networking software that encourages visitors to register on your website so that they can submit content and connect with other users. You can create websites where stories are created and voted on by members, not website editors. Use Pligg content management system to start your own social networking community in minutes.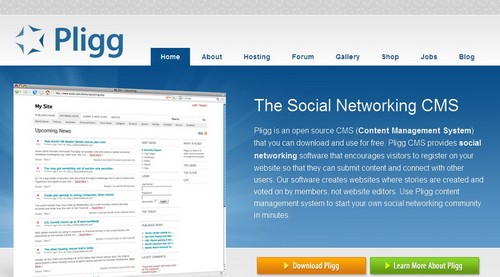 SilverStripe is an open source and free content management system. Besides their feature rich CMS they developed Sapphire which is an object-oriented PHP5 web framework designed to let you either build standalone applications or extend your SilverStripe CMS-powered site.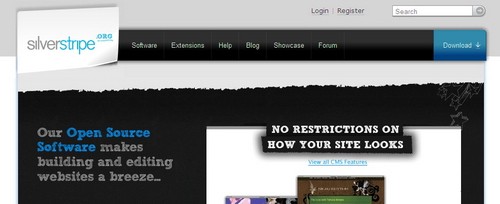 Plone is a powerful, flexible Content Management solution that is easy to install, use and extend. Plone is created for non-technical users to create and maintain information using only a web browser. Perfect for web sites or intranets, Plone offers superior security without sacrificing extensibility or ease of use for non-technical users.
8. BlogEngine.NET
BlogEngine.NET is an open source and free .NET blogging engine that was created to offer a better blog platform. A blog platform with less complexity, easy customization, and one that takes advantage of the latest .NET features. BlogEngine.NET was designed using the current .NET framework and focused on simplicity, ease of extendability, and innovative features. despite it packs a lot of built in features along with extensions available by the community it still lacks attention for the little details that is found in other content management system.

sNews is a completely free, standards compliant, PHP and MySQL driven Content Management System. sNews is extremely lightweight, simple and customizable. It's easy to install, and use via a simple web interface. sNews consists of only one core engine file, one independent template file and its accompanying CSS stylesheet file, plus an .htaccess file that makes all URLs search engine friendly.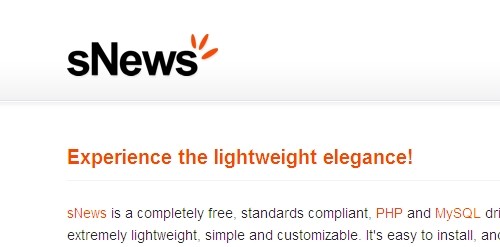 CushyCMS is a Content Management Systems that is truly simple. It's free for unlimited users, unlimited changes, unlimited pages and unlimited sites. It's built from the ground up with ease of use in mind – for both content editors and designers. It's such a simple CMS that it takes less than 3 minutes for a web designer to implement. No PHP or ASP required for this CMS. If you can add CSS classes to HTML tags then you can implement CushyCMS. It's also a hosted CMS, so no installation or maintenance is needed either.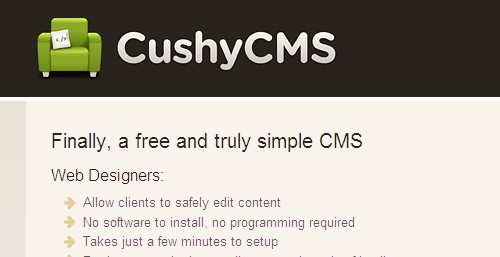 12. Frog CMS
Frog CMS simplifies content management by offering an elegant user interface, flexible templating per page, simple user management and permissions, as well as the tools necessary for file management. Born as phpRadiant in January 2007, Frog CMS is a PHP version of Radiant CMS. Frog CMS requires PHP, a MySQL database or SQLite.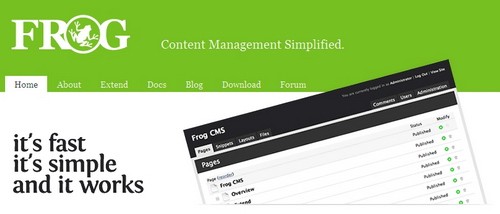 Radiant is an open source content management system designed for small teams. It is built using Ruby on Rails and using the SQLite as a database.
MediaCore is a free open source video cms and podcast platform. MediaCore can pull video or audio from any source, track statistics, enable commenting, and provide a high degree of control over the presentation and administration. The CMS was built for individuals and organizations who wish to distribute video or podcasts on their website without kicking users to other social media sites. MediaCore is built using the TurboGears Python Framework and MooTools Javascript Framework.

15. CMS from Scratch
CMS from Scratch is a quick, easy, open source and FREE solution that lets web designers give their customers a web site they can edit themselves. It is now also an open source project, so you can use the source PHP scripts for FREE.
MODx helps even regular individuals manage content on their websites simply, quickly and intuitively. For the geek-elite, MODx is an Open Source PHP web application framework with a capable built-in Content Management System.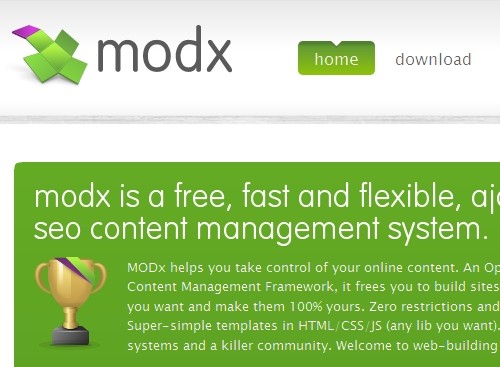 TYPO3 is a free Open Source content management system for enterprise purposes on the web and in intranets. It offers full flexibility and extensibility while featuring an accomplished set of ready-made interfaces, functions and modules.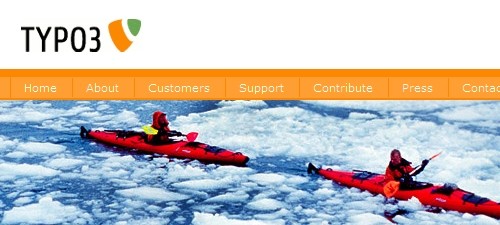 Expression Engine is one of those CMS that is easy to use. Within few minutes of testing it, you will already know the basic functions and will be able to play with them right away. This CMS is very flexible and creating content should be much more than easy. The templating system shows you immediately the changes you make and the last-generation caching system minimizes the database usage, which means faster loading times not only for you, but also for your visitors. Another advantage Expression Engine offers is the option to embed and run PHP directly in the templates, similar to the widgets from WordPress.
Expression Engine allows you to have multiple sites with just one installation. The caching system I was telling you about earlier keeps the site running fast because it stores database queries in the memory and reduces the database connections when web pages are generated. The license has to be paid only once and ranges from $99 for the "Freelancer" pack to $299 for the largest pack.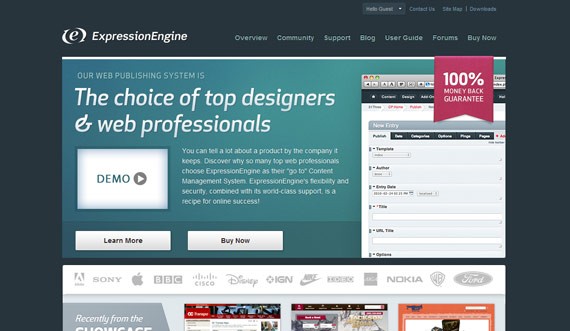 Business Catalyst is an Adobe product considered to be very powerful for developers. Basically it is also for content publishing, but has many other features such as e-mail marketing and site analytics. The analytics are maybe one of the most interesting features, thanks to the depth of the information the user gets, such as customer's actions. The CMS lets you build and manage a customer database (which is feature most of the other CMS lack) and allows you to sell your products online. Unlike many other CMS, Business Catalyst can easily be integrated with PayPal, Google Checkout and other pre-integrated payment gateways.
The mayin difference between Adobe's CMS and other ones is that Business Catalyst focuses much more on online businesses than on blogs. If you want to have a blog, then Business Catalyst is not the way to go. However, if you have products you want to sell, you can skip a lot of coding and stress by going with this option, because it is probably the best one out there. You can create a custom HTML/CSS layout, upload it and then integrate the available modules into it  – it can't be easier. You can use it a s a free partner and use Adobe's name when offering websites to your client's or buy a white label partner program and use your own name.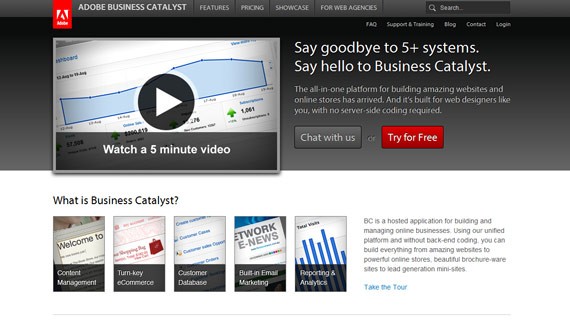 Formerly known as TYPOlight, Contao changed its name in June 2010 and is an accessible open source CMS that enhances functionality. There is no CMS in the world that can compare itself with WordPress in terms of plugins and extensions, but Contao does its best efforts with a large database of useful plugins available for everybody. There are hundreds of additional modules which are easy to install and customize and there are also lots of templates available.
The downside of Contao are exactly the custom templates which have to be bought and for which you might need to know some CSS, because they definitely need to be customized to fit your needs. The templates are not great and if you look to create a visual impact but don't have design and coding knowledge, Contao might not be the best choice.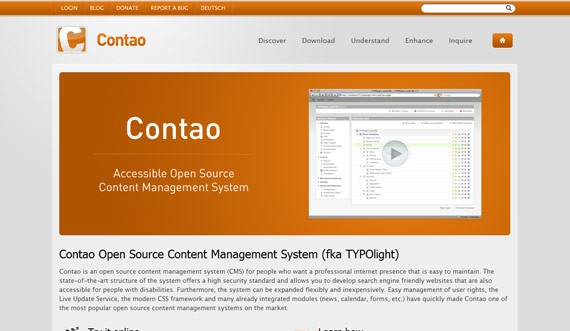 Textpattern is a relatively popular Content Management System due to its simplicity. It provides great tools and allows users to create content very easy, quick and according to web standards-compliant pages. There is not a WYSIWYG editor included, because the CMS uses textile markup for content generation, which means text is automatically generated into HTML (this option is available in WordPress as well, so you should be used to it). The administration panel is very easy to use and follow.
Textpattern comes free of charge as well and allows many things such as layout editing, file and image upload, plugin installation, SEO tools, subscribing features and a big support team which continuously improves the platform.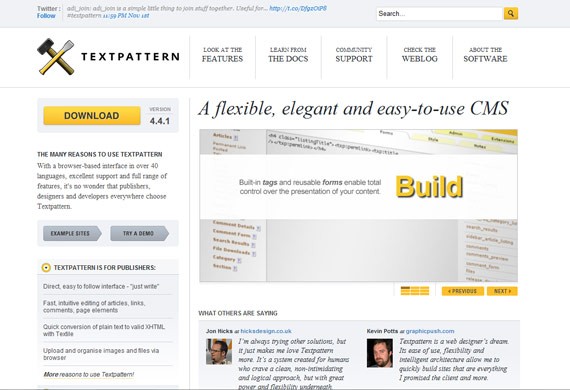 Alfresco is very easy to install and lets you convert files into documents. Alfresco might be a bit more difficult to get used to, but if you put some time into it, in the end it will pay off. Alfresco is not that much for beginner bloggers, but targets developers much more. Don't get me wrong, this CMS is very flexible and usable and the administration panel is organized, maintained and easy to navigate through, it just takes a bit more time to get used to it. Alfresco is an open-source product as well.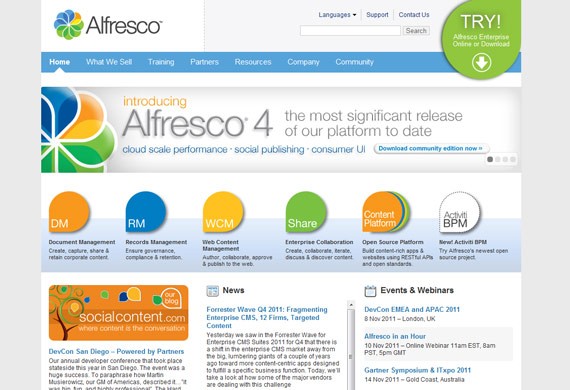 ---
Tips on Choosing The Perfect CMS For You
After reviewing these CMS, you probably have a difficult choice in choosing one of them, therefore I thought of sharing some tips with you very fast. First time you have to think what your needs are.
---
If you are business oriented and want to sell something, Adobe Business Catalyst is probably the only choice, although it might be a bit pricey (update: you can use it as a free partner). The rest of the CMSs reviewed here are for bloggers, although Expression Engine might be a bit too expensive, so try to avoid it if you only do this for passion and don't plan on getting serious with it. For selling stuff a good choice is also WordPress as you can integrate WooCommerce
You also have to think how intuitive and easy to use the system is and how good the GUI interface looks. If the administration panel is difficult to use, then why should you choose that one? In the end, the administration panel is the place where you will spend 95% of your time.
Think also if the CMS is flexible enough and allows you to use plugins or modules. And make a short research before choosing one of them and see if the available plugins and modules are enough for you. If the CMS is not extensible, I personally don't consider it worthy to be chosen.
In case you are a developer, this tip might not be for you, but if you are a blogger only, or maybe a front-end designer, would you feel comfortable to have to edit ASP.net or PHP pages/modules? If not, then choose a CMS that doesn't force you to do this. If it is too complex it might not be for you.
Other important thing you should consider is the security. I am aware of the fact that the largest CMS in the World, WordPress, has security issues all the time, but at least they try to work on them. There is no perfect CMS if we take a look at their security, but hey, this is the internet today, there is not that much you can do. However, it is a good to make a bit of research and see which CMS is the most secure.
Find out if the system is optimized for speed and performance, like Expression Engine is, and then look into the documentation and support. At some point in time you might need some help and it is important to have a place where you know you can find answers.
With this last tip I put an end to this article. I hope all the small, but very good and interesting CMS I've reviewed today look interesting to you and I hope this article helps you a bit in the process of choosing your next Content Management System.
BONUS
Earlier today Salman talked about Pligg, a Social Networking CMS for people who want to create a website like Digg and Reddit. Also included are 20 examples of how Pligg is used. Be sure to check it!
As we also know it's hard to choose the right CMS system and WordPress being the biggest of them, we wanted to make some suggestions what are good alternatives to it. You have seen some of them in he upper text. Here is the list of alternatives that we think are very good.
---
Awesome Alternatives to WordPress as a Blogging Platform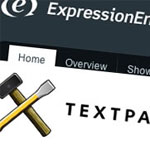 WordPress is a very popular blogging platform that runs millions of blogs. But, what if it doesn't meet your needs? Just because tons of people use it doesn't mean it will be right for you. Here are 7 solutions to help you find your own advanced blogging solution. These CMS's (Content Management Systems) will offer you a lot of options and features – but it's important to weigh pro's and con's when choosing the right system. Most of these work in the same manner; you'll have to download and upload the files to your server (some need a database to work), and then go through an install and configure the system. Later, there should be some kind of extensions you'll be able to add – such as themes, plugins, modules, sections – and a lot more.
---
Textpattern is a robust CMS. It's most useful for blogs, although full sites can and have been created with Textpattern as well. It happens to be quite flexible – you can create almost anything with plugins and a custom sections and styling. Personally, I would only recommend this to people who have dealt with PHP and other CMS's before; although using Textpattern is fairly easy to learn.
Cool Features:
Easy to focus on content
Browser-Based Media Control
Freedom to control all elements
Browser-based template and CSS editing
Light Weight and Secure
The many available plugins give you extra functions and capabilities

Movable Type is a powerful all-in-one tool that lets you create blogs and entire websites with one platform. Being flexible with themes and plugins, you can really do anything with Movable Type! Movable Type is free, but for those who need a larger amount of support (like a business), Movable Type Pro comes with more features – and is not free.
Cool Features:
Open Source for Developers
Simple to create all kinds of websites
Revision history – you'll never loose anything!
Dashboard and Custom Fields
All-in-one solution that cam power anybody

Tumblr is a micro-blogging platform. Although you can't host it on your own server, you can customize your Tumblr blog as much as you would like with super cool themes! With an awesome community, Tumblr is the easiest solution for micro-blogging. You'll also have the ability to use custom domains!
Cool Features:
Don't have to host on your own server
Free and Easy to Use
Community Interaction
Easy to post with mobile devices (call, text, mobile web, apps)
Powerful Well Designed Themes by Professional Designers
Completely Free!

Drupal is an open source Content Management System that can create anything to a small blog to a large community website. You can even create discussion websites, corporate pages, personal blogs, directories and even social networking sites – all in a breeze.
Cool Features:
You can contribute to it's development
Admin side tracking and statistics
Easy Forum and Polls
Built in news aggregator
Easy to personalize and community gives online help

ExpressionEngine is a flexible CMS that helps you fulfill your site's full purpose. There are modules, plugins and extension hooks to help you customize your website to the upmost extent.
Cool Features:
Flexible – can power organizations and companies
Will adapt to your needs
Easy to add more features
Analytical tracking
Built in spam prevention
Totally secure and manageable

Last, but not least – FlatPress is an open source blogging system that does not need a database to work. This means that those without access to MySQL databases finally have a blogging system to fit their needs!With FlatPress, there are widgets and plugins to make your site as unique as you want it to be.
Cool Features:
Open Source
Does not require a database to function
Looks like WP
Plugins and widgets
Theme Support
Static Page support
Now that you have seen some of the great options available, what will be your pick? Are you going to stick with WordPress? Are you going to try any of the solutions here? Let us know below!
To make the decision easier or maybe a little bit more comfortable we have decided to include comparison between two really competitive CMS systems. Shall we take a look?
---
A Tale of Two Competitive CMS's: WordPress And TextPattern In The Spotlight
WordPress and TextPattern are two very popular blogging platforms. Both of them began as blogging platforms (and somehow insist on being blogging tools even to this day), yet have quickly evolved into full-fledged and extremely powerful CMS's. Both of them have pros and cons, and each boasts of a very dedicated user base as well as communities and forums.
---
Before proceeding further, a short disclaimer: the division of this comparative review under multiple headings does not essentially have a logical explanation – I've simply attempted to compare it using four basic, but very important, categories, functionality and usability, mode of operation, extensions and plugins and finally, community and support.
Furthermore, I guess many users of WP and TXP will either agree or disagree with my views. To be honest, using a particular CMS also requires a certain amount of personal choice, what might work for me, may not work for you, and vice-versa. Differences in opinion are always welcome!
So without further ado, let us begin with our comparison.
Functionality and Usability
When it comes to functionality and usability, WordPress seems to win easily. While this does not mean that TextPattern is, in any way, less functional than WordPress, WP simply beats TXP in terms of ease of use! With the advent of version 3.x and higher, WP now boasts of a super organized administrative panel that lets you manage your website with ease. Don't believe me? Take a look at WP's admin panel. 'Dashboard', 'Posts', 'Pages', 'Settings' – which of these sections are not self-explanatory? Customizing the blog becomes a matter of few clicks. Take a look at the 'Settings' page of both the CMSes.
On the other hand, TextPattern's administrative panel, though equally capable and powerful, seems 'outdated' in comparison to that of WordPress. Of course, TXP is equally robust in its admin panel, but overall the interface is not as easy to use and may even be confusing for beginners.
Availability of Custom Plugins/Extensions and Themes
Apart from ease of use, the next thing that defines any piece of software is the availability of extensions for it. However, more often than not, there is a spiral between 'ease of use' on one hand and 'extendability' on the other. For instance, when it comes to mobile operating systems, Android is more popular than Samsung Bada. While this does not demerit Samsung Bada itself, Android's popularity can be attributed to its ever-growing app market, which in turn is increasing because developers take an interest in it due to its easy extendability and wide usage, which ensures their efforts will not go unnoticed. Again, due to developers' keen interest, the apps keep growing, and the users keep coming to Android.
Both WP and TXP support themes and templates as well as multiple plugins and extensions. However, WP has more themes and plugins then TXP. While this may or may not prove WP's superiority, it surely plays its role in contributing to WP's user base. Since many commercially viable tech blogs and websites are powered by WordPress (not to mention the millions of blogs at WordPress.com and Blog.com), it is but natural that WP has a large number of themes and plugins. Certain providers, such as WooThemes, offer themes for both WP and TXP. Yet, in this case too, WP dominates TXP in terms of the number of available themes.
If you have exemplary coding skills, fret not! You can easily tweak TXP and design your blog or website the way you wish to. But if you are an end user just looking to get a blog or website up and ready with as little technical expertise as possible, WP should be your safest bet!
Mode of Operation
Modus Operandi is by far the most debatable topic when it comes to comparing any two CMS's, let alone WP and/or TXP.
To begin with, WordPress comes with a WYSIWYG Editor that makes editing posts and articles extremely simple.
TextPattern, on the other hand, has an equally awesome (though not so end-user friendly, as it takes some 'getting used to') editor, which can do almost anything you want it to, but will surely leave many beginners confused. In TXP, Textile and other related features can either be your best friends or your worst enemies.
In the admin back end as well, you will notice that mundane tasks such as updating the CMS, installing themes/plugins, or even navigating the back end – all seem easier on WP rather than TXP for a novice. However, the confusion vanishes once you get accustomed to the interface.
Community and Support
A CMS is only as good as its user base. Both TXP and WP have a good and fairly active community and many forums where you can seek support and advice.
In terms of documentation, TXP seems to win outright. WP is well documented, but it comes nowhere close to beating TXP – apart from the usual website, TXP also has its own User Documentation Website and another TXP Resources site.
Speaking of support, WP is updated on a more frequent basis as compared to TXP. However, this can be interpreted either way – supporters of WP will consider the frequent updates as higher level of activity at their developers' end, while supporters of TXP can attribute the lesser updates to a sign of maturity of TXP in itself.
To sum it up
Before coming to a conclusion, let us recap each CMS's pros and cons:
TextPattern:
Pros:
Textile is a wonderful component, and if you get used to it, you will never, ever, miss WP.
You can tweak your website as much as you want. There is negligible encapsulation done.
Extensive documentation.
Cons:
Admin back end looks outdated.
Interface confusing for beginners.
Lesser number of themes/plugins (as compared to WP)
WordPress:
Pros:
Perhaps the easiest CMS ever
Several themes/plugins
Excellent update mechanism
Cons:
WP is intended to power only one blog at a time (unless you're using WPMU)
With plugins/extensions, it may becomes bloated
Editing article meta data is difficult
Notorious for frequent security bugs and issues
And the Winner is…
As I stated above, using (or not using) a particular CMS is a matter of personal preference too. More often than not, our choice for a CMS is governed by our needs (and, perhaps, bias towards a personal favorite).
WordPress and TextPattern are both great at what they do! If you need a CMS just to power a blog or a small website, look no further than WordPress. If, on the contrary, you wish to run multiple blogs, or prefer to tweak your articles before posting them (or simply like to do things the geeks' way), TextPattern might be your ideal solution. In simple terms, TXP should be chosen if you wish to define the dynamics of your website just as if you were 'programming' software.
Have you used WP and/or TXP earlier? Do share your experiences with us in the comments!
Now we have seen one great CMS for online store, but we offer another one and with this one we wanted to provide you with a great beginners guide.
---
A Beginners Guide to PrestaShop – The Open Source e-Commerce CMS
You always wanted to create your own online store but didn't had the knowledge how to start or what shopping-cart solution to use? No Problem! In this section I will introduce you the key-features of PrestaShop, one of the most used open-source e-Commerce shopping-cart solutions out there, which is free to use and with a big community.
---

E-commerce week is sponsored by SSLmatic which sells SSL certificates for much cheaper prices (RapidSSL, Geotrust, Verisign) and offers great support. Check their site to get the cheap SSL certificates.
What Exactly is PrestaShop?

PrestaShop is a professional e-Commerce shopping cart content management system, which you can download and use for free.
Currently it has more than 50.000 community members and more than 33.000 online stores are using it as their shopping-cart solution.
Most people use it because of its scalability and modular structure and very light-weight and fast installation. If you already have PHP knowledge, you will be able to create your own themes in no-time!
If you can't wait, you can give it a try right know. They are hosting a front-office access and also a backoffice access on their own servers. Click here to get to the demonstration page.
The Key-Features of PrestaShop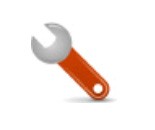 PrestaShop has a lot of great features. Not only for the front-end but also for the back-office.
I will list you only a few of them to give you a small insight, why so many people are using it as their favorite shopping-cart solution.
Front-Office Features:
Featured products (Top sellers, New items,..) on the homepage
Build-in product-image zoom
Customer subscription and user accounts
Unlimited payment methods
Google Checkout module ready to be activated
RSS feeds
Back-Office Features:
Full-featured WYSIWYG text editor
Unlimited categories and subcategories
Different currency settings and tax settings
SMS/Text-message module
Customizable delivery status notification
Friendly URLs and Permalinks
SSL encryption
This is just a small selection of the features. You can take a look at their complete feature-list here.
Sites Using PrestaShop
I prepared a list with some different looking online shops, which are using PrestaShop. You will see how much possibilities and freedom you have, while creating your own themes.
1. Contentin Café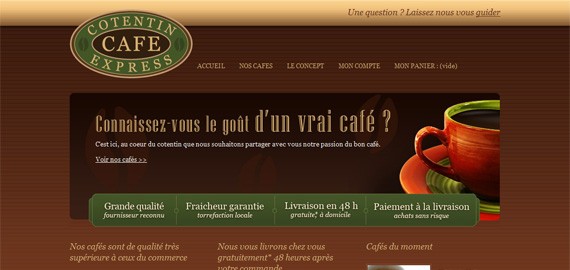 2. Kapsys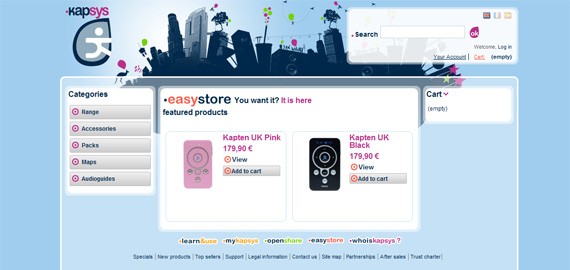 3. I got Style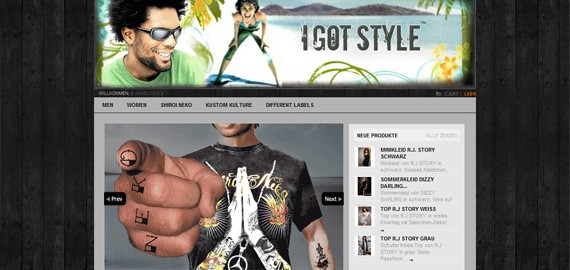 4. Design and Furniture
As you see, every PrestaShop theme can look different and can be designed as you wish. If you want to see more sites and get even more inspiration, just click here to take a look at their showcase here.
Behind the Scenes: Requirements and Installation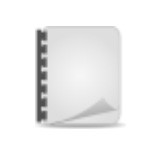 If you got inspired and want to try PrestaShop right now – go ahead and download it!
The current stable version is v.1.2.5. They also released a beta version a few days ago (v.1.3 beta 1) but it is recommended only for testing.
System Requirements:
But before you start downloading, make sure your server meets following system requirements so you don't step into troubles during the installation.
Linux, Unix or Windows OS
at least Apache 1.3 or IIS 6
PHP 5.0* or later
MySQL 5** or later
* Some PHP 5 versions are bugged and prevent PrestaShop from working correctly. You can take a look at the supported versions at their full list of system requirements here.
** PrestaShop works also from MySQL versions 4.1.14 to 5.0, but some features are not working correctly or have strange behaviors.
Installation Process:

Now you know what system requirements you need. You can go ahead and start with the installation of PrestaShop.
After you have managed to upload the installation package to your desired directory on the sever, you can go ahead and start with the installation itself.
Step 1:
The first thing you have to do is to access the directory where you have uploaded the PrestaShop installation package.
In case you uploaded it to the root folder of your server (e.g.: ), go ahead and type in this address into your browser.
If you have done everything correctly, you will see the automatic installer of PrestaShop which will guide you through the installation. On the first step you can choose your default language which you want to use in your online shop.
Step 2:
On the next page (picture above), the application will perform a system check. If everything is alright, green check-marks will appear and you can continue the installation.
If you run into a problem and need help, don't hesitate and go to their wiki or the forum to request help. I'm sure one of the 50.000+ members will be able to resolve you problem! :)
Step 3: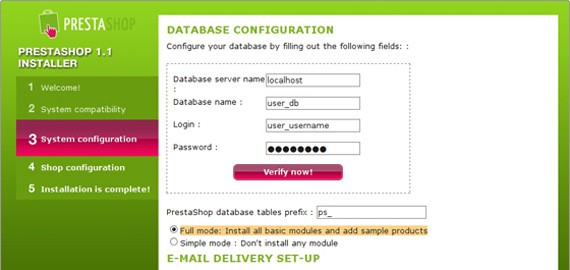 On step 3 of the installation you have to enter your MySQL connection details for the database you have to create.
If you are new to PrestaShop, choose the "Full mode" for your installation. This will install all basic modules, sample products and the default theme so you can take a look how everything works.
Step 4:
The installation is now almost complete. All you have to do now, is to enter your login information for the back-office. Optionally you can also upload a logo image for your shop.
Once you have done that, go ahead and click "Next".
Step 5:
Your PrestaShop is now installed and ready to get used!
On the last page you will see all your details you entered again. Also you will get the links to your front-office and the back-office (you should bookmark them – just in case..).
Also don't forget do delete the "install" folder from you server and rename the "admin" folder, so everything is secure!
Congratulations! You should now be able to see the default theme of PrestaShop, once you entered the URL in your browser: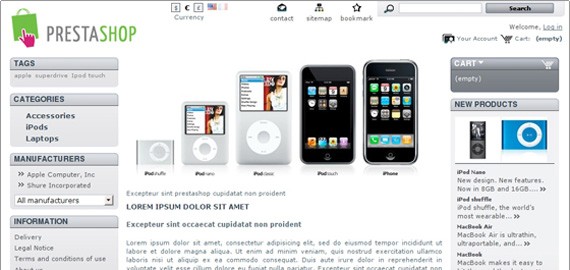 Installing New Modules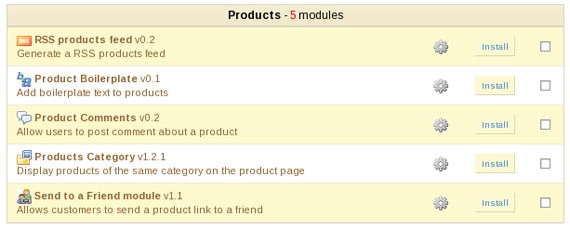 The installation of new modules to your PrestaShop is a very easy process. Those are the steps you have to do:
Unzip the module you have downloaded and upload it to your server with your favorite FTP browser.You have to place the module folder into the /modules folder of your installation.
Login to your back-office and go to the "Modules"-tab.
Search for the new module in the list.
Finally click on "Install".
If necessary you can now click on "Configure" (the gearwheel-icon) to finalize the installation of the new module.
Once you have finished configuring the module, be sure to test it so you can confirm that it is working as it should.
Installing New Themes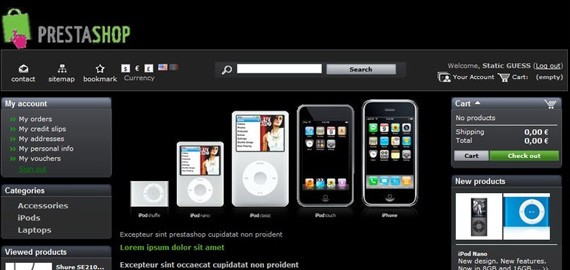 To install a new PrestaShop theme, you have to do following steps.
Download and extract it locally.
Upload the entire theme-folder to the /themes directory on your server.
Login to your back-office and go to Preferences > Appearance.
Select your new themes from there and apply the changes by clicking on the "Save" button.
Congratulations! You have installed your new theme and to check it out, go to the front-end of your online shop and take a look at it!
Conclusion and Last Words
I hope you enjoyed this short introduction to PrestaShop.
As you see, it is very easy to use, has a lot of very useful features and can be easily extended with new modules. Also it is a professional shopping cart solution for your online shop, used by a lot of people.
Another big advantage is that it is open source and has a very big community where you can ask for help, once you need it.
Now go ahead and start designing your own themes or browse the web for finished themes. There are also a few free themes you can download and install on your server.
Good luck with your online shop!

E-commerce week is sponsored by SSLmatic which sells SSL certificates for much cheaper prices (RapidSSL, Geotrust, Verisign) and offers great support. Besides standard SSL certificates, wildcard and EV certificates are offered with discounts too. Check their site to get the cheap SSL certificates.
This post may contain affiliate links. See our disclosure about affiliate links here.