In any job, there's always a certain amount of repetition. For some, it's in how they answer the phone. For others, it's in how they set up a shop before the store opens every day. For web designers and developers, repetition comes in a different form.
Being tasked with the job of creating unique websites for each and every client, the repetitive piece of your business tends to be your process. You know that by sticking to X distinct phases and abiding by a rigid checklist of steps, you'll have a positive outcome at the end of your web project.
However, it can be tedious having to reproduce each of those phases and steps from scratch with every new project. This is why tools like JavaScript frameworks and design templates are an essential part of web designers' and developers' workflows. Not only do they ensure that you consistently complete each of the required steps in your process, but that you do so as effectively and efficiently as possible.
The only real drawback to using tools like these is that it takes time to find them. With the creation of marketplaces, though, you no longer need to spend excessive amounts of time scouring the web to find those tools. While Envato may currently be the most well-known marketplace right now, there's one coming up through the ranks that deserves a closer look: Codester.
What Is Codester?
Codester is a fairly new addition to the web development and design marketplace community, but it seems to be attracting quite a bit of attention. Offering a variety of tools to buyers as well as extra perks to sellers, it's clear that Codester is trying to offer something more valuable than you'd find in other marketplaces.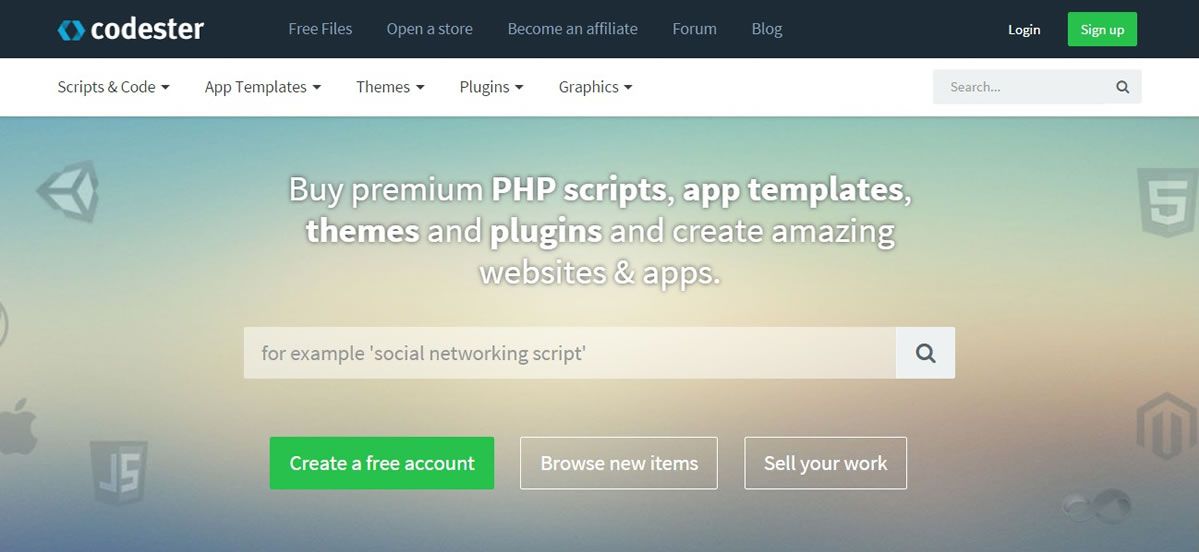 When you take a look at the tools available in the Codester market, it's clear that they want this website to be helpful for anyone involved in the process of building websites. This includes web developers who want assistance in streamlining their process, designers who want somewhere new to sell their themes, as well as those who simply want to generate passive income by embedding affiliate links on their site.
So, now, the question is: can Codester's all-in-one marketplace website compete with the likes of Envato's stores?
What Can You Get from the Codester Marketplace?
As a web developer or designer, there are two reasons why you'd be interested in a marketplace: to buy tools or to sell your own. Codester allows you to do both. Here are the categories that this particular marketplace covers:
Code
One of the smartest things you can do as a developer is to find high-quality coding templates, scripts, and frameworks to supplant some of that manual work you do on a daily basis.
Although Codester does advertise a number of different categories of scripts and codes – like PHP scripts, JavaScript, and C#–they don't currently have anything available for CSS or Ruby.

Mobile App Templates
This particular category won't necessarily apply to all of you, but it's still one to be aware of in case you ever decide to delve into mobile app design or development.
There are templates and source code available for both iOS and Android, as well as a number of sub-categories dedicated to gaming templates, like Buildbox and Unity.

Themes
As of writing this, Codester has over 500 themes and HTML templates available for sale. The best thing about their theme marketplace is how they divvy these up. You'll see that they've included categories like WordPress, Joomla, WooCommerce, and so on.
But beneath each of them, they've also included sub-categories to help users more easily locate themes that fit their website's style or niche.
Plugins
Codester's market is pretty light in terms of how many plugins they offer. In fact, roughly half of their plugins are meant for WordPress websites, so if you're hoping to use Codester for Joomla, Drupal, or other CMS website builds, you're going to run into some trouble with that.
However, they do offer a variety of plugin types – with a strong focus on interface elements and ecommerce – so it might be worth taking a gander around if you can't find what you need elsewhere.

Graphics
What is surprising about Codester's selection of graphics is the overwhelming amount of logos they offer. In fact, if you were to take out all the logo templates and character kits found under this category, there would only be about 100 graphical elements that remain in the form of icons, UI templates, and mockups.

Why You Should Sell to the Codester Marketplace
If there is any allure here, it's the chance to sell your own work and tools in a market that isn't oversaturated with competition. And Codester makes this an appealing opportunity, too.
Sellers receive a 70% commission on anything that's sold through the marketplace and restrictions are nil. There is no minimum sales amount required before payout and there are also no exclusivity agreements or penalties in place so you can sell your code or designs wherever you want outside of Codester.
In addition, the affiliate program is an easy one to get started in and Codester even gives affiliate members a number of options for participation, with tracking links, social sharing links, pre-designed banners, and Codester banners. So, if you're trying to generate passive income but don't have anything tangible to sell through the marketplace yet, you can at least start taking a 20% cut of purchases made from affiliate referrals in the meantime.
It's clear from looking through Codester's market that they're still a very new company that's in need of talented designers and developers to contribute to and round out their offering. What they currently have appears to be high-quality.
Now's the time to stake out a spot for yourself on this budding marketplace. It's a total get in on the ground floor situation.
This post may contain affiliate links. See our disclosure about affiliate links here.