After all, "the money is in the list." But after you design an opt-in form, one of your main decisions becomes where to actually place the form.
Here is a list of 10 places that are great for an opt-in form (and remember, you can choose more than one).
1. Above the Header
If one of your top priorities is to build your opt-in email list, wouldn't it make sense for the form to be the first thing that people see? Since the header is the first thing that most visitors look at when visiting a site, placing an opt-in form right above the header puts in a position of gaining maximum exposure.
There are a few ways to put an opt-in form above your header, but using a simple WordPress plugin is the easiest way to go. The Hello Bar and ViperBar are two of the more popular tools for this purpose.
On my website I prefer to use ViperBar because it has split testing capability. Some visitors will see a message that says "Free updates and access to all my ebooks…it's like a dream come true!" and some will see "Get free updates from Reality Burst…No-spam Ever! EVER!"

2. Inside the Header
Another great place to put an opt-in form is within the actual header. In the image above I have social media icons inside my header, but could have placed opt-in links or forms instead. I chose not to do this because I already have a form above the header.
This is an awesome location for the same reason as the above-the-header form…it will get a ton of impressions.
3. A Feature Box
A feature box is a content box located right below the header. It is usually used to highlight some of your best or most popular posts, but why not use a feature box to highlight your opt-in form instead?
John Paul Aguiar uses a feature box beautifully. This essentially extends your header with a sub-header and places a great looking opt-in form above the fold before the reader even gets to any content.
4. Top of Sidebar
One of the most popular locations to place an opt-in form is the top-right of the sidebar. As you can see, Brian Clark's copyblogger uses this location for the opt-in form.
You should be careful with this location. The top-right corner has been shown to be a blind spot. Using design features (like color) to make the form stand out is a good idea.
In this case, the opt-in form is a dark (bringing in the header colors) over a light background:
5. In the Middle of Your Post
People often forget that you can actually place an opt-in form within the body of your content. This is a great location because you already have the reader's attention. And while you have their attention, you can politely remind them that they can subscribe to your list.
6. End of a Single Post
The end of a single post is also a good position for an opt-in form. By placing the form here, you are not distracting the reader while they are going through your content, but intercepting them as they are finishing reading. It provides a natural flow into the opt-in form without breaking their concentration on the content.
This can be done by hard-coding it into your WordPress. Or there are a few alternatives that do not require coding on your part. Specifically the AddSig and End Content plugins allow you to add an opt-in form code to the end of your post with a simple copy-and-paste.
7. The Footer
By placing a form in the footer you can intercept those curious visitors that scroll all the way to the bottom of the screen. The great thing about the footer opt-in form is that it will be visible on every page.

The vast majority of visitors will never make it down to the footer. But those that do are displaying interest. It would be a shame not to remind them at this point that they should subscribe.
8. A Lightbox Pop-up
Ahh, the dreaded pop-up. Yes most people find it annoying. But the thing is…they still work, and that is why they are still around. The conversion rates for sign-ups through pop-ups are too high for them to go away (especially if there is a good, convincing offer).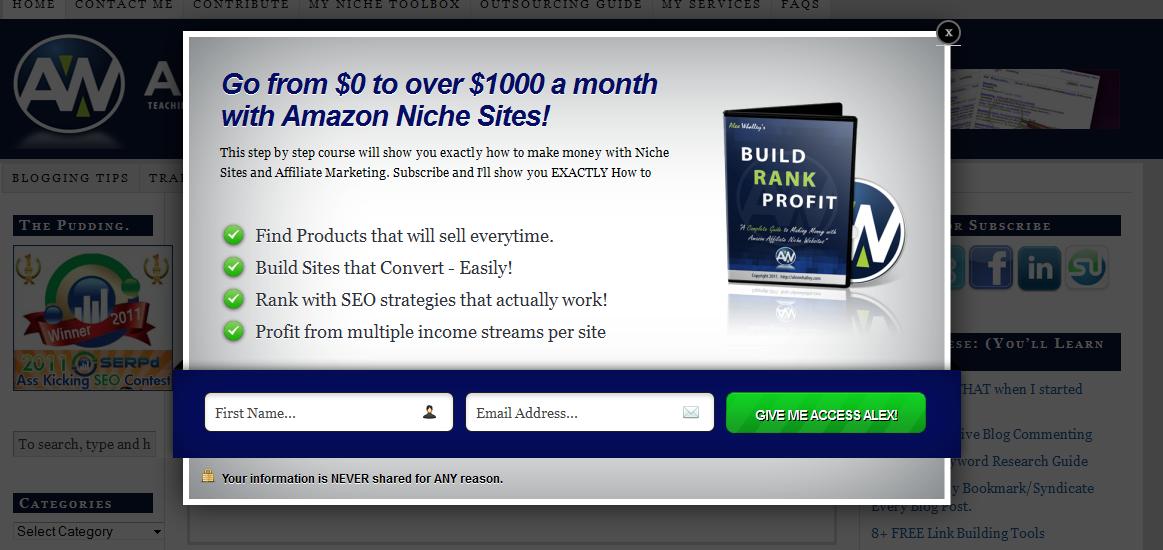 9. Signatures (Email, Forum, Etc)
While most people focus on opt-in form placement for their websites/blogs, it is important to remember the only source of possible subscribers!
Most email marketing service providers offer an opt-in link option. This allows you to provide a simple link that leads to an opt-in form.
The options here are limitless. Place a link in your email signature. If you are active in forums, place a link in your profile signature there. Every time you sign off in a communication is an opportunity to promote your mail list.
10. Social Media Pages (Facebook, Twitter)
This one is similar to signatures. Why not use your social media account to drive some potential list subscribers?
You can add a shortened link to your Twitter Bio. Add links to your Facebook profile. Or even create an actual opt-in form on your Facebook fan page with iFrames.
And don't forget you can send out Facebook messages and tweets with these links as well! :)
As you can see, there is no shortage of locations to place your opt-in forms. You can choose multiple places or play around with them one by one.
It is important to remember that there is no one-size-fits all solution and that each person's results can vary with each variation. This post should give enough ammo to go play around and experiment!
We shown you where to put your forms on your website. Now it's time to see how we can make our forms to perform at their peek.
This post may contain affiliate links. See our disclosure about affiliate links here.