Like looking for land which will provide a solid foundation for your house, looking for a good web hosting service works similarly.
Therefore, the web hosting provider you choose can either be a blessing or curse for you because it can either help you build a solid foundation or give you a headache for failing to deliver what it had promised.
Thus, this question we're going to tackle today is one of the dilemmas most web designer often encounter.
You might also like:
What WordPress Hosting Service Do We Recommend?
The question seems easy to answer but the choice you make will greatly affect your website. Therefore, it is not child's play where you play "Rocks, Scissors, and Papers" or "Eenie Mini Miny Moo" and then choose the website hosting provider randomly.
Most often than not, the next questions that follow are:
Do you host your clients' websites yourself? It reflects the uncertainty on some web designers whether they are doing the right move/decision or not.
Do you use web hosting sites, such as GoDaddy, etc.?
Whats your advice on web hosting in general? What are the pros and cons of web hosting your clients sites?
While a lot of good web host providers offer dedicated hardware and virtual private servers, you need to figure out which web host meets your needs you need to consider these five important points:
speed,
flexibility,
support,
security
can you make money by handling hosting for your clients? Affiliate program?
Web Hosting Service Speed
Website hosting affects the speed of your WordPress website. How fast is your website host?
How?
There are many kinds of website hosting to choose from, the cheapest of which is "shared hosting." In this type of website, various website files from different companies are placed together on the same server.
What does this mean to you and your website?
You can already guess that when a certain area is congested, there's sure to have a traffic jam. The same goes with shared hosting. Because thousands of other websites share the same space, they share the same resources as well.
When the server gets a lot of traffic, the websites in that server receives less resources than it should making it very slow.
Another type is a dedicated website host where you don't share your rented server with other websites. However, this type of web hosting is not a practical solution for some businesses.
Another option are virtual private servers or VPS which are affordable but provide dedicated resources but there are also certain restrictions.
If you want reliability and speed, the best hosting plan choice is – fully managed hosting service.
So what do you do?
WP Engine Fully Managed WordPress Hosting Comes To The Rescue
Here at 1stWebDesigner, we recommend a very amazing web and WordPress hosting called WP engine which you can access here. One of the best things about this tool is when you sign up or create your account, they will let you choose a server you'd want your website to be based upon.
This means that you can use a server based in any part of the world, such as the UK, Japan, or any additional US server. The tool has three international data centers you can choose from which best suits your audience.
Another option the WP engine gives you in terms of speed is the "No Caching Plugin of the BIG-IP system and the content servers." option which ensures the smooth performance of your website, especially when it becomes bigger.
It is a fact that when  a website becomes filled with data and information, it gives a spotty performance. With the "No Caching Plugins" option, however, your website speed is taken to new levels using new levels with multi-server clusters which include in-RAM caching.
To explain what RAM caching does in simple terms, this feature reduces the traffic load to back-end servers by taking the stress off of the BIG-IP system and the content servers. This is especially useful when the object on a website is  is under high demand, if the site has a large quantity of static content, or if the objects on the site are compressed.
Another option is the EverCache, which makes your website scalable and much faster. It caches all the elements, CSS, HTML, and all the images you need to ensure that your website runs fast. WP Engine takes care of all these making it much easier for you.
WordPress has even written an article called "Disallowed Plugins" which lists all the plugins which are incompatible with their custom caching environment. Every time WP maintenance scripts see these plugins being used, they are automatically removed from your install.
These "disallowed plugins" include: WP Super Cache, WP File Cache, WP Rocket, W3 Total Cache, and WordFence.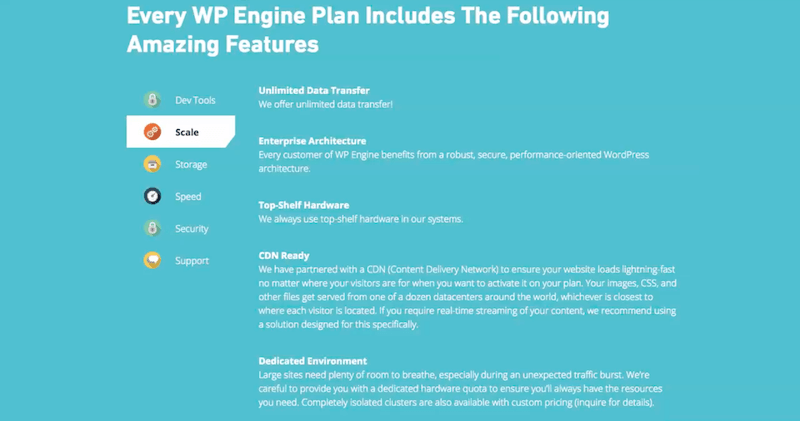 1. How Flexible is WPEngine?
In terms of flexibility, WP Engine offers every single account unlimited data transfer as well as CDN or content delivery network, which serves content to your end-users with high availability and performance.
In layman's terms, it allows your website to load in lightning speed no matter where your website visitors are. This works especially if you want real-time streaming of your content.
The best thing about WP Engine hosting when it comes to flexibility is their plans. WP Engine offers various plans, each with their own limitations. The good thing, however, is no matter what your plan is, your account will never get frozen.
For example, you only get the Personal Plan which can handle up to 25k visitors, even if you exceed that number they will never stop your account. Instead, you will automatically be upgraded to the next plan; thus, you won't have to worry about your website going offline.
You will also be notified about this change immediately. In case you don't want it, you can just cancel it. You can also get a refund in 60 days if your business fails.
2. Is WPEngine Support Any Good?

Website host providers have different systems for their support. Some use a ticketing system where you can submit your complaint and they will give you a ticket to follow-up the solution. Others use a wiki-page where you can search the solutions for a problem you encounter. WP Engine has all of these types of support 24/7.
They also have a live chat support where you can talk with their customer support about any problem that may arise. In short, they give you a 24/7 support no matter where you are. You can find that on the upper right corner of your account once you log in to your WP engine account.
3. How Secure And Safe Your Site Is With WPEngine?
When it comes to security, WP Engine has a system called "Staging" to ensure that your website is protected lock, stock, and barrel.
Imagine that you have messed up your CSS or installed an incompatible plugin that wrecked havoc on your database. It happened all live for your readers to see. These are the times you wished you had backup.
Every time you're going to make a scary change to your website or blog, "Staging" is a feature which allows you to click the "snapshot" button which makes a complete copy of your blog and set it up in a separate, safe area. You can play with anything you want; nothing's live. Only when you're ready to make it live do you touch your main site.
The best part – you have it at no additional charge.
How You As A Web Designer Can Generate Passive Income From Hosting?

This is regarding the question if you host your clients' websites yourself.
The answer is a resounding YES – you must do it.
That is because your clients want to know and feel that you take care of them. They don't want to do all the steps or the dirty work. They don't want to worry about the technicalities behind their websites. What they are concerned of is the result and they pay you.
If you want to generate more income, WP Engine also takes care of this through their affiliate program which gives you payouts on hosting referrals.
In fact, it has one of the highest payouts compared to other affiliate programs. They pay their commissions monthly but the best thing is that you belong the league of popular brands, such as Foursquare, Buffer, and Geekwire, which are also using the WP Engine Affiliate Program.
Conclusion
WP Engine is one of, if not, the best fully managed web and WordPress site hosting services. Not only do they offer you speed, flexibility, security, and support, but it also helps you earn more. The best part is it is used by a lot of big name companies which means it is a trusted brand.
You can use other web hosting service providers, just make sure that they have these five elements to give your website the optimum performance it needs.
This post may contain affiliate links. See our disclosure about affiliate links here.