User onboarding is important to growth because it helps convert new users into active and engaged regular users of your product.
The unique thing about user onboarding is that it's a one-time act. The process is performed only once, right after the user signs up, so it's challenging to design a flow that is based on a user that knows nothing about your product or service and may or may not be easily distracted or bored.
The UX Designer Toolbox
Unlimited Downloads: 500,000+ Wireframe & UX Templates, UI Kits & Design Assets
Starting at only $16.50 per month!
What are the Goals of the Onboarding Process?
According to Ed Hallen, Co-Founder of Klaviyo, there are three primary goals to a great onboarding process:
Take care of the one-time setup: For example, on Twitter, this is uploading a profile picture, entering a description, etc. This process should be painless – and better yet, fun or engaging.
Generates excitement about using the product in the future. Even if people get fully setup, you have to leave them wanting to come back. This is where Instagram excels – it immediately shows the user a selection of beautiful pictures that encourages them to upload their own.
Teaches the user how to use the product – by doing, not by words. Google's introduction to MapsGL is a great example. Switch into MapsGL, and you will find a tutorial walkthrough that guides you through some of the most popular historical landmarks from all over the world.
According to Whitney Hess, the term onboarding comes from the field of human resources and the practice of introducing new employees to a business or company.
The steps in the process are often referred to as accommodate, assimilate, and accelerate — all of which apply to new users to bring them successfully and comfortably into the fold.
Accommodating your users means giving them the tools they need to use your product to their benefit.
Assimilating means helping the user to absorb the culture of the site and, in a sense, come to resemble the existing users.
Accelerating generally applies to delivering the value proposition better and faster.
The Top Onboarding Tools and Apps
The primary objectives of the following tools and technologies are designed to measure your customer sign-up success and empower users with useful self-service tools and content.
An effective onboarding flow essentially allows users to have a pleasurable first-time experience, lower support costs, and increase revenue for your company.
Intercom
Intercom is an ultimate all-in-one customer relationship management (CRM) tool that allows you to get to know your users and their browsing habits. It enables you to communicate in real-time with your users.
The onboarding process becomes much easier with Intercom, and converting new users to become active customers is simple. It also allows you to manage all queries in a team inbox with personalized replies and timely support options.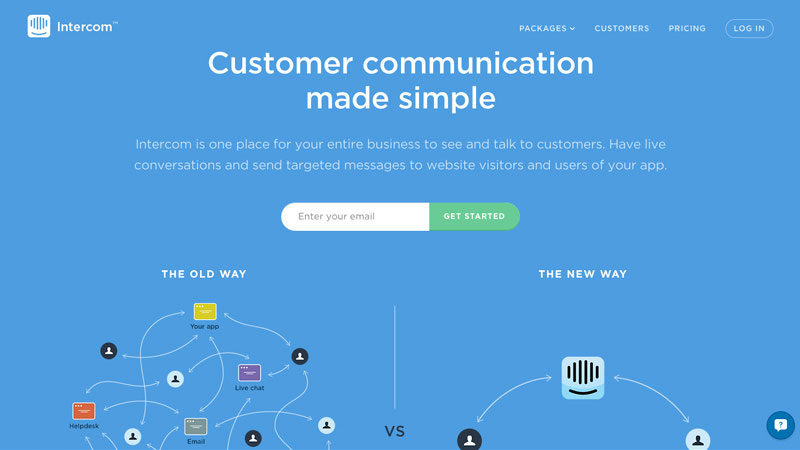 WalkMe
How does your first-time user get everything at once? All your fancy features and endless use scenarios might overwhelm them and leave them frustrated with your product. WalkMe lets you add a step-by-step walk-through to your website or app. All you have to do is write your instructions for each step, and you've just set up a new onboarding process.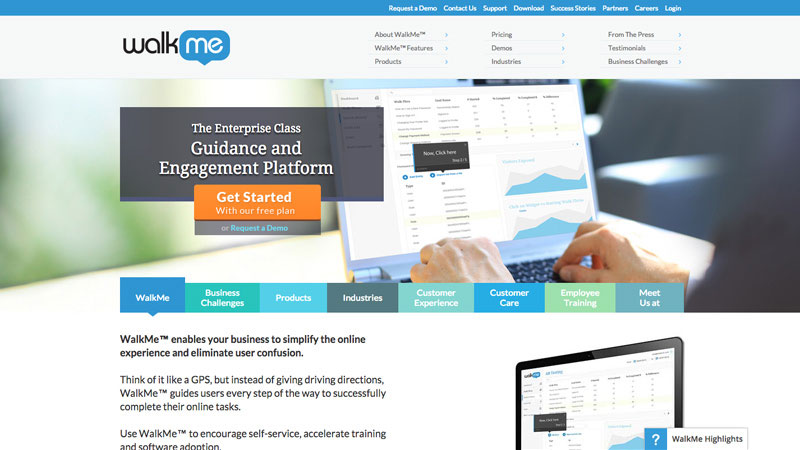 Heap Analytics
To create a pleasurable onboarding experience you first need to know who you are serving. You also need to be aware of the level of understanding of your product. Heap Analytics automatically captures every user action in your web or iOS app and lets you measure it. Once you have data, you can start testing iterations and work towards customer happiness and higher retention rate.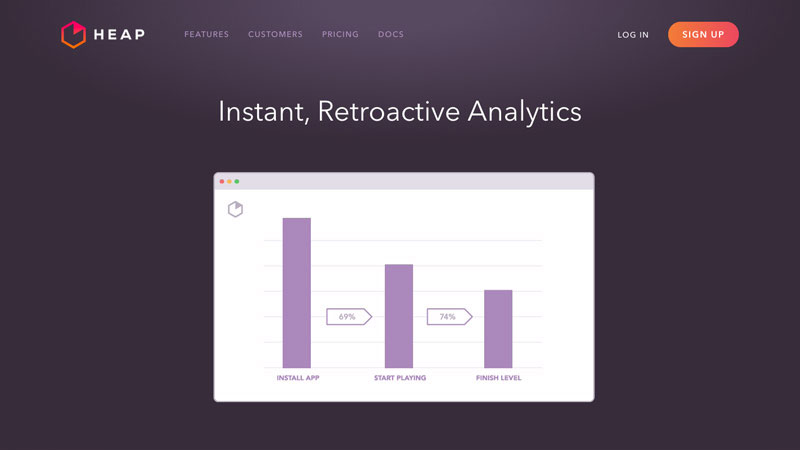 Onboarded
Onboarded claims to be user onboarding as a service, it allows you to easily add a user onboarding flow to your site, with analytics to improve engagement. Onboarded makes it easy to build interactive product tours, guides, and user onboarding flows. Great tool to get started with user onboarding.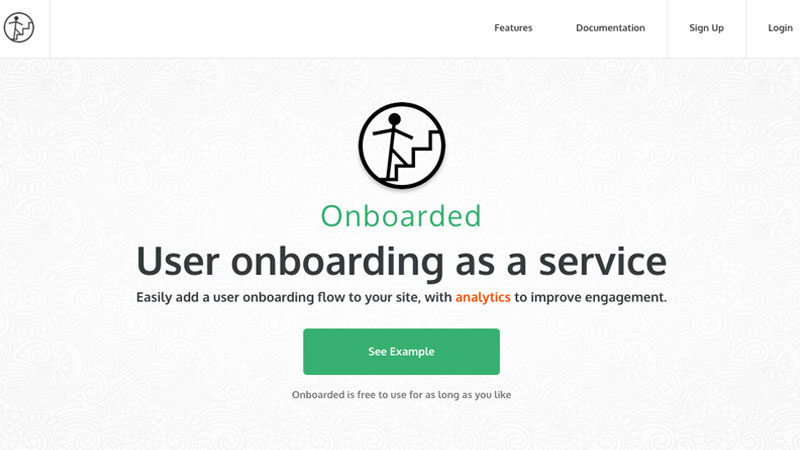 Olark
No one can replace human interaction. The power of talking to a real person is still one of the most effective relationship building resources, and you should think of making your customers happy with a possibility to speak to a representative who's there when your customers need it.
With Olark, when the automated onboarding scenario fails, users can turn to real people to talk about their struggles. Powerful.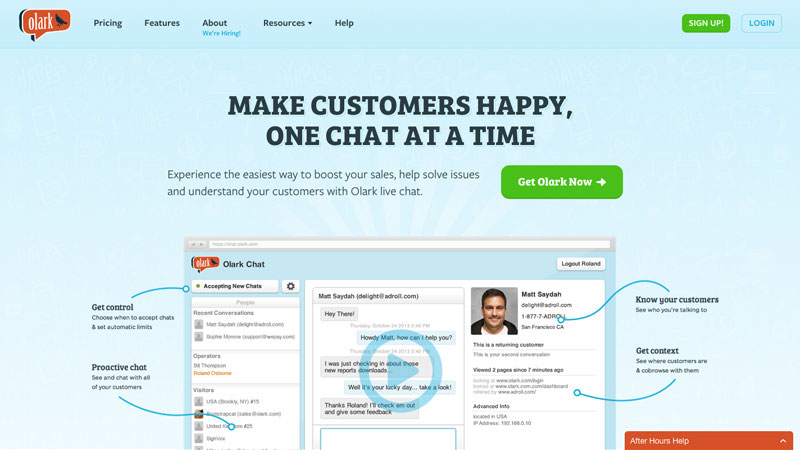 Zopim
Zopim is another live chat software that lets you start and respond to conversations with your users. You can answer questions or even guide them through the onboarding process step-by-step ensuring the best experience possible.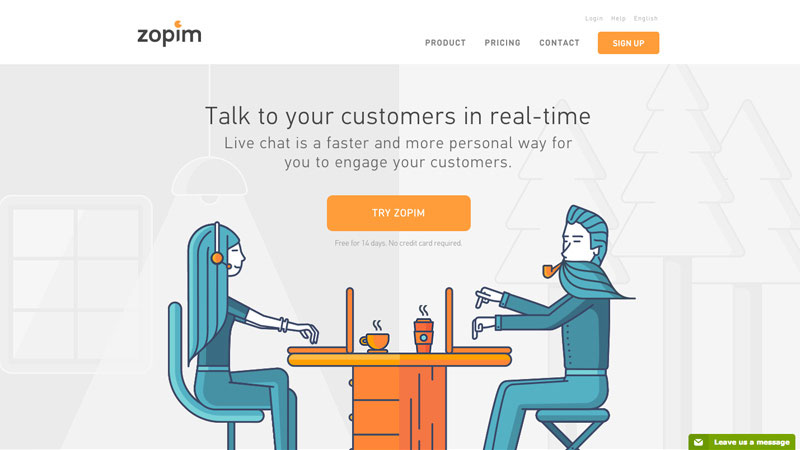 Tutorialize
Tutorialize powers website tutorials that guide visitors around your site. It is literally ready in minutes, totally customizable and can significantly increase customer engagement. You can use it to onboard new customers or new staff members, and your developers will love the flexibility when it comes to customization.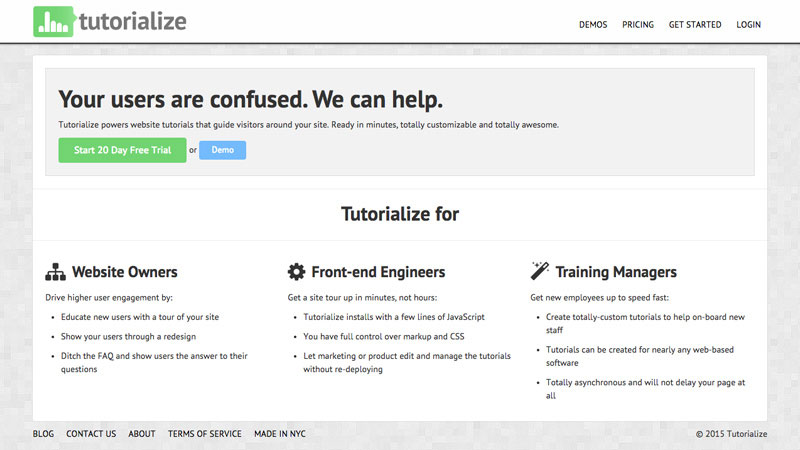 CM OnBoarding WordPress Plugin Description
This onboarding plugin will come in handy for WordPress lovers. It's a fully-featured guidance and engagement plugin that allows you to improve user experience by providing easy to use, accessible and intuitive help widgets which can include audio, video and text.
This is a great tool to assist your site users and answer their questions, walk them through the site, improve user experience, user satisfaction, and conversion.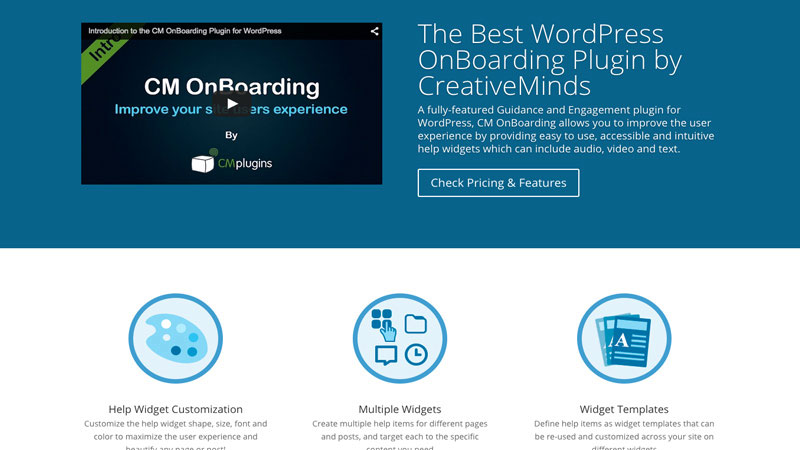 KISSmetrics
Numbers don't lie. KISSmetrics is a smart tool for tracking, analysing and optimising your digital marketing performance. Find out how your users behave, where they abandon your website and start improving your product with an onboarding flow. This tool will show you what's working and what's not across all of your campaigns, on both mobile and the web.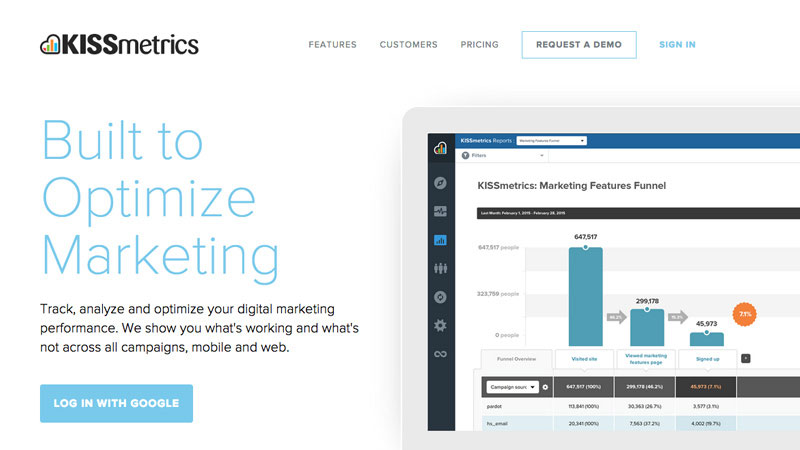 Successful Onboarding Examples
The onboarding flow is an ever changing mechanism that depends on the product, target audience and many other different factors that may influence the process.
That is why many top sites focus on the steps they know are Key Performance Indicators (KPIs) for user retention. By focusing on KPIs, onboarding experiences are designed to set the user up to experience value from the product quickly. This will help to increase the probability of users remaining engaged.
Below are some successful onboarding flow examples, that proved to make hundreds of millions of users happy.
How Twitter Onboards New Users – Twitter has over 270 million active users, and their previous onboarding flow brought in more than two thirds of that over the span of three years.
How Evernote Onboards New Users – Evernote provides a suite of products and merchandise aimed to help you better "collect and find everything that matters." Their multi-faceted product offering led to some unique onboarding challenges – there are lots to learn from with this one!
How Pinterest Onboards New Users – With its 70 million users, Pinterest would be one of the 20 biggest countries in the world – bigger than France or Italy, even! Learn how they managed to get so many people up and running.
Conclusion
User onboarding is in no way a rocket science, but it takes time and practice to perfect. When dealing with people and the ever changing online culture, you can't predict how your users will react to your products or services, but by gradually working on it, and by iterating your onboarding flow, you will get better at attracting and, most importantly, keeping more users.
Consider using some of the tools in this article to track, analyze, measure and improve your onboarding experience to save on costs, increase customer retention and achieve better monetary results.
This post may contain affiliate links. See our disclosure about affiliate links here.