Purchasing a car is one of the biggest decisions consumers will make. It's one that potential buyers put a lot of research into before making their choice. And, according to one recent study, car buyers now spend 59% of their time researching online1.
This emphasizes the importance of having an attractive, highly-functional and informative website. Auto dealers, classified sites and even parts retailers need to provide buyers with a venue to easily get the information they need to make an informed decision.
That's why thousands of automotive-related businesses have turned to the Motors WordPress theme. It provides the functionality and flexibility they need to build an effective online presence. Let's pop open the hood and see what makes this theme go.
Providing the Engine for a Variety of Uses
One of the unique features of Motors is that it can power just about any type of auto-related business. For example, the included demos show how the theme can effectively run websites for car/motorcycle/boat dealerships, classified directories, rental agencies and repair shops. Motors has an array of features that cater to the unique needs of each of these businesses.
Advanced Search Capabilities
Part of what makes for a great automotive website is the ability for users to find exactly what they're looking for. Whether they're on a quest to find a blue Honda or a 2018 Ford that costs no more than $19,500 – relevant listings should be readily accessible.
Motors enables users to search and filter results based on the criteria you set. So finding listings by brand, color, price range, year, condition and more is incredibly fast and simple. Listings can also be compared side-by-side in order to help potential buyers find the best fit.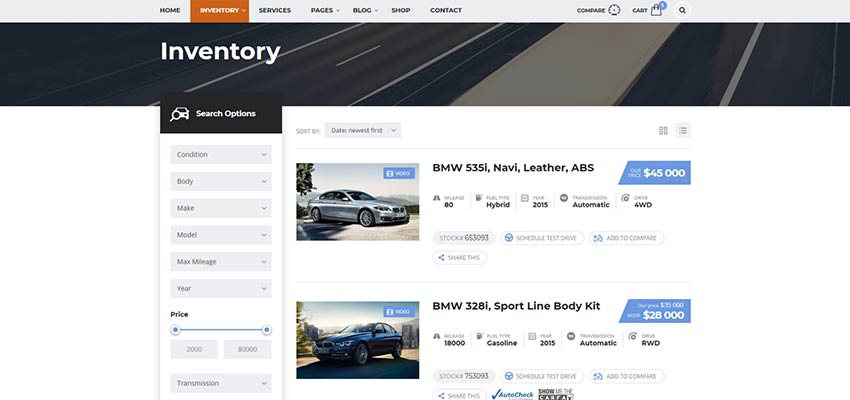 Custom Listings that Encourage Action
Once a potential buyer finds an item of interest, you'll want to make sure that listings are detailed and easy-to-read. From there, it's important to offer a way to quickly contact the seller. The more a user has to look around for this information, the less likely they are to get in touch.
Motors offers 4 vehicle page templates that can be customized to match your needs. They include interactive photo galleries, detailed vehicle information, location info, a trade-in form, financing calculator and a contact form. Everything a buyer needs is right there in front of them in an exceptionally clean layout.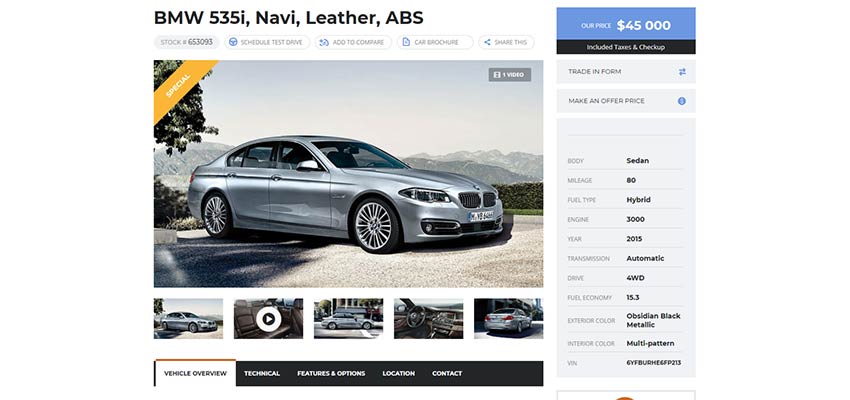 The Ability to Sell Listings
Classified sites need to offer an easy way for users to sign up, pay and place their listing online. Site owners require fine-grain control over user listings and an automated system that saves them precious time. Whether you're accepting listings from dealers, private owners or both, Motors has been built to enable your online marketplace to grow and thrive.
The theme allows site owners to offer free or paid recurring subscriptions to users via tight integration with WooCommerce. You can set up packages that limit how many listings a user can have with control over specifics such as how long a listing will remain online all the way down to the number of allowed photos per listing. And CSV/XML import makes it easy to bring in multiple listings at once.
Buyers will also find plenty of convenience, as they can browse listings in a number of ways. They can search and filter listings by their desired criteria or even view listings by location on an interactive map.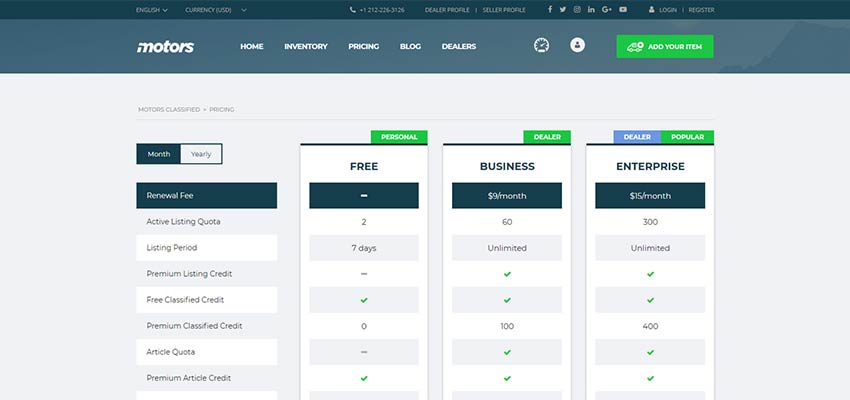 Online Booking Features
Online booking is a must-have feature for any car rental agency. Customers want to find what they need, when they need it and secure a rental without any extra hassle. Expecting them to stand in long lines is no longer an acceptable way to do business.
With Motors, rental agencies can add vehicle listings, set pricing, add pickup and return locations and accept payments online via WooCommerce. All customers need to do is enter the relevant information and check out. No more waiting in line!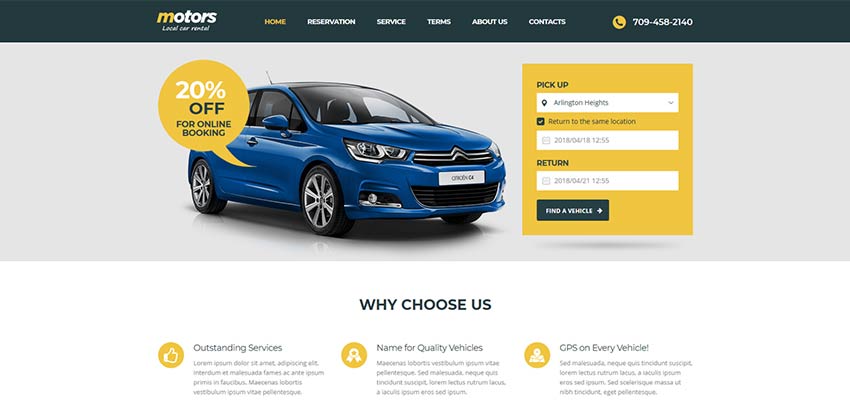 Fully Loaded With the Options You Need
Beyond its unique automotive-related features, Motors is also a top-notch WordPress theme in its own right. Theme author StylemixThemes, an Envato Power Elite Author, built Motors with the goal of enabling site owners to get the most mileage from their product.
That's why you'll find full integration with top plugins such as WooCommerce, Visual Composer (with 20+ custom modules included) and Slider Revolution along with services like MailChimp and PayPal. You'll also find plenty of opportunities for customization and a variety of attractive layouts to choose from.
What's more, StylemixThemes backs Motors with free 24/7 support to ensure that you'll have the help you need, when you need it most. Plus, the theme is fully documented – complete with easy-to-follow video tutorials. You can rest assured in knowing that you'll get the very best in customer service and support.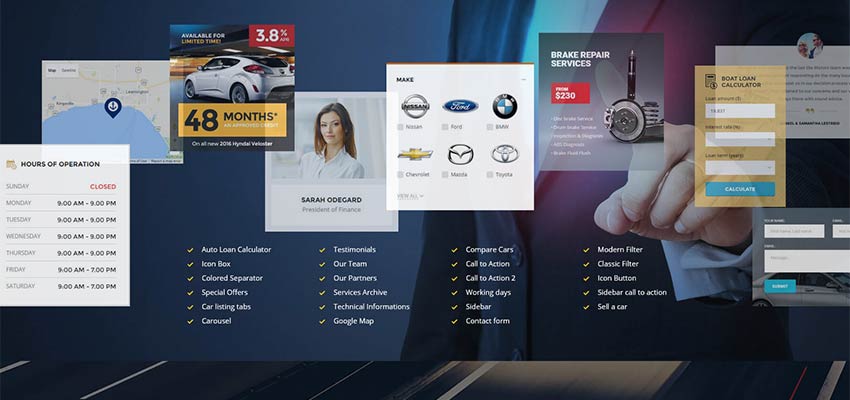 Drive Motors Home Today
You know how important a great website is for auto-related businesses. With the amount of research and transactions consumers are conducting online, it's never been more crucial to have a site that provides them with exactly what they're looking for.
With Motors, you'll find a WordPress theme that includes all of the core features you need to build a beautiful and functional automotive website. Take it for a spin and drive your business towards success.
1 – 2016 Car Buyer Journey Study – Autotrader.com
This post may contain affiliate links. See our disclosure about affiliate links here.