Looking for a highly-customizable way to sell your digital goods online? Chances are you can do it with WordPress.
The jack-of-all-trades CMS offers a number of different plugins that will help you distribute software, eBooks, music, stock photos and just about anything else that can be downloaded. And you can build a simple configuration with free tools.
But because there are a number of options available, it can be difficult to figure out which path to take. You'll want to adopt a strategy that allows you the flexibility you need without adding a whole lot of unexpected costs and/or roadblocks.
Sound daunting? No need to worry! Today, we'll show you a few different possibilities for selling digital products. While they won't cover every possible need, they should at least help you determine the path that's right for you.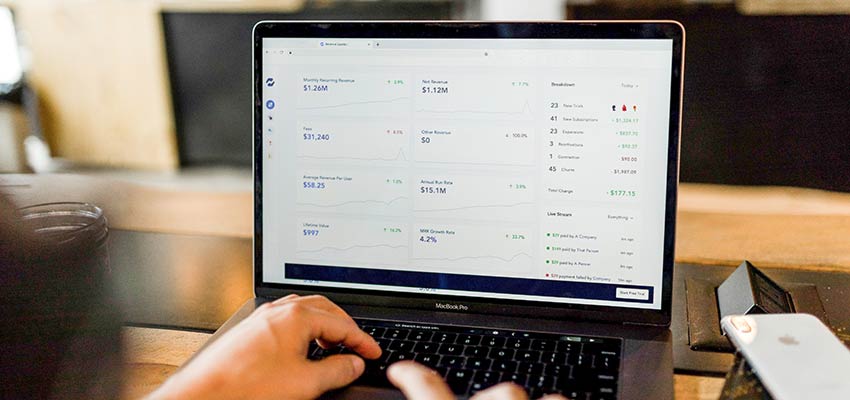 Scenario #1: Single Product Sales
If you want to sell digital products on a one-off basis, a shopping cart is the way to go. A free plugin such as WooCommerce or Easy Digital Downloads can do all of the heavy lifting for you. Configure your products, set pricing and you'll have a basic store up and running rather quickly.
What's more, each of these shopping cart plugins have a wide variety of free and paid add-on components. They provide extra functionality such as the ability to tie in with specific payment gateways, offer product bundles and allow for affiliate sales – to name just a few.
The biggest decision here may be which cart to use. Each has its own strengths when it comes to digital products.
Easy Digital Downloads
As its name suggests, Easy Digital Downloads (EDD) was built specifically for selling downloadable goods. Thus, it offers a whole lot of features dedicated to this purpose.
You can, for example, use the built-in function to limit access to downloadable files by download attempts or expiration date. And if you're selling software that requires a license key, you can add this functionality through an available paid add-on. If you're distributing large files, there is even an add-on for storing them on Dropbox.
Or, start a community site by allowing users to post and sell their own items. Need a way to provide users with sales commissions? It's just another plugin away.
However, at its core, EDD is also a shopping cart. Out of the box, the plugin includes things like discount codes and customer management (including front-end account profiles). About the only feature missing is the ability to ship physical goods – but again, there's an extra piece that can allow for this as well.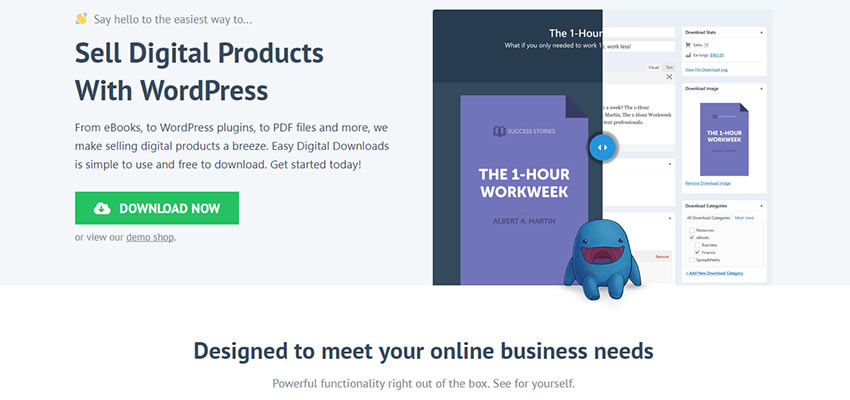 WooCommerce
By now, just about everyone knows WooCommerce. It's the dominant shopping cart in the WordPress sphere. It's feature-packed, highly-customizable and you can use it to sell just about anything – including digital products.
This functionality is built right into the core plugin, so you can start selling right away. Like Easy Digital Downloads, the ability to limit downloads based on attempts or an expiration date is included.
Downloads also work with variable products. For example, if you're selling images, you can allow users to pick from a number of different sizes or formats. This also enables you to price them accordingly.
Of course, WooCommerce is also famous for its large number of extensions. You'll find a few that are specifically geared towards digital goods, including one aimed at professional photographers and another that enables you to offer downloads on subscription-based sites (we'll get to that in a moment).
But since the plugin is used to sell so many different types of products, those who have very specific needs when it comes to digital goods may be a bit disappointed. There aren't a lot of extra bells and whistles in this category.
That being said, if you don't need some of the extras that EDD offers, or you're selling a variety of physical and digital products, WooCommerce is still a great choice.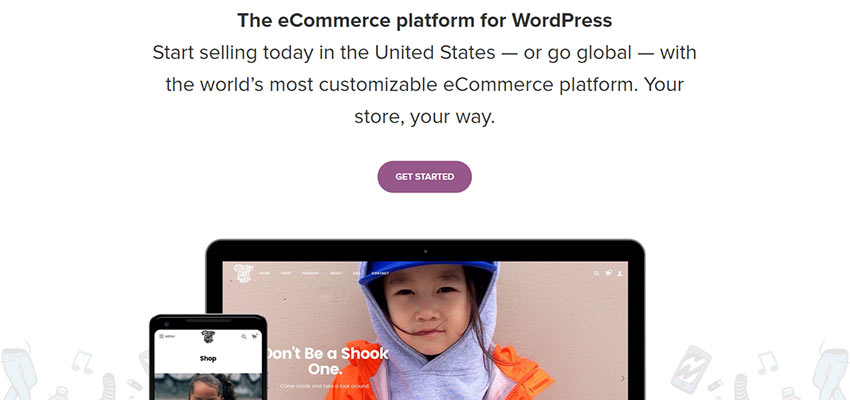 Scenario #2: Subscription-Based Service
Another typical scenario is in offering digital downloads to customers via a subscription. This is frequently becoming the preferred method for sites that sell stock photography, illustrations, icons and other types of assets. Customers pay monthly, yearly or even a single lifetime fee in exchange for access to files.
The good news is that both Easy Digital Downloads and WooCommerce have add-ons that enable subscriptions and recurring payments. Just note that you'll need to work with a payment gateway that supports this functionality.
Making Your Site Members Only
Beyond the ability to sign up subscribers, you'll also want to think about how you'll protect your files from unauthorized users. This functionality is available for either of the aforementioned shopping cart plugins. But again, it will require a combination of commercial add-ons if you want to stay within their respective plugin ecosystems.
Alternatively, you could also work with a full-on membership suite. Plugins such as Paid Memberships Pro or S2Member Framework, among others, could be a good fit if you are just looking to sell access to restricted content. This may limit you quite a bit when it comes to features like download limits and licensing, however.
There may be some cases where combining both a cart and membership suite makes sense. This is a piecemeal approach, though, and could make implementing features a little more difficult. Therefore, you'll want to weigh your options carefully.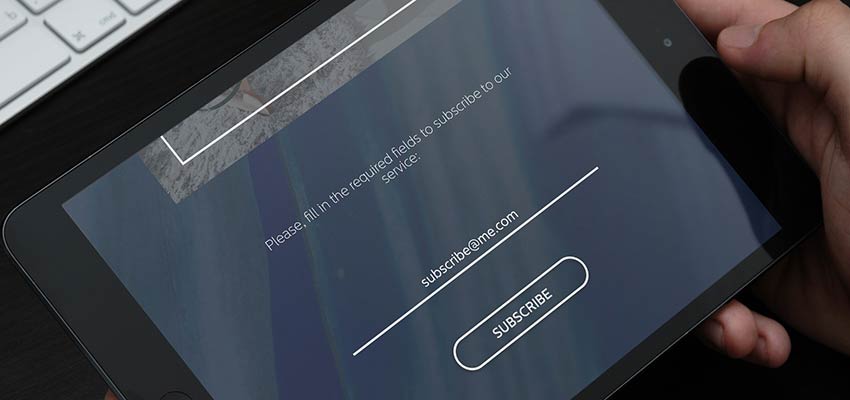 Dealing in Downloads
Setting up a basic store to sell digital products is well within reach. With the help of a free shopping cart plugin, you can go from installation to selling online in a few short hours.
If you're looking for something a little more robust, that's also possible through the plugins mentioned above. But it will most likely take some commercially available add-ons to bring the desired functionality to your website.
Either way, you'll have a solid foundation for your store that can grow along with you over time.
This post may contain affiliate links. See our disclosure about affiliate links here.