WordPress has been a very popular CMS tool favored by big and large corporations as well as by those who are building their personal portfolios.
Each of these themes has been built with a specific audience in mind; thus, some themes carry unique features that are specific to the industry or group of people they want to target.
---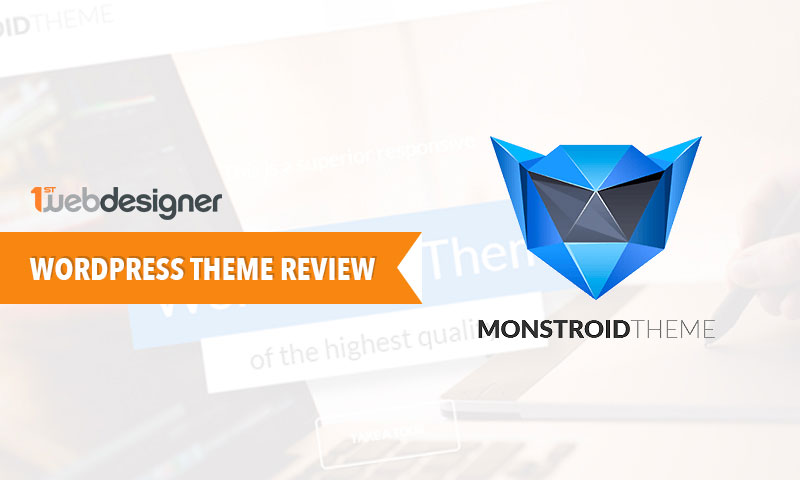 On the other hand, there are also WordPress themes that package themselves as multi-purpose, so no matter which industry you belong to or whatever nature your business is, the features these themes carry are universal with customization features, so you can add your personal touch to it.
Now comes Monstroid, the ultimate multi-purpose theme developed by TemplateMonster. The word "ultimate" here comes without any exaggeration as it comes with 145 pages and more than 129 PSD files. Think about what you can build with that? Absolutely almost anything! Your only limit is your imagination.
With that big number of pages, you have all the layout options you can possibly imagine complete with various structure blocks, accordions, UI elements, parallax, and more. And if you love to explore your creativity using Photoshop, you have a lot of PSD files to work on.
This is just the beginning…
The Topping
Let's start with the Cherry on top – the framework where Monstroid runs on. Some may call it the bones, but it is simply delectable not to mention it first. It's also the reason why Monstroid becomes more attractive.
The Cherry framework 4 is one of the fastest and lightest frameworks on WordPress. But what's noteworthy is that it is also built by TemplateMonster, an advantage when  it comes to the synergy between the theme and the framework.
Included with the framework are 30 built-in premium extensions as well as a new backup option which allows you to instant restore your theme just in case it crashes.
The Cake
Monstroid comes with a number of child themes, which they call topics. Child themes are separate themes which have pre-built layouts and designs covering different categories or industries. That means you can create your own cake in any flavor you want. But the good thing is, you don't have to make it from scratch, which is pretty cool because you save a lot of time to focus on other aspects of your website.
At the moment, there are 4 available subtopics included in the package and focuses on some of the most popular niches, such as art and photography, finance, interior and design, and education. TemplateMonster, however, announced that they will be adding 15 new designs every month for each type of business. This gives you a vast opportunity to re-design or re-brand your business without going through a complex process.
The Main Ingredients
What's a cake without its special ingredients? To add more character and flavor to your cake, here are Monstroid's main ingredients:
Installation Wizard
The Installation Wizard is a plugin which allows you to install your theme with a few mouse clicks in a matter of minutes. With this wizard, you don't need to use an FTP or file manager, but all files are downloaded from the cloud after which you can choose which component you want to install.
In addition, the Wizard also allows you to check out any particular feature you want to include as well as preview all the available child themes so you can compare before making your choice.
Instant Skin Switcher
Do not like the skin you've just installed? Monstroid's instant skin switcher allows you to switch styles in a matter of minutes. Monstroid has 3 skin styles to can choose from at the moment – Flat, Dark, and Minimal. Soon, however, they will add more skin styles – Metro, Grunge, 8-Bit, Material, or Non-Standard Geometry.
Exclusive Shortcodes
Since Monstroid and Cherry framework were built by the same team, the shortcodes used were written exclusively for both theme and framework. Monstroid has more than 30 shortcodes you can utilize for grids, post output, list, elements, tabs, video, audio, Google maps, and more. These shortcodes are equipped with their own set of options which can be found in the dialogue box.
Multiple Sliders
The MotoSlider gives free rein to your creativity by allowing you to present your content in the most appealing way through its variety of slider plugins. The MotoSlider has multiple styling options which allow you to do almost anything according to your preferences.
The MotoSlider helps you shape your images the best way it's supposed to look like. You can choose from a variety of sliders which include Accordion, Slider, and Roundabout Gallery, to help you create sophisticated beautiful galleries and slideshow with captions.
White Label Plugin
This plugin serves as your playground where you can create a deep customization of the WordPress dashboard panel as well as logos, menus, and more to cater to any type of need. In layman's terms, you will be able to write anything you want at the copyright section of your site to make your brand more defined and less confusing. You have to make sure, however, that whatever tweaks you make comply with WordPress regulations.
Full Social Integration
This plugin allows you to promote your website to any of the social media networks, such as Facebook, Twitter, LinkedIn, Pinterest, Reddit, and more. Use this feature to link your website to your social media accounts.
RTL and WPML Ready
RTL stands for right-to-left while WPML means WordPress Multilingual. These are important plugins especially if you are targeting an international market. The RTL feature allows you to display languages, such as Arabic and Hebrew, with a right-to-left orientation to display properly. WPML allows you to host different language versions of your website in one domain.
50+ Graphics
Has it ever been a problem for you looking for an appropriate image for your post or content. Monstroid has more than 50 licensed graphic images which you can use for your website. These graphics will not only add to your website's aesthetic appeal but its uniqueness as well.
Monstroid Extensions and Third Party Extension Support
Monstroid is compatible with a number of popular extensions, like Yoast, WPL, bbPress, which adds to the functionality and UX enhancement of your website. Aside from this, Monstroid has more than 30 built-in premium extensions all exclusive to the theme. The best part of these extensions are they are free for all Monstroid users.
eCommerce Integration
If you are a business website or an online store, this is good news for you. Monstroid is fully integrated with WooCommerce, so creating your online store and have it fully functional is easy. The theme also contains a number of store layouts and portfolio as well as a shopping cart and payment integration. What you need to do is compile a site menu then replace the default content with your own content.
How about if your business is growing? No need to worry because as your business grows, WooCommerce also grows with you with tons of add-ons to streamline your online profit.
Fully Responsive and SEO Ready
What's a website if it's not responsive? Monstroid is fully responsive and works across different devices and platforms. Once you install it, you don't need to worry whether it will work well on your mobile or on your desktop; thus, you can focus solely on creating great content. But the best part is Monstroid SEO-optimized so Google's search engine can rank you higher since crawlers find your content better and the pages are indexed faster.
Google Analytics
For a website to be successful, you also need to know how your visitors and users interact with your website so that you can devise a better strategy and action plan on a regular basis. Monstroid comes equipped with Google Analytics to help you with this aspect.
500+ Google Web Fonts
Monstroid has a monstrous collection of typography – more than 500 Google web fonts if you can imagine that! Change the typography of your website from this huge collection using the Cherry settings. Just make sure it complements the whole design and "feel" of your website.
Graphs and Charts
Creating beautiful and stylish infographics is not a problem with the Monstroid theme. This plugin allows you to present your statistical data through colorful infographics. You can utilize the various charts, such as graphs, pies, charts, or progress bar.
Secret Ingredients
Aside from its main ingredients, Monstroid has also some (not so) secret ingredients that make it a must-have. These additional features make Monstroid a cut above the rest and more functional and powerful.
Shortcode Templater
One of the advantages of the Cherry framework, this feature allows you to write an unlimited number of shortcodes and edit them according to the way you want them. That means you can change shortcode element, attributes, loading order, and many more.
Static Area Builder
With the Static Area Builder, you can re-arrange the elements, such as widgets and banners, of your footer and header according to your preferences with just a simple drag and drop action. You can also adjust their position using Bootstrap grid classes.
Dynamic CSS
This feature allows you to modify CSS using LESS through variables, operations and functions, and mixins. However, this feature is not automatically activated when you install the theme so make sure you have activated it first in order to utilize it. You also need to be careful not to overwrite the basic CSS as well as save the options setting after using.
CSS Minifier
Like the Dynamic CSS, this feature also needs to be activated in order to use it. The CSS Minifier allows you to compile multiple CSS files into a single file using the custom-built compiler. By bundling all files into a single file, you improve your overall site speed.
Independent Modules
These contain 23 plugins which have been developed specifically for the Monstroid theme. What makes these plugins special is that you can use them within the theme or separate from it giving you unlimited possibilities to develop and modify your site.
Making the Cake
How difficult is it to make a cake, much more build a website? Such features can overwhelm you if you are a newbie, but TemplateMonster foresaw these possible difficulties and challenges, so Monstroid provided a few quick and easy solutions to these.
MotoPress Editor
Don't know how to code? No need to learn code with Monstroid's MotoPress editor. This visual editor lets you Drag and Drop all the elements you need without writing a single code. You can also create, edit, and style your pages from the front-end as easy as pie.
Full and Comprehensive Documentation
Monstroid also comes with a number of video tutorials and comprehensive documentation which allow you to get well-acquainted with Monstroid quickly and easily. All you need to do is follow the guidelines and you'll be able to install the theme in a few minutes as well as customize it according to your own preference and needs.
Free 24/7 Customer Support
Once you install Monstroid, you are not left alone to fend for yourself and figure out how to solve any problem that might pop out. TemplateMonster provides a 24/7 live chat support all year round without extra charges, and this is free for lifetime. Your concerns will be handled immediately by a team of well-trained customer service staff.  If you are pressed for time, you can shoot them an email with a guaranteed 2 ~ 4 hours response time.
The Cherry Has a Lot to Offer
The Cherry platform has a lot to bring to the table to make Monstroid a very tough contender in the WordPress arena. Aside from the basic and advanced features mentioned above, Cherry offers plugins and features that are exclusive to the Monstroid theme.
Cherry Mega Menu
The Mega Menu is a very helpful plugin which allows you to manage menus with a more complex structure and filled with a variety of elements, such as embedded videos, links, and banners. These menus have become very popular in online stores and multi-purpose sites.
Cherry Portfolio
The Cherry Portfolio is an ideal tool to showcase your works in a professional and aesthetically enhancing way. Powered by Ajax, its visual effects and customization options will help you build a truly awesome and eye-catching portfolio.
Cherry Custom Sidebars
Sidebars are other important elements of your website because it focuses the attention of your audience over a specific task. For example, a simple tweak can boost your sale or increase your email subscription. The custom sidebars give you the freedom to fully manipulate the element of your user interface.
Cherry Social
Want to integrate your various social media accounts into your website? This plugin contains different social media tools, such as social sharing buttons and widgets of the most popular social networks. Through the Cherry Social, incorporating your social interaction on different levels won't be any problem.
Cherry Testimonials
One of the most powerful sales pitch you can ever have will come from your customers themselves, which make testimonials very indispensable. The testimonial editor helps you accomplish the goal of gaining the trust of your potential customers by showcasing the testimonials of your existing customers.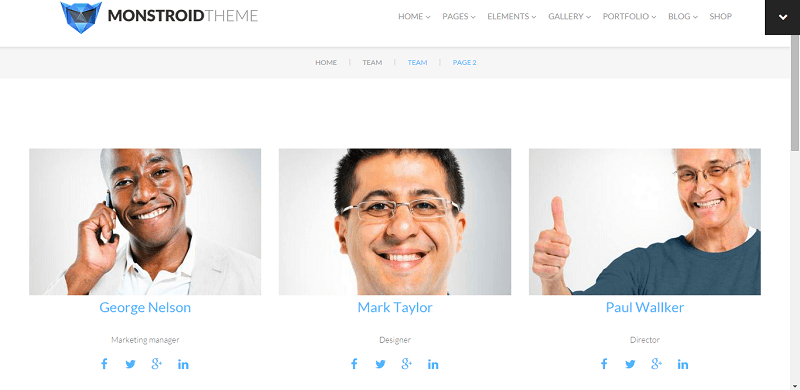 Cherry Team
This feature helps you create profiles for each of your team members. Each profile is created independently from each other, then merged into one page where visitors and customers will be able to see who's on your team. If you want to modify a certain profile, you can edit or re-arrange them in a way you prefer.
Cherry Services
The plugin has been specifically designed to create landing pages which carry the complete information of your business. Some noteworthy features include price tables and blocks that are fully customizable. They also come with a phone number and address information, which helps with your website conversion.
Cherry Data Manager
The data manager functions like a briefcase where you can put all your data and carry it to another site or domain. With this tool, you can import and export everything easily as well as make the process of testing your work in other servers work like a breeze.
Cherry Blog Layouts
If you plan on including a blog or focus on building a blog, this plugin helps you find the perfect blog layout by adjusting the elements in it.
Cherry Ranking
Want to know what your customers and visitors think about your product or service, this plugin allows you to gather that important data by allowing them to express their opinions through a ranking system. They can do that by clicking the "star" or "like" button.
What Else Goes with It?
To further prove that Monstroid is one massive WordPress theme, TemplateMonster added more  flavor enhancement to the theme. Call it the finishing touches or whatever you like, but these add-ons added to its uniqueness and reputation as a multi-purpose theme.
Free Graphic and PSD Files
Aside from the premium features, Monstroid also has a lot of freebies including 50 graphic images and more than 100 PSD files, which are included in the demo content. With "free" it really is free, unlike other themes whose advertisements do not coincide with what it really offers.
Prebuilt Page Design
This feature saves you a lot of time in setting up your website, especially if you are still learning your way around Monstroid. The theme has a number of page layouts which you can immediately use. These layouts come with global settings so set up can be done in a short period of time.
You can opt for either a boxed or full-width layout, all of which are responsive so you don't need to make any adjustments for it to work perfectly across different platforms.
Does the Cake Really Taste Good?
With all the good things and amazing features Monstroid has, you begin to wonder if the cake really tastes good? Like all other WordPress themes, Monstroid has some issues, but not something you major. Here are a few of them as well as the action steps TemplateMonster is doing to make the Monstroid experience more enjoyable:
Monstroid runs on the Cherry framework, which is considered as one of the lightest and fastest in WordPress universe. However, just like any other multi-purpose WordPress themes, is quite heavy compared to the simple themes available on WordPress. Thus, you can expect a slower load time compared to these simple themes. However, TemplateMonster is giving it its top priority to resolving this issue so you can also expect that as new updates are introduced, Monstroid will become much faster and more powerful with each passing time.
TemplateMonster is also working on optimizing the installation process by letting you choose whether or not you want to install only the "parts" and features you need, such as WooCommerce for example.
With tons of plugins that come with the theme, also expect congestion in the admin panel. To solve this problem, TemplateMonster has also given its users the option to install only the plugins that they think are necessary for their website.
Conclusion
Monstroid is a new theme, and like any other any new themes, expect a few bugs that need to be worked out at the beginning. Compared to other themes, however, there are worse out there. Moreover, these few glitches are dwarfed with all the features and functionality  Monstroid has to offer. Just think about all the premium stuff you get for free when you purchase the theme.
The biggest sellout point of Monstroid, however, is its Content Editor, which is better than what other themes have to offer. Aside from that, you can build almost anything with Monstroid. All of that for only $79 – not bad considering the value you get. And with the lifetime support and continuous updates, buying Monstroid is like getting a lifetime business partner that grows with you.
This post may contain affiliate links. See our disclosure about affiliate links here.