WordPress is without a doubt one of the easiest and yet most customizable site-building platforms available. It brings the difficulty of creating a website down for beginners, while also not chaining down expert designers and developers.
But what if you want to customize your website with your own special touch? Making a theme isn't exactly easy. Thanks to WordPress page builders, anyone can easily customize their website with tons of design options and functionality.
Both individuals creating a personal site and new designers breaking into WordPress site building should try out these six great page builders.
UNLIMITED DOWNLOADS: Email, admin, landing page & website templates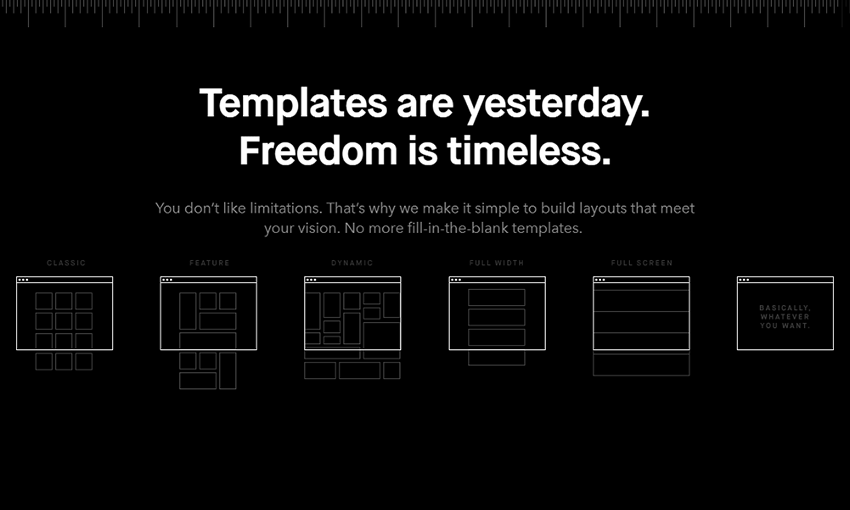 Built by designers for designers, Semplice is a feature-rich portfolio page builder optimized for the needs of professional artists. Everyone from agencies down to individual designers can use this platform; the Single, Studio, and Business plans are priced just right. And you only need to pay once!
Semplace uses a dynamic layout builder rather than sticking you with repetitive templates. Drag and drop to create your responsive website, use the blocks feature on Studio+ plans, and create stunning full screen designs for your work.
If you need a designer-focused tool, Semplice is the way to go.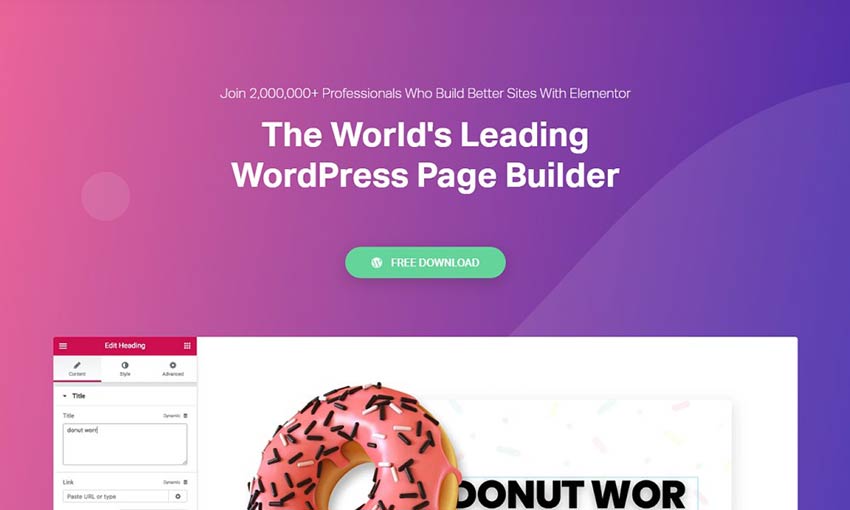 With two million users, Elementor is one of the most popular page builders, and you can see why. Built just for professionals, Elementor offers a simple yet powerful page builder that integrates seamlessly with almost any theme.
With 80+ design elements from simple image widgets to buttons and forms, everything you need is there. You can also use it for free! But pay a per-year fee for the advanced plans, and you'll get more widgets, WooCommerce integration, and a theme builder just for designers.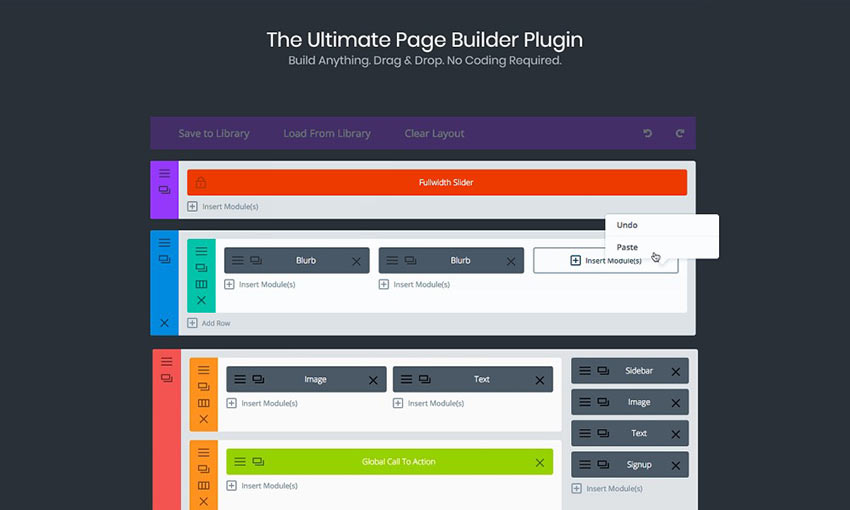 Do you feel overwhelmed with most page builders? Divi is made for simplicity. It's super easy to learn its drag-and-drop system. But as you grow, you'll find that this builder is more powerful than it seems.
46 content modules let you easily insert sliders, menus, forms, portfolios, and other helpful widgets. Pay per-year or a one-time fee; no crucial features locked behind pricey paywalls. And designers can use Elegant Themes and Divi to build client websites!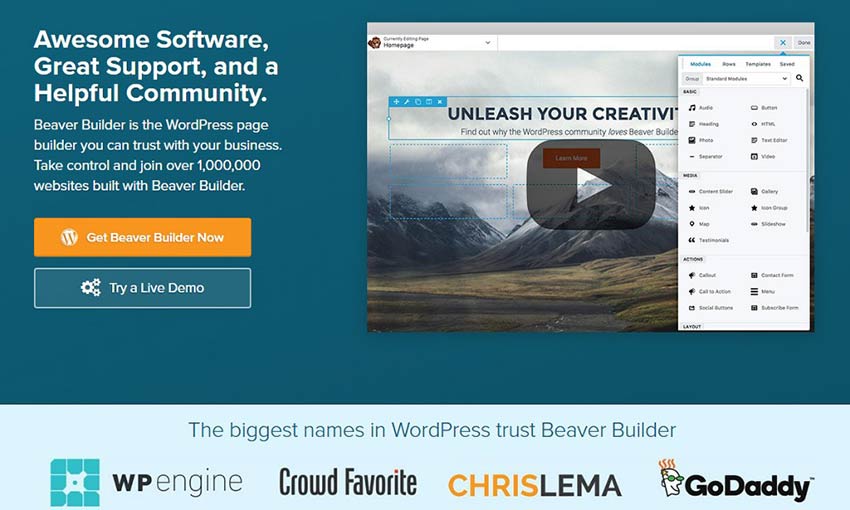 Beaver Builder was made for both users and professionals, with some special features for WordPress designers. The front-end editor is easy to use and allows you to build column-based pages or position elements with precision.
Editor Mode allows designers to give their clients the freedom of editing their site, while removing features that might allow them to break it. Beaver Builder is simple enough for clients to learn, too!
The builder uses three plans on per-year pricing, but later plans only unlocks features useful for companies like white labeling, multisite, and a framework theme.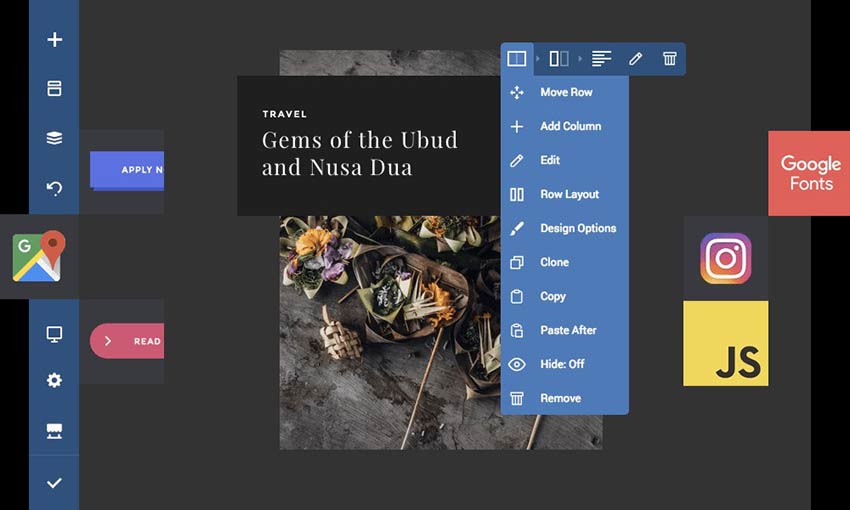 Fast, easy to learn, and straightforward to use, Visual Composer offers a page builder that absolutely anyone can try. Templates, blocks, and elements are essential to its design. Start with a template, insert smaller template blocks, and use elements to enhance your design. Premium users can download more!
And developers will love Visual Composer. Extend it with the API, or create your own custom templates and elements!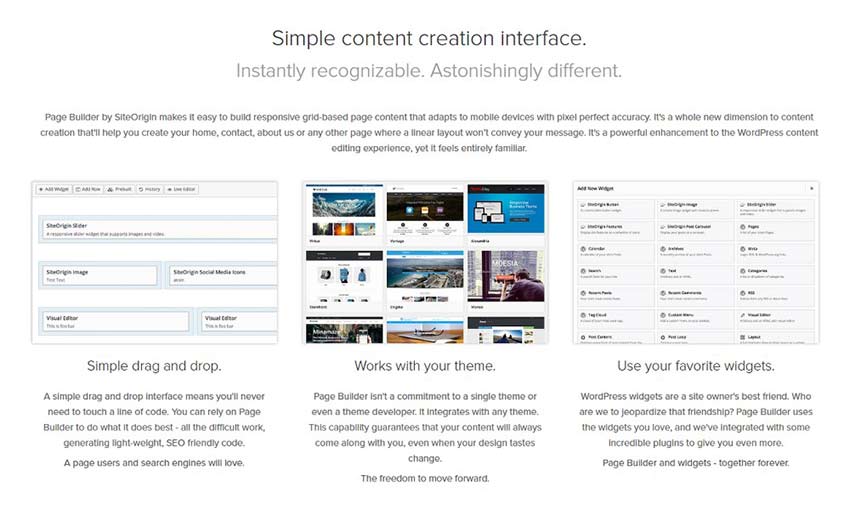 If you need a free page builder without any features behind a paywall, SiteOrigin is the way to go. The builder is simple, but it has everything you need. Fast and efficient code means no drain on your website speed, and the live editor is very easy to use, even for beginners.
The extra widgets mean you can still spice things up with elements like calendars, buttons, comments, sliders, and more to your website. SiteOrigin may not come with all the fancy bells and whistles that a $200 page builder would, but it gets the job done and it does it well.
Create Beautiful WordPress Sites
With WordPress such a popular platform, there are always new competitors arising for plugins, themes – and page builders. These are some of the most popular ones so far in 2019, and that popularity clearly exists for a reason. Try one of these builders and you won't be disappointed.
This post may contain affiliate links. See our disclosure about affiliate links here.