There's a lot to learn in the world of UX design. There's so much terminology along with varying workflows that it can take years to master the craft.
It helps if you have some good reading material to keep you on the forefront of UX changes.
These blogs are by far the best places to start with frequent posts on UX design for websites, mobile apps, and general digital interfaces.
The UX Designer Toolbox
Unlimited Downloads: 500,000+ Wireframe & UX Templates, UI Kits & Design Assets
Starting at only $16.50 per month!
1. UX Booth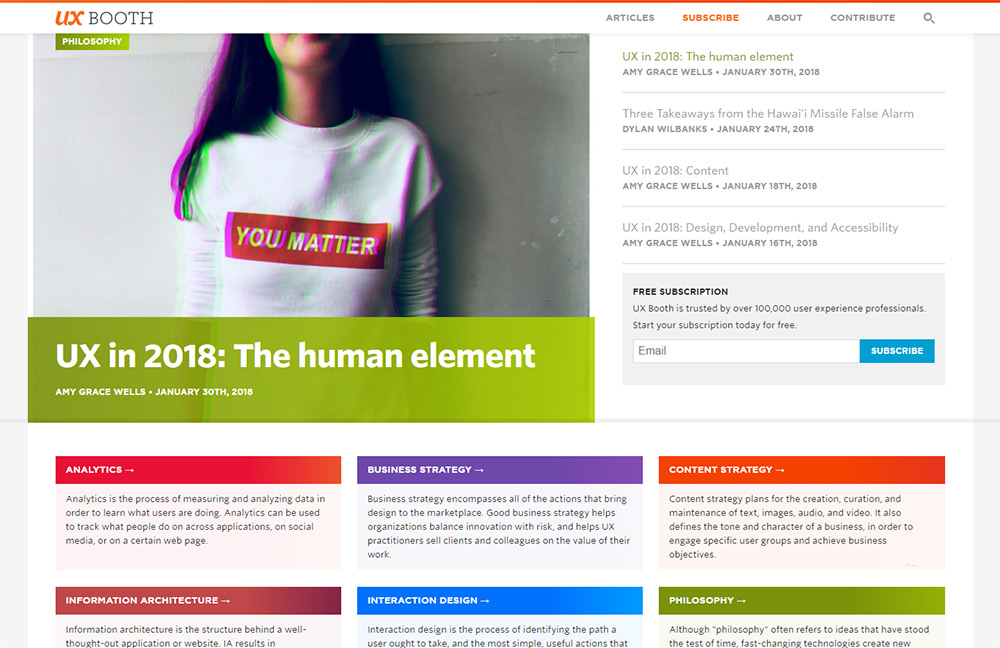 UX Booth has been online for years and they're probably the most well-known UX blog on the web.
Each week they publish a few articles related to user experience and general design topics. It's really a mixed bag of content but the quality is superb. Most of these topics are really groundbreaking so they talk about many ideas you won't find on other blogs.
I highly recommend UX Booth as a must-read blog. It should be in your rotation if you do any type of design work.
2. Usability Geek
Here's another great blog on the topic of general user experience and usability.
On Usability Geek you'll find plenty of articles covering trends and design techniques for the web. There's also a solid focus on mobile apps too along with workflows for larger teams like agile.
Usability Geek feels more like a general UI/UX and interaction design blog. It covers a little bit of everything, and there's something here for everyone regardless of your background.
A fantastic read for new and seasoned designers alike.
3. UX Movement
If you look over the homepage you'll notice UX Movement doesn't update very often.
But when they do every post is fantastic.
This website is the cornerstone of new ideas for UX on the web and mobile. I'm always surprised at how insightful and valuable these articles can be, especially ones that offer results from case studies.
UX Movement's biggest downside is the slow trickle of content. You'll be lucky to get 1-2 posts every month.
So you probably won't bother visiting this site weekly, but it should be on your radar. And if you're looking to delve into the belly of UX design then try browsing through their archives to see what you can find.
4. InVision Blog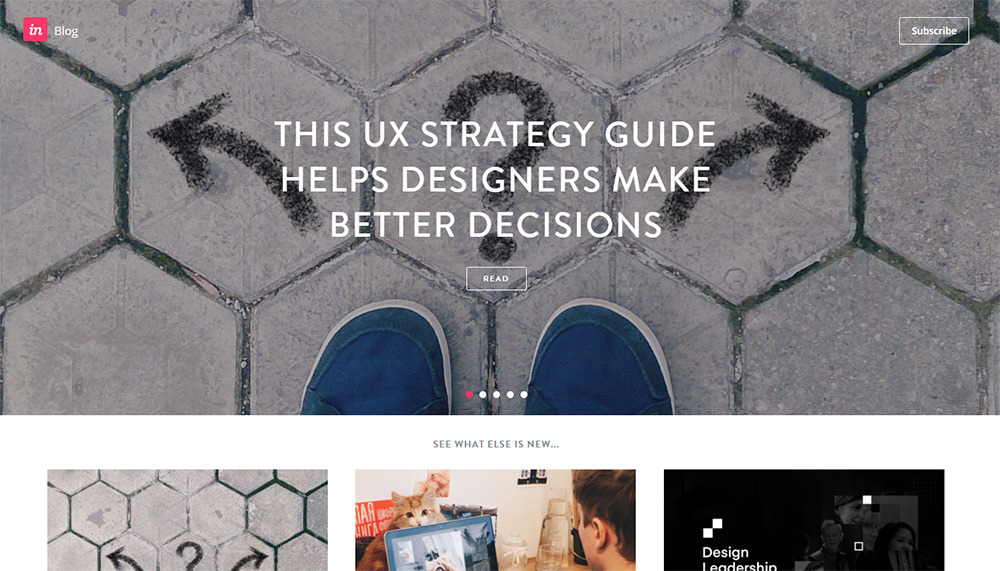 InVision has turned into a massive company with their online prototyping & workflow tools.
During that time they also launched the InVision Blog which has some pretty great design articles mixed with some general lifestyle posts. Granted these are all interesting pieces and they'll be especially relevant to designers.
But the UX-specific posts don't come every day so you may have to browse through to find something you like.
The reason I like this blog is mostly their volume and quality of content. It's truly a great read for anyone in the design space.
5. VWO Blog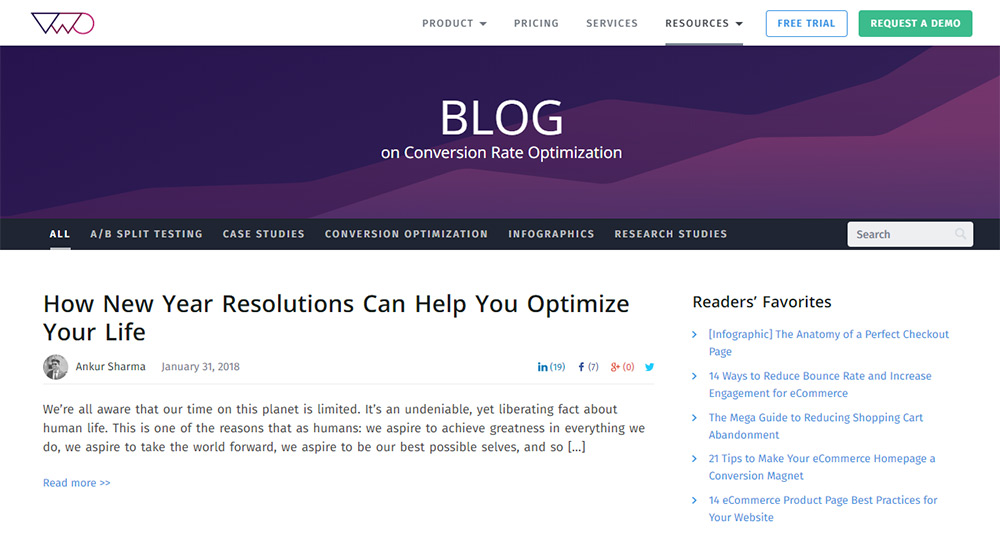 Another company blog I really like is Visual Website Optimizer.
On their VWO Blog you can search through case studies and opinion pieces discussing the state of user experience and split testing. Many of their case studies get mentioned on other design blogs since the content is original and invaluable to the design process.
You'll also find topics on conversion rate optimization and tips to improve your landing page designs for specific KPIs like email signups or selling new subscriptions.
VWO is a trusted brand, and their blog exudes the same level of trust you'd expect from their tools.
6. Smashing Magazine UX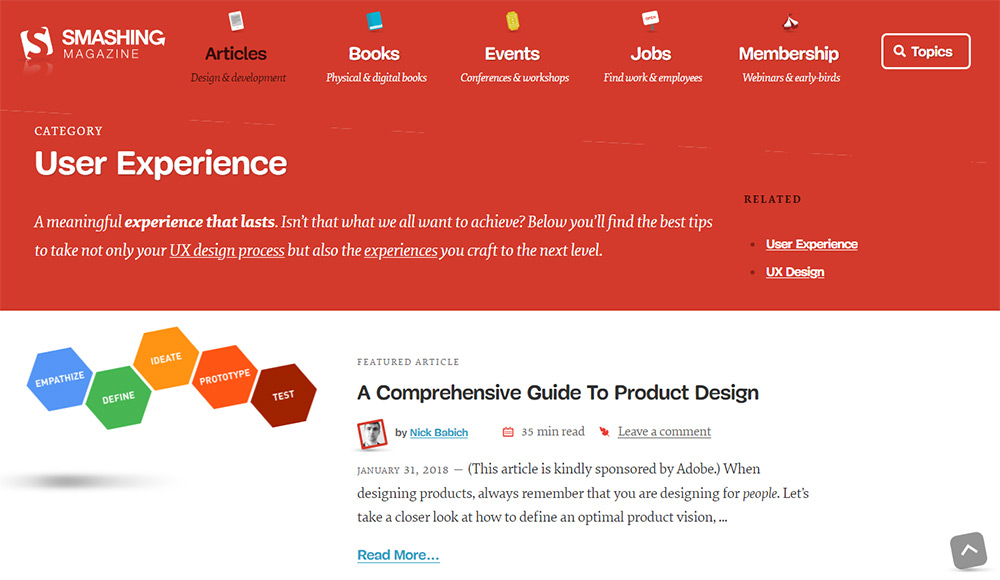 Speaking of trusted brands, Smashing Magazine is probably the definitive design blog on the web. It's been around for well over a decade and they're still publishing great stuff.
I specifically recommend the Smashing Magazine UX section which just publishes content on user experience design.
Many top-tier designers from all over the world write for Smashing Magazine, so there's a ton of opportunity to learn cool stuff. You'll find articles on pretty much everything, but there's a specific slant towards UX for web design.
If you've never read Smashing Magazine before then now's your chance to delve into a gem of the design publishing space.
7. UXmatters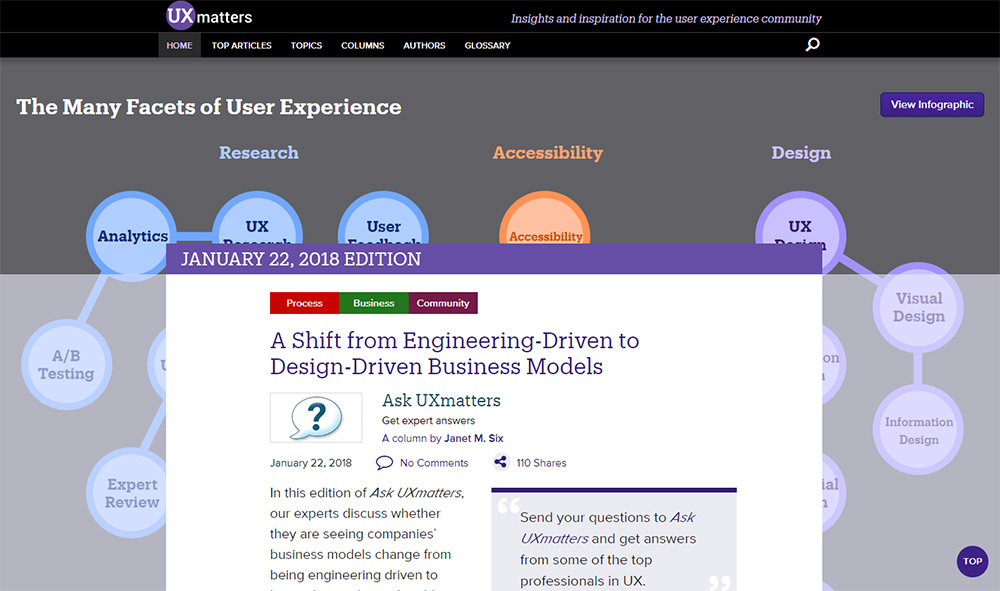 I've seen a lot of variety on UXmatters and it seems like one part blog, one part community and one part Q&A topics.
The site feels a bit strange because it's not designed exactly like a typical blog. They do have columns you can read on certain topics with plenty of opinion pieces and case studies.
There's also a list of top articles where some of them are pulled from print publications.
You may find that some of their best articles date back 5+ years and they still hold up even today. That's some great writing and proof that good UX is ultimately timeless.
8. UX Design Collective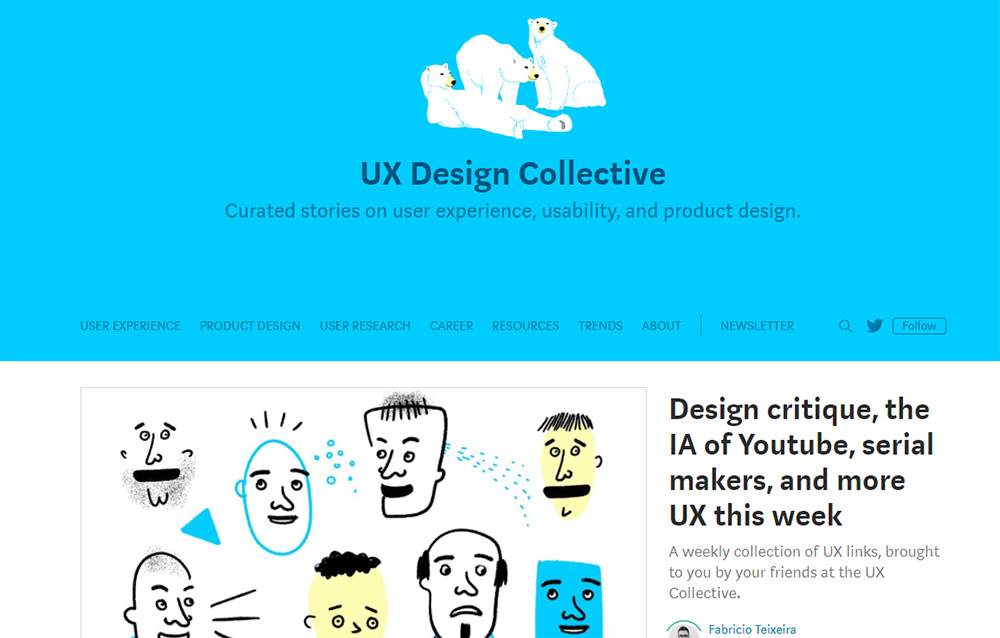 The UX Design Collective is not a totally unique publication. It's a mix of unique content along with curated stories published on other sources and re-published on their site.
But most of those articles are obscure and tough to find since they often get shared on Medium or another blogging platform.
That's what makes UX Design Collection so valuable. It's a one-stop shop for everything you'd want to read about in the big world of user experience.
I specifically recommend signing up for their newsletter to get their recommendations for top UI/UX articles. It's the best way to find out about new blogs and new designers writing about these topics.
9. UXstudio Blog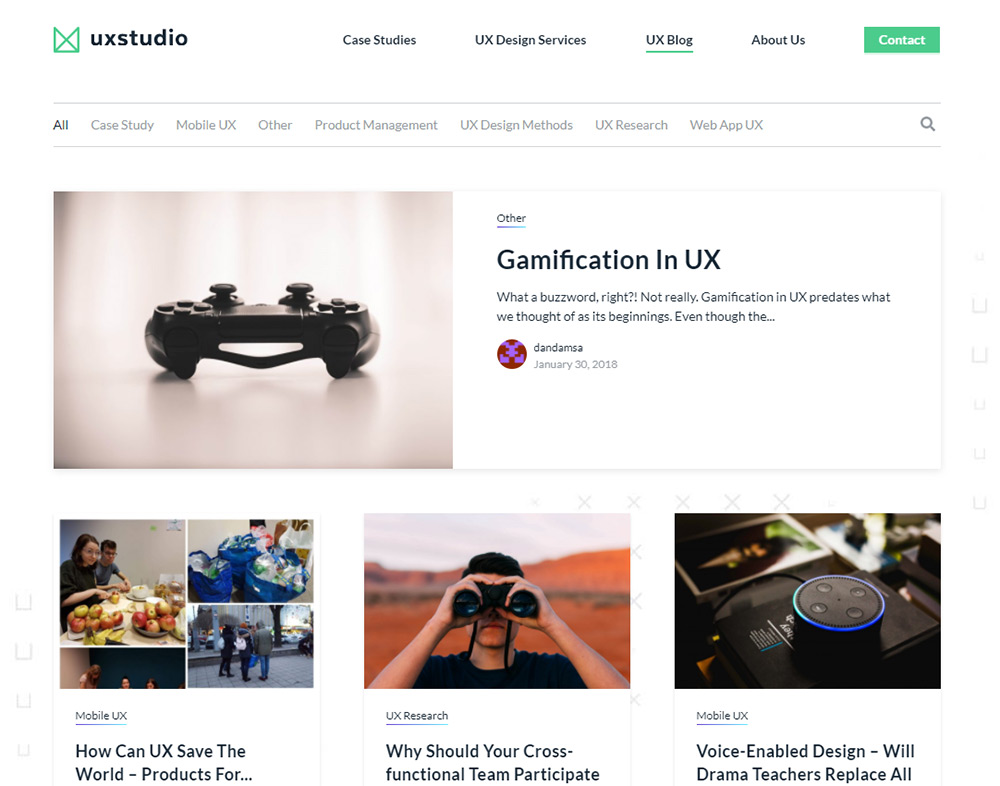 The UXstudio team has their own blog focused solely on user experience work. This is a great read and full of interesting ideas for future tech, team building exercises, and handling client projects with a focus on UX.
You'll also find plenty of case studies mixed in which are really fun to read through.
You can learn a lot from skimming case studies just to see how other design teams handle their work. Check out their blog and see if you like the content. It may not be for everyone but it covers a lot of ground.
10. Nielsen Norman Group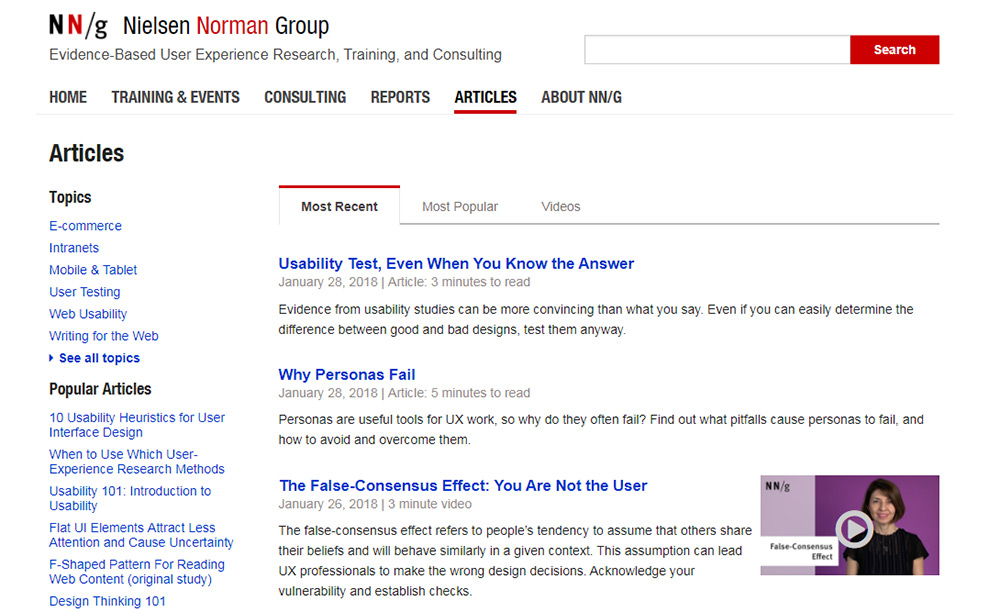 The NN Group is perhaps the most well-respected usability research team in the industry.
They frequently publish articles detailing their findings in various case studies and usability studies. Many of these are high-level ideas, and they're perfect for semi-experienced designers who want to push their skills even higher.
If you're brand new to UX design then Nielsen Norman may be tough to read.
But the more you practice in the field, the more their articles will make sense and even get you excited to sit down and read.
This post may contain affiliate links. See our disclosure about affiliate links here.