As a freelancer, you've probably run into more than one instance of a client who doesn't pay on time (or at all). You might also have faced a situation where there's a misunderstanding with a client over exactly what each other's responsibilities are. How many times have you asked yourself, "Why didn't I get it in writing?"
Now, thanks to The Standard Freelance Contract by AND CO, you can easily put together a contract that's fair for both you and your client.
The Freelance Designer Toolbox
Unlimited Downloads: 500,000+ Web Templates, Icon Sets, Themes & Design Assets
All starting at only $16.50 per month
The First of Its Kind
In a world where 71% of freelancers have faced client nonpayment, the time has come for all independent workers to get the protection they need and deserve. Co-created by AND CO (a company that's building the OS for the independent workforce and is dedicated to making their lives easier) and the Freelancers Union (the largest freelance advocacy group in the world), this is the first standard freelance contract to protect independent creative professionals.
The Freelancers Union recently helped to establish 'The Freelance Isn't Free Act' in New York City. It's a law designed to better protect freelancers when entering into working relationships. Effective May 15, 2017, the law will require freelancers and businesses to use a contract for any work that costs over $800. The Standard Freelance Contract will automatically ensure that both parties are compliant with the law.
Everyone can reap the benefits of using a contract, even people outside of 'The Big Apple.' The Standard Freelance Contract is there to help you get a fair and secure relationship started quickly. Because it's standardized, the contract eliminates the back-and-forth hassle over terms and painful discussions over worst-case scenarios. This speeds up the signing process and lets you focus on what you do best.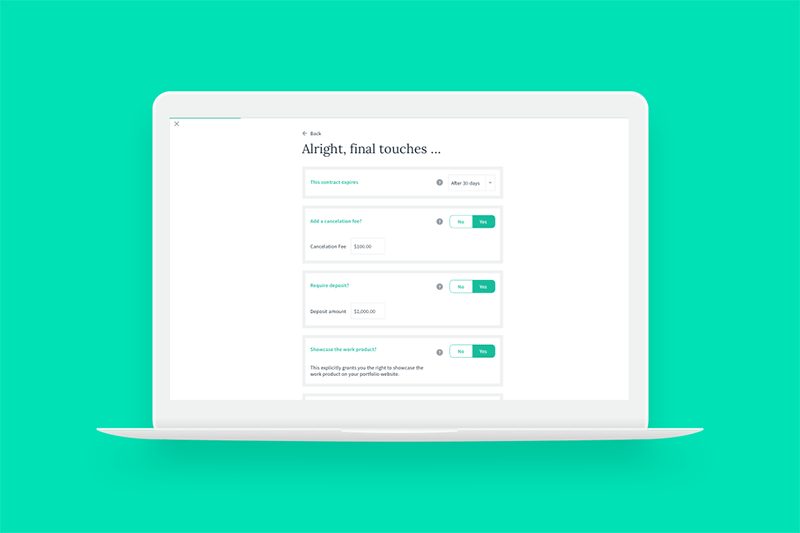 Supercharged with Technology
Creating and agreeing to a contract should be easy. The Standard Freelance Contract by AND CO utilizes technology to ensure that anyone can create and sign a contract with just a few clicks.
Contracts are customizable to fit your needs. Include only the clauses you need simply by turning them on or off during setup.
Integrated E-Signing allows both you and your client to sign off on an agreement remotely.
An optional Self-Destruct Timer will disable an unsigned contract after a specified amount of time.
Smart Alerts let you know when a contract hasn't been signed in time, when a project starts and more.
Plus, the contract fits seamlessly into AND CO's existing workflow automatically, based on the contract terms.
Get it in Writing
The Standard Freelance Contract by AND CO provides vital protection for both freelancers and businesses alike. For freelancers, you have the option to enable portfolio rights – so that you are legally allowed to show the work you've done in your portfolio. You'll also be able to charge late fees and implement custom licensing.
Businesses will benefit from having a transparent scope structure, which will provide a quick and easy to understand overview of what's included in the project. There are also protections for intellectual property and non-disclosure agreements.
Also note that The Standard Freelance Contract is a living document. This means that it will continue to evolve with feedback from the community. If the contract is missing something or you have a suggestion for an adjustment, you can submit it for review.
Start Protecting Your Rights
If you're a freelancer who has been working without the benefit of a contract or working with a less-than-perfect document – now is the time to protect your interests. The Standard Freelance Contract by AND CO is incredibly easy to use and it will give you the peace of mind that you deserve.
This post may contain affiliate links. See our disclosure about affiliate links here.