We collected 100 amazing gifts for designers and for all other creative people, and just about anyone who has a geeky side in them. Best of all, these awesome gifts are really affordable – price range goes from $10 to $100!
I must say it right away that gifts I've listed mostly are for geeks or technology-inclined individuals.
Holiday season is coming and I know why you're here. Either you were sent here by a tweet, search engine, or a frequent visitor, one reason stands among the rest: you are here to see some of the best, and affordable, gifts for your partner!
In fact, this gift collection is for any occasion. Birthdays, Valentine's, Christmas, Thanksgiving, or just an ordinary day present to show someone how much you appreciate them.
Ready? Let's start with this ultimate designer gift guide!
Table of contents:
The Ultimate Gifts for Creatives
Every creative from time to time need something inspiring to keep them going. These awesome inspirational gifts will help them recharge and get back into the flow again.
1.
Literature Mug
Coffee during breakfast, second breakfast, elevensies, lunch, afternoon coffee, supper, and dinner? Let this Typography Mug accompany any typophile!
This amazing gift mug features lines of some of the greatest works of literature. Oh and it's microwave and dishwasher safe :)
2. Browser Sketch Pad
A neat traditional wireframing tool that won't hurt your wallet. Hand sketching stimulates different parts of the brain, and that's exactly what creatives need! Besides, this Browser sketch pad is more portable and faster to use than any laptop.
3. Icon Notebook
For designers who love writing or sketching their ideas on notebooks. This Icon notebook will not drill a hole in your wallet, and I'm certain that any designer would love to have one!
4. Chisel iPad Dock
A great desktop gift to iPad readers. They will thank you for saving them from numbing their hands. We've all been there, reading for hours, adjusting our tablets every several minutes because our wrist or necks start to hurt.
5. 8-bit iPad Sleeve Gift
Retina display here, retina display there, why not go old school by going 8-bit? It's sleek, funny, and useful present!
6. 8-bit Hands Coasters
Keep your desk dry and your geek-ness too with these stylish 8-bit hand coasters.
7. Timeless Clock Coaster
Never worry about time when you are with friends. Stacking these coasters introduces a different design.
8. Keyboard Coaster
A simple coaster that will complement any kind of laptop or desktop on any kind of table.
9. IQ Alarm Clock
Are you smarter than a fifth grader? If not, you won't be able to turn off the alarm! Good bye five more minutes!
10. Eyestrain Reducing Computer Lamp
Take good care of a web designer's eyes with this computer lamp. A designer who can't see properly is a no-no! Make your designer friend happy with this gift!
11. USB Flash Drive 64 GB – Credit Card
Finally, a flash drive that can fit in your wallet! Gift for computer programmer friend?
12. Newton's Cradle – 4.5 Inch, Contemporary
Aside from Newton's Cradle being a cool addition to any desk, it also has a calming effect, which many web designers need several times a day.
13. iPad Paper Pad
Not an iPad, but an iPad Paper Pad. Just a cool pad to jot down anything, including paper prototyping – give this as a present!
14. Stress Buster Desktop Punching Ball
Ah, yes, instead of punching a client or the boss, punch this ball instead. Or save your laptop from your wrath. Help save a friend or yourself from unemployment with this neat present!
15. Moleskine Folio Notebook
One of the safest gifts to give to any professional, trust me. Writers, web designers and developers, marketers, you name it. All of them need a notebook.
16. Rhodia Grid Designer Book
A perfect pad for designers. It has subtle dots that form grids for symmetrical sketches.
17. Mug Warmer
Web designers tend to focus on their designs while their coffee gets cold…no more! Maybe your other half is an addicted coder, he will appreciate this mug warmer as his gift for sure!
18. Phillips Hue
Wireless personal lighting for your office or room that can be controlled using smartphones or tablets. No need to stand up just to turn off the lights. Hue, hue, hue.

19. iPad and Note Case
A great gift for iPad users who also happen to love writing on their notebooks. Order it here.
20. Macbook Airfelt Sleeve
For the classy Macbook Air user. It's a great gift for the frequent traveller. Check it out.
21. Rechargeable USB Batter Pack
Now this backup battery pack is so cool because it comes with hand turbine power generator. Even if you don't have access to electricity, you can generate power yourself!
Gadget addicts as designers definitely will love to get this as a gift on any occasion!
22. Website Stencil Kit
This web stencil kit is best for quick wireframing and laying out brainstormed ideas. Something every web designer would want to have.
23. Pantone CAPSURE Color Matcher
Scan and capture colors and integrate on your design programs. It's not sci-fi, it's Pantone CAPSURE color matcher!
24. The Web Designer's Idea Book
From the best selling series, this third installment of The Web Designer's Idea Book is a must-have for every web designer – from beginners to masters.
25. MOMA MUJI 36 Colored Pencils
The best gift for designers and young creatives in general, including art students.
26. Social Media Pillows
A perfect gift for social media enthusiasts and web designers. Why? Because no one can resist these fluffy pillows in today's social media world!
27. Terrarium
Many web designers never see this mythical place called The Outside. Bring this Outside atop their desk! Get it here.
28. Retro Wired Headset
It's not like someone will actually use this thing, but it's a great gift nonetheless. Check it here.
29. Skullcandy Headphone
For the web designer who loves music, just take a look at those colors! Click here.
30. Book Dock & Charger
Perfect for book lovers and for the office. Book Dock & Charger also has a built-in speakers that can amplify any music you play.
31. Spiderpodium
Ever wished of having an extra hand just to hold your phone where you want it to? Well, Spiderpodium solves that! You can twist its arms in several different ways to either make your phone stand on its own, cling to a railing, hang on your bike, and several more usages, the only limit is your imagination.
32. The Principles of Beautiful Web Design
A great book as an amazing gift for beginners and people looking for direction in the web design industry.
33. Don't Make Me Think
The purpose of every design is to make it intuitive as much as possible, not just for desktops but also for mobile devices. This book tackles fresh perspectives on how web usability should be done. Check it here.
34. 64GB SanDisk Memory Card
The most popular memory card on Amazon.com. Portable, it can save up to 64GB of data. A perfect gift for photographers, web designers, graphic artists, and just about anyone.
35. Raspberry Pi
Raspberry Pi is the cheapest computer ever at $25. You can host a server, a media box, and any basic thing that you can dream of. It can run word processing programs, quadcopters, surveillance systems, a gaming console, and many more!
36. LED Fluorescent Message Board
A great addition to anyone's nightstand either for cheer notes or for a to-do list the next morning. Be sure to check LED fluorescent message board.
37. Plasma Lightning Heart

Dazzling lightning patterns respond to touch and sound. Electric currents are transformed into rays of light that dance around the inside of a handcrafted glass heart. The plasma lightning can also be manipulated by the touch of your fingertips or the vibrations from music and other noise. This unique decoration is a fun addition to parties – place on a stereo speaker and watch the lightning respond to the sound.
38. Sony (4:3) Digital Photo Frame (Black)

Beautifully display your favourite pictures at home with the easy-to-use 8″1 LED backlit digital photo frame. Enjoy your photos as single images or as a slideshow using a variety of transition effects. For added convenience, you can even view a clock or calendar along with your pictures.
39. My Beating Heart

When hugging My Beating Heart, the physical heartbeat may remind you of hugging a purring pet or loved one. Hold the Heart a moment and you'll begin to sense your own heartbeat slowly syncing with My Beating Heart's carefully designed rhythm.
Cool Office Products For Web Designers And Geeks
Do you love living in the mess? Sure you don't, these cool office items will help you keep your space organised in geeky style. Designers spend most of their time at computer – make that space feel like home.
40. Docking Station
A modern and neat Quirky Converage docking station for charging that will look great beside a Mac computer. Amazing gift for creative friend, who loves his gadgets.
41. FUUTT

Now this is an awesome geek gift for people who spend lots of time sitting at their desk working on computer. Creative designers will enjoy this amazing Foot Hammock Gift.
42. Mac Desk Organizer
Mac computers are neat, especially with those wireless peripherals. But do you know how you can make it neater? With this Mac desk organizer. Save space and organize any desk by hiding your keyboard and mouse underneath.
Plus it will look good on most desktop colors! Your graphic designer friends will surely enjoy such a gift!
43. Perpetual Calendar
Just another neat gift you can give to yourself or a web designer friend. Never buy another calendar for several years. Plus Perpetual Calendar looks good with the Mac Desk Organizer above!
44. Photoshop Fridge Magnet Kit
Ah, the epitome of being a geek web designer. I'm not a web designer myself but I definitely will buy a kit!
45. Command O Doormat
Command O is the shortcut for opening files, but in this case it will be a door. It's a neat addition to any home and amazing gift!
46. MOMA Perpetual Calendar
Another perpetual calendar. The first one was more of a natural and retro type while this one is modern and borderline sci-fi.
One of the best gifts for designers in my opinion!
47. Inkling Bamboo
Inkling Bamboo is effective for sketching and taking notes. The best part? Every stroke you make is recorded and can then be converted for digital use on Photoshop. Graphic designers would love to get their hands on this!
48. Boogie Board LCD Tablet
I'm pretty sure that anyone who has enjoyed Etch-a-Sketch will find this gadget absolutely lovely. In fact, I just ordered one for my geek friend!
49. Pen Zen Bamboo Desk Organizer
An organized desk reflects an organized mind, do you agree?
50. Mail Icon Paper Sleeve Bundle (White)
Mail Icon Paper sleeves promise to protect your iPad, iPad Mini and iPhone from scratches, nice computer related gift.
51. Pixel Ruler
Pixel Ruler can be your best friend in drafting responsive design and surely web designers will love to receive this as a present!
52. Cordies Cable Organizer
You don't need to worry again with your cables being tied together. Maintain a neatly organized work space with this product.
53. Hedgehog and Pig Card Holder
Hedgehog made of silicon that will help you hold your business cards in place.
54. Remote Control Trashcan
Okay, aside from being competitive, there's a stereotype that web designers are lazy…or simply don't have the time to deal with trash. Well, why not make the trashcan go to them? Must have gift for geeks.
55. Eat Sleep Design Mousepad
Eat Sleep Design Mousepad is an alternative if your coder friend is not a t-shirt lover. Or you can give them both as gifts.
56. Logitech Wireless Trackball
We asked around and found out that this is the best mouse for designers. It has no lag, it's very much responsive, built for comfort, and has several functions like back and forward navigations, a programmable button, thumb controlled trackball, and many more that no standard mouse has.
57. Sculpt Ergonomic Desktop Keyboard
An ergonomic keyboard to help web designers protect their hands because it's the only pair they will have for the rest of their lives!
58. Natico Ultimate Executive Decision Maker
Admit it, web designers are funnily crazy, and as a friend to one, you need to feed them with more crazy fuel! Natico decision maker, perfect!
59. Floppy Disk Sticky Notes
Go old school with these sticky notes! I guess this is the saying "Only 90s kids will get this." come into play!
60. Floating Shelf
A great home or office decoration! Stylish gift for graphic designers who appreciate attention to detail and simplicity. Check it here.
61. Portal 2 Sentry Turret – Motion Activated Desk Defender
Because every sane web designer has to protect their desks from intruders, right?? Order it here.
62. Magnetic Sculptures – Dolphins
A great toy/design to tinker around to let the creative juice flow in during slow days.
63. Pantone Formula Designer Guide
The BEST gift you can give to any designer, especially the ones who don't bring their computers with them all the time!
64. Macbook Stand
I really have no idea what's the practical use for this stand, but I'll include it here since it looks sleek and gifts should look sleek.
65. Pixelated Hand Shaped Mouse
It's very ironic for a web designer to have this, yet I'm pretty sure they will love this. Ironic how? Many designers hate seeing individual pixels on their screens! Get yours here.
66. Coffee Cup Mist Humidifier
A web designer friend lives or works in an arid place? That's bad for the skin! Help combat this situation by giving them a humidifier!
67. Cyber Cleaning
Well, keyboards won't clean themselves, no? Cyber clean will help you.
68. Sauna Boy Portable Humidifier
A much cuter humidifier, I have nothing else to add. I want this. Great gift for designers.
69. 50 Shades of Grey Poster
Literally 50 shades of grey. Inspired from the best-selling erotica novel 50 Shades Of Grey.
70. Adult Coloring Planner for 2016
I can guarantee you every graphic or web designer will love this planner for year 2016. This will inspire designers to create, sketch something awesome themselves. Make your designer friend happy with this amazing gift!
71. Pivot Power Strip
The problem with standard power strips is that they take too much space. You can't bend them or mold them the way you want, but with Pivot Power Strip, it's like playing with Lego bricks!
72. Paper Email
A fancy way to send notes to friends and colleagues, but personally I'll use it to make fun of others. Get yours here.
73. i-Bridge Premium Desk Organizer
A neat desk organizer for any office or home office. It has a cup holder, a dock for phones, two USB ports, and an amazing…paper holder.
74. Mobile WebDesigner's Idea Book
A spin-off of The Web Designer's Idea Book, a best-selling series that focuses on great web designs. A book series that every web designers NEED to have.
75. External Battery Pack for Most Smartphones and Tablets
Because running out of battery is a very, very, scary thing, right? You'll never know when you will need one! Check it here.
76. Doctor Who Vinyl Decal
Doctor Who fans will love this decal quote in the form of TARDIS.
77. Masters of Poster Design
Very cool posters to design a rather plain room. Give that room some attitude!
78. Aroma Home Screen Wipe

Fun screen wipes with a chamois tummy will clean and reduce static on computer monitors, laptops and LCD screens. It has a zest of lemon fragrance which improves mental clarify and focus.
Don't forget to share your gift ideas for other readers to see.
Geek Gadgets To Get Your Friends Out From A Chair
Even worst computer geeks need to take some time off from their work and computer. What better way to do it than with some cool gadgets and items, that will require them to move if they want to use your gift!
79. Balcony Desk
For the fresh air and sun lovers. Balcony desk is extremely useful if your web designer friend has a balcony, of course.
80. Blue Heart Rate Monitor
Web designers spend most of their day sitting. That's bad for their health. Help them be healthier starting from their special day by making exercise fun!
With this heart rate monitor for iPhone 5, 5S, 5C & 4S and iPads, web designers will run several miles just to break their own records. Because, you know, web designers are competitive people!
81. The Quick Brown Fox Jumps Over the Lazy Dog Cards
This is an awesome typeface memory game for silent holiday days. Kit includes the main terms used in typography as well as about the evolution of type design.
Must have gift for any graphic or web designer!
82. Bright Feet Slippers
A perfect gift for both single and married people. With Bright Feet Slippers you don't have to turn on the lights just to go to the restroom!
83. Water Dancing Speakers
Add some flair to your music! I'm pretty sure that designers will love this gift. Music with colors!
84. RC Helicopter
A real flying toy helicopter. I mean, come on, I'm pretty sure that deep inside your heart you want one since you were a kid.
85. Beer Glass
Alcohol boosts creativity, right? Get you Beer Glass here.
86. Quadcopter
Quadcopters are the cool new toys of the modern world. Everyone will want this! I bet you will get your hands on this one instead of giving it as a gift.
87. Car Mount Holder for iPhone
Not all cars have mounts for iPhones. And with this holder you can now use iPhone as a GPS.
88. Kindle
This is one of the earliest generations of Kindle, and it's actually the best Kindle at $69. In my opinion, Kindle Fire is less useful. If you're planning on buying a Kindle, be sure to check older versions like this one.
89. Robotic Ball for iOS and Android
Something fun to have. A robotic ball that runs on Android and iOS, you can control it remotely. Purpose? Fun!
90. Pulse Wireless Activity Tracker + Sleep and Heart Rate Monitor
Are you sleeping well? Is your heart pumping like it's supposed to? Sleep and heart problems are common to web designers because they just sit most of their working hours…and while at home. Check it out here.
91. DC Super Heroes Pop Up Book
If your friend is really geeky and is into DC super heroes, give him this awesome popup 3D book. It consists of 25 impressive popup openings – best gift for geeks!
92. BoldLoft Pillows

Let your pillow talk be your pillow talk with these "Say I Love You" pillowcases. Whether you are together or a distance apart, they are perfect for reminding you both to say I love you each and every night and each and every day.
93. Reasons I Love You Stones
The reasons are infinite, and now nine of them are etched in stone. One side of each brushed-nickel token says "I love you" and the other bears a compelling reason, from "because you're an inspiration" to "because I just do!" and "for always getting my jokes." Comes in a red faux-suede pouch. Stones: approx. 1 3/8″L. Exclusively from RedEnvelope.
94. A Girl's Guide to Dating a Geek

Are you dating a geek? Find out just how geeky he is in The Geek Test. Learn how to cope with his geekiness in sections such as: "Getting What You Want" and "How to Exercise Your Geek." Also, discover how to plot revenge, diagnose common geek ailments, and find the perfect gift for your geek. Take a deeper look into the world of geeks with My Life Among the überGeeks and My Life Among the Gamers. Read case studies, examine graphs, peruse the Geek Dictionary, and more in: A Girl's Guide to Dating a Geek.
Geeky Fashion Accessories
Some say geeks and designers have the best sense of design. Well, not everybody understands their style, but it is surely unique! Help your geeky friends stand out in style with these amazing fashion accessories and wearables.
95. Ctrl, Esc Key Cufflinks
Ctrl Esc cufflinks, for the classy web designer that can't go anywhere without wearing his/her identity.
96. Designer T-shirt
Not all web designers wear pyjamas all day, right? Designer T-shirt, perfect gift.
97. CTRL Z T-shirt
For Window lovers. Command Z is similar to Control Z in Windows, which is the shortcut for undoing things – your designer or programming friends will totally get this. Why not CTRL Z T-shirt for his gift.
98. I Will Design For Money Shirt
Starving artist? I don't think so. But no web designer would refuse money. Help your web designer friends veer off the "Hey, you're a web designer, can you design a website for me for free since we're friends?" type of conversation and give them this neat apparel gift!
99. Pebble SmartWatch
For those who are always on the go! Pebble displays notifications of email, SMS, calendar, Caller ID, and your favourite apps on your wrist.
100. There's No Place Like Home Shirt
Web designers and developers, including geeks will love this shirt. There's no place like home!
101. Eat Sleep Design Shirt
For the passionate web designer who does nothing but eat, sleep, and design. That's the dream life! This is the T-shirt for them.
102. Newspaper Pattern Laptop Carry Case
Simple and amazing gift for female web designers. Keeping the spirit of fancy fashion wherever they go!

103. CafePress Photoshop Geek Dark T-Shirt
Daily geeky t-shirt for everyone! It's simple but stylish enough to be a great gift to outgoing people.
104. Oh, Crop – Lady Designer T-Shirt
A good shirt for everyday use or for the gym…tell everyone you know how to design with humor!
105. Luxury Brand Designer iPhone Case
Almost all designers and creatives use an iPhone, you know? This will be a must have gift for iPhone users, I bet they don't know this case even existed!
106.
T-Shirt I know HTML
Another t-shirt that tells the whole world the wearer knows HTML – how to meet ladies. Talk about walking advertisement!
107. Funny CSS Designer Shirt
One of the few effective web design pickup lines! Check it here.
108. Urban Bag
A bag small enough to wear anywhere and big enough to accommodate an iPad mini, Kindle, or Nook. There are also two quick access pockets in front for smartphones or a music player.
109. Tattify Metallic Jewellery And Quotes Temporary Tattoos
These temporary tattoos will be an amazing gift for every lady – especially creatives and designers!
110. Newspaper Rain Bag
Aside from the cool design, this is one of those bags that you'll never regret having…especially when it's raining. It's waterproof and can protect your precious gadgets from water!
111. 8-Bit Sunglasses
8-bit sunglasses to help you protect your eyes while looking like a geek!
112. Sculpted Jewellery Tree

Elegant? Yes. Lovely gift? Yes. Although as a pre-requisite you should also buy her tons of rings and necklaces and other jewellery. You can get it here.
113. Heart Travel Alarm Clock

"What time is it? Oh!" Sweetheart comes to mind. Will it not be sweet to give your partner this? I'd love to have one! You can get it here.
114. 8-Bit Tie

Silk-like Microfibre construction, clip on* (for easy dressing and t-shirt wear if needed), and custom designed tie for you. You'll be the envy of the office or, at least, you'll get tons of attention. You'll be just like Mario when he wore a tie to meetings when negotiating his contact with Nintendo. Sure the Wii, PS3, and Xbox 360 are out there with all their super technology, but sometimes it's nice to remember the beginnings of the video game revolution. Viva la 8-Bit!
11 Minimalist Office Setups – Bonus Idea
This are more of an ideas how you can surprise your beloved designer with a new office setup for him or her. As web designers, we too, practice the same maxim. In fact, we even want to make this philosophy for living our lives. We strive to achieve such state that we even want our office setups or work space to reflect what we believe in. That's why maybe if you present him with a new look of his office, he will be even more happy than with some other gift.
For one, having a minimalist design in his office setup has its advantages:
It makes him focus more on 'work' than goofing around
It lessens the distraction and makes he/she has think that you have fewer tasks to accomplish
It is beautiful to the eyes
You can actually make a small room bigger
Black Egg Chair and Modern Computer Desk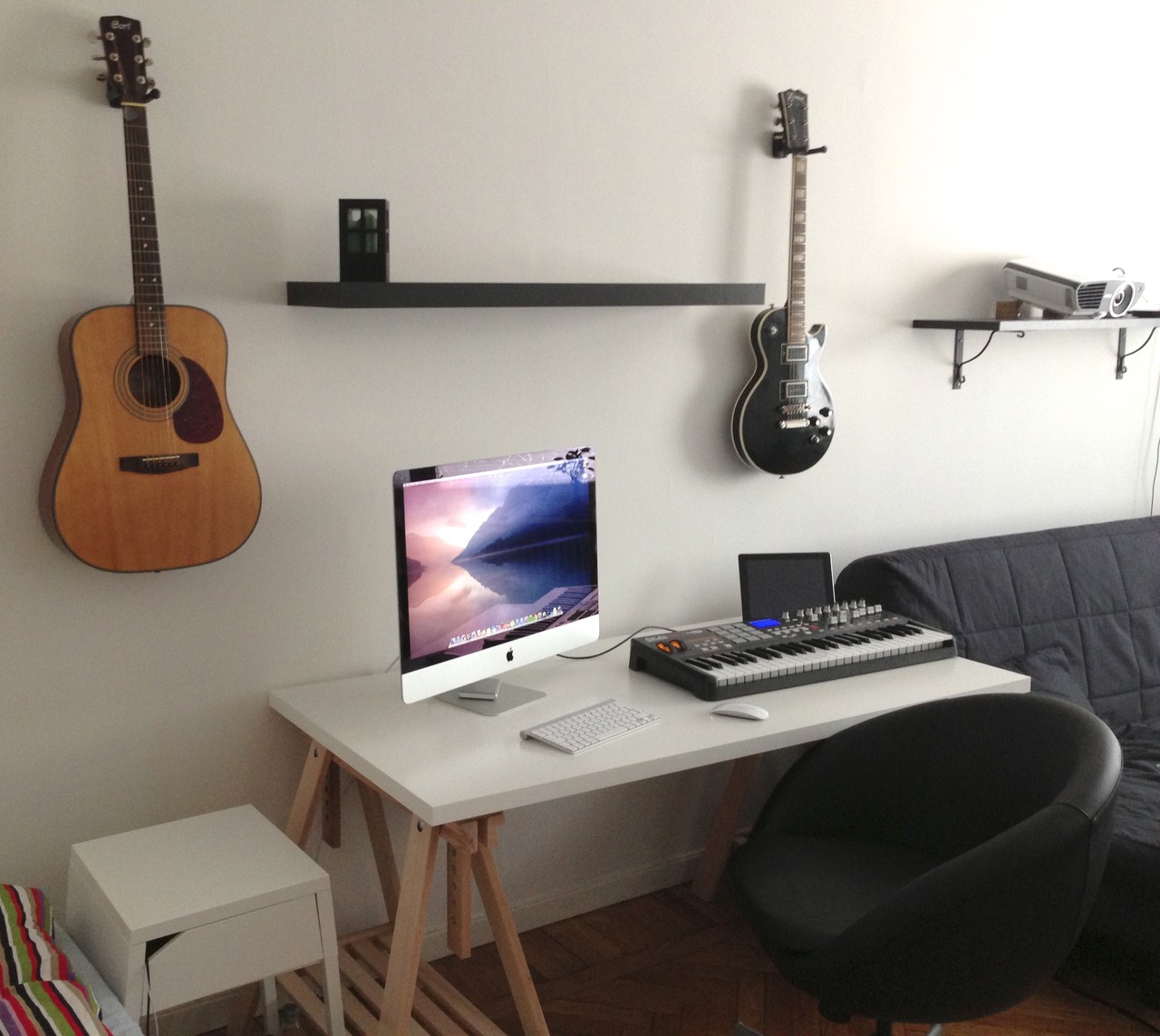 This simple set up is a space saver! With only three kinds of furniture- the white wooden desk, black egg chair and small but sleek looking white-painted wooden side table perfectly that matches any room painted with any color. Great for people who want sophistication in their set-ups.
Brown Wooden Chair and Table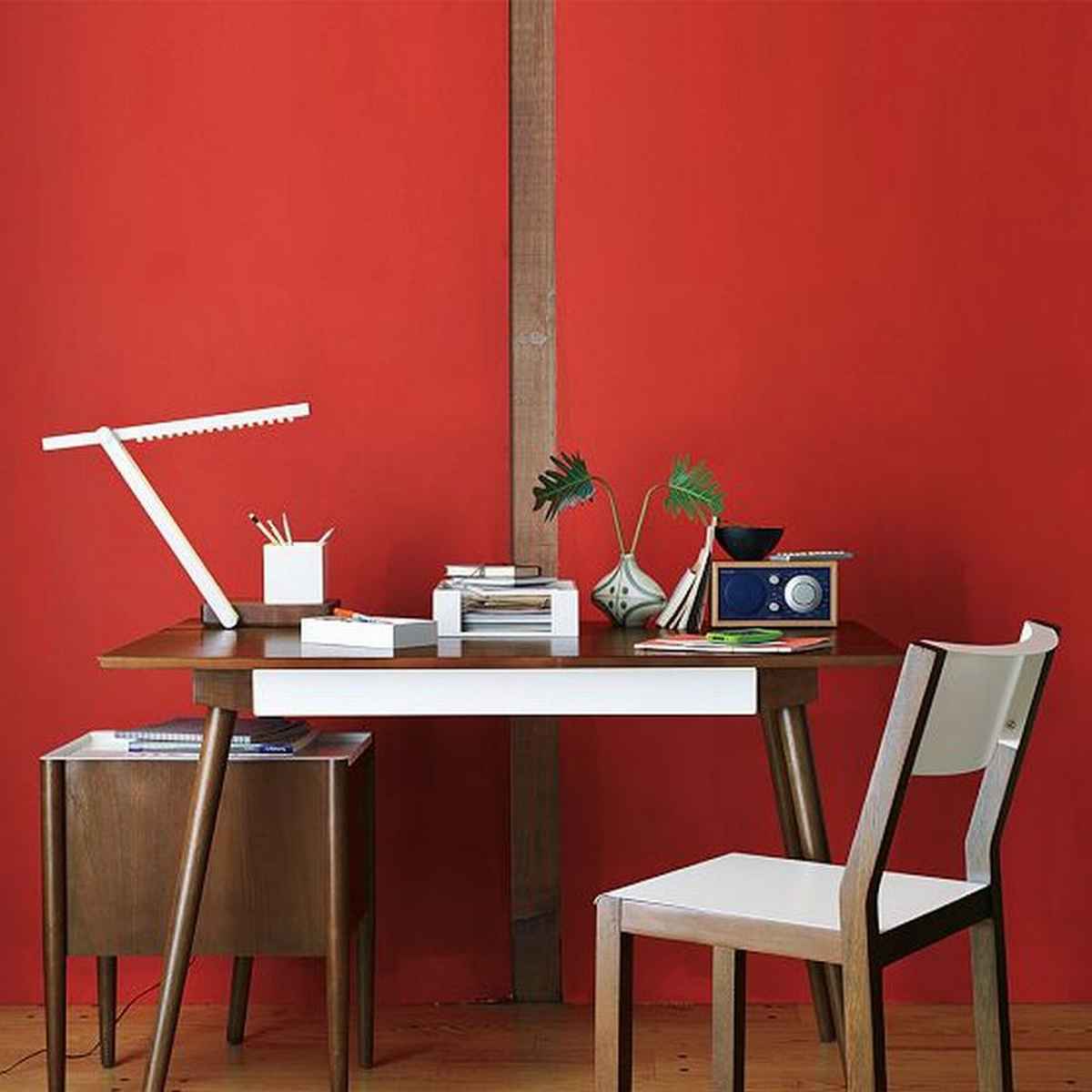 Sturdy and sleek are these brown wooden table, chair and desk. For people who like vintage and modern tweeners, this set up is perfect. It provides the vintage look of brown painted wood and the modernity of a sleek but strong make up.
Floating Wooden Shelf and Desk, White Egg Chair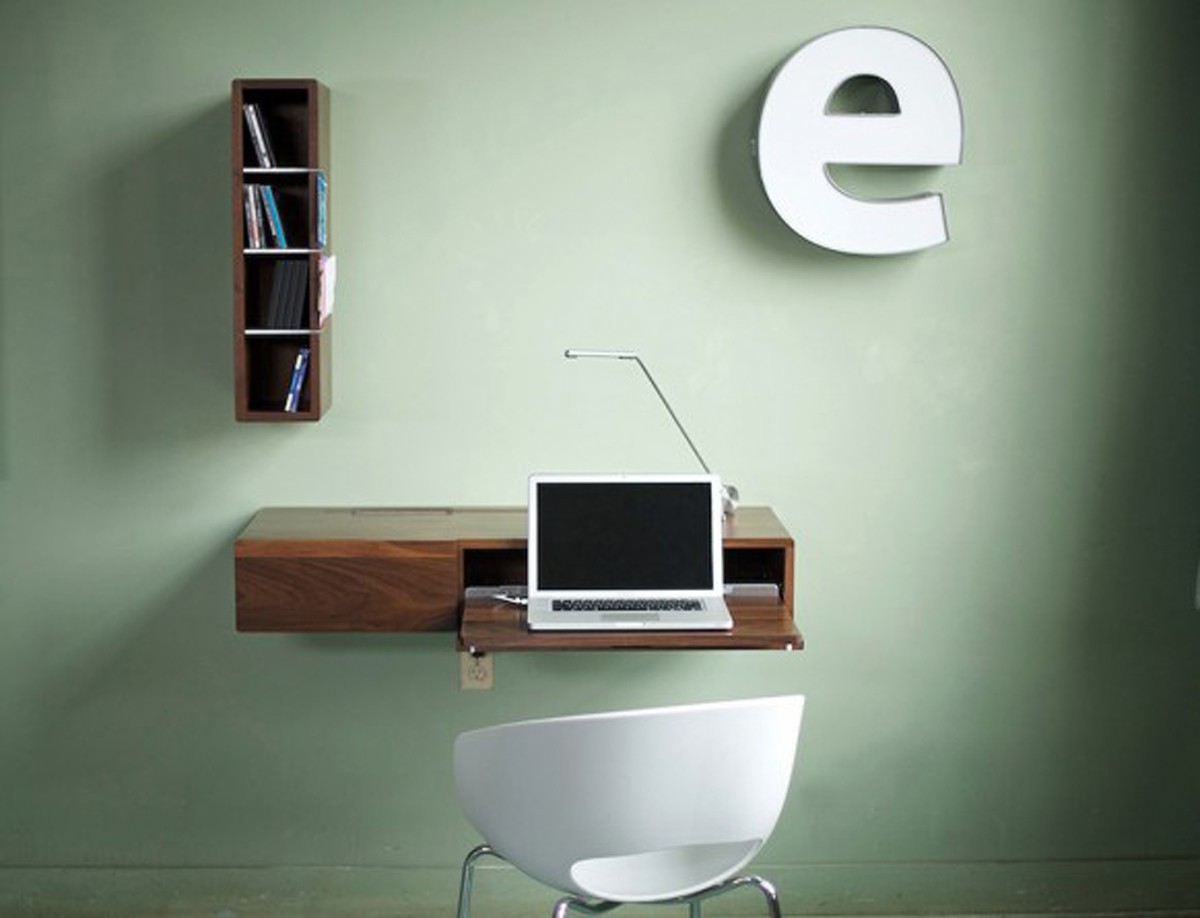 Floating furniture will always be cool. This floating wooden desk and shelf set-up saves a lot of space and gives a lot of leg room. No more painful outbursts when you accidental hit your knee with the table's legs! Yay!
Natural Barn Wood Laptop Desk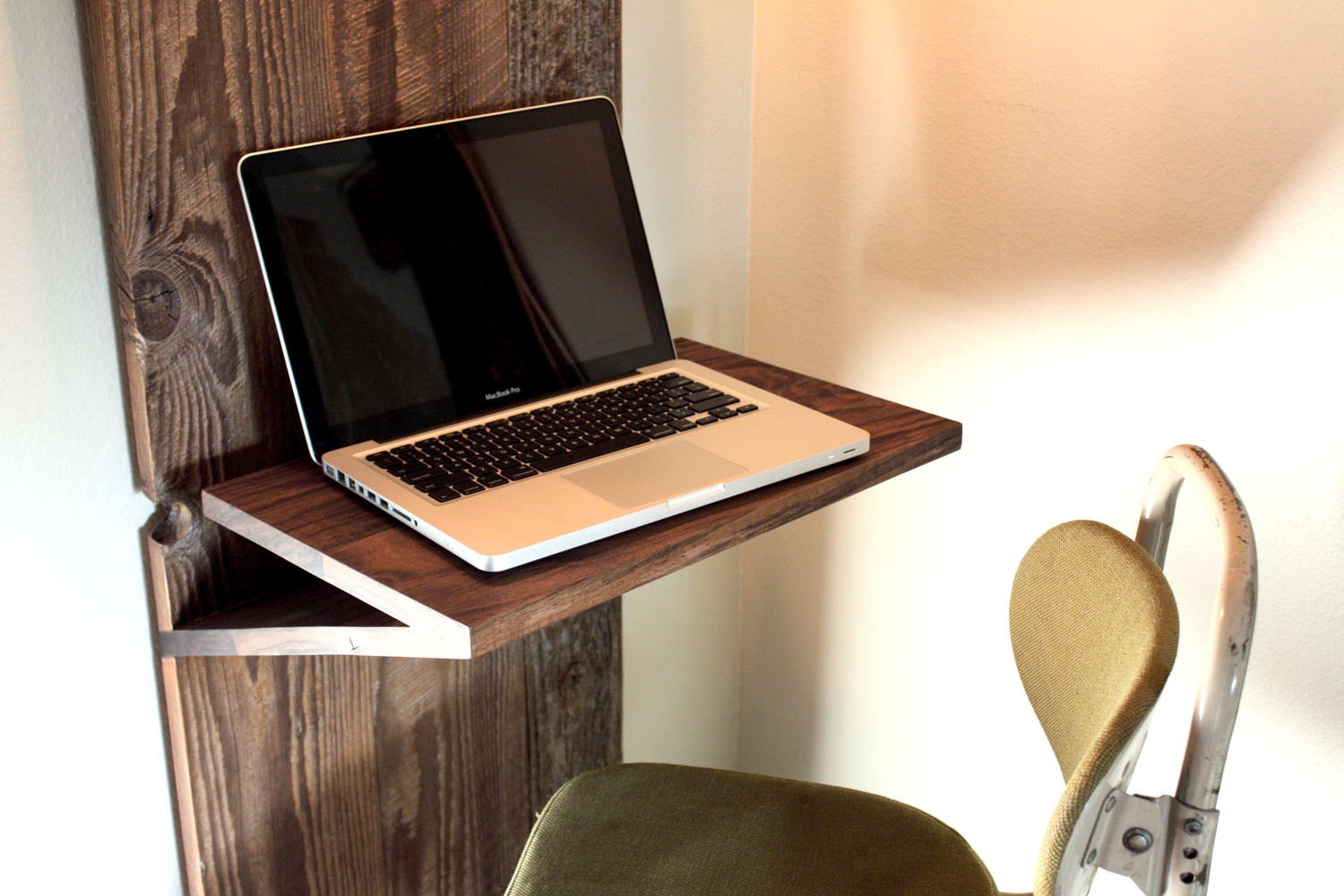 Speaking of space-saving, this fold-able wooden laptop stand is probably the best candidate. It can be folded and unfolded upon use and doesn't really take up much space. But worry not, style is still reeking out of this one!
Compact Home Office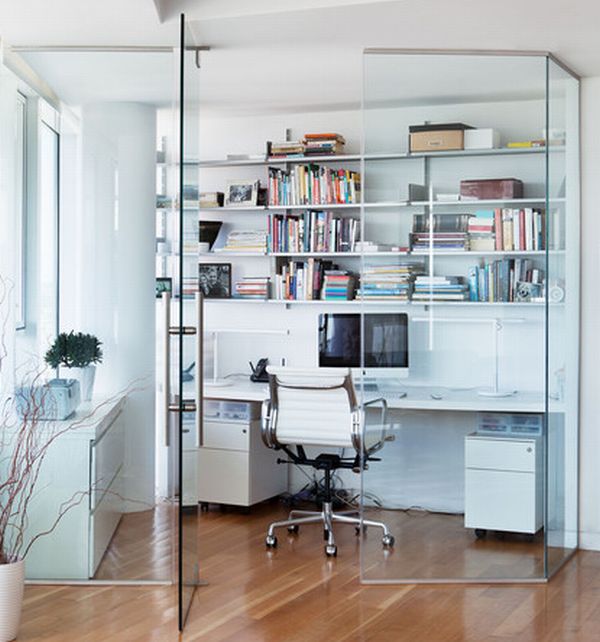 If you want some isolation, try installing glass doors and walls on your office set up. Save yourself from the noise and distraction of the outside world without sacrificing the view you want. Plus, this makes a stylish combination with white furniture which made the set up more elegant!
Brown Desk with Foamed Wooden Chair

This is a classic set up. A wooden desk and a comfortable chair. Oh wait, this is more space saving as it does away with a lot of cabinets and drawers!
Long Wooden Desk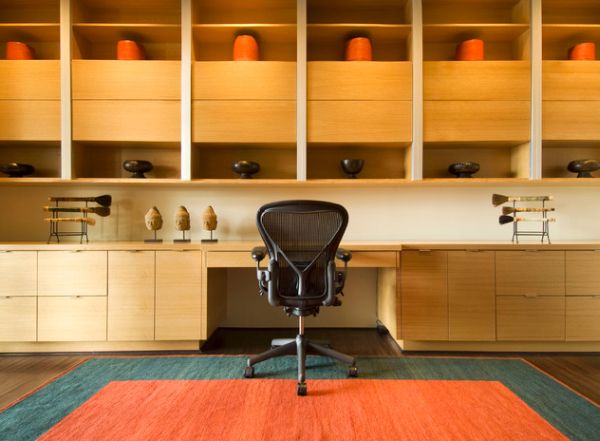 If you think your workspace isn't enough, contact your interior designer and make him do this set up. Totally stylish with using wood elements and a modern swivel chair, you won't run out of space, again.
White Round-edged Desktop and Black Swivel Chair Set-up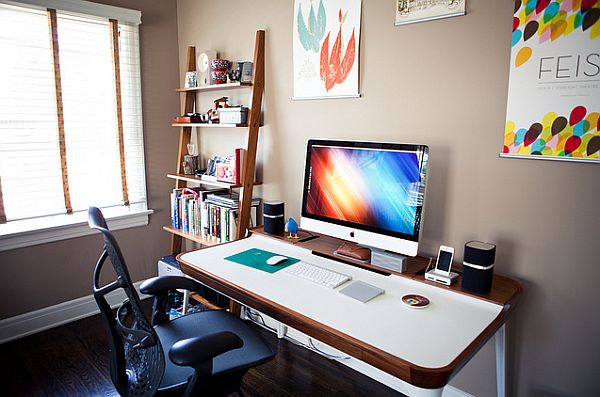 This is a personal favorite. Combining the stylishness of white and the vintage look of brown, this desk that will surely make anything you put on top of it clean-looking. Perfect for iMac users who just love a lot of free space, this is a must-try!
One Robinson Place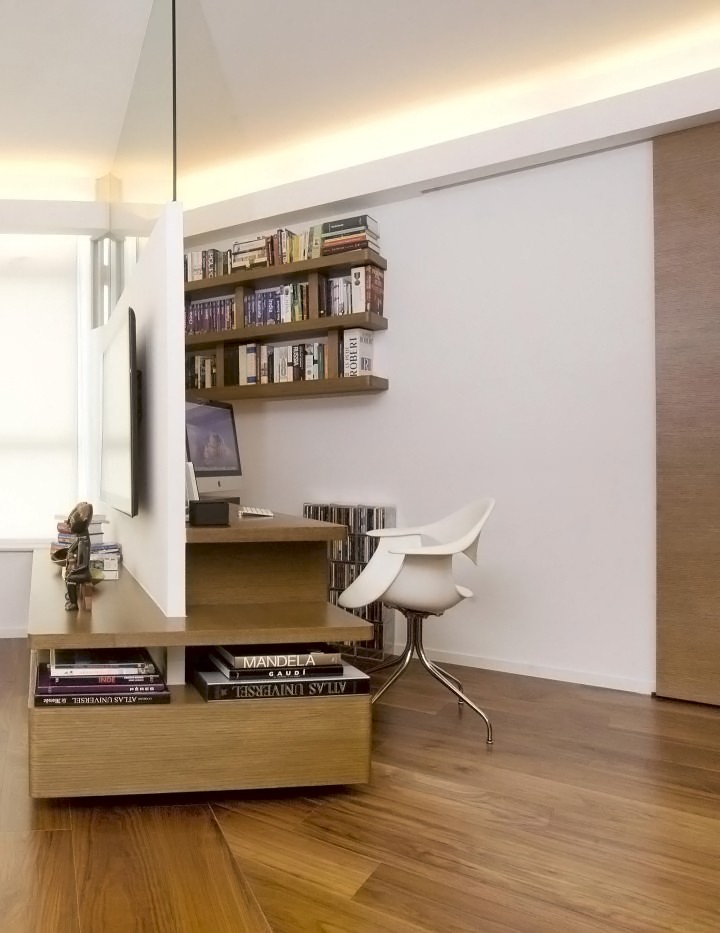 This genius design saves space too! Using a divider as the desk, it saves up those corners you don't use and transforms them into the place where you do all the magic. Work as if you are isolated from the room and not seeing anything across it.
Valerie McCaskill Dickman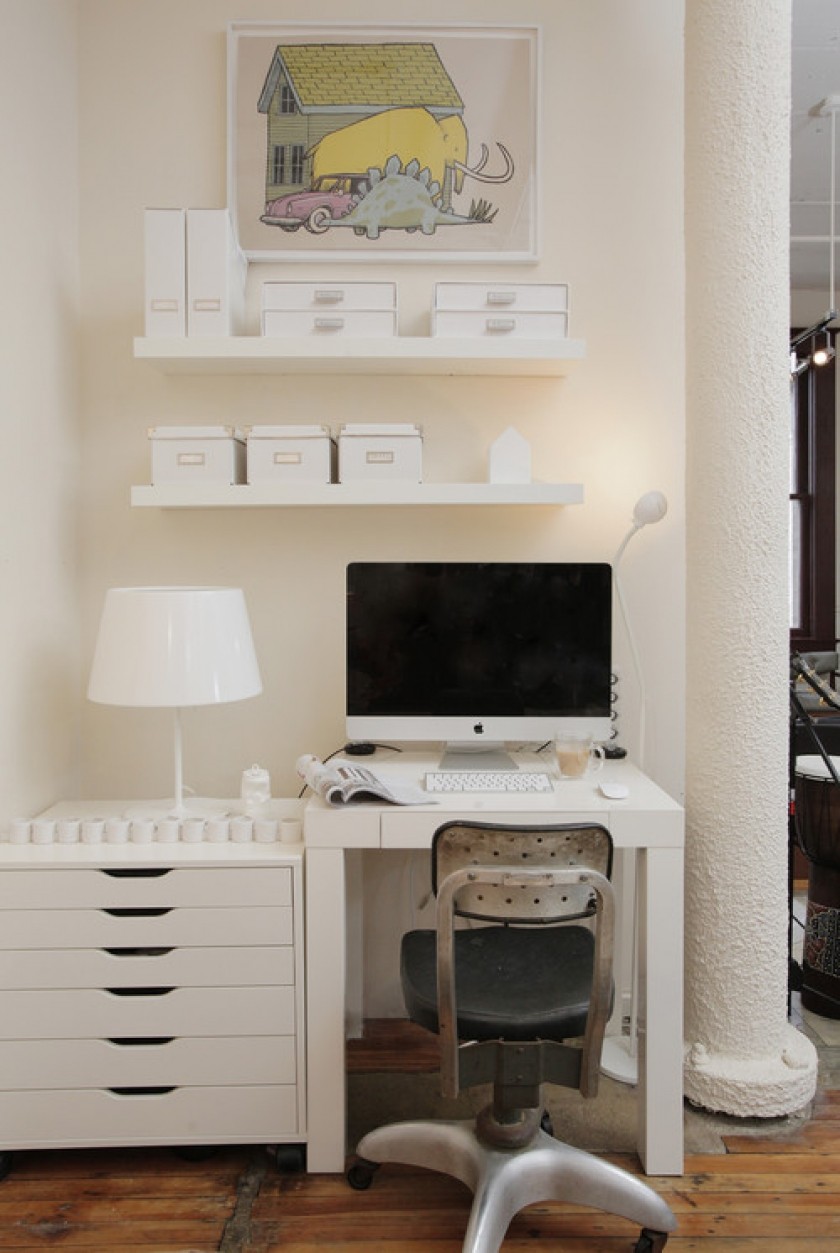 Another great use of white in design. This is perfect for small bedroom set-ups and for people who want to have a nice desk and a cool chair.
Trendy Closet Desk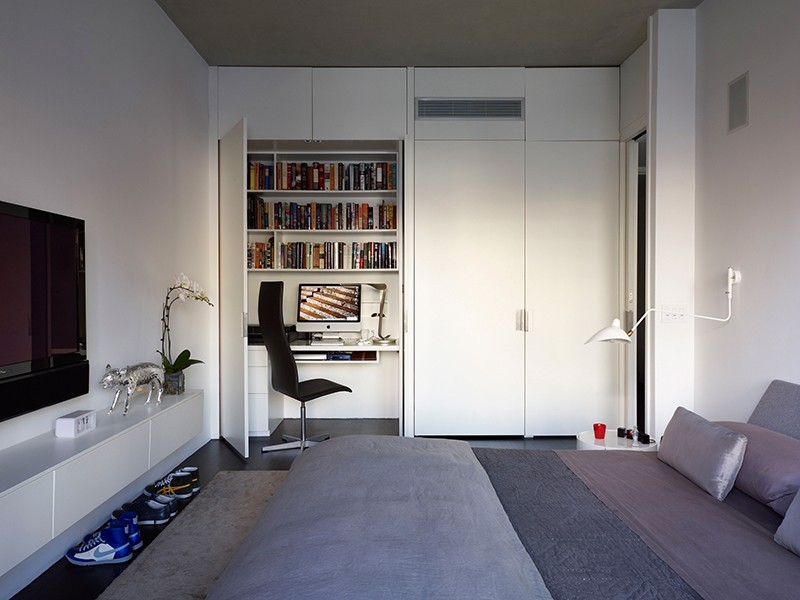 And finally, you now know what's it like to come out of the closet. Why? Well, because you work in one. Save a lot of space by transforming your closet into an office setup. Install a computer and some books and voila! You have a space saver work space that you can hide or show anytime you want!
Conclusion
I hope you enjoyed designers gift collection. If only I had the money I will definitely buy 7/10 of these. Note that I asked several coders, graphic and web designers (people I know personally) for their recommendations and this is what we came up with.
By the way, if you have a travel enthusiast friend, check this article for gifts for travel lovers.
Don't forget to share your stories here! How did you succeed in picking the right gift for your designer friend?
Which is your favourite gift idea?