The best way to learn what makes users tick is to see the web through their eyes. Imagine the experience. You might find that a user is confused by the UI that's in front of them. Or perhaps you'd gain confidence (and a few high-fives) in seeing how quickly they can finish a transaction.
While you can't literally get inside a user's head, you can see exactly how they interact with your website. It's possible with FullStory.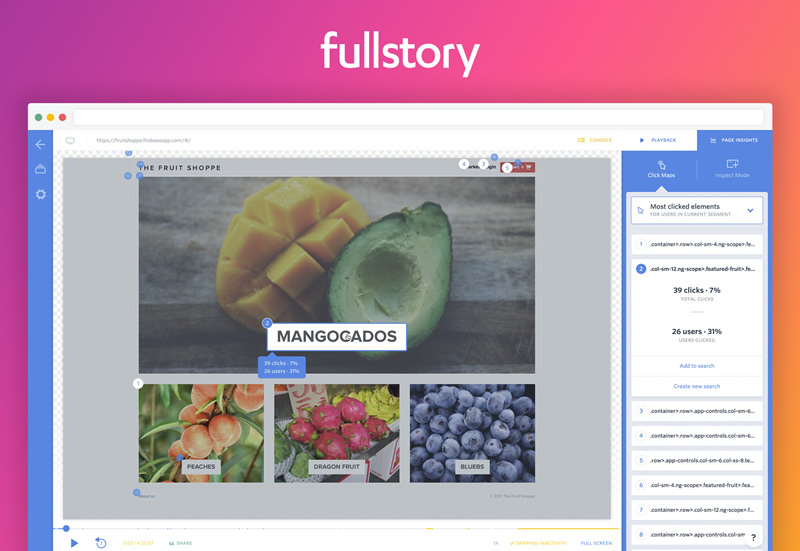 More Complete than User Testing
FullStory enables you to replay user sessions and see every click, key press and page transition with pixel-perfect accuracy. What's more, it's a fully-inspectable re-recreation of your website – complete with DOM, JS console and assets. That means, for example, that when a JavaScript error occurs during a user's session, you'll see it. You'll get a detailed log of every JS error from your customer's browser.
It's a complete solution that brings you more detail than user testing – not to mention much more convenience. Using the FullStory TV feature, you can auto-play all sessions or a saved segment. This provides you with non-stop insight into user interaction. You'll become aware of patterns as they emerge – such as rage, error and dead clicks. It's valuable information that will help you determine what's working and what's not. All of it can be done much faster than with traditional testing methods.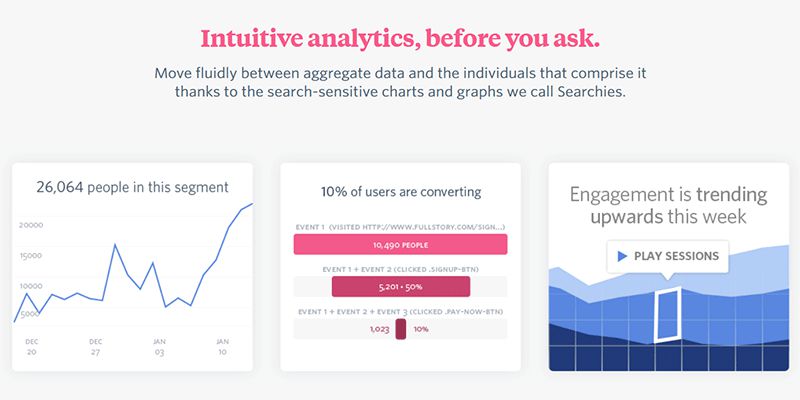 Take Advantage of Powerful Tools
It's one thing to have access to session playbacks. But it's quite another to hunt through mountains of them, looking for a specific type of interaction. That's where FullStory's OmniSearch really shines. You can find customers, pull up page analytics, build funnels and more. Even better is that this can all be done instantly – just start typing.
Searchies, as FullStory refers to them, are powerful visual insights. They consist of items like pie charts and funnels that automatically accompany each search and segment. So you not only have the raw session playback information, you also have convenient visualizations as well.
Plus, FullStory can integrate with a number of popular third-party apps. You can send FullStory data to collaboration apps like Trello, HipChat or Slack. It also works with support systems such as Desk.com, HelpScout and Zendesk. You can hook into Google Analytics Universal and Google Tag Manager. Or, bring insights directly to your BigCommerce, Shopify, Squarespace or WordPress/WooCommerce site. There are a wide range of integrations available to meet your needs.
If you work as part of a team, you'll love that FullStory is collaboration-friendly. Send individual session playback links to team members inside or outside of your organization. This makes it easy to gain valuable feedback and perspective from others.
Using the Identify API, you can send customer information directly to FullStory. That makes customer data searchable within the app. Custom User Attributes allow you to populate unique user fields. For example, you can add a customer's subscription level or their lifetime spend amount. Privacy is also a priority and FullStory makes it easy to exclude sensitive customer data by using a simple point and click system.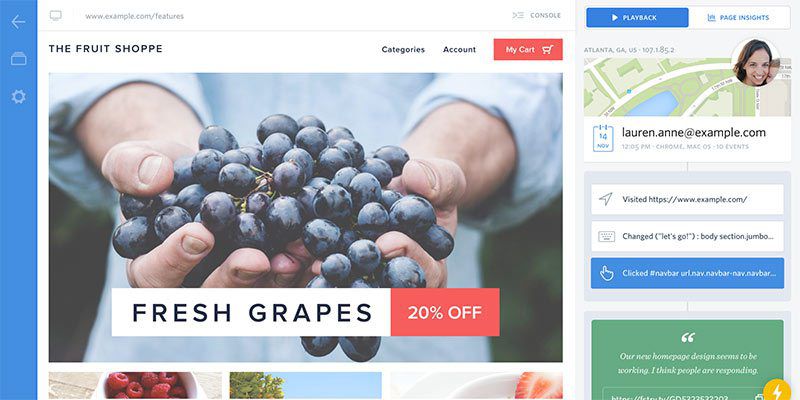 Start Using FullStory for Free
When it comes to how users interact with your website, it's time to stop playing guessing games. Instead, sign up for a free account with FullStory and see what you've been missing. The insights you'll gain will make for a better website and it just might make you a hero.
This article has been sponsored by Syndicate Ads.
This post may contain affiliate links. See our disclosure about affiliate links here.