Dark patterns describe web design features that trick users into taking actions. They are the gimmicks that trick users into opting into services, annoy them with pop-ups, and shame users into taking action.
Dark patterns are completely unethical, but some companies continue to use them to manipulate user bases. Any business interested in long term sustainability and successful reputation management will run hard and fast away from any company or designer that encourages tricky design elements.
The UX Designer Toolbox
Unlimited Downloads: 500,000+ Wireframe & UX Templates, UI Kits & Design Assets
Starting at only $16.50 per month!
The Most Commonly Used Dark Patterns
The definition of a dark pattern boils the concept down into a neat package. In practice, the imagination is the only thing limiting the number of dark pattern tactics used. Most safe and well-known websites do not use dark patterns. They may display in-your-face marketing messages and advertisements, but they will not try to unethically deceive you into taking action.
Dark patterns are only those checkboxes, phrases, and iframes that will make average users take an unintended action without realizing it. Some of the most common dark patterns used include:
1. Add-ons automatically placed into an eCommerce shopping cart
Amazon may recommend a complementary product to add to your shopping cart upon checkout, but the company will never automatically fill your cart without your permission. Other, less reputable, organizations may try to add an unobtrusive item to your cart hoping that you won't notice.
Some customers who don't scrutinize a shopping cart before placing an order may never realize the item was not part of the original purchase. Others may not pursue action because the cost of returning the item may outweigh the convenience of taking the loss.
2. Convoluted opt-in/opt-out processes
Some forms, purchases, and other actions will automatically sign users up for continued messaging. The opt-out process, however, is where companies take shady steps to keep subscribers. Some companies will force users to check individual boxes for specific types of content while others will add in filler language to keep the process even more confusing.
While all businesses are subject to the CAN-SPAM act and must legally unsubscribe users who request an opt-out, many let these unsubscribe and opt-out requests sit unaddressed in an email folder that nobody checks. In other words, a user could do everything right to opt-out of messaging and still receive unwanted content.
3. Confusing Wording
App and website users are so comfortable with certain drop down menus and generic forms they often skim through instead of thoroughly reading them. Some companies try to take advantage of the average user's reading patterns. They will use common cues and patterns used online and interject something that could trick you into opting into an added service or making a purchase.
Wily wordsmiths may even use careful phrasing to make the customer feel glad he or she took an unwanted action. Unclear, confusing, and deliberately deceptive wording can trick users into many different types of online interactions.
4. Forced continuity
Free trials aren't usually as free as they first appear. While some sites only want your name and email, others need a card on file to start your trial. If you do not take an action to cancel the service in a predetermined period, the company will automatically bill you.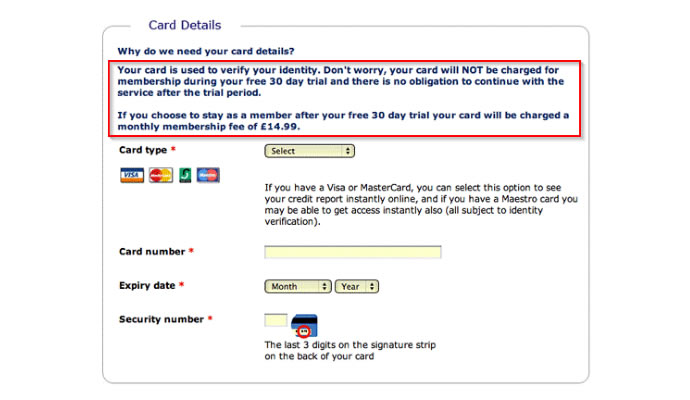 Dark pattern enthusiasts can force users into continuity in a couple of unethical ways. They may make the cancellation process difficult and confusing or fail to remind the user of the free trial expiration date.
5. Hidden gated quizzes and questionnaires
While one of the least-offensive types of dark patterns, hidden gated materials can waste minutes or hours of a user's time. A website may offer a "free" questionnaire or quiz and lead users right into the questions on the landing page.
When the user hits "submit" at the end of the series, the site asks the user to input information to see results. Some may only require a name and email, but others will charge users a fee to see the results of a career, personality, or health quiz.
6. Misdirection
Commonly used on mobile apps, misdirection takes advantage of a user's tendency to associate certain visual cues with safe actions. For instance, a green or blue button typically initiates gameplay on gaming apps.

Advertisers may place popups within the game that look similar to the gameplay start page to encourage users to hit the green button, which redirects the user to an advertiser's content. Other advertisers will make the "X" so small or translucent that many users find themselves sitting through the commercial/cartoon/ad every time it appears.
Even Microsoft, a generally reputable company, was guilty of a dark pattern during the Windows 10 update. In creating a red update initiation button, the company tricked many people into downloading the unwanted update instead of closing the window.
These examples only represent a few of the overarching concepts behind dark patterns. New examples frequently arise, making the digital space a little more perilous for a trusting user.
The Case for Using Dark Patterns
While most digital designers see a clear line between ethical and unethical design patterns, others see the internet as a "users beware" space. Proponents of dark patterns do not feel obligated to hand-hold end users and will do what they think best to meet digital benchmarks.
For a time, dark patterns can and will work. People are accustomed to interacting with digital content in a specific way. Most users will fall for subtle changes in forms, and many will write off bad purchasing experiences without thinking twice. The problem with using dark patterns is that they do take advantage of a user's trust and they are unsustainable.
The internet can bolster and tear down business reputations. As soon as enough customers experience something that doesn't seem right, the comments and complaints on consumer advocacy sites, social media, and review sites start will begin to eat away at a brand's reputation. Nobody wants to do business with a brand known for a poor user experience – intentional or not.
Today, the phrase "dark patterns" is no longer some abstract and unheard of term. Thanks to the advocacy of Harry Brignull – a UX designer, consultant, and the founder of darkpatterns.org – more people know about the subtle tricks and sly deceptions businesses use to meet their own ends.
Avoiding Dark Patterns for Customer Acquisition and Retention
Businesses interested in fast growth and sustainable business strategies can reach all of their goals without resorting to dark patterns. If businesses can balance metrics with authenticity and a sense of duty to the user, they can focus on value-added designs and creating a pleasurable user experience. Consider these tips to honestly acquire and keep customers:
Keep language clear and concise. Digital users want answers to their most pressing questions. They want to know what you offer, why they need it, and why they should choose you. If you're not making a clear proposition or offering value-based content, you could walk the line between shady design techniques and dark patterns. Intention largely separates poor design from unethical practices, but businesses should strive to avoid both at all costs.
Use psychology, but don't abuse it. People do follow patterns when they interact with content online. Designers can ethically use color, content organization, and navigational cues to organically encourage users to take certain action. When they use standardized practices and change up the routine, however, they can force users to take actions the user never wanted and cause frustration, anger, and resentment – none of which encourage repeat business.
Follow the golden rule. Every designer and company that wants honest business and satisfied customers should follow the golden rule: to do for others what you would have them do for you. If you would feel slighted or misdirected, find an alternative approach. Every business can ethically compete for the market share and doing so will pay off.
From the landing page CTA to the details outlined in the terms and conditions, every word and prompt is an opportunity to serve your customers rather than take advantage of them.
In a time when search engines development places an increased duty of care on businesses, site owners may want to think twice about the content and interface design used. Dark pattern tactics may offer a short-term metrics boost, but they may not serve a brand well in the long run.
This post may contain affiliate links. See our disclosure about affiliate links here.