What is the distinction between Black Friday and Cyber Monday? It is that in the latter case you know you have an excellent chance of getting through it in one piece. No elbows in the face, no cramps from standing in line, etc., etc.
On Cyber Monday you don't even have to get out of the house. You can even shop in your pajamas (try that on a Black Friday!).
To help you celebrate, I've put together a list of discounts for web designers, and a few for developers as well. So, here's your chance to snatch up one or more pretty amazing deals. Go for it!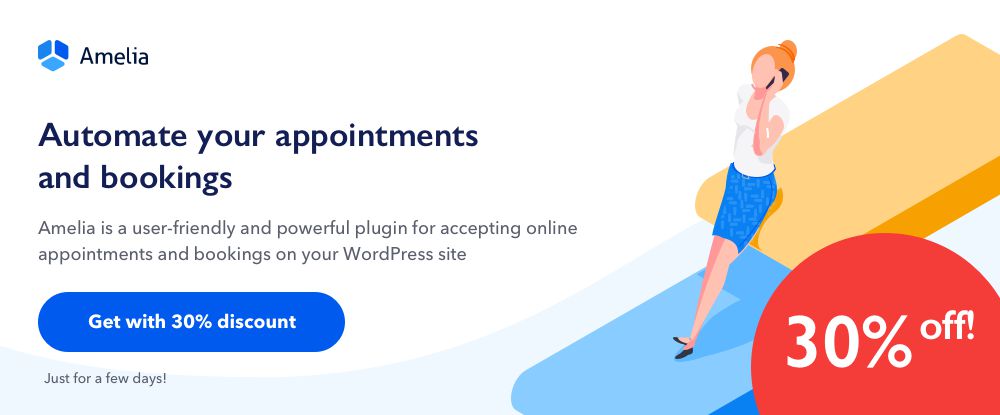 When you're marketing a product that's selling like wildfire, it's tempting to skip Cyber Monday knowing it will continue to sell well anyhow. Doing so didn't seem right, however, so Amelia's creators decided to go ahead and offer a 30% discount to help celebrate the occasion.
The result is an awfully good deal for any service-oriented business that relies heavily on appointment bookings and needs to manage bookings and booking schedules easily, efficiently, and error free.
The Amelia WordPress plugin has found favor with a large and increasing number of health and wellness, physical fitness, beauty, and similar businesses.
It doesn't matter if your business has only a few clients and employees or a large number of both. Nor, does it matter if your business operates from a single location or multiple locations. Amelia will manage your bookings with ease.
You'll like this booking management system's UX and how easily it can be integrated with PayPal, Google Calendar, and other business apps. You'll also appreciate Cyber Monday's $41 price – a 30% discount.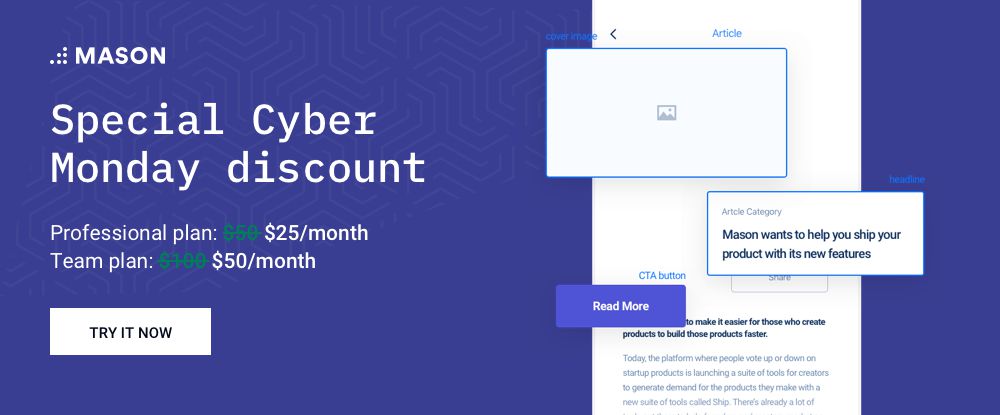 Mason doesn't simply save you time and help you do better. It can save you a ton of time and help you do better in ways you considered to be impossible. When was the last time you had to make a change (either major or minor) to a website that was up and running?
It involved re-design, additional development, and redeployment didn't it? Mason skips all that. With this front-end-as-a-service platform you can easily edit a website that has already been launched. All it takes is a single line of code to affect the change. In many cases your clients can make the changes.
Mason fundamentally reshapes the product design and development workflow. In fact, it allows your entire team to function as developers when changes are needed.
There's much more to Mason, so give it a closer look and take advantage of the 50% Cyber Monday discount on each of Mason's plans.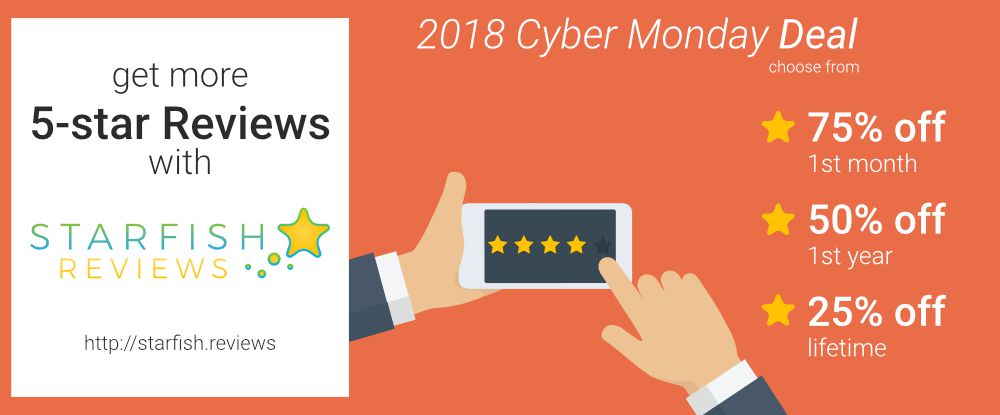 Why not give yourself a Cyber Monday gift that keeps on giving, and give Starfish Reviews a shot? This plugin is designed to help your business or website get a greater percentage of 5-star reviews. That's a gift any online business would be more than happy to receive.
Starfish Reviews helps businesses and marketers generate good reviews on online review platforms such as Facebook and Google.
This WordPress plugin is mainly oriented toward small businesses, entrepreneurs, and individual creative types, and allows those business enterprises to get reviews on the platform(s) of their choice; platforms such as Google, TripAdvisor, Amazon, Facebook, and the like.
Celebrate Cyber Monday by picking one of these special Starfish Reviews offers:
Use coupon "18cybermo75" to take 75% off your first month of use. Or, take 50% off the first year with coupon "18cyberyr50". You can also purchase a lifetime license at 25% off with coupon "18cyberlife25".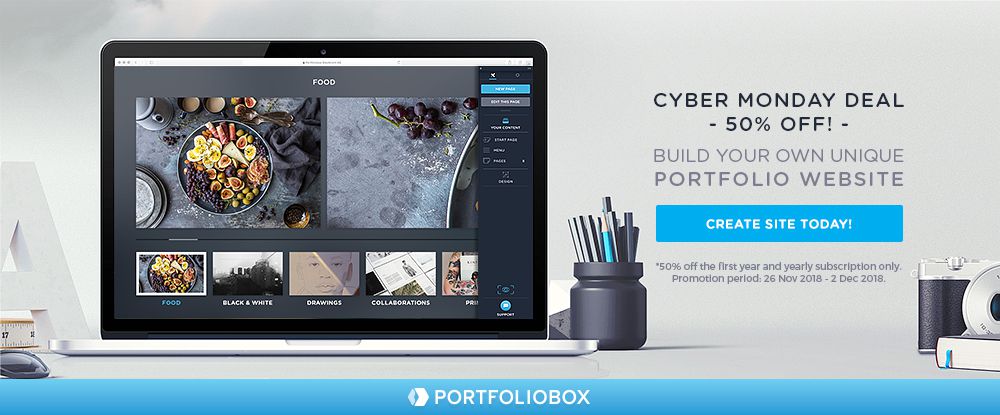 Portfoliobox is an online website building tool for creative professionals. It's easy to use, and since it's not a theme-based tool, it's extremely flexible. Portfoliobox's Pro plan features hosting with a personalized domain and server space for 1000 images, an unlimited number of pages and blog posts.
Plenty of design templates too, and you can subscribe to the Pro plan at a 50% discount.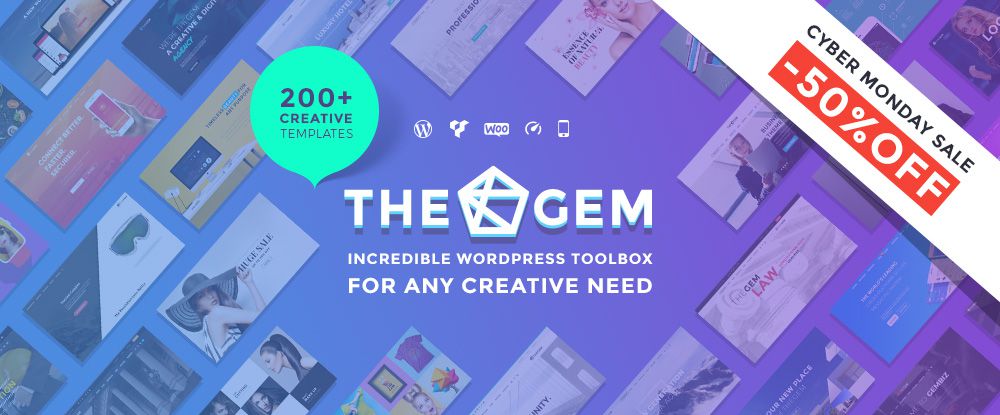 The Gem is an aptly-named high-performance WordPress toolbox that offers its users the ultimate in website-building tools and flexible features.
This multipurpose product is a web designer's dream, and at a 50% discount it is one of the most amazing bargains and truly great investments you're likely to come across during your Cyber Monday shopping adventures.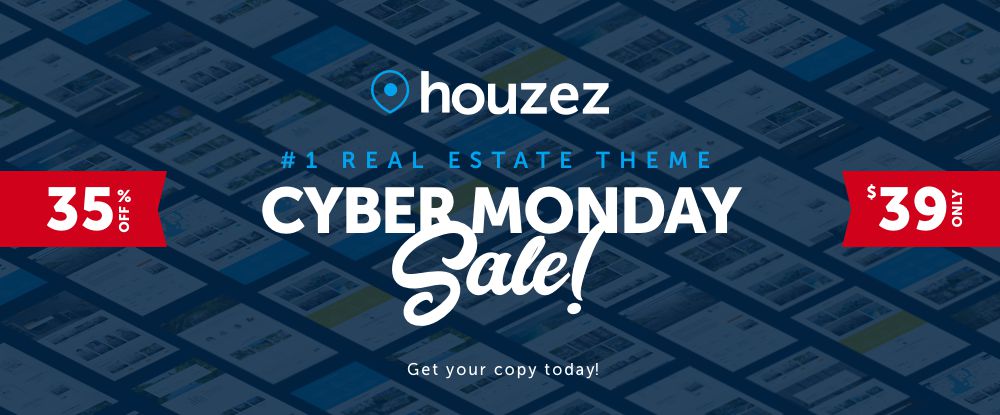 This specialty WordPress theme is the perfect solution for the real estate agent or agency looking for a product that provides all the features and functionality a user needs and expects; yet, it can be customized to perfectly fit the user's business model.
Houzez' many useful features include a richly-featured and intuitive Admin Panel, Advanced Property Search capabilities, and a unique Property Management System – all at a 35% discount.
MyThemeShop has two Cyber Monday specials. You can purchase any theme for $19 or purchase an extended membership (which includes the entire collection of themes) for $87.
These aren't your run-of-the-mill themes either. MyThemeShop only offers premium, professionally-designed themes that feature clean code and offer outstanding performance and compatibility. The authors of these products believe that users should never have to worry about a theme's performance.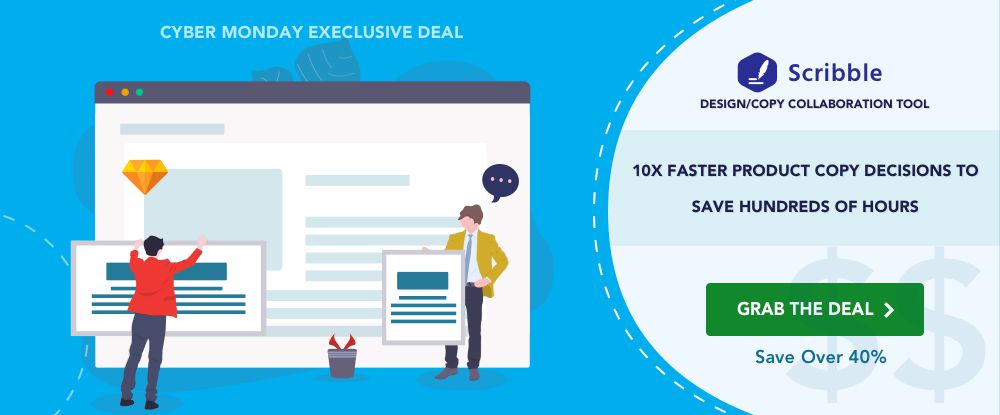 Scribble provides what is likely the easiest way to enable project stakeholders to collaborate, edit, and approve SketchApp artboards by loading them on the cloud. 40,000 design teams are currently using this design/copy collaboration tool.
Cyber Monday shoppers can pick up their personal copy of Scribble for only $39; 40% below the usual price.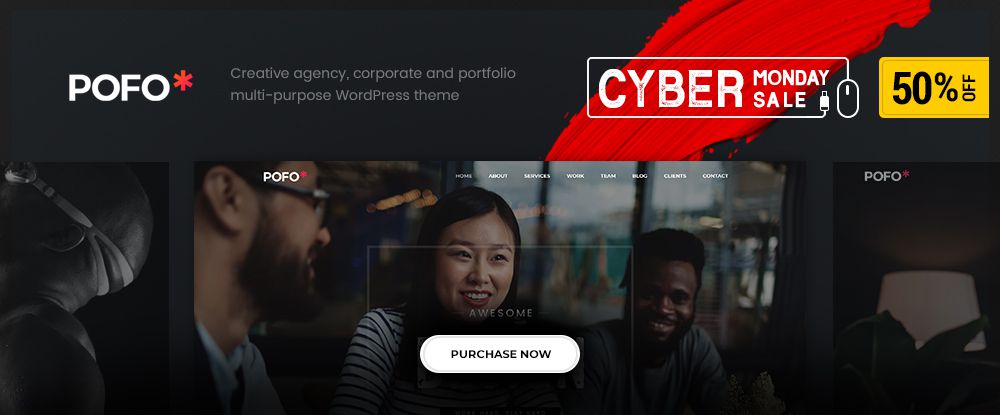 Even though Pofo was designed with artists, creative teams, and bloggers in mind, it can be put to good use by anyone who would stand to profit from using this premier blogging, portfolio, and eCommerce tool.
Pofo is extremely flexible and highly customizable; and since it offers crazy-fast performance, it's not going to slow you down. Pofo can be yours at 50% off on Cyber Monday.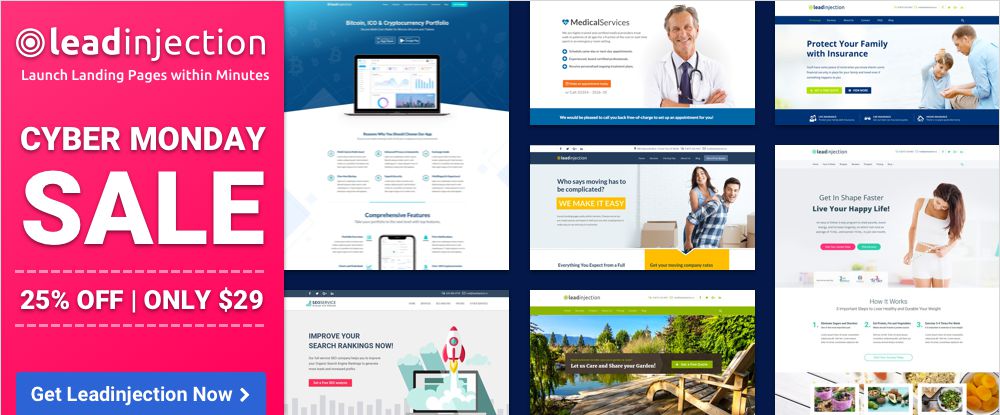 The Leadinjection WordPress landing page theme is being selected by a large and growing number of business owners and marketers. One reason is it gives them the ability to build and launch a landing page in minutes, not hours
Another, and even more persuasive reason is this theme's Lead Modal plugin that gives users a valuable lead capture capability featuring call-to-action forms, or opt-in forms popups.
Conclusion
As you've no doubt noticed, these aren't your average web design/development tools. If they were, a Cyber Monday discount wouldn't be all that much of a deal. To celebrate Cyber Monday, you want an opportunity to choose among high-performance products. This is precisely what you have here.
We hope you find something you have a genuine need for. Or, a product that may be unfamiliar to you but is guaranteed to give your design/development a boost.
This post may contain affiliate links. See our disclosure about affiliate links here.