In a crowded marketplace, web designers need to take advantage of every opportunity to stand out. And the right domain name can play a significant role. However, the traditional .com, .net or .biz extensions aren't necessarily the best options for those of us in the industry. They lack the context that really hits home for potential clients.
But that's all changing, thanks to the growing popularity of .design domain names. They offer a novel and unique way to promote your business. Why, just imagine the brand synergy of using one in your printed materials and email address. It sends a clear message to potential clients about you and your business.
And to make this a truly amazing opportunity, you can now register your own .design domain name for free! That's right, a free .design domain that you can use in any way you like. Point it to your existing website or use the available site builder to start something new.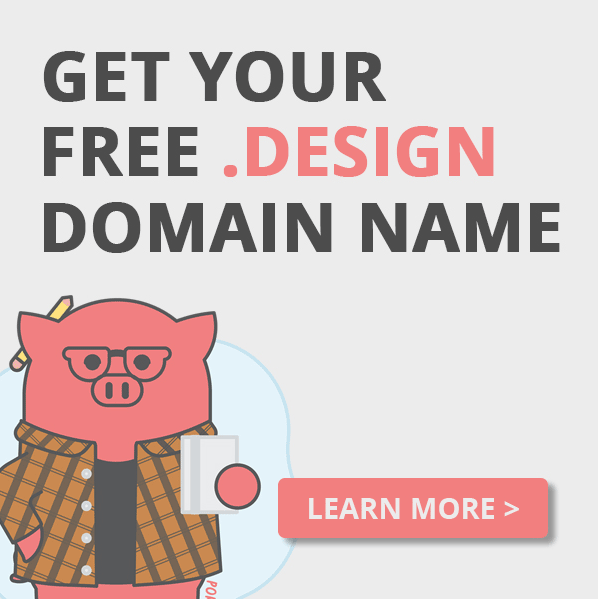 Stand Out in Style
.design is unique from other domain extensions in that it so easily identifies with the core of your business. They provide a perfect complement to your new or existing brand.
Plus, you'll find a number of additional benefits to owning one:
Find the Right Name (While They Last)
Since it's fairly new to the market, there are still a number of great .design domain names available. But they are going fast! Therefore, you'll want to reserve your name in short order.
Need more proof? Companies such as Adobe, Facebook and Uber are using .design domain names right now.
Make Your Brand Memorable
In general, shorter domains are easier to remember. And an industry-specific option such as .design creates an opportunity to shorten your name in some unique ways.
For example, johnsmithdesigncompany.com could be shortened to just johnsmith.design. In this case, the domain is both shorter and more memorable.
Redirect Anywhere
You may consider using your .design domain name for your main business website. It's a great strategy and can be very effective. But you also have the flexibility to redirect it to other valuable resources. For example, you might consider pointing it towards your Dribbble portfolio or LinkedIn profile. It makes sharing that much easier, while looking highly-professional.
Register your FREE .design Domain Today
We at 1stWebDesigner have teamed up with Porkbun to offer our readers a FREE .design domain name. The first year is free, and yearly renewals are just $35 – a bargain compared to the $70 offered at some registrars.
You'll also get:
Free Email Hosting Trial
Your domain comes with three months of free email hosting. Using your .design domain for email is a great way to add that professional feel to your business. For example, [email protected] or [email protected]. Use any name you want!
Free SSL Certificates
Get a free Let's Encrypt SSL certificate to provide your visitors with peace of mind. Porkbun will even renew your certificate free of charge.
Free WHOIS Privacy
Most registrars charge for WHOIS privacy protection, but not Porkbun. They'll protect your private contact information from scammers and marketers.
Free Website Builder
Build your new .design website without code. Your domain registration earns you a free three-month trial of Porkbun's site builder, powered by Weebly. You even get free hosting!
Connect Your Domain to Any Outside Service
A .design domain name from Porkbun can be pointed to any outside service. So, whether you're building a website with Wix, SquareSpace or WordPress, simply point the domain to your website via an easy-to-use domain management panel.
To claim your free domain:
Click here to claim & search for your .design domain name
Click on the pink + icon next to your desired domain
Finally, click the checkout button & complete the checkout process. The domain is yours!
YES! I WANT MY FREE .DESIGN DOMAIN NAME!
This offer does not apply to premium names.
This post may contain affiliate links. See our disclosure about affiliate links here.