You can be working with a first-class drag-and -drop website builder, but the results will only be as good as the content you can access. On the other hand, if you're using the top-rated Visual Composer Website Builder, you have access to the Visual Composer Hub. As we shall see, the combination is a potent one.
The Hub's massive library of content elements and templates makes anything possible, and in tandem with the Visual Composer builder, web design is faster and easier than ever.
As enormous as the library is, you don't have to settle for "what's there", because every element and template is editable and customizable. With respect to what you want to build, the sky is literally the limit.
What is Visual Composer Hub?
The Visual Composer Hub is a cloud-based marketplace of web design goodies. It's connected to your Visual Composer account, so you can use it to search for the content elements, page and block templates, and images you need.
Using the Hub is a much better deal than having to rely on a selection of plugins, or worse yet, custom code to get the results you're looking for. It's simply a matter of finding ready content and downloading it directly to your Visual Composer Website Builder account.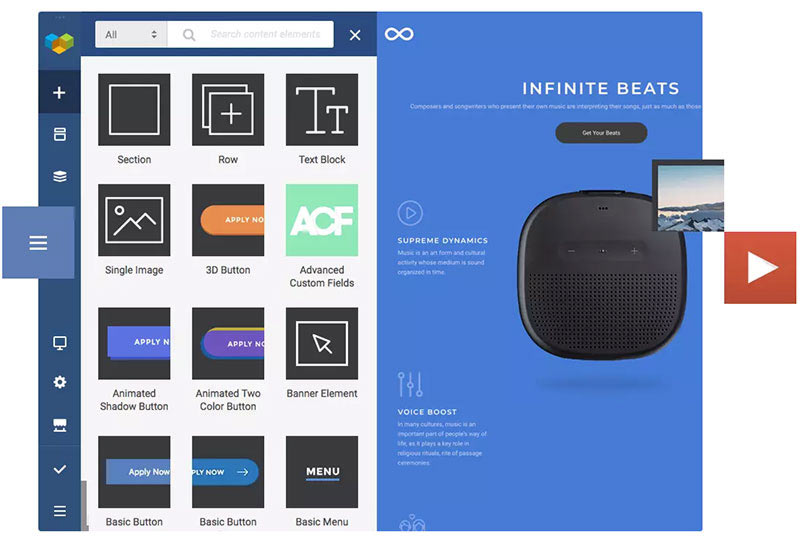 Pick what you want and once it's downloaded it will be sitting in your account waiting to be put to good use.
The Visual Composer Hub Library
The Visual Composer Hub library content is huge. Its content elements and templates work with any theme and can be used on any project. You're free to view all the content, but a Visual Composer Premium account is required for total access to the content and unlimited downloads.
To make things easy, access to the cloud-based Hub and downloading is built right into the live-preview Visual Composer Website Builder.
What's Inside the Visual Composer Hub
There 4 main types of Hub content:
Content Elements
Page templates
Block templates, and
Stock Images
1. Content Elements
With these content elements you can build your site without coding. With Visual Composer Premium the number of downloads you have is unlimited, and the Hub's Content Elements are constantly updated.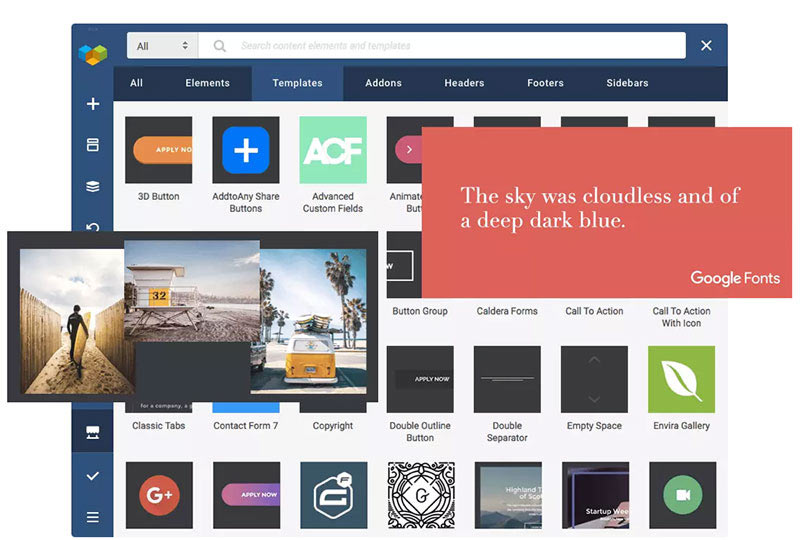 Content Elements consist of the following:
Buttons
Media
Post Grids
Social Compatibility Elements that can be integrated with MailChimp,Ninja Forms, Envira Gallery and more.
Advanced Elements including logo sliders, tabs, hover boxes, and more.
and, an E-Commerce Plugin
With Content Elements:
You can edit any element and there are multiple editing options, including editing Element CSS Animations to create exciting transitions.
You can easily replace elements and switch between them as well. With the Smart Replace option you can change the look of your content in an instant.
You also have access to some important advanced features that include turbo-powered flexibility, creating content "types" to organize and build hierarchies of elements, and leave notes to others. Certain advanced features are only accessible on Visual Composer Premium.
To get an even better idea of all the designer content elements available, take a peek at everything you can access with a Visual Composer Hub Premium account.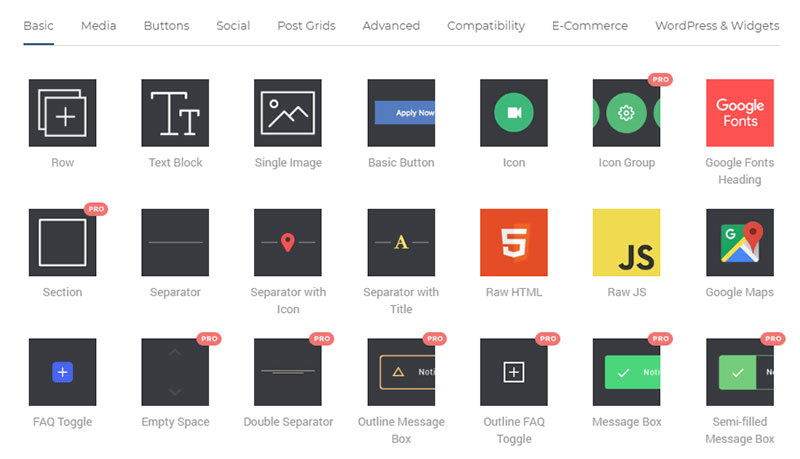 2. WordPress Templates
A significant portion of the Hub library is devoted to page templates. You can find them for any WordPress theme, and when you find one you can edit it.
As you start building your site, you'll want to be searching for templates that will fit your website's look and feel. When you find one, click download. You'll be notified with a pop up that it has been placed into your account, ready for you to adjust as appropriate to create a beautiful page in a matter of minutes.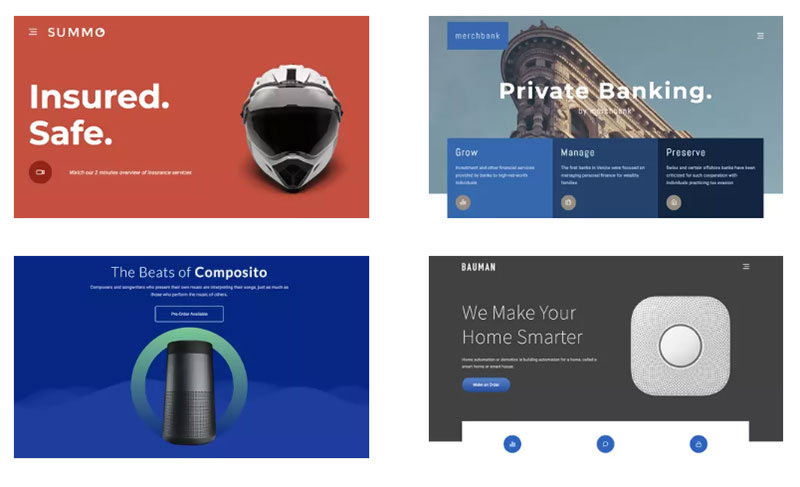 You can add templates to the WordPress Template section of the library and even save your own pages. Any page or template you save can be used again and customized if need be. Global templates can also be applied, and template widgets can be added and stored.
3. Block Templates
You have Content Elements for detailed design and page templates to make building your website quick and easy. What about the middle ground; something that offers a bit of both worlds?
Block Templates fill that "sweet spot." For the best of both the custom design and easy drag-and-drop functionality worlds, Block Templates are the answer.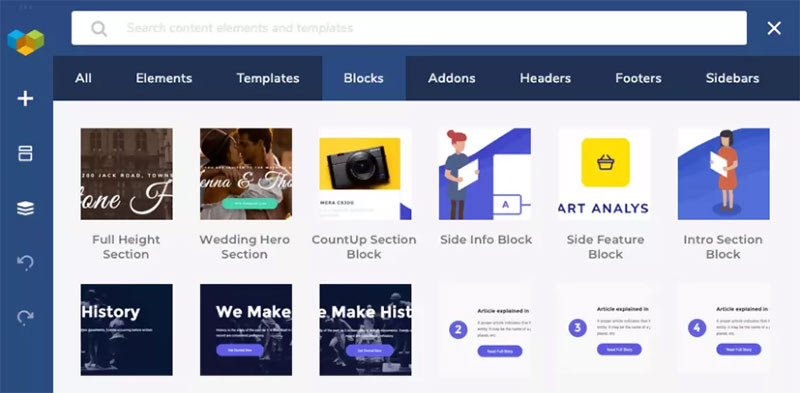 Unlocking the Block Templates section of the Hub requires a Visual Composer Premium subscription. If you feel brave enough to take a next step and savor the added flexibility you'll experience, you'll want to try building pages in sections.
4. Stock Images
The Unsplash library of stock images is seamlessly integrated into the Hub, which enables you to download images directly into your Visual Composer Website Builder. Searching for these high-quality images can be done directly from the Frontend editor, and once downloaded they are placed in your account, which is about as easy as it gets.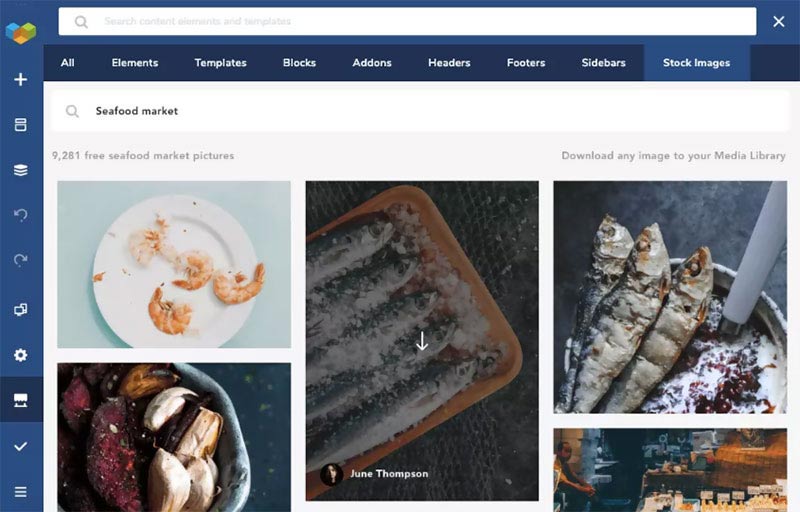 When you find an image you like and would like to view others by the same author, all that's required is to hover over the author's name and click; a good way to give your website a unified look and feel.
The Resources You Need to Build Top-Quality Websites
Yes, it's indeed true that a top-rated website builder isn't enough if you don't have the resources to feed it. The Visual Composer Website Builder and Visual Composer Hub combination gives you everything you need to create one awesome website after another.
We've covered the Hub library's Content Elements, Page and Block Templates, and Stock Images. It's indeed a colossal resource to have access to, and there are add-ons and other premium hub elements you can check out too.
Why not log in now to the free version of the Visual Composer Hub? You have everything to gain, and nothing to lose.
This post may contain affiliate links. See our disclosure about affiliate links here.