Today, Infographics are everywhere on the Internet, there is an infographic for almost every popular subject. From serious topics like marketing to seemingly simple ones like apps and bedtime stories are made into infographics. We saw the trend back in 2010, when internet marketers were thinking of a better way to market content. Top ten lists were being overdone, and there was a huge need for interesting content, people were getting bored by the typical content marketing techniques seen up to that point.
Content was, and will always, be king. Google loves new and fresh content. But generating new and interesting content was getting tough. There were top ten lists that everyone was doing (read over doing) and there were videos not everyone could pull off or were boring. So there was a huge demand for something in between.
What makes an infographic go viral?
So, what is an infographic actually? It's basically information graphics, where by otherwise boring and bloated information is made interesting by using graphics. Fair enough. But what makes it viral?
1. Information in digestible capsule format
Infographics always comes in an easily digestible format. Small, cute and interesting graphics make the data even easier to understand and amazing. Today, many infographics we see are otherwise boring information, that are made interesting by using graphics.
2. Data that is useful
Most infographics have informational data that is really useful to people.  Like this one.  The information is so useful that you want to print it out and hang it on your door for quick reference, this is the compelling factor of any infographic.
3. Catering to our short-term attention spans
Today, all of us have a very short attention span. We cannot spend more than a minute on anything on the internet. This is the reason why even when all the information is available on Wikipedia, we don't read it all. But with infographics, we grasp everything even with our short-term attention span.
So, how do you market an infographic today?
That is our question today. With so many infographics being churned out lately, how can you stand out and be difference from the rest? Let's take a deeper look.
1. Submit infographics to Infographic Directories and Blogs
There are several places that accept infographic submissions and feature all of them in a very nice way. There are no processes to get into though, all you have to do is submit the infographic and hope that it will be displayed on the site. Most directories do not have an acceptance policy which means that the infographic will be displayed the moment you submit them with a link to your original source. Some of them however take some time to review the submission and publish it in due course.
Here is a good list of blogs and directories:
2. Make a paid submission to Stumble Upon
Stumble Upon is a great resource when it comes to visually pleasing content. They have a dedicated category for infographics that will get you thousands of hits every month if you submit your infographics. But getting in there can be tricky. If you make the submission from a weak account, then chances are that the infographic will be buried. But instead of taking the risk, make a paid discovery on stumbleupon. The standard Paid Discovery plan is a flat fee of $0.10 per unique visitor. There are also options for higher and lower priority serving. But its a highly effective way of marketing your content to the right people.
3. Keep the tools ready for social sharing
The basic necessity for any infographic is to make sure it can shared on social networks. When people view the infographic, make sure there are enough social bookmarking tools beside it to ensure easy sharing to all networks (or the ones that are relevant to your market). While this sounds like a seemingly basic thing to do, many bloggers and designers get caught up with making the infographic so perfect that they miss out the very basic purpose of it. Which is to get as many links from other blogs as you can and build social media traffic.
4. Submit to Reddit's Infographic Subreddit
Reddit is where the new memes and sensations of the Internet appear first. It's from where the rest of the social networking sites, get inspired for great content. And Reddit has an exclusive subreddit at (reddit.com/r/infographics) for infographics. Stuff posted here will probably not appear on the front page, but will be featured on many blogs and Tumblr feeds as there is a big community of infographics fans watching over the subreddit.

5. Leverage the Pinterest community
Pinterest is in the spotlight these days. With praises from funding managers and social media gurus alike, this seems to be the new thing in the valley. And rightly so, because like StumbleUpon, Pinterest gives you some amazing traffic for visually pleasing images and cool pins. Infographics is one category that always gets a lot of repins and likes on Pinterest. And for each repin and like, the chances of getting a new visitor to your site is increased. Watch out for the referral stats on Google Analytics.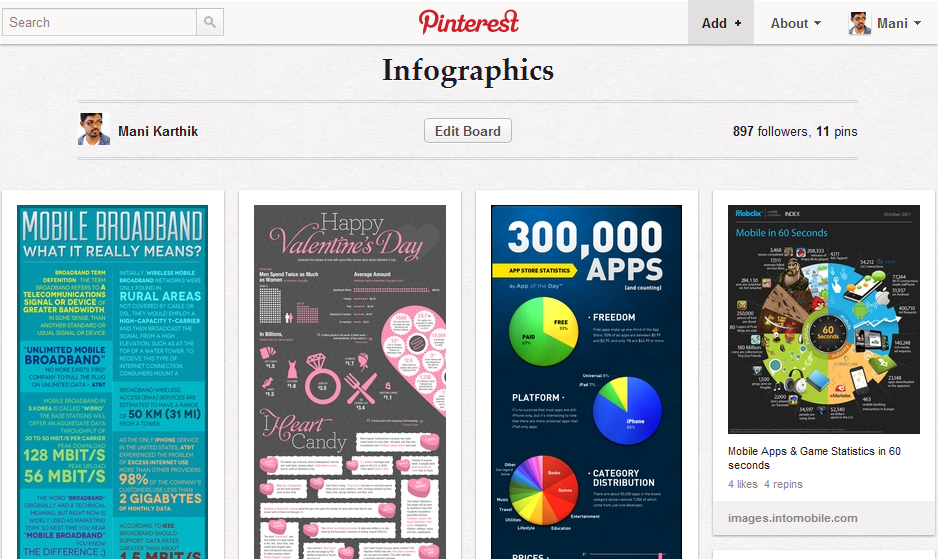 6. Influential Blogger Outreach

Another powerful way to market your infographics is to get one of the influential people in social media to share your infographic. It could be someone with a lot of Twitter followers or Facebook friends, or even a page that has a lot of fans. Of course, you cannot go blindly and ask them for a tweet but if your infographic is good (which I assume it is), search for an influential social media user from the same niche as your infographic. For example, if your infographic is on "Valentine's Day and Love" you might want to consider approaching couple of the female social influencers on the list. Talk to them and hit a deal, like two tweets at the peak hour for $50. There are many unlisted social media influencers out there who can do it for you. Just that you need to spend some time finding them.
Summary
Infographics are a great way to get some attention, build your brand, build links and get some viral social media traffic. It hits all the above points with one stone, and that's the beauty of it. But since the idea of infographics is getting over done these days, the solution is to come up with newer illustrations, newer ideas and visualization techniques that grab people's attention. The wow factor is very relevant here. All you have is the first 3 seconds. If you can get their attention in the first 3 seconds, you've won. All the best.
GET EXCLUSIVE WORDPRESS & BUSINESS TIPS
Enter your email to join with 1WD in 2016. We will send you only the best content as well as special subscriber only tips to supercharge your WordPress website and how to succeed as freelance designer!